New features and improvements coming to Windows 10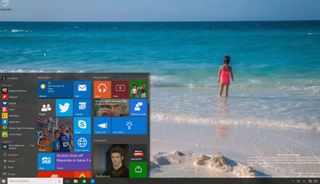 During the Microsoft 2015 Build conference, Joe Belfiore took the stage to talk about how developers can easily build apps and take advantage of the new operating system. More importantly, he showed off a bunch of features and improvements, which are not available on any of the public preview of Windows 10, but they will arrive eventually.
It is worth pointing out that many of the improvements Microsoft showed off during the Build conference are already part of Windows 10 build 10074. So this article focus only on a few of those features and improvements that we know are in the pipeline and aren't available on any of the Insider previews.
Let's look at what Microsoft is planning to include in future builds of its operating system:
Start menu
While we have already seen Microsoft adding transparency and blur effects to the Start menu, the company will continue to tweak the menu. For example, during the Belfiore's demonstration, using Windows 10 build 10072, we can see that the company is cleaning up the layout by removing the full-screen button from the top-right corner. They are also bringing File Explorer and Settings options to the bottom of the menu above the Power options. In addition, both options include new minimalistic icon designs.
Windows 10 will also bring the jumplist menu to the Start menu. Microsoft will also make jump lists available for other apps as well, instead of a drop-down menu, like the one we have seen throughout the public previews.
For discovery and engagement, Microsoft will add a "Suggested" list, which will deliver smart suggestions of apps from the Windows Store if after a while you haven't installed any apps. You can also notice that the app tile also provides star rating and pricing information for a particular app.
As the system learns your behavior using and installing apps, the Suggested list will become the "Recently added" list of apps. And when the users use the app enough, the apps will then get listed in the "Most used" list.
Microsoft's Belfiore also noted that with these new tweaks, the Start menu is pretty much a final product. As such, we don't expect any more significant changes beyond what we see today.
Cortana
While in Windows 10 build 10074, Microsoft introduced an improved version of Cortana with new UI elements and functionalities. Using build 10072, Belfiore showed off the ability for Cortana to launch apps and perform different tasks. Cortana will also feature app discoverability from the Windows Store as users use search.
Moreover, the software maker is connecting Cortana's natural interaction and spoke natural language with other apps. This feature will allow users to perform tasks using only the Cortana canvas without opening an app or launching an app to perform a certain task.
For example, in future releases of Windows 10, users will be able to command Cortana by saying things like "Cortana: Start a chat with Joe on Viber". In that case, Cortana will start a Viber communication with Joe using the Viber app.
Another scenario is where you could ask Cortana to get something done for you, such as "Cortana: Tell Joe, I'll be late for dinner tonight". In this scenario, Cortana will execute the command without opening the app.
And be sure that Cortana will continue to evolve, in future updates, the personal assistant will get additional tweaks in the user interface and even more integration with the overall Windows 10 experience.
For example, in Windows 10 build 10110, one of the improvements Microsoft is experimenting with is a new Cortana animation as you launch the assistant using the "Hey Cortana" command. This action will launch a mini, tile-like, version of Cortana with a black background.
Microsoft Edge
During the BUILD conference, Microsoft finally announced the real name of the web browser, which is "Microsoft Edge". It is worth pointing out that the Windows 10 build 10074 still ships with the browser using "Project Spartan" codename.
This design is the new logo, which many people will find very similar to the old logo for Internet Explorer.
Future updates of Microsoft Edge will include a new "New Tab" window with the most recent links users have visited in the form of tiles. If the site they visited has an app available in the Windows Store, you will see "Get the app" notification in the link tile as well.
Microsoft will be making use of the space in the New Tab canvas, and it will display different personalize widgets to users. So that users can get the latest news, weather and sports information, suggested apps, and a lot more.
Another feature coming to the Windows 10's web browser is extension similar to the extensions found in Firefox and Chrome. However, initially Microsoft Edge will not include this feature, the company says extension support will arrive after the Windows 10 launch.
The good news for developers is that they will be able to port easily extensions they already created for other browsers to Microsoft Edge with little modifications.
Continuum
On small tablets, Microsoft is improving Continuum with a modified version of the Start menu when it used in Tablet Mode. The new menu includes bigger tiles, which users will find very familiar to the Windows 8.1 Start screen. On the top-left corner of the screen, there is a new hamburger menu button to access the "Most used" apps, the "All Apps" list, File Explorer, Settings, and Power options. In addition, the taskbar will also feature a global dedicated back button.
The software maker also showed off Continuum for phones, which is a new idea of expanding the phone capability to a PC-like experience when connecting the headset to an external monitor. Using Continuum for phones, users will be able to use apps in full screen as they appear on a desktop computer. Furthermore, users will be able to connect a keyboard and mouse or use the same phone as a virtual mouse and keyboard.
Wrapping things up
As you can see, while we have seen many new features and hundreds of improvements in the preview versions of Windows 10. There is still a lot more improvements and features coming to the next generation of the operating system.
However, Microsoft has already confirmed that many features will not be ready on time for the launch of Windows 10. This delay will be the case of extensions for Microsoft Edge and probably the new Skype integration that we have seen during the Windows 10 event back in January.
In addition, plans also include the ability for developers to brings Win32 apps to the Windows Store and easily port Android and iOS apps into the Windows 10 ecosystem. These tools will come after the RTM release.
Microsoft continues with the plan of releasing Windows 10 later this summer as a free upgrade for those PCs running Windows 7 and Windows 8.1 in 190 countries and 111 languages. Windows Phone 8.1 users will also receive Windows 10 as a free upgrade, but it just will not happen at the same time Windows 10 desktop is released to the public. The software giant has already announced that Windows 10 will launch in several staggered events and each launch will focus on different groups of devices.
You can catch up Microsoft's Build 2015 presentation in Channel9.
Windows Central Newsletter
Get the best of Windows Central in in your inbox, every day!
Mauro Huculak is technical writer for WindowsCentral.com. His primary focus is to write comprehensive how-tos to help users get the most out of Windows 10 and its many related technologies. He has an IT background with professional certifications from Microsoft, Cisco, and CompTIA, and he's a recognized member of the Microsoft MVP community.
Will the continuum feature come to older Lumia phones?

Currently not known since it is dependent on dual-display support being enabled on the Qualcomm chip.

someone mentioned that it could be done via miracast too, no? thus the current lumias that support miracast be eligible

No, because those phones still cannot support dual screens. Also, Miracast (just like Airplay and Chromecast) have too much latency to use for anything other than presentation.

Wasn't there a 44 minutes video where it was talked about that it would work on older Lumias just a little bit less flashy and with less functions?

Doesn't Microsoft know it's fooling it's users...i mean how can you.... Give 532 glance and 730..... Doesn't....... It better come as an update

Glance is dependent on hardware.

Has to do with what screen type the device has. Wrong display type and it can't have glance since it can't show things on the screen with low power. Therefore it cant be added later through an update either. To use glance screen it needs to be an AMOLED display. Will not work on a LCD display Glance screen turns most of the pixels black. The AMOLED screens have the ability to turn off the pixels when they are black, so they aren't using battery by having the display turned on, unlike LCD screens. Or at least this is how i understand it.

LCD's have the glance feature, although I'm sure it would be nicer with an amoled screen. What glance requires is a display which has some embedded memory, to keep from having to refresh the screen all the time, which would be a battery drain.

Lumia 920 has an IPS display (not AMOLED) and Glance works just fine.

Hello Daniel. The PROBLEM with Windows 10 for me is : IF i enable Cortana (with usa region. i'm from Greece) THEN my credit card for Windows store GONE. So the problem is enable cortana for new windows 10 or buy stuff from Windows store with my credit card. I send this problem many many times (Windows Insider) BUT........ So the option is Enable Cortana Worldwide (EVEN only in English lang for ALL users).

Have you by any chance put up a request on uservoice for an international english cortana version that uses the american voice but doesn't interfere with anything else? If you haven't and if there isn't one, why not put one up? I would totally vote for this,

Register paypal with your credit card. Then you can purchase the app regardless of the region setting. That is what I am doing and it is working without any fuss.

Older snapdragon S4 processors may not get it due to hardware limits.(well this is the excuse MS gives for almost everything not available on the older Lumias.)

It's a reason, not an excuse...

My L720 doesn't have brightness slider because its processor doesn't support it!!
Is it excuse or reason?

That was nokia, not microsoft.

Noone said that the lack of a brightness slider is a hardware limitation. It's just a feature not implemented on Windows Phone but it will come with Windows 10, as you can see from the Insider Previews.

Daniel said this! "if you own a Lumia 630, 730, 830, 930 or Lumia 1520, you have a setting for Brightness Profile and another for Color Profile. By comparison, other Lumia models just have Color Profile, and this is presumably related to their older S4 chipset" http://www.windowscentral.com/lumia-windows-phones-picking-display-syste...

I think that there is a misunderstanding here about this "hardware incompatibility" and besides, that's just Daniel's opinion, there's no official confirmation on the nature of the omission -it could be just a marketing desicion, although I can't see the logic behind it. In any way, I can confirm that older WPs running Windows 10 Insider Preview do have a functional brightness slider. EDIT: I can think of a dozen of Android phones that pack Snapdragon S4 SoC and do have a brightness slider -even the old S2-powered Xperia Neo V had one, so the problem might be something else.

@Pallav Chakraborty... Actually what confuses me are the people who complain about the time span in which Microsoft has taken to release a flagship device, and then make it a big deal whenever new technology requires new hardware. In such a case all that comes to mind is that life isn't perfect, nor is Microsoft, but I'm fine just with it all. :-) No "excuses" necessary.

Yea the same confuses me as well. People tend to contradict themselves here sometimes.

You can't expect a 3 and a half years old SoC support dual screen projection.

Of course he can not but you can. Why? Because YOU ARE BATMAN!

Msft told it requares new hardware. means no hardware from past

Will win10 come to my wp7 flagship??

As he said multiple times, the continuum feature will be supported on windows phone hardware that is currently not available. So no... Find the small part where he shows off the feature and get as bummed as me. I don't know how coke no one else noticed him pointing it out multiple times... Your answer is no :S

I'm Surprised nobody seems to pick up on this too. Also the fact he pointed out he was showing it in a simulator seems to have slipped by a lot of people.

I cant wait to get my new surface 3 so I can be ready for windows 10!!!! :)

So when are we getting this build?

Nothing about phones, excellent :)

WP has its own set of new features that they mentioned. Like app support for Android code and ios code.

Yeah I know, but I'm talking about UI, startscreen, action center, lockscreen etc..

Everything looks great, this last build actually made Cortana and the Start Menu smooth, but I'm excited about these as well

Not sure if everything is looking great. The tablet experience is horrible compared to Windows 8.1 and it's not going the right direction at all.

Yeh, the tablet experience is somewhat confusing for me a bit. They'll fix it though, no doubt.

By a long shot. Cannot wait for it. Will be building a new gaming PC, get a Surface 3 and hopefully upgrade my Lumia 930 to W10 next build.

Same excitement as every other version, while market or normal people always ignores Microsoft.

Now no interactive live tiles in my opinion. But I need that badly cause I have to open apps even for any small purpose like calling someone from pinned contact..
I am also jealous cause my friend's android can do that

Interactive tiles are definitely on the list afaik. Even I'm waiting for this feature. It will probably debut in Redstone aka GDR1. Not every tile can/needs to be interactive. In all probability they need to study usage scenarios before implementing it OS wide.

It's rumored to be coming with the next building will have to wait and see. If not, it'll most likely be in the next builds.

You could do that with Cortana...

If it's available to you. Not for all users you know.

I like that blur in start menu since windows 7 , hopefully its here !!

I think he means where the start screen blurs the background that is behind it. I like it. Looks better than clear.

Yeah this ,,, i mean the blur effect in start menu. This looks fresh . Solid colours not so attractive !!!

Me too. I hope they also implement this in the Action Center. It is inconsistent now.

think he actually mean opacity

Though the blur in the Start menu was introduced in Windows Vista first in 2007, then it came in Windows 7 in 2009. Windows 10 is bringing it back in 2015 and will be a welcome back appearance.

Yah , but i used windows xp ,7,8,8.1 only. I never used vista . That's y

This has got to be the most duh inducing headline ever

Yeah... Pretty sureyou're taking it the wrong way. Read it as "(Here are some recently announced) New features and improvements coming to Windows 10"

The Edge logo though.. Cannot come to like it -.-

It reminds me on Sonic, it's kinda cool.

Yeah. It's like his hair is wind blowing back because he's going so fast. :)

Looks like a universal symbol for a hand washing station

With so many changes Microsoft better include some kind of tutorial for users when they load the OS for the first time.

There is a Get Started app exactly for this thing

They started doing that with win 3.11

Which unfortunately they failed to do for Windows 8. That was the biggest failure.

To be fair, it fired up with a great interactive tutorial.
But people hate change.

That tutorial wasn't even remotely substantial enough to cover the changes or new ways of doing things.

What about windows phone??

Next week, scroll down the frontpage if you missed the article about it.

It's a software orientated conference for windows.

Liking the direction. Win10 will be revolutionary.

I just hope they get the basics down, but historically they usually don't. First impression matters these days because these are what get reviewed and this is what bloggers will broadcast initially, and this is what people will hear and associate with later on. Sure Windows Phone 8.1 is pretty feature matched with iOS and Android, but no one really knows because initial reviews are based on WP8. Same with Windows 8 and 8.1, everyone thinks about how bad Windows 8 was for desktop users whereas 8.1 is much friendlier (not totally there still). In regards to 10, I really hope they solidify the Start Menu and Continuum. I am having so much trouble with not being able to put two large tiles side by side (it only supports 3 medium columns per group; might be attributed to WP requirements), and Continuum triggering in reverse sometimes. I'll plug my type cover in and it goes into Tablet Mode. Also, Tablet Mode is buggy as heck. Start Menu refuses to launch sometimes, as with a lot of notification area icons not triggering with a tap. It's still early, but summer will be here soon; sure feels like it already in SoCal.

I actually found that with the keyboard fully folded back, so the Pro 3 is in tablet mode, that even just the shift of the bit of the keyboard that flexes between the main keyboard and the join is enough to trigger continuum currently.

Noooo to the settings etc getting shifted to the bottom of the menu. In private testing I've been doing with a few users - they all got confused about where the "power" button was when it shifted to the bottom. Basically having the left side from the bottom up being "recent", "pinned", "system controls" like power, settings, etc was best. Beyond that most of the start stuff like transparency will hopefully be controlled via settings - as with the wrong background it's not friendly having a transparent menu that only covers part of the screen.

Hasn't the power button always been at the bottom?

Not in Win 8/8.1 and not in the early versions of the W10 start menu - in W8/8.1 it's upper right on the start screen, early versions of W10 it was at the top of the right side of the menu. Admittedly these people have all been through W8.1, so I explained it as - think back to W7, and the response was mostly - yeah that doesn't make sense. Again, the layout for the new menu leans itself to the UX of - most recent (so stuff that changes based on ML/Cortana/whatever they want to call it) at the bottom, pinned in the middle, core functions at the top (settings, power, control panel, etc)

I actually like the change to the bottom left corner from other builds. It is closer to the start button. This means less distances for the actions to execute a shutdown. This is beneficial for both mouse and touch. This has definitely been a major gripe for me in the previous builds, especially with the start menu maximized. The power icon was as far as it could be from the start icon. It made no sense. Now using it as a tablet, the power down can be done without having to shift your hands. I do miss the charms based power down. But change is sometimes necessary.

Will Windows 10 be coming to ALL Windows Phones or just Lumias? I currently have the BLU Win HD. The first one, not the new LTE one.

Apparently all WP81 phones, but they are disappointedly being so vague with dates and everything that right now there's a chance you'll be thrown under the bus again, even though the cryptic messages would also make you think all will be OK. Hopefully the update involves OS only and not firmware - so they can avoid the Telco factor.

All Windows Phones are supposed to get W10. So you should be fine. Now, you probably won't get ALL the Windows Phone 10 features (because of the hardware) but you'll get the OS.

I am sure you can write and ask BLU about it becuase it only depends on them. if your phone is unlocked and unbranded then it depends on the phone maker and I am sure BLU will have the answer for that, not Windows Central, it's for sure Microsoft would work with other phone makers to make Windows 10 available in many phones worldwide.

It's their interest to push W10 to all windows phones and I can't imagine others with specs lower that Lumia 520.

Depends how greedy the carrier is. If it's someone like Verizon, you might get it a year after release if ever. They'll want to push the new phones with WP10 already loaded before they update anyone.

I have to say I'm very glad with what they did with the Start Menu. Not only it's back, it's back with the beautiful Aero inspired design. Now all I want is for that New-Aero effect to be expanded to the entire OS. I like the new tile annimations and the notification pane in black is also a great improvement which I wish to see extended to the entire OS. So far Windows 10 is tunning up to be indeed one beautiful OS now that the horrible Metro UI is almost completely gone. (I'll reserve my judgement on Windows Phone 10 when it's done since it's not really a priority to me anyway).

Yes the start menu was the thing which stopped me from going to win8 from win7.

The sports update on the live tile is so depressing. My Mavericks did not play up to their potential.

Not sure how I feel about the layout of the sart menu's " All Apps, file explorer, power button and such locations...

I see it like this - you doing have to move your mouse much to go to those settings.

I am seeing a lot of practicality in the start menu designs...the most commonly used things should and are at the bottom. And why is someone gonna confuse power with something else??? And the aero effects is damn nice...whenever I use windows 7 nowadays(very hardly) I feel the aero effects just never look outdated even if the rest of the OS does

Agreed some aero effects with live tiles and the new start menu is great.

Aero feels extremely dated to me

me too. I had to install w7 on a NUC and I actually changed to the classic theme because aero, ugh. The start button really shows its age. People who think w7 looks good probably have dragons on their chassis.

Skype integration? Link please!?

I'd really like the option to have the Start screen back... or at least the option to only view the tiles when hitting that Start button. That menu on the left makes that whole thing look like a clusterfsck once you're used to navigating and pinning tiles.

Is it in 10074? I'll have to dig in. I know the registry hack to get the Start screen back was gutted a few builds ago, which was disappointing.

No not in 10074 currently. But that menu will be hidden in the tablet mode only and can be accessed by a hamburger menu. But in a normal start menu that left side list will be there. And i think they are gonna add a toggle to activate aero effect or go for normal transparency. Too much options sometimes provides too much confusion

Sounds like I'll keep tablet mode on the entire time. I made the adjustment to the start screen and want nothing to do with having any variation of a start menu back!!

Agreed! I want no part of a Start Menu! I just want the Start Screen. And I hope it's exactly like 8.X without the most viewed or whatever taking 20% of the screen on the left side. I hope it fills the full screen like 8.X. Oh well, I love 8.1 so it all depends what the Start Screen in W10 looks like or I'll be staying with 8.1.

I would love to be in tablet mode all the time but there is a major problem. When I am in an app and click at the top of the screen with the mouse, I do not get the title bar with the "X" to close the app. Currently to close an app while in tablet mode, I have to use the win+tab shortcut and then click the "X". I had left countless feedback about this problem.

Agreed. They removed the possibility to pin shortcuts to the left part like you can in w7, and I'd prefer that to having tiles in the start screen in 8.1 even if I'm used to it now. But the start menu in 10 with a completely non customizeable left panel except being able to not show most recent is mostly wasted space. Much worse than the start screen in 8.1.

Why don't u say this in the feedback app

Windows Store design is far from being finished. You should cover that also. The Store from build 9926 was very nice.

so the two features i was waiting for "edge extensions" and "skype messaging" won't be there at launch!! ;( now that is sad.

Patience my friend is a virtue you have to get here. They have attempted for a massive development overhaul here and some features are bound to be pushed back. Rather than adding new features, getting the dev tools, sdk and the store ready is far more important...because those are the things which will decide the success of Windows 10

ok how about the feature to answer calls and reply to text messages from your Windows 10 phone, have not seen or read anything so far. Also the video calls from your phone or tablet, why not give Windows user a free unlimited skpye account when they have a Windows device like Apple does with iMessage.

Cause apple eats a lot of your money to do that...whereas MS doesn't..especially while nurturing a budget model as well in the recent times...

Skype video and call is unlimited for everyone... And you've been able to respond to texts and calls since forever. Windows 10 mobile even lets you swipe down from the top to reply to a text instead of opening up the messaging app. I don't see your point

He talks about answering from other devices On iOS you can answer on GSM-call from iPhone via iPad

I need a universal File Explorer app

I have a theory: If Windows 10 for PC adoption rate goes much higher than the failed Windows 8, then Windows 10 for phones will see a significant market growth.

Maybe, I mean I hope so but there doesn't have to be a correlation between the two.

It's not hard to go much higher than Windows 8. But it won't have any impact on Windows Phone 10 unless, by some miracle, app developers device to start coming in by force. Which I think won't happen.

It one OS now the whole marketshare counts all pcs phones and tablets that are running windows ten even the Xbox and anything else will all combine to make one os with one market share just Like when they count up android they count all the phones tablets watches and pcs running it windows 10 will be no different hell even all the app stores are being combined now. And with the universal app model and the.ios/lagdroid software converters it wouldn't surprise me it many more developers make universal apps I am just so happy Microsoft unlike blackberry didn't kill themselves by allowing windows 10 to run straight up android apps ugly pieces of crap if you ask me buy thank god for.Microsoft

Growth of WP10 depends on a series of conditions. Of course, there will be no miracle.
Windows 8/8.1 didn't attract most of the Windows consumers, which in turn failed to attract developers' interest too. I'm talking about those who are still happy with Windows 7 for their own reasons, and some with valid reasons.
Windows 10 PC has much, much more to offer than than its prequel. There are very few reasons to justify why one won't upgrade their PC to Windows 10 unless he is unable to.
Suppose, Windows 10 PC gains remarkable market share within next 1-2 years and developers begin developing and porting apps to Windows at a much higher rate. There will be again, very few reasons to justify why they won't port their apps to the phone as well. Every developer wants more income for their work. Even if it's a little more. And there comes the role of "universal apps", which didn't work very well till now because there were hardly any option to share the iOS/Android code and, to re-coding for such a low market share weren't worth the developers' effort. But now the case is a lot more different. It's not because of any change in market share but the impressive change in portability. Of course, it won't be like "click and port" but the result won't be any less than their effort, either.
Yes, it's all theory. I can't guarantee if it'll happen. But, why do you think it won't happen? *curious*

I do believe that with Windows 10, they'll see significant growth. This is because they have included Windows 7 in their free upgrade cycle. Considering that Windows 7 has higher market share than 8, we will see significant growth.

Wtf? Full screen button gone? How do we make it easily full screen then???

TBA. Because we don't a build to play with, we can't tell if you hovering over the corner will unveil a button, if Microsoft will implement a keyboard shortcut, or something else. Thanks,

If you want full screen go tablet mode. They killed the Win8 start screen, because no one on desktop liked the full screen menue.

I kind of like it, or at least find it better than the 10 start menu. I'd prefer a more minimalistic start menu, but that's only going to happen through 3:d party alternatives. But either way the 8.1 start screen beats the 10 start menu.

On desktop, the new menu rocks all the way! I find myself using it a lot more than before.
Wonder if I ever used the start menu on Windows 8.1 for any reason other than the "Desktop" tile and the weather tile :/

I don't like the edge logo but oh well, I'll like the browser

The phone used for the Continuum for Phones demonstration... looks like a Lumia 920 form factor. Interesting, if this is the direction of MS's high-end phones.

Maybe they just needed a thick case to jam everything in there. ;)

It's more of a Nokia design style; that's what I was struck with. Don't like the trend toward thinner at all costs phones. Do like to be able to hang on to them.

If you are speaking of the keynote, that was just a demo to show how it works. He wasn't actually running it on a new device that looks like 920. He was using a real 920 just to illustrate how it works theoretically.

Don't like the edge logo.. Looks weird!

It's simple and powerfull, no worry itll stick

It's proportionally wrong. Like someone's got the aspect ratio wrong on a tv.
And, to me, too much like Endomondo.
The Spartan logo is way better.

The logo makes sense but I didn't like it either.

Amen and Amen and Amen. Now, just bring back color shifting title bars, and color shifting app texts/icons, and this will be pretty much perfect! Posted via the Windows Phone Central App for Android

I was under the impression we were going to get actionable cross-device notifications. For example, say I get a text on my phone but i am using my desktop. The message would show up on my desktop and I would be able respond on my desktop, but still have it send via my phone.
Did this get axed? Are we still expecting this for win10 release? Or is it going to get pushed back to a GDR release down the road?

I read that was coming too. It'll rely on some syncing somewhere (to transition from web to cellular), kinda like iMessage. But hopefully without the suckiness.

I feel like they have forgotten about devices with 16:9. Look how ridiculous stretched the powerpoint looks... the bars eating up about 20% of the screen height. This will look good on 4:3, 3:2 or >15'', but if you're on a pretty standard windows tablet between 8'' and 12'' and it's not a surface you may feel a little bit squeezed.

My only question is
will Edge support privet browsing? :3

The "enter/exit full screen" button on the Start menu needs to stay! A LOT of people I know (myself included) prefer using Start in full screen mode, even with mouse and keyboard.

Absolutely. I have my test machine permanently set to Tablet Mode. I do NOT want to have to use the keyboard for anything other than TYPING. It is idiotic that Microsoft killed off most of the really great mouse gestures. And it's equally idiotice they've ruined the Start Screen by giving us the FAKE "full screen Start Menu", with the completely unnecessary garbage on the left panel. I keep suggesting (wasting my effort, of course, because they don't care) via the Insider progam that they have Tablet Mode give us BACK the real Start Screen and All Apps menu, both of which are so completely better than Windows 10.

OMG WHY WOULD THEY GET RID OF THE FULL SCREEN BUTTON LIKE SERIOUSLY UGH!!!???

THAT'S EASY. Just press F11 for FULLSCREEN.

Not everyone knows that!!!! I don't see any proof about F11 and not everyone will know that is not tech saavy. Posted via Windows Phone Central App

Well I didn't like the edge logo. Ppl will still think its IE resdesigned logo and switch ti chrome or,Firefox

When will we get windows 10 on our PC & TABLETS

In other words, Microsoft is doubling-down on this stupid, ugly, user-spiteful design with their Start Menu. Idiots.

How is unreleased features were in an older build? Guess they didn't activate them for the Insider's build?

F11 doesn't work in spartan.

Oh Windows 10 for phone is just going to take longer

Thank you Windows Central team, for keeping us updated on all aspects of Windows! Just wanted to add a note that for the first time, in a long long time (after like fifteen years), Microsoft is brining full C99 Standard Library support to Visual Studio 2015 RTM (modulo <tgmath.h>, which we shouldn't be hold breath for as some consider it as the murkiest and ugliest C feature). This is a huge deal for the native library devs for porting thier code to Windows! Many software and tools are already aligned for VS2015 (e.g. Neovim code editor). However, I am afraid, one important missing piece in Windows 10 from C/C++ perspective is the dynamically generated code execution most probably will still not be possible, meaning we won't be able to run (for example) node.js/io.js in Windows for Things (the shared runtime for ARM and ia32 et al.), and that it would be only possible with win32. (note that this is exactly what Apple is offering in iOS, unlike of course Android though): see this Technet Forum post. I hope by the time Windows 10 is RTM'd this restriction is lifted. Fingers crossed! With that said: Microsoft teams has done EXCELLENT job in past three years and proved themselves as the best software group in the market! M4Microsoft,Metallica&NothingElseMatters!!<3<3

If you have the insider preview, would you mind asking for a larger Windows logo in the start button pls. Thanks.

Windows 10 for Phones should have that photo lockscreen option. Having a laptop with no touch screen makes it cumbersome to use with a trackpad or mice.

TORREX PRO APP NOW FREE ON WINDOWS STORE FOR LIMITED TIME..THE OFFER ENDS IN 16 HOURS...

10 things that Microsoft should corrected or considered before launch window 10, that is UI Microsoft still using old UI which is not user-friendly, e.g. no button scroll up or down when scrolling , can't customize the UI follow my favorites, had to close the apps one by one. Still disallow people to manage or transfer their contacts from SIM card even after update window 8.1 GDR2, which means people have to use other phone to get back their old number. Update of apps by developer not accurate in Store which causes a lot of trouble for those user who are using their apps and no further action of Microsoft on these matter. Every window phone will not get any reminder if overheating and no such action taken by Microsoft to reduce the problem existed. No zooming level shown in every window phone , it just show you the zooming but you don't know what level it is. Set custom ringtone is not available in "ringtones+sounds" and "Xbox Music", all you have to do is open your PC and manually set it . Sorry If failed no other solution. Internet Explore 11 not supported Java. Not just Camera can accidentally opened, even apps also can do it. Alarm not functioning well since window 8.1 denim update, snooze does nothing but silence. Voice recognition in Cortana always appears wrong , and no other solution to solved it e.g. bing suggestion to what I say. Better key in word manually than say . That's all what I want to say , any correction please don't hesitate to tell me .
Windows Central Newsletter
Thank you for signing up to Windows Central. You will receive a verification email shortly.
There was a problem. Please refresh the page and try again.