Windows 10 build 14267: Everything you need to know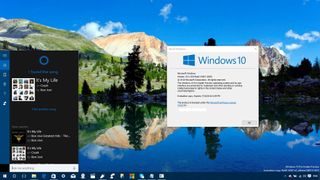 As promised, Microsoft is keeping a fast pace releasing new previews of its new operating system. On February 18th, the software giant began rolling out Windows 10 build 14267 for PC through the Fast ring of updates. While we've seen already a few builds, this is the first preview that includes new features and noticeable changes.
Although build 14267 isn't a major update, Microsoft is adding new subtle improvements that give us a closer look at the development progress the company is making for the next major update of the operating system, which we know as "Redstone."
Windows 10 build 14267
Cortana
In the latest preview of Windows 10, Microsoft is making Cortana smarter by adding a new feature to help you find music. Starting with build 14267, you can click or tap the music icon in the top-right corner of the app to let Cortana listen to the song and quickly identify its name, album, and band information.
Identified songs will be listed in the "Music searches" list, you can click or tap the song to open the Store to purchase the album or song.
Microsoft Edge
The software maker is updating Microsoft Edge to version 31.14267.1000.0 with a few new improvements.
In the new preview, the Favorite Bar is getting a few new tweaks. When you have the Favorite Bar enabled on the browser, you can now right-click the bar and choose to show icons only, and you can also select create new folders to group different favorites and optimize the Favorite Bar space. In addition, the new version of the browser allows you to rename items in the Favorite Bar too.
Microsoft Edge now also includes a highly requested feature, which is the ability to configure the browser to show a prompt before beginning a file download with the option to choose where to save the file.
The new option is disabled by default, but you can click the menu button (the three dots in the top-right corner), click on Settings, and under "Download settings", turn on the Always ask me what to do with downloads option.
Similar to Internet Explorer, Microsoft is now adding the ability to remove browsing data when you close the Edge browser. The option is disabled by default, but you can click the menu button, and go to Settings > Clear browsing data, click the Choose what to clear button, and turn on the Always clear this when I close the browser option.
Settings app
In the new "Redstone" preview, we continue to see Microsoft adding a few new visual changes to the Settings app.
Power & sleep
Power & sleep doesn't show significant changes other than a few options to control the screen and sleep timers. However, because these settings won't apply when the Lock screen is playing a slideshow, which it'll cause unnecessary battery drain, Microsoft is adding a new link to direct users to change the Lock screen settings.
Personalization
All the settings on Personalization remain unchanged from previous versions, but now on Colors, we can see that Microsoft makes more clearer which color accent you picked by adding a black highlight with a check mark.
Update & recovery
On the Backup options, inside "Update & recovery", we see that Microsoft is adding new settings that give you the control to make a backup of your Windows 10 PC's settings, which includes the Start menu layout, accounts, and passwords.
When you click the More options, you will see an overview of the total space available on OneDrive, the size of the backup, and the last date when a backup was performed.
From the options page, you can trigger a new backup by clicking the Back up now button, and you can also enable or disable automatic backups. However, you'll need to visit your OneDrive account on a web browser to delete any device backup you have created.
Remember that the OneDrive backup option is only there to make a copy of your Windows 10 settings, which you can use to restore your Start menu layout, accounts, and passwords when you reset your PC or perform and clean install of Windows 10. This new option is not designed to backup desktop applications or personal files.
Messaging + Skype
In Windows 10 version 1511, Microsoft introduced a new Messaging app with very basic functionalities. In Windows 10 build 14267, Messaging gets a few new features, including the ability to click or tap the paperclip icon to attach pictures from camera or file.
Also, on from the paperclip menu, you can share your location with other people. When you click or tap the My location option, the Messaging app will attach a Bing map with a simple message detailing your physical location.
It's important to note that when you attach an image or a location, there is not a delete button if you change your mind, Microsoft assumes that you'll automatically know to hit the Backspace key on your keyboard to discard the message, which can be a little confusing for some people.
Wrapping things up
We're still in the early days of Windows 10 "Redstone" and build 14267 is the first preview that rolls out to Insiders including new features and visual changes, and even though, they're subtle, they are still welcome improvements. In addition, Microsoft is speeding up the delivery of new builds, as such we're expecting to see in more interesting changes in future releases.
While there is still no a concrete release date for the next major update of Windows 10, we're expecting the company to roll out the Redstone update with significant changes later this year.
Alongside the new visual improvements, Windows 10 build 1427 also includes a number of new fixes and known issues you should be aware.
More on Windows 10
For more tips, coverage, and answers on Windows 10, you can visit the following resources:
Windows 10 help, tips, and tricks
What do you think about the Windows 10 build 14267? Tell us what you think in the comments below.
Windows Central Newsletter
Get the best of Windows Central in in your inbox, every day!
Mauro Huculak is technical writer for WindowsCentral.com. His primary focus is to write comprehensive how-tos to help users get the most out of Windows 10 and its many related technologies. He has an IT background with professional certifications from Microsoft, Cisco, and CompTIA, and he's a recognized member of the Microsoft MVP community.
Hey dead OS of mobile.....provide some information about windows phone update.....Enough with this pc update......Show little care about old Lumia non insiders

If only they just released a new build to non-insiders....oh wait.

As you can see the Win 10 insider keeps the same build as the current release of desktop version, as the mobile os is due to late february (i hope) When redstone will come they should have those to the mobile as well.

They are showing care by not shipping you a bad build so you don't stress out and complain that they broke your perfectly fine 8.1 device.

Yeah, WP8.1 is pretty rock solid to use. We already have enough issues with Lumia phones having W10M builds not even well polished and still full of quirks and bugs. Just hope that when W10M is officially ready for non-Lumia x50 series (older Lumias), then hopefully too for non-Lumia devices though unfortunately it may take a while.

Also in this version: email saying you don't have enough memory to sync, blue screens and long boot times. SP3 i3 .. Reverted to .107

Only problem I have been having recently is my HP Z book display driver keeps crashing. Besides that I get a little bit of freezing every now and then. But I do enjoy Win10

Good to see Insider builds are getting mildly exciiting once more. :)

They should add text mirroring from phones to the Messaging + Skype pc app. That way you could read and respond to texts on pc, not just send them as it is now. This would be killer for me!

Did you send this in via the insider feedback app? If not, what good does it do you to mention it here in the forum and not via the feedback portal?

Win10 is going to be universal OS for all devices that will help Lumia's to be popular

I don't seem to be able to send a picture even with this new build. While attaching it does work, every message with pictures fails to send. Anyone else?

Installed on surface 3 and 3 pro. Both now freeze and unfreeze constantly...reverting to previous build. Posted via the Windows Central App for Android

I updated to the latest build 14267 but my Kaspersky internet protection is not working and now says disabled. Is there anything I can do to get this working again. Pease help. Dave

Likewise - not good! (but probably due to Kaspersky who refused to support the pre-release Windows 10)

Same problem... maybe it's cause not compatible issue from KIS/KAV

Still no dark theme for Cortana? FAIL!!!!

Complaining about a feature that was never promised? FAIL!!!!

No, getting use to cool features in WP 8.1 that actually worked great and then lazy developers at MS don't know how to bring them back in W10? That's an EPIC FAIL!!!!!!

Would be nice if they fixed bookmark syncing across multiple devices in Edge before adding new features that are half baked...

Well essentially most things in Edge is half-baked. Even dragging tabs is still quirky at best, that even a slight drag of it will tear up the tab making new window, worst its harder to bring it back. Sometimes the tab just disappears when you drag it outside. Every web browser essential features that all modern web browsers that we all taken for granted, is non-existent on Edge or if it exist, the implementation is half-baked.

For some reason the clipboard (copy cut paste) isn't working reliably within Edge after the update; it doesn't copy and when I try to paste into a different app that other app crashes.

"Identified songs will be listed in the "Music searches" list, you can click or tap the song to open the Store to purchase the album or song.​" There is nothing new here, searching music has been there for a while and so has the list of searches. The news is the button that now appears without first clicking the listen button.

That wallpaper is really neat, by thw way. Can I have it, please? :)

While edge has a good thing, I'm surprised they haven't added support for extension yet. AdblockPlus is the one we're waiting for, the most!

Hi everybody ... "copy, move, delete etc dialogue was not showing error" is it fixed???
... Plz tell me ..

That's been fixed several builds ago.

I hit "restart now" button. Install screen appeared. After a while of installation,the login screen appeared. When I logged in, it said that it can't install the updates. Anyone got that problem?

The Edge improvements should have been in there from the start. Most of these features have been included in browsers for years already, Edge has a long way to go to be a worthy alternative to established browsers

Nice, now please, remove the black from the contextual menu of pinned taskbar icons and fix the all-apps not scolling if scrolling on unfocused windows is disable. This will me make a happy kid. And please, dear Gabriel Aul, a dark them should not be black, but dark gray instead (ask to Visual Studio team how is a dark them/skin).

Still no Edge extensions....

Microsoft should have given the option or a way to un-install the program from Windows 10, if someone did not like it. http://www.faceofit.com/

Hello there. I am on Built 11102 and facing problem getting Build 14267. I have checked and triple checked Insider Settings, and it is set to Fast Ring. Since this build, I got all updates in time from the Settings>Update app. But this time it is showing "your device is up to date". Can anyone help me regarding this issue?

I'm having the same problem from updating from 14257. Very frustrating. Let me know if you figured out the issue.

Anyone else been having issues with Windows Media Player not syncing with Media devices?

Same here, still didnt find any walk around this issiue. Did you find solution to this problem?

find windows software price in flipkart, amazon, snapdeal, amazon india
Windows Central Newsletter
Thank you for signing up to Windows Central. You will receive a verification email shortly.
There was a problem. Please refresh the page and try again.