Here's what's new and improved in Windows 10 PC preview build 14267 for Insiders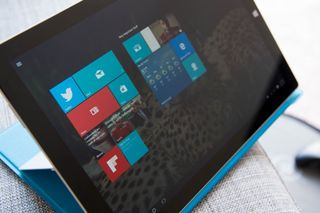 Microsoft has added a number of improvements in the release of the 14267 PC preview build of Windows 10, They include a way to find music easier with Cortana and improvements to the Microsoft Edge web browser.
Here's what Microsoft's Gabriel Aul stated was included in Windows 10 PC preview build 14267:
Search for music easier in Cortana: We have made it easier to invoke music search in Cortana by adding a music search icon to the top right of Cortana. You can now open Cortana on your PC and click on the music search icon to have Cortana listen and search for the song that's playing.
Favorites bar improvements in Microsoft Edge: If you have the favorites bar enabled in Microsoft Edge, you can now right-click on the favorites bar and choose to have it only show the favicons only. You can also right-click to add new folders in your favorites bar as well.
Clear browsing data when you exit Microsoft Edge: You can now choose to have your browsing data cleared when you exit Microsoft Edge. Just click on the three dots at the top right in Microsoft Edge and go into Settings, click on the "Choose what to clear" button under "Clear browser data" and enable "Always clear this after I close the browser" after choosing what data you want cleared.
Improved Download Prompts in Microsoft Edge: You can now configure Microsoft Edge to show a prompt when you start a download, allowing you to choose where to save the file. Just open the Microsoft Edge settings pane (the three dots at the top right) and look for the option under "Downloads settings".
Messaging + Skype improvements: You can now attach photos to your Skype messages by clicking or tapping on the paperclip icon at the lower left as you're composing a new Skype message to a contact. Additionally, you can also invoke the Camera app to take a photo to attach to your Skype message too or send along your location.
Source: Microsoft
NICE!! FAV BAR OPTIONS!! FINALLY!!!

Yeah! I always wanted that :D

Now I can get organized with Edge. Switching from Chrome :D

I am waiting for AdBlock (or extensions to be specific).

You could just modify your hosts file in the meantime

How can I modify the host file to filter ads? Please be thorough.

Its not that reliable. For one thing, its not as easy as click to install besides, it doesn't update automatically, may slow your system down, adding exceptions in real time or disabling temporarily is nearly impossible.

This and the messaging improvements needs to come to mobile soon.

Same.omg Posted via the Windows Central App for Android

Hopefully the option comes to Edge mobile as well. It was a one of the first issues that I noticed in the browser.

Incoming new features. Yay! Insider program is again getting interesting. Looking forward to see what's under download settings option in MS Edge since the blog post wasn't very clear on that.

oops, wrong reply! sorry!

Why updating apps like Skype or Edge needs a new build?

Because it still need testing, regular consumers don't want buggy features

Features that already existed last version of windows that got removed and come back (but more lame)

Perhaps the new features rely on additional OS functionality included in the newer builds?

Most of the updates for those specific app don't need a new build, .e.g, the current added features. However. The current whats new list is just things that got tagged along the build for testing. Most of the changes in this build are unseen changes inside Windows that needs a new build.

It could simply be that the current code base was made for and tested internally with the latest Windows build and that they want people to test it on the latest build instead of older builds. Then when they reach something stable and feature complete enough it will be released to the current branch. There is no reason for them to release it for older preview builds.

Extensions Pls!!!!!!!!!!!!!!!!!!!!!!!!!!! MS is slower then snail and still the final results will be buggy

They are slow with extensions because they are trying to make it work on most extensions that are in chrome. Chrome build the extensions slowly for years. Microsoft is trying to catch up. If they release it early, they will get bad rep and you know how first impressions with consumers is. Edge would then be labled as another IE (which wasn't that bad in the later versions)

but edge already has bad first impression. It was super buggy, and the browser has functionality of 2005 browser(maybe even earlier). :/

Well it turns out a browser isn't allowed to be old AND buggy. Therefore you either gotta use IE (old but stable and powerful) or Edge (new and flashy but buggy). Joking aside, Edge is progressing albeit slowly.

It depends on what you need. The main funcationality for the average user is there now. in terms of actual bugs, I am noticing that the main crashes (in my machines) are related to the flash plugin (e.g., while playing videos from some network websites). Nowadays it is stable. And I don't think that the brand has bad mpression in the public. If anything, alot of people I talk to does not even know that Edge exist. They are either using it thinking it is IE or they are using another braweser and they are surprised that Edge is fast and fluid when I show them.

I think Edge is even way older than 2005. It can't even right click the back and forward button to show history and you can't even manage your Favorites and History well. Even IE5 and older can do that.

Right click for history is already implemented in insider builds. Managing favorites is still lacking and should be improved.

It can render webpages 1000xbetter than 2005 browsers.

I know the desktop os still have bugs n needs to be polished.. .. But this is too much.. Mobile Is totally ignored.. Its like.. Desktop is 90% imp n mobile 10% .. Why to demotivate the mobile segment..

They are polishing the mobile too. People just got .107 yesterday! Also, they are releasing it to 8.1 devices (officially) soon.

True said... But .. Still Desktop rules.. Its bound to be given more importance.. But .. It was supposed to be universal concept.. Thought they r reaching it.. But till they r too far .. May be more 6 months for Lumia 520.. Hope they be quick like desktop updates

Desktop marketshare: 90% ​Mobile marketshare: 1.5%

Yah, they are putting more work on the desktop side. It is understandable as it is their bread and butter. Once W10M catches on (if?), they would put more people on it too. For example, Surface started with a small team and stayed small for a while. Now, we see updates left and right for their drivers and firmware because it became important. I.E., money talks!

Nice. Love sending pics through messaging + skype.

Looks like they're testing the messaging+skype features on pc before they move the app to mobile.

Well I think this build will see a public release... Soon

Does it mean we are going to get a similar mobile build one of these days?

Maybe no? Posted via the Windows Central App for Android

With this speed of updates Edge will be fully functional browser soon ( no later than 2019 )

That's fine and dandy, but it still takes me 6 attempts to successfully attach and send a picture via text message. What's up with that bs?

cant get it i click get insider preview gives me blue box restart to change security setting and get same thing after restart

they had to wait for Apple to introduce 3D touch. way to go MS.

We're in the Microsoft reality distortion field, now. Everyone is getting excited over features we had 10 years ago. SMH.

Improved Download Prompts: Yay, they listened! I feel appreciated again :)

Does the messaging app work with your phone yet?

Every time they release a new build I get my hopes up that sms integration will be in the messaging app on PC. Every time I am disappointed.

Agreed. They should be working on full SMS/MMS support within the Messaging app.

Someone wake me when they put swipe/gesture navigation into Edge. Till then... Meh.

That sounds like you're going to Cryosleep for such a long wait.

Has anyone ever said to themselves, "Gee, I sure am glad my browser saves my search history by default!"?

How about bottom tabs in Edge like Windows Mobile? Works better on tablets that way. And how about a full-screen mode?

Unfortunately they forgot all those stuff from Windows 8.1 as if it didn't exist. I hope they will bring those back for tablet mode and make Edge enjoyable to use for touch again. The Immersive mode was nice, it gives more space for webpage. I even want Immersive mode for desktop use, in windowed state too.

Glad to see new features. One thing I miss about IE11 that I hope Edge picks up is the ability to pin websites to the taskbar, and the jumplists. I use those all the time with websites for work. And with messaging, isn't is supposed to work with your phone, where you can send SMS through Cortana on your PC and have it sent through your phone? Is that there yet?

That's been available for ages...

Which ones been available for ages? I can't send SMS from my Win10 computers, and I just tried to pin sites to the taskbar with Edge and it's not working.

Did they re-add the ability to pin websites? "Paste and Go" added yet?

Yeah we need this feature. I don't know why this isn't even possible as if they haven't done this. Every browser seems to have this already and it's just a one simple functionality.

Yay. More Cortana goodness. Erh. Except for anyone not in a Cortana region :(

Search for music easier in Cortana:

Hopefully, this feature is not too far away from being added to Windows 10 mobile. It is probably my most missed feature since upgrading to Windows 10 on my phone. I used this functionality all the time in WP 7 and 8.x. Shazam just doesn't cut it for identifying background music from TV and movies because it recognizes the TV episode or movie instead of the music.

That feature is there if you use Hey Cortana. I noticed it last week when using it, it appeared. Just say Hey Cortana, then look in the upper right corner. Tap there to search or of course just continue asking what song is playing. Not sure why it isn't always there when I tap search.

https://twitter.com/msanders81/status/700449207409254400

Wow, thanks! My phone doesn't support "Hey Cortana," but I was able to find the music search by holding the search button until Cortana started listening for voice commands.

Cortana is not working. Cortana says interests aren't available at the moment. When I click notebook, it shows I am offline. How to enable Cortana? Please hep.

"Here's what's new and improved in Windows 10 PC preview build 14267 for Insiders" Here is what is NOT My experience thus far with Surface 3:
Post update that included the Intel graphics driver and the reinstall 2/4/2016 Surface Hardware Update:
Surface 3 won't play youtube videos with either browser. Stutters immediatly and then "error" message from youtube.
Surface 3 won't play Netflix with Netflix app - Error code from Netflix U7361-1253 800705AA.
Surface 3 won't play Amazon Video - Error 7135Edit: iHeart radio does not work.
Edit 2: Groove Music doesn't work.
Edit 3: Tubecast app doesn't work.
Edit 4: Movies and TV app doesn't work...perpetual spinning balls.
Windows Media Player WORKS!

I installed this on my SP4, but I quickly had to roll back to previous build for few reasons: 1. SP4 gets stuck on SURFACE splash screen every other time you start up. Long pressing to force shutdown from splash screen and then restarting always solves the problem, but when you shut it down, you have to repeat this process. 2. Every time there is a notification, the slideout section freezes along with the taskbar and start menu. Nothing is clickable and the notification stay stuck. Everything else works fine, but it's very annoying. It may take 5-20 minutes for the taskbar to restart, or you can log out and back in by ctrl-alt-del. 3. Groove App doesn't respond whenever I try to play a track. It gets stuck and I have to close the app. 4. I have a VMware and whenever guest OS loads, it freezes almost immediately upon startup. I was using the new build for maybe a few hours, but it quickly became almost unusable for me. Hopefully the next one will be better!

So mobile users also have to wait for redstone build to send photos in Messaging + Skype improvements!

Back to using IE11, as my preferred browser, Flash crashes in Facebook apps such as Megapolis on MS Edge (while Flash content is invisible in Chrome & Firefox).
Windows Central Newsletter
Get the best of Windows Central in in your inbox, every day!
Thank you for signing up to Windows Central. You will receive a verification email shortly.
There was a problem. Please refresh the page and try again.