Windows 10 build 14291 now live for PC and Mobile Insiders on the Fast ring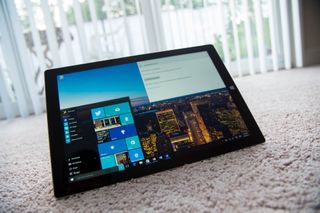 Following up on the general release of Windows 10 Mobile to older Windows Phones earlier today, Microsoft has pushed out a fresh build to PC and Mobile Insiders on the Fast ring. Coming in at build number 14291, the latest Insider build finally brings the addition of extensions in Microsoft Edge and much more. From Insider chief Gabriel Aul:
Dan Thorp-Lancaster is the Editor in Chief for Windows Central. He began working with Windows Central as a news writer in 2014 and is obsessed with tech of all sorts. You can follow Dan on Twitter @DthorpL and Instagram @heyitsdtl. Got a hot tip? Send it to daniel.thorp-lancaster@futurenet.com.
An Exciting Day For WinPhans...

Luckily I have got a Lumia 1520.

I'm currently on build 10586.164 in the Fast Ring with a 930 and I haven't received this update yet. What do I have to do??

Its not available with our phones yet. Only the phones shipped out of the box are right now receiving updated via fast ring. Keep an eye out in the next few weeks, as MS have said that in the next few weeks, all eligible win10mobile compatible will get updates via fast ring (windows central will probably do an article when it happens) +640 on Windows10Mobile

I am going go grab it right now!

What a day to be alive! Existing 10M users not forgotten.

Woohoo! Extension, Pinned Tabs, Paste and go, and Paste and search :D Great day for Microsoft Edge using Windows Insider fans!

F11 full screen?
(Without that, it'll never be my preferred browser)

Can it still play online .webm files?? Without that i don't like browsing 4chan.org with it.

Not available for old devices yet? Damm

Is it available to all devices ?? Or just to the devices wit windows10 out of the box??

Is it?? I'm going to check fast ring now and check. Just hope you're right +640 on Win10Mobile

I have a 640XL on Fast Ring and didn't recieve the update.


It's clear ..coming in coming weeks!

Ik I read it and I knew what it meant. I had replied to someone but it seems they have since deleted their post. They had claimed they had the update on 640 which shocked me, so I decided to check myself (I'd rather know for myself, even thou it was false). +640 on Win10Mobile

Only on windows insider he will have it but 640 is gettin the update anyways so it is true im on win 10 now lumia 640

Yes but not on the latest redstone build (which is on fast ring) as its not available for any phones except the most new phones +640 on Windows10Mobile

Yeah same. Who ever had said there was an update for 640 (I had replied to them) seems to have now deleted their comment . But I had been doubtful from the start hence "Just hope you're right". Seems whoever I replied to was just a troll. +640 on Win10Mobile

So correct me if I am wrong, as a L925 (unsupported) user I will be stuck on .164 from now on and cant install this build? So I wont get extensions for Edge?

No the Lumia 925 is stuck on the production branch. Windows Central Universal Application for Windows 10

Can you guys please explaim those branches to me? I am kinda confused. I used to be Insider (Fast ring) for months and always got an update, then they said only new phones will get updates via fast. So what should I choose now? Slow? Release?

If your mobile isn't a phone that came with win10mobile out of the box, then right now fast ring won't work for you. MS a few months ago restricted the update on that ring to only new mobiles. What you should do it go on slow ring (this is where the other mobiles have been updated for the last few months.) In a few weeks time MS will be opening the fast ring for all phones that insider program support, so when that happens, you can jump back to fast ring :) (if you haven't been on slow ring in a while, you'll have a new update waiting which will be .164 which is the most recent stable build which isn't on Redstone branch (Fast ring) :) +640 on Win10Mobile

Fast Ring gets the most updates, but it's also the most unstable. Fast Ring members are the first line of defense outside of Microsoft, getting the latest features first but also the most bugs and risk. The Slow Ring is on the same branch of development as the Fast Ring but gets Builds way slower and they tend to be more reliable and stable. The Release Preview Ring is very stable and it basically allows you to get all the security and bug fixing updates first. It's on a separate development branch than Fast or Slow Rings. And Production Ring is just the default "get updates when everyone does". The Windows Central Universal Application for Windows 10 Mobile on a Nokia Lumia 830

Extensions are PC only anyway.

Extensions aren't available for Mobile anyway.. that's currently just a PC feature.

Maybe not .164 forever, but you'll remain on that branch forever, it sounds like. This build looks to only be going to the x50's anyway...

Makes no sense only releasing updates to those devices only when they've just released the updates OTA to the latest wp8.1 devices which can run the w10m without issue. The 50s are devices that have the latest hardware to run ask of the software MS wants to include in their OS. Do it's only obvious those devices will receive those Redstone updates first. All devices capable of running windows 10 mobile will get Redstone updates which will only be limited by hardware i.e. IR scanner for windows hello and software that the 800xx series chipsets can push, whether it be camera, windows hello updates, gesture updates or hey Cortana updates. Bottom line is we all will get the updates for w10m Redstone and all, all we have to do is make sure we're using devices from L830 -> now and our experiences will be a more enjoyable one. I'm currently using a L920 and 10586.164 runs nice on it, but I know on a L640 XL it would be an even sweeter experience so I'm just really enjoying the experience for now until I change devices.

They're testing it on the newer devices first and when done all will be released to everybody. Right now have you realised how much more apps are being optimized for w10m? The devs ate beginning to see that the OS is developing into one that's worthy to be used alongside IOS and android finally.

You won't necessarily be stuck on .164 forever (Gabe said they will continue releasing updates for the threshold build until redstone is officially live), but you won't get redstone, and will eventually be orphaned with no further updates.

So 8 year old Windows 7 laptops can upgrade to Windows 10 for free.....AND get lifetime support and updates.
BUT, my 12 month old Lumia 1020, still within warranty, will remain on WP8.1?!
Microsoft are clueless. Mobile is their weakest link....and they are fracturing the already small user base by cutting off all **20 series users.
Madness.

The 1020 is like 3 or 4 years old. You getting one a month ago or a year ago doesnt matter, it's an old phone.

Not even 3 actually. Posted via Note 4/Nexus 7 (2013)/Lumia 1020/ Lumia 2520

There's a huge difference between PC's and phones.. Huge difference. And 45.8% of the Windows Phones in use are able to update to Windows 10 Mobile now (this number is from the usage stats and the list of upgradable phones) That's pretty impressive for the first wave, compared to Android update, which the majority of Android phones usually only receive 1 or 2 updates.

Well you are kinda right...after some time fast ring will be available for everyone...but those devices which are not eligible for official windows 10 update will not be able to join fast ring....they will never get redstone builds if they are not eligible for offical upgrade

I'm going to break my L 1320 .. ;)

Lol, Take Mine L 1320 too.. Nahh wait a Sec.. Still nt given up might get a good news later :D

Also same build is out for fast insiders but only for phones that ship with Windows Mobile 10

Does this mean my Microsoft Lumia 640 can jump onto the Fast Ring right now and get this? Windows Central Universal Application for Windows 10

I think it's still W10 shipped devices only.

No you cant...phones which are eligible for official windows 10 update will soon start getting the Redstone builds but not now

the update transponder is fully charged and ready to go captain!

Brb... *Mashes "Check for updates" button. -Mach 8 Solutions, LLC a software company.
Http://mach8solutions.com

WC team, a little feedback here :) would you mind telling us when it's an update for devices that shipped with W10M pre-installed and when it's meant for the rest of us with older Lumias? It's becoming annoying to read "Updates for fast ring insiders!!" and be disappointed afterwards :( thanks!

Still waiting for AT&T to upgrade my 1520 to WM10...

Can't be worse than the current build. My phone has been awful on the current build. Hope scrolling photos in edge is smoother too.

Downloading on 950XL naaaooooo

My understanding is as follows: If your phone shipped with Windows 10: You have been receiving all the latest insider builds. You started off on Windows 10 =) If your phone didn't ship with Windows 10 but is on the supported phone list: You will receieve this build in the coming weeks and will continue to receieve the newer insider builds You should be able to receieve the OTA Windows 10 update via your carrier "soon". If your phone didn't ship with Windows 10 and is not on the supported phone list: You will continue to receive insider builds (for some unspecified time) but will eventually be cut off You will also not be receiving the OTA update to Windows 10 I hope this helps. And feel free to correct me if I am wrong on any of the items...

Its happening! Preparing to install updates!
http://i.imgur.com/bbBko2G.png

Currently installing to L930. Yeah, it's hacked, but the last build was smooth as ever(14283). Had load of problems with 14267 though. By the way, have you guys thought of hacking unsupported phones, like L920/5, Icon to keep receiving updates? Looks like the only way to get Redstone for ya.

Can you point me a link to the "hack"? I would like to test this on a 930 lying around.

I think 520/630/... can be installed the same way. Though I'd prepare for huge problems as they will likely drop every bit of 512mb support for code simplification.

So are those on the release preview going get a final code update or is the last release "it"? Because I sure as hell don't feel this is releasable.

This is it. .164 was released worldwide.

Have build 64 to insider how install windows 10 for Lumia 435

What are these supported phone list?

How to download windows10 official but I have for insider build 10864

i really want to put insider back on my pc desktop for extentions but does skype work properly in it cause ive had so many skype issues with the last 2 updates. Shame edge wasnt released today cause it would have goten some praise.

I feel like Skype for desktop will work anyway, so you could use that as an alternative to the built-in apps meanwhile.

My 640 finally got this build!! Wohoo! Been waiting for it since it was released to 950 and all those phones. Running super smooth!

L640, fast ring, still on 10586.107... No updates found.

My 640 got updated an hour ago. Try changing insider settings to slow ring and back to fast

Switched to slow, rebooted, switched to fast, rebooted, checked for updates, still nothing :(. Will try again tomorrow.

Still no update today. I unenrolled from the insider program altogether, and the update for build 10586.164 came up right away. Installed that, signed back up for the fast ring, and still no update for 14291 or anything else.

No 640 update today even switching to slow and back to faster but my OS version is 1511 and OS Build: 10.0.10586.164.

When OTA update for My Lumia 1320

So the non supported devices, for instance the 925/920/1020 won't get future builds or Redstone?

Microsoft doesn't give updates quickly...but when they gives its storm of updates. A great day in the history of Windows !! Posted from Windows Central for Windows 10

I have lumia 535 on fast ring, still havn't receive update...

Me too,when receive this update?is no fair!

The Ring Doorbell application no longer works with this build (mobile). Anyone else experiencing this? Lumia 950 here.

we the old insiders, who were with microsoft from the begining, who made w10 mobile what it is today, almost ditched by microsoft and only some thousands of people getting some of best of w10 mobile(redstone)

so will the 640 also be able to use fast ring again?

Sharing a photo via text is busted in this build

"We have updated the list of devices that will be capable of receiving updates as part of the Windows Insider Program going forward, and in the coming weeks we will deliver Windows 10 Mobile Insider Preview builds from our Development Branch to these devices in the Fast ring." When can we aspect to see the L930 receiving this build?!!!

As far as I can see Windows Hello login is broken. On the 950 sans fingerprint reader, I used this at preveious build. Then I switched it off and back on, and then at build 14291 it does not attempt to scan my retina. In particular there used to be a progress bar atop of the screen as it scanned. Now nothing. Pretty frustrating since I now have to unlock the device every time which is ridiculous on a device in this price range.
Windows Central Newsletter
Get the best of Windows Central in in your inbox, every day!
Thank you for signing up to Windows Central. You will receive a verification email shortly.
There was a problem. Please refresh the page and try again.