Windows 10 build 14383 for PC and phone now available for Insiders in the fast ring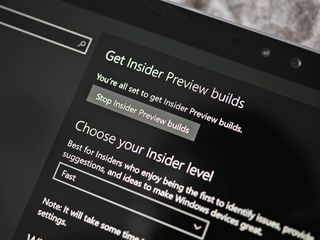 We're pretty much done with development of the Windows 10 'Anniversary Update' at this point, so you shouldn't be surprised to hear that today's Insider build features no new features, but a lot more exciting bug fixes for us to enjoy.
Today's build no longer has a watermark, however, Microsoft is still working on a few last minute bugs meaning today's build is not final.
Update: Some Lumia 950 and Lumia 950 XL devices are also getting new firmware (MICROSOFTMDG update) as well. We have posted the full details in another article.
What's fixed for PC:
The link to "Get more extensions from the Store" under the Extensions pane in Microsoft Edge now takes you directly to the Store to download available extensions.
We have changed the keyboard shortcut to invoke Cortana in listening mode to Win + Shift + C based on feedback from Insiders experiencing a large number of unintended activations of Cortana while in listening mode. Speaking "Hey Cortana", when enabled in Cortana Settings, continues to invoke Cortana in listening mode as it always has.
Going forward from this build, updates to the Quick Action area of Action Center will be preserved across upgrades.
We fixed an issue where disconnecting the Surface Book from an external monitor set as primary might result in the Surface Book screen showing in portrait rather than landscape until having detached and reattached the screen.
We fixed an issue where the Settings app was showing media controls in the taskbar preview window.
We fixed an issue where dragging the file comparison or manage library dialogs between two monitors with different DPIs would result in the dialog content no longer displaying correctly
We fixed an issue where the checkmark used to indicate a selected state in app bar toggle buttons wasn't visible in high contrast, for example in the Photos menu under "…".
We fixed an issue where connecting to a PC using Remote Desktop when a maximized window is immediately behind the Remote Desktop dialog would result in the subsequent the Credential UI window being displayed behind the maximized window.
We fixed an issue where, with certain monitor configurations, Explorer.exe would hang after a tooltip is displaying.
We fixed an issue resulting in certain Bluetooth mice, such as the Microsoft Arc Touch Mouse, sometimes accelerating erratically when moving the cursor across the screen.
We fixed an issue where on certain webpages in Microsoft Edge when Narrator was in Scan mode and going line by line through a list of hyperlinks, Narrator wouldn't announce the fact that these were hyperlinks.
We fixed an issue with certain websites potentially causing a memory leak and becoming unresponsive in Microsoft Edge when the LastPass extension had been enabled.
What's fixed for mobile:
We have improved battery performance for those who tend to quickly turn the screen on and off in order to look at the Lock screen.
We fixed an issue in Microsoft Edge where zooming in and out of embedded maps could sometimes result in the map jumping to an unexpected location.
We fixed an issue resulting in volume mute not working on certain devices, such as the Lumia 640, when playing YouTube videos that use the OPUS audio codec.
We fixed an issue where if you are connected to a car via Bluetooth that supports it, tapping "End Call" on the car's console wouldn't work while an incoming text was being announced.
We fixed an issue resulting in not being about to make Store purchases using mobile operator billing when using an Orange SIM.
We fixed an issue resulting in Groove sometimes unexpectedly pausing music after music has manually been paused and resumed.
We fixed an issue resulting in the keyboard sometimes outputting @ and € instead of "a" and "e" for certain languages in Windows Phone 8.1 apps.
We fixed an issue resulting in many Windows Phone 8.1 games seeming to play in slow motion on certain devices, such as the Lumia 535.
We fixed an issue where notifications received while the screen was off didn't take into consideration the proximity sensor, resulting in the screen turning on to display the notification while in pockets, potentially leading to accidental screen presses.
We fixed an issue where Visual Voicemail setup wouldn't appear after hard resetting the device.
We fixed an issue resulting in tiles pinned from within apps sometimes being blank and not falling back to show the app name within the tile. Also fixed an issue where "SIM 2" title was missing from pinned Messaging and Phone tiles for the second SIM.
We fixed an issue resulting in incorrect Start screen scaling after switching from Continuum/Extended Desktop to Mirrored/Duplicated screen on devices with a non-default DPI.
We fixed an issue resulting in there sometimes being a delay when showing the missed call count on the Phone app Live tile.
Known issues for PC:
If you are seeing a notification pop-up once a day that started on 7/1 saying that your Windows evaluation copy expires on 7/15/2016, don't worry – this is a superfluous dialog and your OS won't expire. The dialog will also go away soon.
A recent fix went into place for the Hyper-V firmware that will that affect the ability to boot Windows Server 2016 Tech Preview 5 VMs with Secure Boot enabled. A fix for TP5 builds has been developed however, due to release schedules, the Insider Preview build changes will be released before the TP5 fix is released. During that time, if you try to boot a new TP5 VM with Secure Boot enabled, it will fail. The workaround is to disable Secure Boot during this period.
Known issues for mobile:
Voice Recorder does not show up consistently as an option for Call Recording.
You can open PDFs in Microsoft Edge but won't be able to use touch to interact with the PDF (such as scrolling, pan or zoom). When you try to use touch to interact with a PDF, it will constantly reload the PDF.
REMINDER: We have changed the backup format for Windows 10 Mobile devices to reduce the size of the backup stored in OneDrive. As a result, if you do a backup on a device running the latest Windows 10 Mobile Insider Preview builds and move back to the released version of Windows 10 Mobile (Build 10586) and restore from your backup – your Start screen layout won't restore and remain the default Start layout. Your previous backup also gets overwritten. If you need to go back to Build 10586 temporarily, once you are on Build 10586 you should disable backup so it doesn't overwrite the good backup from Windows 10 Mobile Insider Preview builds.
The Windows 10 'Anniversary Update' is set to launch on August 2nd, and this week Microsoft began the sign-off process for the final build meaning Insiders should have the final bits ready for testing very soon. Are you excited for the final Windows 10 Anniversary Update build? Let us know below.
Windows Central Newsletter
Get the best of Windows Central in in your inbox, every day!
Zac Bowden is a Senior Editor at Windows Central. Bringing you exclusive coverage into the world of Windows on PCs, tablets, phones, and more. Also an avid collector of rare Microsoft prototype devices! Keep in touch on Twitter: @zacbowden.
i hope the list of fixes contains "battery issues are now resolved on older devices"

On the blog it says they fixed battery draining when turning screen on and off to look at lock screen. It's something, I guess.

I don't see it mentioned at all. Nothing about it being fixed or an issue either.

Don't worry. A new vary issue will show up and a fix will be on its way in the next builds.

I fear that this issue will destroy my battery before it gets fixed. I already tried the recovery tool but it somehow doesn't work on my 930

Bring on the Release Builds!!!!!
#cantwait #Win10Ani

Look forward to testing this evening. Still have some issues across mobile and desktop on last build so fingers crossed.

I feel like it's Christmas every time a new build comes out.

I alse get an update for MICROSOFTMDG on my L950Xl. Could this be the double-tap-to-wake firmware update? Or what else?

Yes, it's a firmware update and it contains DTTW as well.

http://answers.microsoft.com/en-us/mobiledevices/forum/mdlumia-mdupdate/...

It's a firmware update for sure. I guess we'll see. Keep us updated!

Pdf reader in Edge fixed?

Please READ before making stupid questions!!

Whos stupid? Known issues wasnt there when I asked. Its been updated. Dumb ****.

Reading the article would tell you the answer man.

Maybe you smartasses shouldnt be so quick! The article has been updated since my question! Known issues wasnt there on the original post!

So maybe you should wait for the article to update instead of commenting prematurely.

On the blog I see no more mention of the Mobile WiFi disconnect issue. It's not mentioned as fixed and it's also not listed anymore under known issues. Windows Central... Can you please check into this?

Well... Wait for it to install and see for yourself? You're gonna install the build anyway, no?

lol, i was checking for updates and it wasn't working till I noticed i was disconnected from Wifi. Hope this is fixed.

It got fixed in the firmware that was released today :)

Well, wasn't that firmware only for 950/XL? Because many other models, like my 640, have this problem.

Previous build wouldn't even let my Icon connect to Wi-Fi properly. This build is letting me. Have not had it installed long enough tri comment on whether it'll drop the connection a lot or not.

"We fixed an issue where notifications received while the screen was off didn't take into consideration the proximity sensor, resulting in the screen turning on to display the notification while in pockets, potentially leading to accidental screen presses." Finallyyyyyy!!!! The most annoying bug I had experienced.

I pocket dialed someone 3 times on separate occasions because of this.

Lol, I had removed Phone and Contacts from the Start screen in the meantime to avoid that.

Off topic: Am I the only one who hasn't received Windows Central build 38 yet? :/

weird..never happened to me..

I had to enter the A1B2C3 thing a gazillion times so very very happy with this fix also!!!

My phone will ask for an "A1B2C3" code to be input after failing to unlock the phone while in my pocket.... Very annoying, I'm glad it's fix :)

Yeah, but still better than needing to restart the phone :D

Very excited, bastante entusiasmado❗

I hope they fixed the Outllook Calendar issue showing blank after date change. I have been rebooting every morning! NOT KOSHER! And I hope they fixed the ability to turn off the Bluetooth from Action Center when connected to a bluetooth device. Which currently freezes up the screen for a minute or so..

happens to me on the lumia 950xl and my two pcs , it's a bit annoying

Wish the accuracy of my 550 keyboard would be solved that's all I want

Yayyyy!!!! :D My phone is ready :D But my PC is not :/ I switched to fast ring on my PC, when Dan wrote that article, in which he recommended fast ring for daily use, but still nothing :S I'm still on 10586.420, and the Windows Update doesn't show any insider bulds (just Defender definition updates twice, or thrice a day :D ). I got the new redstone Store somehow, but I didn't notice anything else. I tried manually searching for updates many times, but it didn't change anything. Can anyone help me with this? :D

Switching insider levels in PC or even joining Insider take time in PC, so be patient. Might take upto a day, sometimes even more

Only bug fixes.. No new features.. :)

I need to know whether they've fixed battery draining on Lumia 930 before I download. Anyone have an idea?

What about the WiFi issue for mobile?

I have had issues connecting to WiFi on my Lumia Icon as well and gave feedback and hope they have fixed that issue specially connecting to 5G WiFi.

I have seen this over the years but it was worse for me on Win 8.1. I haven't found it happening much on Win10 release build for the Icon. The interesting thing is I have never seen it on my 950XL with release build.

The wifi issue was terrible in this build on my Icon. I would get dropped dozens of times a day at work and I had to delete the connection and re-enter id and password each time.. It happened less at home. It got to the point where I just turned off wifi. Haven't been dropped yet since the new build so am keeping my fingers crossed.

I was wondering about that also. They always had it listed in what's broken list but not in today's list. It's a must fix for RTM in my opinion.

What about the battery life on older devices?

What about fast battery drain in lumia 830/930/1520 ( old SoC chipset ) ?????????
Without being dat fixed...no use of these updates....
My 7 month Lumia 830 doesn't last 6 hrs! Of just normal use. :/
Hate this ignorance :(

I have this issue in my Lumia 830 too. Do you keep mobile data on always? For me that drains the battery much. If I am only connected to Wi-Fi networks, battery lasts for around 12 hours. Though there is no mention of this "exact" issue in this build, let's hope it is fixed.

they never gonna fix battery drain issues with the old phones, if they fix or provide proper support for 2 yrs old mobile then we don't buy new phones.... hard truth.... upgrade or suffer or migrate....

Wrong idea if there's no new devices :-/

scaling issue in my lumia 638 :(

I know right :'(
Seems like MS didn't even notice the problem with scaling the display in lumia 638 (and 635) since last 5-6 builds.

Yay, they fixed the issue with Google Map zooming in Edge!

Glad to see they're going to finally stop resetting my quick action settings! Also good to see the extensions link in Edge now taking you directly to the store.

So wat about the battery drain issues in old phones? Is that fixed?

if it is fixed, old phone users will not buy new phones....

Pretty good fixes ini this one. Like it

Did they just mention "Call Recording" via Voice Recorder app? :O

Didn't the 950 have? I had it anyway then it went away.

Yeah, been there since november.

Anyone running the anniversary preview build on Lumia 650? Can you please tell me if I should download this or wait it out until the 2nd?

killed my cell connection, but I'm currently roaming abroad, so might be an isolated situation

Gotta wait to get to the hotel and abuse their wifi.

If 14384 is the RTM Candidate Build Then I Pity MSFT as Battery Drain On Many Devices Not Fixed

Still no Cortana on W10M for French Canadians. This is getting old...

Still having issues with my photo app on my 950...pictures go missing when I save to SD and if I switch to save to device it just shows a grayed out frame where the picture once was...I can't delete them...any help would be great.

so what will Win+C do now? used to be the Charm Bar shortcut. Maybe now open the clock with agenda view then.

If I'm right, that opens Cortana EDIT: im an idiot, i'd only read mobile changes, sorry

So, after so many months and test cycles, they're publishing this as the production Anniversary Update build with important known issues such as these???

14384 will be the first RTM candidate, not this.

"We fixed an issue where notifications received while the screen was off didn't take into consideration the proximity sensor, resulting in the screen turning on to display the notification while in pockets, potentially leading to accidental screen presses." Yussss this was major for me and I had WDRT ready. Great thing they fixed it!

Trivia Crack not opening at all and many WP8.1 apps crashing after sometime has to do with incompatibility or W10M OS issue? And I hope they enable conservation of "Turn on fast start-up" after updating to a new build soon.

Issue after nonstop issue...

Sounds like they are very close. Seems almost ready for a daily driver on 950. Firmware update sounds promising for sure. Cannot believe no mention of phone numbers being recognized as links in emails and calendar.

How about battery issue in Lumia 930? Because of this i went back to official windows 10 phone release. If they have solved this issue I'll download it otherwise won't

I have the same concern you do. I also went back to official. Any one have some good news?

It seemed to be fixed in the last build even though it was still listed as a known issue. I was getting 16h+ of battery with moderate use. Not bad for a two year old phone.

But not good too. Is it getting hot when you're not using phone?

I'm waiting for the article that says Windows Insider program now expanded to include the HTC One M8.

Well scaling issue still not solved on the Lumia 635.

What's that Call Recording thing? When did that feature appear? Is it for all devices/builds?

been on win mobile for a while. when in a call you have an option to record a call direct to mp3 (i think) Ive used this to take addresses and deal with call centres. Great feature.

Yeah, been there since november. :P

I'm so excited for the erratic mouse cursor fix, that was KILLING me! It's nice to see a fix for a problem, so you know you're not crazy.

Why is there no option to turn off glance screen clock when charging on 950xl ? been like this for weeks now.... worried it might cause burn in on the screen...

On my 950XLl Edge crashes on launch :(

Ditto, sucks, tried everything.

No watermark? Does that mean it's safe to leave the insider program now?

I have not reset my Lumia 535 in about 6 builds now. Has anyone done it after getting on this build? Any difference?

Seems to be a lot faster on my Surface pro 3 :) well done MS!

Still no Hey Cortana on Lumia Icon, Turning off bluetooth when connected to device (in my case LG HBS 800) freezes up the phone for a minute or so (since last 3 builds). Ugh.. hoping they will fix these key issues in the next build.

I hate to say it, but I truly believe the only way to get Hey Cortana working again is to roll back to WP8.1 then update back ro 10. This is the only way that other Icon users have gotten it back. I know it's a pain, but it's nice to have it working again.

I have had Hey Cortana on my icon (929) since...goodness...a long time now. I just tested it to make sure it was still working before commenting.

I even did a hard reset 2 builds ago and still no Hey Cortana and this morning having tough time connecting to WiFi while all other devices connect fine. My wife's Icon got updated to Windows 10 official Release and Hey Cortana says Cortana needs to be "ON" - same as my Lumia Icon. Ugh.. now my wife is mad at me as she lost "Hey Cortana"... :-( :-()

The bluetooth is almost unsable in my car in this build on my icon. The last build was fine. Half the time it just won't connect to the car at all.. If it does, either people can't hear me at all or I sound like a robot. A reboot fixes it for a while but then it stops working again. I have just been leaving my bluetooth turned off in the car; which is harder given it locks up the phone when turning the bluetooth off.

Hey sameermehta2! What's your take? Leave a comment.
guys anyone has updated there lumia 640 ds ,please provide details on changes and battery life,thanks

My son's do, so I'll let them used them a bit and post shortly

My 1520 is super fast with this latest build, but I'm wondering when and if we're going to get new features? I'd like to see a lot of the swipe to access/View features from WM8-8.1 implemented in W10M.

Not in Anniversary 1. They'll probably come in 2 and 3.

In private browsing is not working as the search field is inaccessible

Yes. Me too. On mobile, Lumia 930, open new In Private tab, then tap in address/search field, but on-screen keyboard does not appear. No way to make an entry.

Found a work around. Just select text and copy it. Then try to access the search field. Keyboard should pop up.

I have problem I stop receiving updates, I am on the fast ring but there is no updates my build is 10586.318 I need help how to fix this

Is this build good enough to upgrade a lumia 1520 still on 8.1 ? My dad has been holding out for a while and it's been a while since i last checked in. Posted via the Windows Central App for Android

I've not had any major issues on my 1520 for at least the last 5 builds. I've downloaded the latest build and haven't seen any major issues yet.

Thanks. I'll get it updated this weekend. Posted via the Windows Central App for Android

Yes, the last 3or 4 builds have been good. Go ahead, try it.

Am I the only one with broken Messenger after this update? Messages take forever to send and receive. Like 10 Minutes each.

I guess so, after reading your post, I tested messaging between my families phones and they received then quickly. Lumia 1520, 830, and two 640's.

This issue is not fixed in this build yet. "We fixed an issue resulting in tiles pinned from within apps sometimes being blank and not falling back to show the app name within the tile. Also fixed an issue where "SIM 2" title was missing from pinned Messaging and Phone tiles for the second SIM."

That PDF bug is really disappointing. I use it so much for class notes. Posted via the Windows Central App for Android

14383 removes the version info at the lower right hand part of the screen.

That's because its a Release Candidate build.

Error code 0x8013153b when I try to open Store App. Any one having similar issue after update?

Dis update has slowed my mobile network and I can't use my hotspot again on my Lumia 730

Mobile hotspot works on my Lumia 1520.

It looks like the webpage rendering issues with MS edge mobile browser has been fixed with this update.

Really? My fonts are all still yuuuuge.

After updating to latest Build 14383. My many apps is not starting or working(eg.WhatsApp,windows central,games etc.) and crash automatically when I try to open the apps...pls....help me......R*

Ditto, Edge crashes immediately. Bummer deal, hoping for a new build right away.

check the store, that often happens when apps are being updated

The issues you guys are having must be device specific as I have no issue on my Lumia 1530, 830, or 2-640's at all.

Dang, it's very frustrating to have a new build that causes apps to crash all the time. Some apps are broken and can't start.

This build works fine with lumia 532. No apps broken and no crashing

Updating 2 of 8 at 70% stuck, had to reboot. Update is done now. Glad it went well now.

This build doesn't fix or introduce anything.
What have Microsoft and their insiders been doing the whole year?

Best joke I have seen all day.

Would be good to know if there are restrictions on which phones get this, such as the older ones. I'm not showing availability on a 635: but that doesn't have the minimum spec for 10, so it may now be stalled with the version it's on.

The Nokia Lumia 635 with 1gig ram can have build 14383 works ok but there is a small annoying scaling bug that needs sorted so if your gonna update make sure your on the fast ring and visit the feedback hub and search for ( Please fix bug 7 ) and hit the upvote button the more people that do this on there 635 or 638 the better chance it will be looked at and fixed by Microsoft.

As a Lumia 638 user, I upvoted the post.
This issue persists since last 6-7 builds now. Really getting annoying that they don't seem to even notice it. Doesn't matter if 635/638 W10M Redstone users are less. I don't know if we will be noticed through feedback hub because only 3 upvotes are there in this issue.

New feature: My 650 now has no cell network access at all. Maybe because I'm currently roaming, though was working fine before the update.

I am having slow charging issue from last build and i think it is not solved till yet on lumia 640xl can anyone help me out

So far, I have not had Wi-Fi disconnect issue on my icon. All else seems good

Nice build, what pisses me off is that they removed the ability to send a text messsage to a phone number selected from hystory list. I mean..what the actual ****...

Dude, you guys must be tripping because I can go to a historical call, select the people hamburger to the right of the historical call which lunches and option window giving the profile, timeline, and options to View historical info, call, or text the person. I use a Lumia 1520.

Hm, I can't deploy from visual studio now... anyone having problems testing their apps on the new build?

With this release the battery on my Lumia 950XL is dying in 4 hours flat. Its contstantly on charge since i upgraded to 383 build. Very bad considering its release condidate.

Same here...with minimal use, and all background apps disabled.

i wonder why no one else reported this issue. What are we doing different from others ?

Same. This build ruined my batter life. I'm at 52% after about two hours of barely any use.

Strange. I disconnected my phone (Lumia 535) from its charger like 6 hours ago, and since that, Wifi and location are enabled, all the background tasks are running, but I only picked it up 2 or 3 times to check the notifications. (Automatic brightness) And its on 92%, so I don't have battery life issues I guess. 14383 of course.

I'm starting to think they're more trolls in this form than I once believed! I have a Lumia 1520, 830, and 2-640's that I hadn't disabled anything on or use any less, yet battery life and performance are great.

I'm definitely not trolling. My battery life is 4 hours with minimal use. I'm going to try a hard reset to see if that fixes it.

Not buying what you're selling because my older 1520 hardware along with a Lumia 830 and two 640's have no issues. You must have gotten a bad unit.

Wow, a phone you don't have is having issues and a post like this is because of trolls or caused by a bad unit. My 950XL is also having battery issues on this build, so bad that it out paces Qi charger, so bad that I had to switch to my Nexus 5X for the day jus to have a phone. I'll be reverting or resetting...

My 950 XL is down tp 4 hours battery life too. He's def not trolling.

I had the same issue yesterday after install. I had my 950XL on the charger for the update, then removed it after. I set it on my desk and completed a few errands around the house. When I came back to it about 30 minutes later, I picked it up and the phone was hot. I immediately restarted it and when it came back up, it started to cool down. I started looking in the settings for anything that might stand out like an app using a lot of battery, etc. I found nothing. I then checked the store app and looked at the update section to find that a few apps had been updated after the OS install, so I kind of thought that was the issue. All was fine until today. I had to go somewhere in the evening, so I got into my truck and connected my phone to my radio through the bluetooth and listened to music while I ran my errand. I reached my destination, removed the phone and it felt fine. I did have a call along the way, but ignored it. I got back in the truck after concluding my business and headed home. Music was playing the whole time, no issues. When I got home, picked up the phone and put it in my pocket, all seemed fine. I went in the house and set the phone on my desk as I had to take care of something. Came back to the phone to find it was starting to get warm and noticed the battery was around 50%. I hadn't used the phone that much, so I once again checked on some apps in the background, store use etc. Could find nothing out of the ordinary. I put the phone on the charger and let it sit, hoping that whatever was causing the problem would either time out or close. come back a few hours later and the phone is still warm and at 100%. Literally like there is a rogue app in the background accessing the CPU constantly, but background apps show only a few running in the background and at a percentage of 10 or less. Not enough to tax the CPU and drain battery rapidly. I have turned bluetooth off, as well as wifi, to see if that helps, and it did not appear to. This is the first sign of battery drain that I have had on preview builds, and I have had insider previews installed on this phone since I bought it. Before that I had a 1520 with insider builds installed as well.

Cortana is working correctly again.

any one try it in Daily Pc???

It work very well on my PC

Reset Band 2 & reinstalled MS Health. Cortana requests from Band works! day 2. Email works. Messaging does not.

Store keeps crashing even after doing a soft reset.

Working flawlessly on my 1520 and the battery life is great

I wish. My total battery life is now 4 hours. I'm gonna try a hard reset later.

Using 1520 as well. Store is my only problem right now. Everything runs fine though. I guess I'll wait for another build rather than performing a hard reset.

I have to hardreset to solve this issue

Think official redstone will be my last chance to Microsoft if that dosent end up working on my lumia 535 I def goin to sell it and buy android again....Last night my Windows 10 camera went ape shyt,general poor performance even for scrolling around start,touch even worse than it was on Windows 8.1, games wont scale making them not playable at all, while on other hand last night when I rolled back to Windows 8.1 all these issues are gone, than again no one support Windows 8.1 anymore so I feel that I'm gonna need to hop to Google onse again even that I hate them.... Man I just want basic things to work on this damn phone, music apps such audiocloud,camera,skype but no it works like a piece of crap on Lumia 535

A Lumia 535.... That sh*t is old. Even older android and phone won't get the newer OS features, so you won't be experiencing anything different on another platform if you had older hardware. Some of you guys are ridiculous expecting 2-3 year old hardware to get updates and working flawlessly.
go ahead and switch now; the difference is, it's the when you change platforms, you buy updated hardware without complaint, but won't purchase newer windows phone hardware.

Wi-Fi calling still not working on Windows Phone 10. Worked fine on Windows 8.1.

There'll be no stopping the Windows 10 juggernaut folks!

Anyone lose the Voicemail icon in the phone app on a 950 or 950XL? After I took this update, I no longer have visual voicemail.
Windows Central Newsletter
Thank you for signing up to Windows Central. You will receive a verification email shortly.
There was a problem. Please refresh the page and try again.