Windows 10 build 14393.82 Release Preview now available for PC and Mobile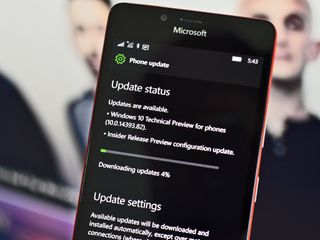 A new cumulative update build for Windows 10 and Windows 10 Mobile has started rolling out for Insiders on the Release Preview ring. It's currently unknown what's new in this release, as Microsoft is yet to publish an official changelog. We assume there are some new fixes and under the hood improvements included, however, as that appears to be the case with all cumulative updates.
For PC the KB update is KB3176932 (opens in new tab) although the changelog page is not yet live.
Windows 10 Mobile users on the Fast Ring are reportedly not receiving this update, likely due to this being a cumulative update for the current branch instead of an entirely new build.
If you'd like to get this update, make sure you switch to the Release Preview ring now. For mobile, the update will come right away, but for PC it could take a few hours.
Microsoft began rolling out the Windows 10 Mobile Anniversary Update officially earlier today with build 14393.67, so it's good to see Microsoft already testing the next patch that will go out to more users. The update is propagating throughout Windows Update now, so if you can't see the update yet on PC or phone, don't worry. Just give it a few hours to reach everyone.
We'll update this article with new information as it becomes available.
Zac Bowden is a Senior Editor at Windows Central. Bringing you exclusive coverage into the world of Windows 10 on PCs, tablets, phones, and more. Also an avid collector of rare Microsoft prototype devices! Keep in touch on Twitter: @zacbowden.
Strange. I'm on 14393.67 with Fast Ring and it shows no update even after checking.

....read the ...you know the rest ;)

I saw. It just still seems strange number wise.

It's because the Fast Ring is preparing to jump to RS2.

Fast ring is not for RS1 any longer. 14393 is the current production build.

So I jumped backwards to the release preview from fast, and noticed the other day that I lost panoramic mode in the camera app. Was that fast ring only?

Reminds me of "The Flash" television show where the Flash goes back in time and does something which ultimately changes the present; usually for the worse.

I still have Panorama on Release Preview.

I waited 24 hours to get the panorama enabled cam app on fast ring before jumping back to release :)

I'm on fast ring with no panorama, so are many others. I believe the version of camera with panorama has been pulled for now.

I had panorama, did a hard reset and I couldn't find it even after Camera app updating automatically. Then I manually checked for Camera app in the store and It had an option to update the app even though checking for all updates didn't show it up. This is how I got it back :) if it helps anyone..

Daniel, what percentage do you think windows 10 mobile will be holding now after the anniversary update in the windows market?

It is very very important for the UWP app developers to know.

seems todays RS1 release was NOT intentional but leaked through their update servers.

Where did you read that? They announced it was rolling out officially so wherever it was they were probably wrong

Hey dan do we reallly need downvotes in the coment section, it jut breeds negativity in the site! just a upvote and a report button for those spams should be enough i guess!

Hey dan this is the anniversary update cause I got it on my Lumia 535 with windows 10 and I am not an insider. Now I have the anniversary update on my phone

Hey Daniel ! If u could help me, my Lumia 830 camera button doesn't open camera but from app list I can open n able to use button . One more thing this Lumia 830 has a long term screen blinking issue why it could be n how can I solve ? I have done multiple times hard resets Now, I m on release build 14393.82.

I have this screen flickering issue on my L730 when automatic brightness is ON, it stops when when brightness is set to low,medium or high

That is strange. I'm on the fast ring and I'm on 14901.100

Sometimes Microsoft's numbers are a little weird. Fast Ring is slow and Release is Fast. Of course you can get the newest by choosing the slowest. Makes sense right. ;)

But the fast ring is moving back into development builds again for RS2. Expect build numbers starting at 14901 (which I got on my laptop yesterday). Not sure why you're saying the numbers are weird. 14901.100 is significantly greater than 14393.82.

I just completely misread your first comment. I switched the 9 and 3. I'll switch back to Fast Ring after I get the update and see if 14901 shows up. Any thoughts on how it is?

Surprisingly fast. Start menu and action center open much quicker now :)

Hey! Is there any other new features you noticed?

I never thought that windows 10 on pc could get any faster lol. It was never really slow for me either. Posted via the Windows Central App for Android

Am expecting some changes for file manager in future updates.

But it's not the "newest". It's the latest Release build, as in RS1. RS2 is Fast Ring.

How dis u get it and what's the diff

Really did you manage that on the phone or pc?

The only strange thing happening here is the downvoting retards.

Wow. I got down voted for saying something was strange. Some pretty harsh people reading these comments today.

The buttons are small and really close together. I accidentally it the wrong one all the time.

Some people use up voting to say +1 and down voting to just say -1. May be we need separate counters for up and down voting.

I am on 14393.67 , Fast Ring, still showing no any update ( Lumia 535)

You will not get this update.. B'coz MS is preparing FASTRING for REDSTONE 2

Is the double-tap to wake ever going to show up for Lumia 950 on AT&T?

I don't know. I'll go ask them. Hold on...

I asked a few weeks ago (@attcares) and was provided the link to the microsoft blog about it being released. They didnt seem to understand they are blocking it.after a week of trying to explain i just gave up.

Use Windows device recovery if you wants it now after a backup :)

Won't be on there. ATT have to approve.

His 950 is presumably locked to AT&T, meaning he has to wait for AT&T to push any firmware updates.

Expect a few months delay...

It has been there for a long time now

I think you can have that via recovery tool?

if you're not locked to AT&T device then sure. Otherwise no it's not available.

To get around ATT slowness you need to get on Insider Preview Release. This is really release software that doesn't get delayed by the carriers.

this is not firmware update. That's just OS update

I am on release preview ring and i don't see it on mobile. Lumia 640 XL. Downloading on pc

Switch to release preview

I had the same problem on my L950.... I switched to Release preview but didn't see the update. So I chose to "Stop Insider Preview Builds" and then re-enabled it... after multiple tries and reboots, finally the download started.

Sometimes it takes a day or so after going on Insider to get updates.

So is 14393.67 the 1607 final W10 mobile Anniversary build ? or is .82 yet anther update or the first of RS2. The lack of clarity, as many of will want to jumps off Insider Builds, once the Final Anniversary build is installed, before RS2 builds.

143xx is RS1 149xx is RS2

Hi Daniel Suggestion: Make this visible in the banner at top of Windows Central "Insider Current Builds: 143xx R1 - Release Preview (Current Branch) / 149xx R2 - Slow & Fast Ring (Development Branch)"

Good Idea, but I'm sceptical. Seems that some are simply not willing to read and inform themselves, and rather start writing out in the blue.

There's no lack of clarity. 14393.xx is the final build of RS1, and any "xx" build is just a cumulative update for that build.

No lack of clarity at all - the .82 is the patch level, not the build number, that's why the 14393 has stayed the same - as it will with all further cumulative updates until RS2 is released next year. So if you leave the Insider previews, your version will continue to read 14393.xxx until the next release Build some time next year. Build 14901 is the first Insider release of RS2, hence the completely different build number., which will keep going up with further Insider releases.

Well, it's the revision part of the build number.

Well, it's the revision part of the build number.

why?? you don't like bug fixes and improvements?

14393.67 was pretty poor for me in terms of battery, Bluetooth funny things and restarts, I welcome this update in hopes of improvement

So a bit of polish for the RP ring. I guess the RS2 build will be released real soon on the fast ring.

Don't count on it. They explicitly said that they will hold off on the RS2 Mobile build for a while which is understandable to make sure all the CoreOne new code is working in an optimal way. Mobile is riskier to release a build. I suggest you get the release preview.

Does this fix Outlook not working on Mobile?

Sounds like you have a very specific scenario, not like that is a known bug I have heard about or experienced personally.

Could be. I just spent the weekend reverting my phone back to 10586.xx since Outlook wasn't able to create new messages (but I could still receive and read them).

Did you try uninstalling-reinstalling the Outlook app?

My only problem is while writing the to whom text field. If i type one wrong letter then can't erase it. I need to exit the app and try once again. Any fixes??

Had the same issue. Removed the email account from the app then added it back, and everything went back to normal. Now I can create new emails and reply to emails as usual. Thought of removing the app, but there's no way to do that and wasn't needed anyway.

Yes, you're right. The Google account created this bug. Just removing and re installing it was the trick. Sync is auto, So no more job to do.

The solution for that issue is to remove the email-account in the app and after that add it again.

Same issue for me and this update did not correct it. There are a bunch of reports in the feedback hub about this too.

I have the same issue, the reply to email and also compose email buttons to nothing!

I've reported this, but no response yet: feedback-hub:?contextid=136&feedbackid=c72c65ad-88b6-4272-b7a0-5962d8cadd7e&form=1&src=2 Will try the "fix" mentioned above (re-add the e-mail account). It's my outlook.com account, so it really should work without such workarounds.

Did you update to this current build at all?

Why would an OS update fix this and not an app update?

Downloading now... YES!! My 640XL

I'm getting the update but I unenrolled from the inside program?!

Did you do it as described on here? You get the choice of a few days or for good. If you dont do it properly, you still get them if you aren't careful

I did it for good no clue why it still gave me the update.

Cure for the lack of messaging notifications hopefully...

What's weird is slow ring not getting either update. Must have been forgotten.

Slow and Fast ring are now only for Redstone 2. Relase preview is gonna receive only cumulative updates for Redstone 1.

Sounds like release preview is the safe place to be for a while.

No. Fast is migrating to RS2. That is why .67 is on release preview. Fast will be held on 14393 for time being until RS 2 is a go. RS2 currently on PC, and will go mobile in a while.

My mistake. I am on Release Preview, thought it was still Fast. Sorry. I am sure I deserve the downvotes - terrible.

Nope not forgotten. Most likely already preparing RS2 builds on those rings.

Heads up: as at 2016-08-17 10:40 NZST, the link to the KB article goes to this url: http://www.windowscentral.com/support.microsoft.com/en-us/kb/3176932

Who is missing the Panorama in the Camera APP? Lumia950xl

I think the panorama feature is still only available on the fast ring builds.

I still have it and I'm running Release Preview.

The way the original article is written it makes it sound as though the phones that came with Windows 10 Mobile pre-installed (550, 950, 950xl) would receive the upgraded app whether they were on fast ring or not. I haven't seen a clarification anywhere on the matter.

I have panoroma on my 640 Dual SIM

That's my worry. If ever I decide to switch from FAST ring down to SLOW or Release Ring, won't that make me lose out some of the apps that were FAST Ring exclusive (i.e Microsoft Wallet, Panorama in Camera)?

@Dinky89484 No. Only if you do a hard reset. :)

It's only fast exclusive until Microsoft is comfortable to release it to everyone.

I was till today evening in the fast ring. Then I made a hard reset. Builds are the same... other people with 950 still has the Panorama. So it's very curious for me. After switching to the Preview I got the xxx.82 and now I'm switched back to Insider fast. Hm...?

No idea what your question is. :)

I switched from fast ring to release preview to get the update. Now at xxx.82 and panorama is still there. Did not do a reset after the update.

Just got the update, what does it do exactly for mobile?

Makes it more mobiler. Actually, I see that force-closing an app now completely removes it from the Back button list. (I'm hoping force-closed apps truly are closed, and not merely tombstoned as system behavior sometimes indicated.)

Agreed. I'll force-close Pandora and groove but music still plays. I feel as though they should close completely. That's my opinion.

@wpguy, Yes indeed, I noticed this 'more polished, smooth' behavior when now force-closing an app...good observation, description...proir to 14393.82 (even 14393.67 AU build) trying to force close an app--->pressing x would cause all kind of app glitches, some would close jerky, and others would not...

Running att 950 and no double tap nor panorama camera

Double tap requires new firmware and panorama requires new camera update on fast ring.

As Dan said above read the......

Will this fix the freezing issue on pc? I hope so.

Is anyone getting problems with the connect app on mobile?

Just got the official anniversary update for mobile. Installing it now

Got this .82 update and I'm not part of insider program in settings (I was in RP ring in Insider app before anniversary update)

Then that's why you're getting the update, because you're in the RP branch. ;)

They fixed the Bluetooth button not turning off and Gadgets is working for me again.

The article link to the KB page is broken.

Successfully switched from Fast Ring to Release Preview Ring to grab the update and switched back to Fast Ring again. There was also quite a few MS apps updated today for me, including bit not limited to Skype Preview and Office Suite

I've had a few apps to update as well. Facebook beta has updated twice for me today.

Just got this update and it looks like it completely wrecks my phone. All the apps can't be launched and all app icons and tiles are empty squares. I can't even open built in apps like Phone. Even settings aren't right. This is crazy... did not expect this level of bugs/issues being in the Release Preview ring!! Now the hassle of reflashing...

O.O I hope this is isolated.... What phone do u have? I find that hard to believe on a release preview.

Yeah, I hope so too. I've got a couple of 1520s on the preview program, both factory unlocked (the other one is out of the program now). Been in the program for a while without issues and then this. At least after WDRT, I get a newer firmware update.

Have you tried to soft reset it (power + volume down)?

Thanks for that but you bet. First try was the standard soft reset, and then next would be the "battery pull" volume down and power reset. After that reset, I even got the "!" icon on boot up. Thank MS the restore process is so awesome... I'm just about all back up and running now.

Did you come from 10586 TH?? Did you do a restore from 10582?? The insider team commented a while ago that restoration from TH to RS1 caused issues with start screen, or was it the other way round. Can't remember now, but there were issues with restores. I would suggest the dreaded hard reset :'(

Nono, I've only been on release preview on that phone, so I came from the recent update after anniversary update (.64 I think?). Like I said, I had to go beyond any reset and do wdrt to reflash it back to wp8.1 update (most recent on their servers apparently) and then start the insider updates again. Not preferred for sure, but at least grabbed a fw update on the way (that probably didn't do much).

Has the store app been fixed?

I can't believe Microsoft would release an Anniversary Update and even yet another update with such BASIC functions not correct. Alarm is useless and volume is barely noticeable. Maps audio doesn't work over Bluetooth in cars (which is the whole point of navigation). My frustrations over the last 5 years continues...

Wow!! Do you think those who work at MS were those who lost their jobs from Apple and Google?

Lol. Seriously though, how can MS release an official build to the public without something as basic as using an alarm to wake up in the morning not even working? Crazy.

Have you tried refreshing your phone? I do not have those issues with either app and I have never read of anyone else mentioning. (Not saying that it isn't an issue, but it doesn't seem to be common). My alarm volume is fine and maps over BT in my car works great.

Yes, I just wiped my phone last night and reset it. Same issues. I'm using Lumia 950 Unlocked. If you go to the Clock and Alarm app in the store and read the reviews, you will see a few complain about it as well, but I don't think it's an app issue...I believe it's a system issue because I also have the same problem with Realarm as well. I also have a 2014 Lexus GS which is basically Toyota technology so that is another head scratcher.

That sucks, man. I have an AT&T 950 and neither are an issue. Hope an update helps soon.

Thanks man, but it's been like this for the last 15 builds so not sure when that will happen

Try not restoring from backup after you wipe it

Actually i used windows alarm this morning and it just worked fine. I got anniversary update last night.


Not had any of these issues on 950xl on either fast, slow, preview or release. Odd. Could it be a bad download? Daft I know, but it happens! I can pair my phone to our minibuses and get the nav voice, including the annoying "here we go". Thankfully my alarm has never let me down, and I need it at all times of day from stupid o'clock in the morning to should be off to bed now but I'm off to an airport. Quite an unusual one that.

Wow that's strange. I did wipe and restore many times. For Alarm, I am using a custom notification sound from my SD card. I will try built in sounds to see if that's the problem. But Nav definitely doesn't work. What's even more strange is Bluetooth does connect and phone calls and music DO work just fine. Only Maps voice doesn't.

Release preview ring should also have their own fast and slow ring

Na, because Release Preview is the "fast ring" of it while everyone who isn't in the program is the "slow ring."

Why?? If something is testing for release, why would you need to confuse the issue? Fast ring reports bugs, slow ring checks they have been fixed and slow double checks. Simple system really.

Downloaded and installed. Aside from the direct changes to UI, the anniversary release has cleaned up some of the previously sloppy interface. No more partialy hidden labels etc...nice update. I give it 9/10

Only for preview, that's good. Excite