Windows 10 build 14997 leaks onto the web with new features and changes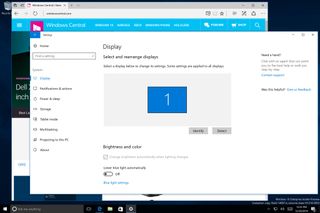 For the last couple of years, around every Christmas when the Windows Insider Program is on a break, an internal Windows 10 build compile always seems to find its way onto the web, giving Insiders an awesome holiday gift and an inside look at what to expect in the new year.
This year is no different, as build 14997 appears to have leaked on the web. This build is particularly interesting, if only because it comes from an internal development branch, "rs_onecore_base". For reference, the builds Insiders receive are from the development branch "rs_prerelease" which is watered down of features.
14997 from this new "rs_onecore_base" branch features a few noteworthy changes, including an updated Settings app, theming support, many improvements to Edge such as tab expansion and tabs saved for later, blue light and a whole lot more.
This build leaked on BetaArchive, and considering this release is an unofficial one -- meaning it won't be released to Insiders officially, we won't be linking directly to the download. Windows Central can confirm the authenticity of this leak, however.
We'll be doing a full hands on video shortly, so stay tuned for that.
Zac Bowden is a Senior Editor at Windows Central. Bringing you exclusive coverage into the world of Windows 10 on PCs, tablets, phones, and more. Also an avid collector of rare Microsoft prototype devices! Keep in touch on Twitter: @zacbowden.
Great Christmas Gift by Microsoft

Incorrect. Microsoft did not publicly release this build. That was done by BetaArchive, and the anonymous individual or group whom gave the build to BetaArchive.

But anyway the build is done by Microsoft.

I think this build deserves a video review as we will not get a new one for a while.

I think the team should be allowed to spend today with their family :)

Windows 10 is part of the family, especially Cortana

Last sentence of the article, full hands on video, i thinks that's just as good.

Didn't see that. Perfect!

Shouldn't we all be on the core release

"Change brightness automatically when lighting changes" has a terrible bug where it keeps changing the display brightness of the laptop even when it's disabled.
.
Hopefully they will fix this when merging settings.
.
Build 14393.576

So if we stick with the official insider releases, when do we get features that exist in the one-core branch? Do we know that?

No, we don't know of this will be the new "master" branch.

Install this and you'll get updates from one core

No you won't. These updates are only rolled out to you if you're a Microsoft employee. Installing this is a realy bad idea, except if this is purely for testing purpose in a VM that you plan to delete afterwards.

Don't be a sissy, install and found out.

Not a leak, It's unofficial release.
If you think about it, how come no one over the years has ever leaked code, only builds.

Uh, code has leaked. Remember that NT4 / Windows 2000 SP1(?) src leak back in 2004 or thereabouts?

I don't remember that.. Thanks

The display setting have lost the brightness bar, so they finally put the slider on action center?

But Zac, you said build 15000 is completed.

This one was compiled before build 15000 and was probably just sitting on a server somewhere.

Finally, theming capabilities. I'm sick of the pathetically riiculously ****** looking thick window border which you can't remove. Some deep-more accentuated shadows are much better than a damn border. Someone will release a theme with such a thing included, I'm sure of it.

Windows 10 borders are MUCH better than the unfathomable thickness that are Windows 7/8/8.1 borders.

Would be nice for them to fix the broken Edge bookmark syncing.

Ooooh! Blue light reduction! Looking forward to using this on the mobile in RS_2

I wonder how old this build is?

Here's the link to the video from Windows Central:
https://m.youtube.com/watch?v=fNOr0FN79YU

activate ur enterprise with a windows key and it will covert to pro version.

I wonder if we will ever see other desktop apps like wmp make it to uwp form
Windows Central Newsletter
Get the best of Windows Central in in your inbox, every day!
Thank you for signing up to Windows Central. You will receive a verification email shortly.
There was a problem. Please refresh the page and try again.