Windows 10 build 15031 now available for Insiders on PC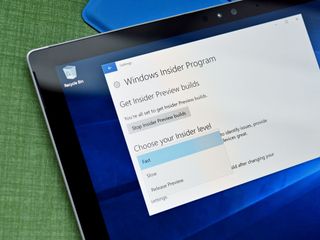 (Image credit: Windows Central)
Microsoft is today rolling out yet another Windows 10 Insider Preview, with today's build being 15031 and featuring two noteworthy new changes that Insiders will be excited to hear about. Today's new features include Dynamic Lock finally working, and Picture-In-Picture mode!
For Mobile Insiders, Microsoft says they are looking into releasing a Mobile build later this week, but there's nothing to share today.
Today's build appears to be the first build for Insiders that comes from the "rs2_release" development branch. For those unaware, this new branch is the branch Microsoft will be using when rolling out the Creators Update to the public. We're just a few more weeks away from sign-off at this point!
What's new?
Do more at once with the new Compact Overlay window: Ever want to continue watching a movie while switching app to check your email? Or keep an eye on your video chat even as you're browsing the web? We do all the time! Some tasks don't require the user's full attention but is perfect to leave at the corner of the screen so we're introducing a new compact overlay mode for UWA app developers. When an app window enters compact overlay mode it'll be shown above other windows so it won't get blocked. The best part is that compact overlay windows work just like normal windows in all other ways so app developers can tailor the experience with what they already know. Updates to the Movies & TV app and Skype Preview app will take advantage of compact overlay windows in the near future!
Introducing Dynamic Lock: Dynamic Lock automatically locks your Windows 10 PC when you're not around based the proximity of a Bluetooth-paired phone. If your Bluetooth-paired phone is not found near your PC, Windows turns off the screen and locks the PC after 30 seconds. To enable Dynamic Lock, make sure your phone is paired to your PC via Bluetooth and go to Settings > Accounts > Sign-in options and toggle Dynamic lock to "on".
New Share icon: We're introducing a new share icon. Apps that used the "share" font glyph in Segoe MDL2 assets should get the change automatically
Windows Game Bar improved full-screen support: We got a ton of feedback on Game Bar and we are continually adding more titles with this support. In this build, we've added support for 52 additional games in full-screen mode with Windows game bar.
As always, you can check out the full changelog, including bug fixes and known issues on the Windows Insider Blog.
Zac Bowden is a Senior Editor at Windows Central. Bringing you exclusive coverage into the world of Windows 10 on PCs, tablets, phones, and more. Also an avid collector of rare Microsoft prototype devices! Keep in touch on Twitter: @zacbowden.
Here I am installing 15025 and this topic pops up!

Compact over lay..is that like opera does with YouTube videos? Samsung also started same from S4 inbuilt video player..tap a button move video player where you want, resize window etc...if it's same then it's going to be awesome..atleast after 3yrs.

And this feature will be available to developers *natively* on thy OS.

So, it's a windows with "always on top" enabled.

Pretty much. Without a (significant) border around any edge I would think. But yes this seems like it allows developers more control over it than the iOS picture-in-picture mode does. (which to my knowledge, only Apple apps access)

No mobile again? Trump should ban Microsoft and build the wall around them. Microsoft should pay that of course.

what about trumPutin, build the wall around him!

To be fair, now I understand why we never got overlay stuff for apps like Skype or FB Messenger.

sweet the for coming of picture in picture

Does this mean picture in picture is coming to Mobile and Xbox as well since they said the creators update is now feature complete?? Might be time to go fast ring now

So far, on my 950XL, the latest fast ring build isn't that bad.

Nice surprise, I thought there wouldn't be any new builds until after the big Bug bash

This build is in 'rs2_release' branch rather than 'rs_prerelease', the final countdown has begun!

The new share icon looks stupid.

Wow that collage budget is big

Potential big issue with this one regarding Bluetooth. Please read the full blog posting before installing folks.

Thanks for highlighting that! I jumped off fast ring to wait out a fix for that. I rely on a Bt keyboard and mouse.

Pretty funny that Dynamic Lock is a new thing, but we can't even test it because of the known Bluetooth issues. :( Oh well. Patience is a virtue.

Can't test it as when trying to add Bluetooth devices (L950 Dual SIM) on PC, the Settings page will crash and kick you back to the homescreen.

Dynamic lock sounds fantastic! Yet another reason I should add BT to my desktop. ... Even better would be if we could use our phone's NFC as a Hello device to unlock our PCs.

This time check, download and prepare were fast. Did run into Restart issue, but got around that. Actual update did take some time, but is to be expected since partial updates have been introduced. First sign-on updated my account and then showed a full screen Windows 10 intro browser page, for which I needed Task Manager to get rid of. Quick Action button to access All Settings no longer functions.

Will be staying up past midnight to install. Now I can troll and get banned on Reddit and watch the dark knight at the same time!

...anyway when is Creators Update coming? 😃 I'm not pretty up-to-date, but it's really awkward... 😁

They need to allow split screen apps on windows 10 mobile. Windows 8/8.1 pioneered this and it was great on RT. Android and IOS eventually copied the concept, but windows mobile never got a taste of this.

Buggy as hell. good luck getting setting to pop up by clicking on it

Were the build updates not suppose to get smaller? Wasn't that the point of holding that build back before xmas?

Any one else having issues with Apps no longer opening? Since the last 3 builds most of my apps error out when I tried to open them. Even the feedback app wont open. I've tried using the reset app option and it worked for the Facebook and Instagram app but no luck with any of my other apps. I've even tried deleting an app then re-installing. Edge will open but sometimes when I click on a link I receive the "This app can't open" error message.

too much build on your phone probably need to reset the phone probably

Yeah was hoping there was an alt. work around..

Certainly installed a lot quicker than 15025 though it did fail saying it needed more room, had 24Gb free, Restart fixed and it continued from were it left off. Do have the Settings not opening from the Taskbar problem, can open from Cortana.

Can't wait until these start coming to release preview. I don't trust my new Surface Book with Fast Ring builds considering I rely on my device daily for classwork

why introducing dynamic lock......when Bluetooth in not working good work guys......

Yeahh unable to access Bluetooth on this build. It just crashes after selecting it from settings.

But for mobile build 14393.693 when? There are many bugs especially on Facebook apps.

Wish I had read the blog before I updated. Not beign able to connect to Bluetooth is a major pain. Would be helpful if the Windows Central article made problems with build clearer..

Ok. If your device is paired in 15025, would It still be in 15031? One way to side step the BT issue.

Installation stuck at "Working on updates 46%"

Me too. on 70% and twice BSOD...

Has it gone through the RP ring? It says Insiders in general. So I thought maybe it'd be available for me, but it is not.

MS peeps, Feedback Hub and Edge will not open.

so as Mobile get it today as well, on Friday.

Since updating my Surface Pro 4, the Surface keyboard is no longer working. Does any one else have this issue, or know how to resolve it ? - I've tried the up vol + Power button hard reboot, but this didn't fix it. Also I encountered an issue with the "Action Center" not opening.... It was fixed by following these steps: 1) Take ownership of the "C:\Windows\System32\DeviceFlows.DataModel.dll" and then rename it. eg. "C:\Windows\System32\DeviceFlows.DataModel.dll_15031" 2) Copy the same .dll from the previous build 15025, and then paste it into C:\Windows\System32. 3) Click on Action Center and it should now be working.

Update crashed my system on restart. After second hard restart system automatically rolled back to last build.
Windows Central Newsletter
Thank you for signing up to Windows Central. You will receive a verification email shortly.
There was a problem. Please refresh the page and try again.