Windows 10 build 15048 for desktop and 15047 for Mobile now available in the Fast ring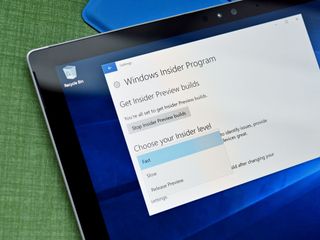 (Image credit: Windows Central)
Microsoft is rolling out another set of Insider Preview builds for both Windows 10 and Windows 10 Mobile, featuring more fixes and under the hood enhancements. Today's builds in question are 15047 for Mobile and 15048 for Desktop.
Today's builds have no new features, which is to be expected considering we're just a couple weeks away from the final build now.
What's fixed for PC?
We fixed the issue where some UWP apps may unexpectedly appear with their app package name in the title bar as opposed to the app name. A lot of you sent us screenshots of this in the - Feedback Hub and we were able to debug the issue quickly. Thank you!.
[GAMING] We fixed the issue where some popular games might minimize to the taskbar when launched.
We fixed an issue where copy and pasting URLs to and from the Microsoft Edge address bar with spaces wouldn't convert spaces into %20.
We fixed an issue resulting in the LastPass extension for Microsoft Edge sometimes unexpectedly failing to show its autofill buttons on recent builds.
We fixed a recent issue resulting in unexpected characters sometimes being pasted when pasting into certain websites using Microsoft Edge.
We fixed an issue where using the mouse wheel to scrolling in Microsoft Edge might not work if the window was made smaller or moved to a different monitor.
We adjusted Microsoft Edge's "Find on page" logic so that now as you go through the results the webpage should scroll so the found text is more central on the page.
We fixed an issue for those flighting recent builds on laptops, changing brightness would stop working after the first time the laptop lid had been closed and reopened when the "Lid Close Action" power policy was set to "Do nothing".
We fixed an issue that could result in not being able to type into search boxes in certain UWP apps.
We fixed an issue resulting in clicked Cortana search results not opening when typing using the MS Pinyin IME.
We fixed an issue where cross device notifications from a particular phone might unexpectedly appear in two separate groups in the Action Center.
We fixed an issue resulting in emails from Outlook 2016 not opening in the foreground after tapping on the corresponding notification.
What's fixed for Mobile?
Adding a new card / paying with an existing card works again Microsoft Wallet.
We fixed an issue resulting in the play/pause buttons when watching videos in Microsoft Edge taking two taps to work immediately after opening the video full screen.
We fixed an issue where the Data Usage page in Settings might be unexpectedly missing info about cellular data usage.
We fixed an issue resulting in certain characters on the Polish keyboard not working in Continuum when typing in the Microsoft Edge address bar.
Cortana's background is now black rather than the previous dark grey.
We fixed an issue where after some time the -word option might stop appear in the candidate pane for words added to the typing dictionary.
We fixed an issue resulting in task switcher being unexpectedly slower to launch in recent flights.
We fixed an issue resulting in a flicker on certain devices, such as the Lumia 950, when interacting with the Maps app after rotating the phone into landscape mode.
We fixed an issue where dragging the position indicator in the video progress slider in Microsoft Edge would back to 0 upon release.
We fixed an issue resulting in notifications from SIM 2 on dual SIM phones not appearing in the Action Center.
For the full changelog, including known issues, check out the official Windows Blog post.
Zac Bowden is a Senior Editor at Windows Central. Bringing you exclusive coverage into the world of Windows 10 on PCs, tablets, phones, and more. Also an avid collector of rare Microsoft prototype devices! Keep in touch on Twitter: @zacbowden.
I hope they fixed what ended up making the Elite x3 unusable. I do not see it in the fixes though, other than dual sim notifications.

I'm downloading it to my x3 now, which was working fine on the previous build. The prior one fixed Bluetooth discovery for new devices which was a big issue for me. I really like seeing the Edge fixes on both Mobile and Desktop. Edge on Mobile was getting glitchy but it sounds like they may have addressed it. On desktop Edge, I was having all sorts of mouse and text-select issues and Lastpass wasn't working worth a damn, and again, it sounds like they have addressed a lot of that. When Edge is functioning reasonably well, it is my faovorite browser, far and away.

Were you able to use the home screen back arrow to close out the apps? Did your messages stop working as expected with dual sim? Does your time stay the same all the time and you have to restart the phone to get it go work for five minutes and you'd have to repeat again? Did the screen stay on and you COULD not turn it off?

Screen won't turn off, so the battery will probably die quickly again. This was one of the main reasons I rolled away from the Previews before. It's like Microsoft can't get anything but PCs right, and this are declining.

I'm interested in how the X3 works on this preview build as well. I've been avoiding the Preview builds on my X3 because it would hang, reboot, and/or have battery drain on some of the previous builds.

I've been having those problems with my L1520, its been so bad that I don't use it anymore.

Did a hard reset on the last build no problems also 1520 user too

Good for you. Im stuck in build 14946 and cant install all the builds onwards.

Hopefully MSFT makes the same build going to desktop and Mobile in the coming weeks. It's confusing to have 15048 for desktop but 15047 for mobile

everytime i would go to fast ring my Eilte x3 would remain on when ever i closed the folio case. it would flicker off then come back on and stay on, never go black. had to revert back to RP just so my battery wouldn't drain. Frustrating.

Great news - last mobile build was much better, but did have issues on desktop with unreliable action centre and settings app. However, looks like this is absolute confirmation we won't see be seeing any final feature additions on mobile for Creators Update. (Shame :( )

Dang no battery draining fix

On what device are you. I have it running on my lumia xl and i dont have any fast drain issues

I'm on production on a 950. Those of you who are insiders, how is the battery life? I'm a bit concerned, I have to charge the phone everyday in the afternoons too to make sure I won't run out of it or enter saving mode (this didn't happen before, and I don't make a heavy use of it). Also, is the problem of the screen not turning on when unlocking solved?
I always find these insider fixes very very specific, when there are much more basic functions to fix yet.

Battery life on Fast ring has been better. That said, check your battery usage under Settings->System->Battery->Battery usage by app. I found out Edge was running a ton in the background even after I closed all the tabs. I pretty much doubled by battery life just by turning off it's background capabilities. I just couldn't stream Youtube with the screen off.

Thank you! I will try that out.

Thanks also. Sounds worth doing.

I have a 1520 and battery drain has been crazy, I will check to see if edge is my culprit.

Or it's time to change your old battery.

Hey i had 15043 and now the 15047 on my lumia xl. You dont have to worry about things not working or battery drainage. This build can be used on your daily drive

Hello. Slightly out of topic, but disabling Edge's background capabilities wouldn't allow you to do any download, or am I wrong?

Yes! Tap to pay works again!

Well, based on what Fitbit said earlier this week, this build "should" start supporting notifications once they push their update.

Nope, not til next week now (apparently)

just saw the same thing as well...

Ditto on the disappointment of no Fitbit advances. At least I am seeing more stability with Bluetooth. Now let's iron out the Fitbit functionality.

Yeah, it's pretty disappointing but pretty much par for the course with MS. I wonder what the problem is with Bluetooth on W10m? Just broken, or implemented in a way that's different enough from others in the market that it doesn't play nice with third party hardware vendors like Fitbit?

Tap to pay! So happy its back. Updating now!

What is the Update size for Mobile?

This is very huge for mobile. Can anyone confirm. Maybe it may be a bug.

I think it's smaller... I hope so !

My 950XL downloaded exactly 1GB to update from the previous build to this one. Remember, we have differential updates now (but you have to be on the previous build).

Having to constantly remove apps from internal memory is becoming tiresome. Thought they would have resolved this.

That's weird, given they said future updates would be stored on SDcards at one point if needed

Tell me about it, but I've learned to take anything they say with a punch of salt. 2 build shows have proven that theory 😃

I think that is less than that..it only took me 30 minutes to download on a 4mb connection...and my isp is terrible, it never send the whole 4mb speed.

Just finished downloading on my FierceXL took about 6-8 minutes so, doesn't appear to be that big.

Whats the update size pls

What is the update size for win10 mobile?can anyone pls share?

On my Lumia 640, downloading the update got to 100% but then won't complete installation due to lack of free space - but according to my Temporary Files screen, the download was exactly 700MB. I still have 1.03GB left in Phone Memory but as I said, that's not enough for installation.

If the accurate size is 750 mb then why the pone update shows 7.86 gb?

Where does/did it show this? Phone Update does not show any size. I had to check Storage->Temporary Files to see the size of my 100% downloaded Update. I finally got mine installed, after clearing out 140MB+ of Edge data, via 'clear browsing data'. Clearing "cached data and files" only was not sufficient, but ticking that AND the "cookies and saved website data" AND "Recovery data" did the trick!

VPN still not sorted. Seems to disconnect randomly. Alarms have be deleted and readded to get in correct time. It won't auto sort. SD still won't decrypt from 5 builds back. Think that was switched on by mistake in code. That's all so far. A vast improvement.

Downloading on Surface Pro 3 & NL 950XL DS .... Jamaica *Note
I had to unplug charger on NL 950XL DS after the prompt to restart because it just sat at "Goodbye ". Surface Pro 3 took 28mins to complete update from the point of pressing the "restart now" button.

My unplugged 640 sat at Goodbye for a few minutes to the point that I thought it was stuck and I was about to force Shutdown it shutdown and restarted and finished install.

Is it safe yet to download these on primary pc's?

No, better wait for final release.

In my opinion it has been most stable for the last two builds. In fact I updated my work production pc yesterday & doing so again as I type. Edge has been good to me & that's my exclusive browser.

I have been using fast ring on my main pc and mobile since day one and when i build my gaming pc i directly installed the latest fast ring build avaible a that time 😂😂😎

I use fast ring on primary because i have very decent backups and at least one device on production that I can fall back on as a reserve!

I use fast ring on my only phone, just because I like seeing the improvements early and finding bugs. Luckily there have been less breaking bugs too. The recent batch of builds, on the 950XL at least, are stable enough for me.

Same here... PC, Mobile and SurfaceBook all on fast, never anything too drastic so far for me to male me jump off the ring

Over the last several builds, the occassional problem of Edge constantly reloading a page until it fails has become chronic. Has anyone else been experiencing this? I haven't even seen the problem mentioned in the release notes for months.

Do you use uBlock Origin or Tampermonkey extensions?

I should have made it clear, I'm only referring to W10 Mobile.

Can confirm on mobile.. My edge keeps reloading almost all blog sites including wc until i say it *** it and move on with my life

Yes! It is truly maddening.

Hey, you stole my picture (or the app is so buggy that it looks like that).

Yes, reported it last build on here and had people saying no bugs exist.

Experienced this for the first time today on Gizmodo. Assumed it was an isolated incident, but I guess not.

Not build specific bug. Ever since launching Edge on mobile, there are users complaining abiut that issue.

Same for me on Alcatel Idol 4s.

Yes, very annoying. I've also noticed when I unlock my machine Edge reloads as if all the processes were somehow closed. Just updated to 15048 hoping this would resolve the issue and now Edge crashes 10 seconds after loading so I guess in a way the original problem is solved as Edge is completely unuseable at this point...

AWESOME! Updating my SP3 and 950XL now!

Laptop on 15046 errors out when searching Updates. Haven't tried 950XL yet because I have places to go and people to see.

If is the 0x80248013: Win + R -> services.msc -> Stop the update service -> go to C:\Windows\SoftwareDistribution and delete the Download and DataStore folders -> check for update again it should work then.

Two build in a week, RTM can't be far off now

is speakerphone from gestures back? been waiting since 2015. Has edge on desktop fixed the new tabs. I couldnt open a new tab to my default home page, google so stuck on ie still.

I believe that was moved to 'Settings > Phone > Audio routing settings' some time ago.

the desktop watermark and timebomb are back!

I noticed that too. Wonder why.

Dual sim message tones fixed?

Hotspot vpn for mob working or not?

"We fixed an issue resulting in the play/pause buttons when watching videos in Microsoft Edge taking two taps to work immediately after opening the video full screen."
FINALLY!!!!!!!

At least the Creators Update should be more stable than the Anniversary Update, even if the feature list isn't all that impressive.

Problem with updating word, excel, store and som other microsoft apps after this build, have a HP X3

Mobile Bugs:
Edge video still strobing. Edge refreshing whilst typing. VPN disconnecting randomly. Would be useful to have VPN on status bar and option to auto connect on open WiFi etc. Apps still crashing. Windows central being one of them.

I've been stuck on 15031 on mobile with error 0x80070273. Not sure how to get past the error other than with the WDRT. I've tried that several times today and keep getting an error trying to download the software package. "Downloading file RM927 blah blah blah failed."

Any fix for the Brio on desktop?

Work very well on my 950, good job Microsoft

Music over Bluetooth still stops unexpectedly in Groove and Driving Mode doesn't block texts over Bluetooth either.

So does groove work? I'm on the last fast ring build and it just stays on the start up screen. So had to DL music again on the app I use.

Hey Guys, I ask you please vote this important thing on the Feedback app. The call wating haven't worked properly since august so please add an upvote this feedback. (The link only works on mobile)
https://aka.ms/u3gbdv

I see many users are having problems with Edge. I gave up on it and switched to Monument browser few months ago. It's much faster and has some really nice features. Recommended. Unfortunately, we have no options to set default apps yet. It's available on desktop version, also on stupid android, but not on W10M.

Thanks for the tip about Monument!

Have updated my 950XL and FierceXL and both are performing great. Edge is responsive and see no shutter in videos, notifications are good, Bluetooth seems to stay connected. Have no current app issues yet. Seems like a solid build for a change. Will test continuum later.

Flying on lumia 950xl DS ! Good build surprinsigly good after such bad previews builds. 15043 was good but glitches here and there and this one polishes it. Good to be back to insider. Windows is not dead, it is being updated still so it will live. Do not believe in the doom and gloom, we are being supported better than android or Ios even being just 0.3%. What does that tells you? Jason ward is right. And i dont support half his posts but... He's just right. This platform will never die (windows on mobile). Cheers to the comunity that we are!

https://m.youtube.com/watch?v=5l6ifX3h8qc
Watch this video you will get to know the vision of wm

I wish MS has fixed the problem with Whatapps. Last build crash the program. I have to go back to Preview release

It has worked on my wife's 640 since 15025.

any one have a PC get stuck at 96% durrinf the update?

Keeping getting an error on my daughter's SE

It's groove working at all?

Successful update on tje first try on our Z170 desktop and Dell laptop after registry tweak. Cannot get Dynamic Lock to work. BT is paired.

Is it safe to roll into fast ring for mobile now (daily use)?

It's 95% stable. I would say yes

So, anything to worry about in that 5% ?

Although, it's less than 95% functional. Problems with various notifications, reminders, quiet hours, application compatibility... Be wary if you don't like surprises...

I have blank screen bug on fast ring build 15043. Its is stable than 14393 but the blank screen bug is really annoying

Had an unexpected restart on my 950.

Ditto on 640.. No idea why

On the PC update, I had thought I got stuck at 96%. But, the next thing I know, it finished and I saw my log in screen, so it finally finished. Now, I also updated my Nokia Icon. One thing that I have noticed is that, for the past several builds, Groove Music has not updated past 10.16112.1024. I'd like to know why it won't update to the latest version.

This is the best update I've had on my 950 in ages, i moved to the fast ring last build (from preview) and had daily restarts, unlocking also took 10seconds. This build is awesome, no restarts yet and unlocking is super fast:)

Do the notifications work? (the store app Notification after apps download, msn sports, etc...)

I hope that the next build has a system restore for windows mobile so that we have to rolled back on our compatible builds and skip the latest buggable build

Microsoft Edge browser is crashing on start up for the first time after every reboot on my Microsoft Lumia 640 XL.
I'm on Insider fast ring build 15047.

When release windows 10 for old Lumia phone?

Use upgrade advisor app in 8.1

Since last three builds, the network signal reception is very low in my lumia 535. There is no network indoor and only one or two bar outdoor.I have checked the sim in other handsets and it is working fine. It is very irritating. Anybody else facing this issue? Can anyone help me out? What can be possible reason?

This is driving me insane. This build won't complete downloading either. 70% for 4 hours. It installed no worries on my Surface

Anyone having problems with the Automatic Rules for Quiet Hours on mobile?

i missed the article or else would have updated sooner. i just was like why is my internet slow and realised its updateing.

Okay short story. I was updating my phone (L1520) last week to 15043. And I left it overnight to install. After I woke up it's soft bricked. My sister unplugged the charger mid installation. I used WDRT to go back to 8.1 and upgrade using UPGRADE ADVISOR to 10 (production). But whenever I try to update to fast ring version I can't seem to proceed to 80%. I am always stuck around <80% while downloading updates left it overnight already and still won't move. Same thing happen with this new update. I followed all the cool instructions on one of the microsoft.answer forum. Any other ideas how to fix this? Or any other way to download update aside from OTA.

sorry, before u upgrade to 15047, did your L1520 show this error 0xA00F4250(0x80004003) when you open the camera ?? or anyone cause this problem error ?? or after upgrade to 15047 still this error occur ?! thks

Barclays mobile banking app still recognises this build as a jailbroken or rooted device as of about 3-4 builds ago. Wonder if this is another app that is going to announce they no longer support windows phone ☹

Yeah, 'tis annoying/alarming.

Welp. This build completey F**ked my machine. It runs so sluggish now; mouse stutters and everything. I did a complete clean reinstall and that didn't help. Great.

Oh yay, a downvote from a retard that doesn't understand that the build is **** on my machine! Ok, ill just pretend that its freaking awesome will i? Bloody sheep

Start screen is loading slowly after switching from any other app or during unlocking the phone after upgrading to this new build.

On my Lumia 950XL, WhatsApp no longer loads on this build. Before and after handset reset!

CDJay - WhatsApp is working on my 950XL, ver 2.17.88

Can anyone confirm what new features mobile got in RS2? I remember them saying there would be a lot for mobile... But I can't think of one in the last 6 months?

Bug fixes and a bit faster.

Anyone else noticed that Windows is slowly losing banking support? Barclays and Halifax seem to be dying.

Yep if Barclays announces they're no longer supporting windows phone it may be the last call and push me to android as I use the banking and pingit apps a lot...

I see the 'watermark' is back.

Alright, several apps which worked last build are stuck on the LOADING screen on this one. DISAPPOINTING!!

I'm not getting any updates after 14393.726. Anyone have an idea..????

Yeah me too but im in build 14946☹

If you are not using English language, turn it to English. Just the language

Actually no probs on my 950. DL this morning and no hang ups.

i missed this article at first the builds are going fast now!

I'm stuck on 15031 build. Done the soft reset and using fast ring. Anyone else having the same problem on Lumia 950xl ?

Black screen of death when unlocking phone and waking screen looks to be fix :)

Sadly not for me, after getting a notification from reminder I was unable to unlock the phone today. Double tap and power button didnt work.

That's odd. Which phone you have?

That odd. The last two days I haven't seen the black screen on my Lumia 950 single sim att version

When update came in India to my 950xl

After the update my HP Elite x3 reboots randomly throughout the day. Also had to have the wife set an alarm for work for me on her phone cause the alarm doesn't work now as well. Just seeing those 2 issues so far.

When the official update come?

Update on VPN. There is still a DNS leak.

Please fix black blank screen bug it's really annoying -Lumia 540

Some Apps wont open like Skype For Business and Lumia Creative Studio

Even more apps than that: 6Tag LinkedIn Adobe Photoshop Express All Recipes Series Fan I'm going through my apps because just one or two would be annoying, but this seems to be something much bigger.

Been testing build 15048 since last Friday. No issues with any app or wht so ever. This is a stable build on my 950 xl. Hope to see some bew features in the builds to come till final releasr

Whoa, a TON of my apps aren't working on my L640 any more; NOT GOOD!!!

Well, stuck at 75% AGAIN, not matter what I do, WRT Clean Load, get to any of the last 2 builds and it just won't push through an finish! LUMIA ICON 2 of them no less. Hard/Soft Reset, starts download and hangs! Anyone know a fix for this. Same Error x86XXXXX Error.

Same here, also on my ICON. Haven't come across a fix yet, though.

Is anyone having a problem with the flashlight in the Action drop down? Mine works off and on.

It works on my 950 XL but once I lock the screen it turns off

I notice that also quite annoying

Thank you so much for fixing this bug. It has been incredible annoying! We fixed an issue where dragging the position indicator in the video progress slider in Microsoft Edge would back to 0 upon release.

Thank you so much for fixing this bug. It has been incredible annoying! We fixed an issue where dragging the position indicator in the video progress slider in Microsoft Edge would back to 0 upon release.

So far my 950 has restarted four times since update. This morning it just shut off without restarting. Otherwise build seems great

Same here, 3 self reboots since friday

"We fixed an issue where after some time the -word option might stop appear in the candidate pane for words added to the typing dictionary." Finally!

This build has been pretty smooth on my L650. The only odd thing seems to be the black screen that randomly seems to appear, usually between switching from a task to another. The phone freezes for a few seconds (anything from 5 secs up to 10), then working normally. In general, way better than the two prev builds. Given up a long time ago for any new features, as least most of the bugs seems to have been squashed...

Yes the blank screen bug is really annoying

This build is working fine on my Lumia 532, but the only issue I noticed was that Cortana isn't working and crashing on opening. This problem started after a hard reset.

i have lumia 530 dual sim and 15047 build but i face some time black screen issue after restart then only its work. so please fix it microsoft.

Yes its so much annoying. I missed important calls because of this issue
Windows Central Newsletter
Get the best of Windows Central in in your inbox, every day!
Thank you for signing up to Windows Central. You will receive a verification email shortly.
There was a problem. Please refresh the page and try again.