Windows 10 build 17017 now available for Insiders in the Fast and Skip Ahead rings
By Zac Bowden last updated
A new Redstone 4 preview build is now rolling out to Insiders in the Fast ring and Skip Ahead rings with new changes and features!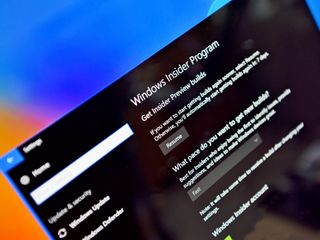 (Image credit: Windows Central)
Microsoft is rolling out its second Redstone 4 build for Windows 10 Insiders in the Fast ring, and for Insiders who opted for the Skip Ahead ring too. Today's build includes a couple of noteworthy new features, and plenty of general changes for Insiders to test and enjoy.
What's new?
Introducing Cortana Collections: Cortana now saves you time and stress by noticing and remembering things for you and putting them at your fingertips. Cortana can gather things you're interested in such as items you shop for, restaurants, recipes, and books you'd like to check out, movies and TV shows you want to watch – and puts them all into neatly organized lists from which you can pick the ones you like best. Cortana is always learning, so the more you let Cortana help you, the more Cortana does for you.
Simplifying actions between Cortana and Action Center: In the previous feature updates of Windows 10 (including the Fall Creators Update), there were two places to go to see the next action you might need to take: Cortana and Action Center. We heard feedback that this was confusing as it wasn't clear where to go. The fact that Cortana's insights and recommended actions lived outside of Action Center also made it impossible to focus Cortana's user interface on Cortana's natural language and search capabilities. To fix both of these problems, Cortana's proactive content is going to migrate to Action Center so that you have one place to go to find out what action to take next and to see the important insights Cortana has for you. This frees up Cortana's user interface to provide tips, educating customers about what can be said to Cortana, and to provide tools for search so that you can get the information you need as quickly as possible. You will see the first part of this change starting with this build with Cortana no longer offering proactive content. Over time, you will see the proactive content that used to be available in Cortana show up in Action Center.
Startup Settings: The list of apps that are configured to run at startup or user log-in is currently maintained via the Startup tab in Task Manager. As part of our ongoing effort to consolidate our settings experience, now you can configure them in Settings! In our new Startup page under Settings > Apps, you can see all startup tasks installed for the current user, and enable/disable each of them. We will also display the impact they have on your startup time.
General changes
We fixed an issue a small percent of Insiders were experiencing where uninstalled apps might unexpectedly reinstall after a reboot.
We fixed an issue where wallpaper changes might not roam to devices on the Windows 10 Creators Update with "Sync your settings" enabled.
We fixed an issue from the previous flight where Storage Settings would crash on launch.
We fixed an issue where changing time zones would result in the lock screen clock being incorrect until logging out and back in.
We fixed an issue where the Action Center wouldn't scroll with touch if you started the scrolling motion on top of a notification.
If a notification doesn't support being dismissed into the Action Center, the toast will now show an X instead of an arrow.
We fixed an issue where the touch keyboard might unexpectedly auto launch after a system restart on non-touch PCs if you'd used the touch keyboard prior to restarting.
We've updated the language settings icon in the input flyout to be consistent with that used in the touch keyboard.
We fixed an issue where the "2" character wasn't rendering correctly in some apps when using the Courier New font.
We fixed an issue where duplicate icons might be displayed in the Volume Mixer when playing certain games or online videos.
We fixed an issue causing reduced performance in some DirectX 9 games running at high framerates. If you're a fan of gaming, please take a moment to try playing your favorite games on this build and share feedback.
We fixed an issue where certain graphics drivers might result in night light displaying with unexpected colors when enabled in recent builds.
Going forward from this build, the settings to disable hibernate and Fast Startup will be preserved across upgrade.
We fixed an issue some Insiders were experiencing where after upgrading to recent flights their optical drive wouldn't be listed under This PC.
We fixed an issue resulting in some Insiders seeing 0x80070005 when trying to upgrade to the last few flights.
We fixed an issue from recent flights where you might see code 0x80070002 when trying to update apps from the Store.
We fixed an issue where Hyper-V couldn't create a VM on 3rd party network storage.
We fixed an issue where for the first few minutes after clean installing a non-English build many inbox app names might unexpectedly appear with English app names.
We fixed an issue where gaming apps using WebView with heavy use of HTML canvas might have unexpectedly had very low FPS in recent flights.
As always, make sure you check out the Windows Blog for the complete changelog, including a list of known issues!
Zac Bowden is a Senior Editor at Windows Central. Bringing you exclusive coverage into the world of Windows 10 on PCs, tablets, phones, and more. Also an avid collector of rare Microsoft prototype devices! Keep in touch on Twitter: @zacbowden.
I just open a link in forum asking has anyone having issues downloading as my SP4 will not in error codes after 30 seconds

Error code 0x8007002 with a message for Windows features to install before (and fail to install) ? Windows Update troubleshooter doesn't solve the issue for me.

Ditto here. Deleted Datastore and Download folders content in Windows\Softwaredistribution after stopping Windows Update Service, did not help either.

You need to have build 17001 or 17004 as a requirement to download these builds. Otherwise you will have to wait until after the Redstone 3 public release in a few weeks.

I have this on my laptop set on fast ring.windows is ready to install.its been waiting for you to kick it off.

I am having the same issue

Zac is this build downloading and installing for you? It seems as many of us are having problems, and MS is "Working on it".

Here also the same problem, error 0x8007002, deleting datastore and downloadfolders not working.

No it isn't. Nice way to end the week. on a Friday the 13th.

Same problem here 0x80070002

Can someone check if Asphalt 8 works on this build?

No. Not until someone is actually successful in installing this build.

Yes Asphalt 8, seems to run fine on build 17017. I did 2 laps, every seems to be fine. ;)

Ten comments after almost two hours " the times they are a changin"

Several issues commented on previous articles' comments section are fixed, it's something! 😅 Seems like nobody can install it though 😂

Looks like everyone's running into a brick wall getting this update to install. "An update is being prepared for your device, but it's not quite ready yet. We'll keep trying or you can try again now." Probably the understatement of the month.

This is ironic:
"We fixed an issue from recent flights where you might see code 0x80070002 when trying to update apps from the Store."

https://answers.microsoft.com/en-us/insider/forum/insider_wintp-insider_...

Finally, working on initializing...

Market for Serbian region not work

Progress! Here preparing to install 77%

it takes very long 😴😴😴😴😴😴

I never thought about this before, but yeah, it makes a lot more sense to have Startup options in Settings instead of the Task manager.

Downloaded and installed here in Aus.

Just update. Hope MS learn a lesson from mobile failure and which will help them to make windows be better.

Lol, the omission of music in the "books, television, and movies" bit was comical

More useless features. I wish they would focus on the bigger issues.

Installed on SP4 here in Slovakia...btw, live tile on Store work for any of you? For me and on about 3 different builds live tile for Store doesn't work and after wsreset for a minute works and then stopps

Typical, not long had teaming back with decent Intel drivers and this build has broken teaming again.

problem 0x80070522. i tried all method but unsuccessfully :(

Installed flawlessly, no issue so far.
Windows Central Newsletter
Get the best of Windows Central in in your inbox, every day!
Thank you for signing up to Windows Central. You will receive a verification email shortly.
There was a problem. Please refresh the page and try again.