Windows 10 build 17093 now available for Insiders in the Fast ring
Build 17093 is now rolling out to Fast ring Insiders with a number of changes and enhancements.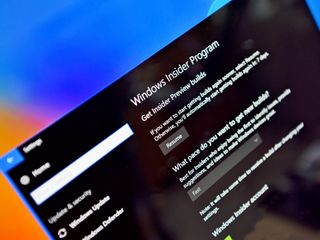 (Image credit: Windows Central)
Microsoft has begun rolling out a new Windows 10 Preview build for Insiders in the Fast ring today, bumping the build number up to version 17093. This build packs a ton of enhancements and new across the board, including Game Bar improvements, new graphics settings, and more. Here's a look at what's new, from Microsoft.
What's new
Game bar improvements
We've given Game bar a makeover so it's even easier to find what you're looking for.
Go to your captures, toggle your microphone and camera, and edit the title of your Mixer stream—all from new buttons on Game bar.
Quickly check the time using the new clock.
Choose a theme—Dark, Light, or your current Windows theme.
Game bar settings are easier to use.
Diagnostic Data Improvements
Last week, we announced some new privacy tools as part of Data Privacy Day which included the Diagnostic Data Viewer that showed up for Windows Insiders in Build 17083. With our commitment to transparency and control, users can now delete the Windows Diagnostic Data that Microsoft has collected from your device. In Settings > Privacy > Diagnostics & feedback, you will find a delete button that deletes the Windows diagnostic data associated with your device.
Graphics Improvements
HDR Video on more Windows PCs: Many newer devices are capable of HDR video, but needed to be calibrated in the factory to enable HDR. Now, we are expanding HDR video access to more users via new functionality via Settings > Apps > Video playback. If the "Stream HDR video" toggle can be switched to "On", your device can be calibrated for HDR video.
New Graphics settings for Multi-GPU Systems: In this build we're introducing a new Graphics settings page for Multi-GPU systems that allows you to manage the graphics performance preference of your apps. You may be familiar with similar graphics control panels from AMD and Nvidia, and you can continue to use those control panels. When you set an application preference in the Windows Graphics settings, that will take precedence over the other control panel settings. Find the page by going to Settings > System > Display and scrolling down to the "Advanced graphics settings" link. (In future flights, you will see this link as "Graphics settings".)
Go password-less with Windows 10 S!
Do you hate entering your passwords all the time? So do we. Passwords are inconvenient and insecure. With Windows 10 S you don't have to! Just download the Authenticator App and use it to set up your Windows 10 S PC. You will be able to go through the out-of-box experience, set up Windows Hello and access all your favorite apps and services – all without ever having to enter your password.
Eye Control Improvements
We first released eye control for the Windows 10 Fall Creator's Update back in October 2017 and we're excited to share some of the new capabilities we're adding with today's flight to enable a richer eye control experience. We've received a lot of great feedback requesting improvements to eye control – like easier controls for scrolling and quicker access to common tasks.
Windows Security Improvements
Windows Defender is now Windows Security in Settings: We have renamed the settings page under Settings > Update & Security from "Windows Defender" to "Windows Security. This settings page has also been redesigned – putting emphasis on the various protection areas to keep you safe and secure on your PC.
Bluetooth Improvements
Streamlined Pairing and Connecting to Certain Bluetooth Devices: Starting with this build, Windows enables users to start pairing and connecting supported devices in a single click. When these devices are ready to pair and detected to be in range, Windows shows a notification to the user allowing them to quickly and conveniently start the pairing process. We want to thank the Surface Accessories team for partnering closely with us and having the first device available on the market supporting this great new experience, the Surface Precision Mouse. We are working with many other partners to grow the list of supported devices, and a number of them are on the way.
Microsoft Edge Improvements
Evolving full screen mode (F11): With the Fall Creators Update we added F11 support to Microsoft Edge, to enable you to take full advantage of your screen real estate. Full screen removes the Edge frame so that only the webpage is visible. You can enter this mode by pressing the F11 key, and exiting using the same key. We've heard your feedback, and with this build we're updating this experience so that without leaving full screen you can now access the address bar and navigate to other sites, add a site as a favorite, and more. To do this, simply hover your mouse at the top of the screen while in full screen mode, or using touch drag a finger down from the top of the screen, and the familiar controls will appear. As always, don't hesitate to provide feedback so we can continue improving this feature.
Clutter-free printing: Now you can print webpages from Microsoft Edge without ads and unnecessary clutter from the web. Enable the "Clutter-free printing" option in the print dialog and print only the content you want. Note: this option will only be visible for certain type of webpages.
Input Improvements
Multilingual text support in Windows: If you type in more than one Latin script languages on Windows, you're going to like this new feature. With the Touch Keyboard, you do NOT have to manually switch the language anymore! Simply continue typing in multiple languages and Windows will assist you by showing predictions from multiple languages to make you more productive.
Text Prediction support for a bunch more languages! If you're using the touch keyboard in any of the following languages, you'll now see words suggested as you type: Assamese, Bashkir, Belarusian, Greenlandic, Hawaiian, Icelandic, Igbo, Irish, Kyrgyz, Luxembourgish, Maltese, Maori, Mongolian, Nepali, Pashto, Sakha, Tajik, Tatar, Tswana, Turkmen, Urdu, Uyghur, Welsh, Xhosa, Yoruba, Zulu.
That covers most of the major changes in this build but, as always, you can check out the full release notes at the WIndows Blog.
Dan Thorp-Lancaster is the former Editor-in-Chief of Windows Central. He began working with Windows Central, Android Central, and iMore as a news writer in 2014 and is obsessed with tech of all sorts. You can follow Dan on Twitter @DthorpL and Instagram @heyitsdtl.
looks like the final batch of major changes before stabilizing the system for the release.

Yes the next build may well be rs4_release branch 👍

They finally fixed Fullscreen mode in Edge.

yeah after like 3 years of removing it.

Changes to the Xbox Overlay UI look very similar in design to the changes made to Groove Music. The design choices look very different to what they have been doing in the past and don't really fit well with the existing half complete fluent design stuff.

That game bar looks bad. Its 2018 and we going back to DOS colors? The record button should have color. The spacing between each button is inconsistent.

I can't argue your opinion about the color scheme, but under "known issues", they do say:

Buttons on Game bar are not centered correctly.

So I assume that will get addressed before any final release...

Does anyone have an idea of how reliable this build is? The Fall Creator's update is wreaking havoc on my Surface Book, especially when it comes to Microsoft Edge.

My Edge is crap as well. And I did a full reset of the last build.

Edge has been a nightmare lately, it's MUCH better in this build! :)

If Edge is performing or behaving badly, try 'resetting' it. A quick web search will guide you on how to get this done (it involves deleting an Edge folder with admin privileges). I did this on one of my desktops where Edge had been performing so badly for so many builds. Now it works soooo smoothly, I'm now back to using it full time. I kind of got back into Firefox (Quantum) in the mean time though, but I just like the simplicity and speed of Edge (and the smooth scrolling!). I think after the Spring update, Edge will be 'mature' enough to work as a primary browser for most people.

Bigger question is, will RS4 be more stable than FCU. Especially regarding drivers. FCU killed my tablet's audio drivers completely, and I can't be bothered wiping it and going back to CU.

Insider without Mobile is like a world cup without brazil. Pointless.

Windows 10 M is dead and is being replaced by Windows Core OS this year.

You keep telling yourself that, if it makes you sleep better at night.

because it's true though??? Mobile SKU is dead but the form factor to MS is not.

I agree with the first part.

No one cares about Windows Mobile, not even Microsoft. It's dead.

Insider without Mobile is like sex without a partner. Useless.

Except for the millions of insiders using Windows 10 desktop.

But they signed up in phone.

Finally text predictions for Urdu

When do we get to try out the PWA support?

PWA support is already there so now? I guess you'd have to know of some PWAs because they aren't in the store yet

I would like to have in every (atleast bluetooth audio device) Audio Device to have audio delay settings.. When I connect my Bluetooth speaker to the system, Netflix audio is 500ms behind.. With VLC audio delay settings exists, but not as system wide option for all apps...

Nothing there that is of any use to me to be honest, The so called Diagnostic Data Improvements are not really any improvement at all, no good being able to delete the data once it is used. they need a system to stop it being sent int he first place. Defender i do not use, I know the password less is only for 10S, but howmuch hassle is it to enter passowords? i do not have a password on this machine, it boot directley to windows, but if i did It would not bother me about entering the password.

Keeps freezing my machine. Worst build ever

Had to go back to 17083 because of having no access to desktop? Anyone know why?

The game bar a makeover makes it harder to find what i'm looking for. Really awful interface!

Still not clear on why it's called "Focus Hours" on Windows 10 but Do Not Disturb on Xbox. Really wish they would call a spade a spade :/

Can someone's who's installed this try out a game with BattlEye (Rainbow 6: Siege, preferably)? I can get along just fine with installing an insider preview on my Surface Book 2, as long as I can still play the 2 or 3 games I play...

would wait for an until the next build should be worth the wait :)

I hope my Windows 10 apps have icons again! #recurringbug Pleased to see the cadence of features and fixes from Microsoft.

why is the authenticator app only working with windows 10 s?
Windows Central Newsletter
Thank you for signing up to Windows Central. You will receive a verification email shortly.
There was a problem. Please refresh the page and try again.