Windows 10 build 21354 rolls out to Insiders in the Dev Channel with new changes
New Windows changes and enhancements are here with this week's Insider build.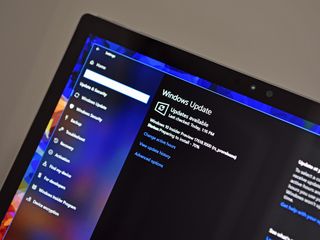 (Image credit: Windows Central)
What you need to know
Build 21354 is now available in the Dev Channel.
It features notable improvements to 'news & interests' and the apps list.
It's the first build to come from the new co_release branch.
Microsoft has rolled out a new Windows 10 preview build for Insiders in the Dev Channel today that brings with it a handful of notable new changes and enhancements. The biggest changes in today's build include a reshuffling of the apps list in the Start menu, hiding some system folders, and promoting legacy utility apps to the main apps list such as Paint and Snipping Tool.
In addition, Paint and Snipping Tool are joining Notepad in now being updatable via the Microsoft Store, outside of major OS updates. This means MS can iterate and even add new features to these legacy apps whenever they'd like, rather than waiting for the next big Windows OS update to roll around. Paint is also getting a new icon to match the rest of the new Fluent icons introduced over the last few builds.
Microsoft has also changed the behavior of the Windows Tools folder, which is now no longer a drop down folder in the apps list. Instead, the Windows Tools shortcut will take you to a dedicated page in the File Explorer app. There are also some more improvements to 'news & interests', including the ability to turn off the terrible "open on hover" behavior that it default for some crazy reason.
This is also the first build to come from the "co_release_ development branch. This happens when Microsoft begins finalizing what will and won't be in the next release of Windows 10. Co_release stands for "Cobalt release," Cobalt being the codename for this development semester of Windows internally. Cobalt is expected to be "finalized" in the summer, and begin shipping to the public in the fall.
Here's the changelog:
Thanks for your continued feedback for news and interests on the Windows taskbar! We're continuing to develop the experience based on your suggestions. Today, we're pleased to announce a new set of features rolling out for personalizing the feed to suit your interests. Now, when you hover on the weather on your taskbar, you'll see a new "Manage interests" button appear at the top of the window. This button links to a new full-page personalization experience, where you can choose the topics that you're interested in. New users may also see a personalization card in their feed to help them get started.
This page allows you to manage cameras through the Settings app, whether they're connected directly to the device (like a webcam) or are ONVIF IP cameras on your local network (for more info on ONVIF support in Windows, see this blog post). This new Settings page can be found at Settings > Devices > Camera. Each camera has a "Configure" button that lets you make changes to the default brightness and contrast – letting you get rid of the pesky backlight that always shadows your face in your video calls. Depending on what features are supported by your camera, you can configure brightness and contrast, enable Video HDR or Eye Contact, or correct for camera rotation.
MSPaint is now updateable via the Microsoft Store outside major OS updates. It also has a new icon and has been promoted out of the Windows Accessories folder to its own place in the Start menu.
Snipping Tool is now updateable via the Microsoft Store outside major OS updates. It has been packaged together with Snip & Sketch so we can deliver updates for both at the same time. It has also been promoted out of the Windows Accessories folder to its own place in the Start menu.
In Build 21343, we announced we changed the name of the Windows Administrative Tools folder in Start to Windows Tools as part of an effort to better organize all the admin and system tools in Windows 10. In Build 21354, we are continuing that effort. The Windows Accessories, Windows Administrative Tools, Windows PowerShell, and Windows System folders have now been removed from Start and the apps within these folders can now be accessed via the Windows Tools entry point that directs to the full apps list in File Explorer. All these apps will still appear in via search, launch via any method, can be pinned to Start or taskbar, and any customized shortcuts in the folder paths will remain intact. Also, File Explorer has been moved into its own place in the Start menu as part of this work.
[News and interests] As mentioned previously, we have enabled the ability to deselect "Open on hover" in the "News and interests" taskbar options. This is based on your feedback.
The default path to access Linux files from Windows using the Windows Subsystem for Linux has been changed from \\wsl\\ to \\wsl.localhost\\ to improve performance and reliability. You will still be able to access Linux files using \\wsl$\\.
Under Settings > Update & Security > Change active hours, you will find the toggle turned on for "Automatically adjust active hours for this device based on activity", if you have never adjusted this feature. We are starting a roll out a change for Insiders that makes this setting on by default. With this setting turned on, Windows Update will be able to schedule automatic restarts when you are typically not using your device more accurately.
As of the latest versions of Microsoft Edge, all pinned sites (regardless of what version you were using when you pinned them), should now use the taskbar behavior described here without you first having to unpin and re-pin the site.
On ARM64 devices, you can now toggle compatibility settings for x64 applications.
Under Settings > Personalization > Device usage, you can select all the ways you plan to use your device to get customized suggestions for tips, tools, and services.
As always, you can check out the Windows Blog for the complete changelog, including a list of fixes and known issues.
Get the Windows Central Newsletter
All the latest news, reviews, and guides for Windows and Xbox diehards.