How to enable 'Hey Cortana' in Windows 10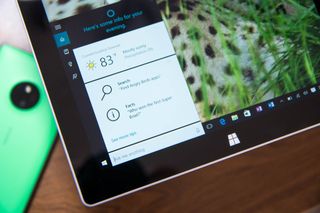 Microsoft's 'Hey Cortana' is a feature on Windows 10 that lets your personal assistant recognize your voice and wake it up just by calling its name. The feature is disabled by default, so we'll show you how to enable it. See it in action on our Surface 3.
Tap or click the search area in the taskbar
Tap or click the notebook button
Select Settings
Toggle On the option, Let Cortana respond to "Hey Cortana"
That's it! You can let Cortana respond to anyone, or just your voice. Tap or click Learn my voice if you prefer the latter. Cortana gives you six phrases to repeat so she can get familiar with your voice. They're all things you can actually ask her:
Hey Cortana, do I have anything on Wednesday?
Hey Cortana, what's the traffic like on the way to work?
Hey Cortana, what's a cheap pizza place that's open now?
Hey Cortana, when I talk to Joy, remind me to tell her 'congratulations on the job.'
Hey Cortana, remind me to look for the yellow tape measure when I get home.
Hey Cortana, tell me a good joke.
Note: Cortana is currently only available for the U.S., UK, China, France, Italy, Germany and Spain. Cortana is also expanding to Japan and Australia, and in English in Canada and India for those on the Windows Insider program (early access). Later this year, Cortana will be available to Windows Insiders in Brazil and Mexico, and in French in Canada as well. Read more about Cortana's cultural training and programming from Microsoft right here.
If you think this guide is helpful, we have many more posts like this in our Windows 10 help, tips and tricks page.
Doesn't work well for me .

Same here... Microphone doesnt work properly even after upgrading the driver ... Im stuck.. Tried almost everything

Did you upgrade or clean install?

What device? Noticed this on my Surface Pro 3 as well, but a reboot fixes it.

I didnt clean install.. I just upgraded it from previous build.. I did try restarting..changing Mic settings..but when I try to use the Microphone, the volume/sensibility automatically gets reduced to zero.. I'm using a lenovo edge thinkpad :-/ ... All drivers are windows 10 ready as well

Try to look at the Mic settings (playback devices) there's some nice things there like noise reduction and increase microphone sensibility.

Have it working on my SP3 and works most of the time but sometimes not. Will try a reboot as Mark suggests when it doesn't work. But, have to say I love having Cortana as it makes life so much easier :)

It didn't work for me as well.So, I try go to Settings | Time & Language | Speech and under Microphone click "Get started". I also ticked "Recognize non-native accents for this language". Now, it is responding to "Hey, Cortana"

Thank you Mark, I love yours "how to do" videos

Not for me. I set it up, it worked great, then it stops working. So, I set it up again, it works great, then it stops working. Cortana and I have played this game every day for the last week. Contrary to what she thinks, I don't like it when she plays hard to get.

Give her a threat, pamper her, spoil her with money, and if these wouldn't work, act a bad guy. Good girls are unexplainably quite attracted to bad guys sometimes.

Same for me.. Dell venue 11 pro...

Related, sort of, but is anyone seeing that if they put a reminder into Cortana on PC that it does not show on the phone, and vise versa?

I assume you're on windows 10 for phone right?

Yep. Kinda disappointed by that.

Reminders set up on windows 10 will only show up on windows 10 devices. It works though. I set a reminder on my windows 10 preview phone and it comes up there and on my laptop and tablet that have 10 on them. I expected it to work across wp8.1 but it doesn't.

Worked fine for me. I'm running a 1520 with 8.whatever.

It will show up if you are using Windows 10 Mobile, but sadly doesn´t show up on Windows Phone 8.1.

I know it sounds silly but make sure that you've logged on both your phone and computer with the same Microsoft account

Can someone help me? Me cortana doesnt answer it just searches for the thing in bing. Even 'hello'. Any idea?

Your Cortana probably isn't switched on. You need to set your language, speech pack and keyboard to the same locale for Cortana to work (mine is English UK)

It is switched on with the language, speech and keyboard. If I try setting a reminder for example it works and speaks asking about the reminder or if I put an alarm on it replies saying it's on. The thing is it doesn't answer the questions. If I say hello it searches hello instead of replying. If I ask for a joke or an imitation it just keeps opening bing. It's missing all the small talk ...

Be aware that the current implementation is "battery-heavy" since it relies on the OS software speech engine always listening.
There is no hardware assistance yet - like for some Windows Phone devices.

Cortana does not work for me since the update today unless I type something in. It recognizes when I Say hey Cortana then just beeps. Worked perfect before today. They did sort the UI glitch out though.

This sounds like what happend to me, but it turned out my default microphone had been changed (not by me) in the recording devices. I switched back and it works fine. Interesting part is that Skype didn't get messed up?

Hi, thanks for the tip. I tried this. But only got one microphone and it is default. Checked driver for update. Still can't get it to work. I've sent feedback to MS. Will play about again later.

Works in germany on Windows 10 desktop. But it still unavailable in the german version of Windows Phone 8.1.

Well, it works in the UK if the upgrade doesn't screw up and install US English Language files for speech like it did on one machine of the three upgraded so far.

Excellent advice...i was wondering about this feature..

Ohhh. I was blindly shouting at it earlier getting annoyed at her arrogance haha

They should make a default version available to everybody

On my sp3 hey Cortana didn't work because the microphone would set itself to zero when Cortana started listening. Deleting the mic driver and rebooting worked. But Cortana stoped responding to hey Cortana again.

She can tell specific jokes now like "tell me a science joke"

doesn't work half the time, I usually just type it to save the aggravation.

Cortana works on my laptop and pc but not on my dell venue 11 tablet it says its not available in my region. Checked my region settings and it's correctly set for uk. :/

make sure u also insert the uk keyboard language

If you are training cortana in your voice and you accidentaly click off screen which closes the cortana side bar, before I even got to read the first sentence that she wanted me to read, I am no longer able to train her. The "Learn my Voice" button is gone and I can't find anywhere to re-learn your voice... So this could be a pretty huge bug.

Choose "to anyone" then come back and choose "to me" again.

For some reason Cortana asked me for my name? Shouldn't it sync with my msft account and know me/my preferences etc? Anyone else have this issue?

I think its not an actual issue... it syncs everything with the Microsoft Account except for the name incase u need to have different names in different devices :)

Interesting. It picked the wrong microphone. I went into my recording devices and picked the right one and I'm off to the races. I find it interesting that it picked the wrong device because it was able to pick the right one for Skype.

mine gets reset quite often. also i am not able to add shipping packages.

Works perfectly on my HP Stream 7 tablet. Hey Cortana! What's my name?

Confirmed working on Dell Venue 8 Pro 5830, but my "what if" from earlier today came true. If you have "Hey Cortana" enabled on your Windows Phone, they both respond! Do the voice training and you'll see what I mean. ;-) That's gonna get old fast!

Hey Cortana on Windows 10 is amazing. Using a Lenovo Z50. And I don't need to worry about battery drain because I have my laptop tethered to my work desk anyway :)

All I seem to have is Cortana is not available in my reign

u can change the region. please change region and speech to US or UK

If only my search button worked. :(

still not working on the tp 10166 930

I can enable Cortana on my L925 by changing the region to US. Can I do the same on a tablet with Windows 10? Still waiting to update.

Works fine on my Surface 3!

Setting my region(and language) to US enabled Cortana, however, in doing so the UI seems very glitchy. Every once in a while it forgets my name and replaces it with the placeholder. The reminder and Settings buttons are switched, and the "on" setting on the slider says "off" while the "off" setting says "right now". Thankfully voice recognition and Cortana in itself work fairly flawless.

It works like a charm (and keeps working) on my HP Stream 7, but for some unbeknown reason the b**ch stops listening for 'hey cortana' on my laptop. Microphone and all that is working fine but I always have to trigger her listening with the keyboard shortcut. Pretty useless like this... :(

Please make Cortana available in Nigeria.

Error : Cortana not found

i switched the cortana setting from respond best "to me" to respond best "to everyone" and it's back to working as it should, i also suggest adjusting the microphone settings sensitivity

My name on the login page is spelled incorrectly. I have attempted to change it, but to no avail. My first name is Phillip with two (2) letter (i)s. The second (i) is missing on the log-in page. Please advise how to correct.

I am having a Lumia 535DS. But i still dont get the hey cortana option eventhough i have installed Denim.

I just bought a Lenovo with Windows 10. I have followed numerous tutorials as how to activate the Cortana voice command without success. The instructions always indicate that I should click start then click notebook, then settings then turn on the Cortana voice slider. Unfortunately when I click notebook, settings is not an option. When I find settings elsewhere, Cortan voice command is not an option. What should i do?
Windows Central Newsletter
Thank you for signing up to Windows Central. You will receive a verification email shortly.
There was a problem. Please refresh the page and try again.