Windows 10 Mobile Anniversary Update delayed for Japan's VAIO Phone Biz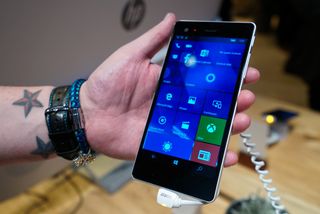 Japan's VAIO Phone Biz, a Windows 10 Mobile smartphone that launched in Japan earlier this year, won't be getting the Windows 10 Mobile Anniversary Update for a little while.
According to a support page on VAIO's Japanese site (via MSPU), the issue is related to Continuum support for the Phone Biz. The page adds that VAIO is working with Microsoft on this bug and will roll out the Anniversary Update to the Phone Biz when the issue has been resolved.
The VAIO Phone Biz launched in April for the price of ¥59,184, or about $530. It has a 5.5-inch full HD display, a Qualcomm Snapdragon 617 processor, 3GB of RAM, 16GB of internal storage, a 13MP rear camera and a 5MP front-facing camera. It does support Continuum via a wireless connection to a display, but it does not include support for a hardware dock. VAIO has no plans on selling the Phone Biz outside of Japan.
This could be an amazing choice if would be sealed worldwide

With a snapdragon 820 processor, 3-4GB ram, 32-64 internal storage with SD card, this thing could have been great in the USA. Honestly, Microsoft could have worked with Vaio to make a surface like phone that would compete against the iPhone and galaxy devices if they didn't want the overhead of making cell phones much like they do with windows 10 ultra books.

Weren't 950s made to compete with iPhone and Galaxy?

Not sure whether I should laugh or cry at this comment. Not by any fault of yours, it's just there's so many ways to read into this scenario.

You really think the 950 series cosmetically can compete against those devices? The US customers are visual creatures, not spec mongers like us tech guys/gals and the 950 series doesn't visually compete!

Cosmetically they have no chance to compete not even with cheap android phones - 950s are ugly. I, as many others, don't like them since their renders started showing up. Remember those ugly renders? They can compete with what's inside, so MS put the price tag on them close to Galaxy and iPhone. And ended up with buy 1 get 1 free deals. Anyway MS failed there, and failed with this phone too. As you mentioned above, they should have worked with VAIO

Baloney. I live in the land of crappy looking android phones, and while if you simply wish to put the 950 against Samsung, I suppose. However, superior camera, same processor, expandable storage and removable battery are all superior features. And price wise, the latest Xperia is out of sight, as will be the Note 7 when launched here. I have an updated case, but always come back to the original on my 950 because it is thinner and lighter.

That's your personal opinion, remember, you're a tech person, not the general public who I'm speaking of as visual creatures.... Apple and Samsung know this and design their devices for average consumers and boot just business people.

Have to agree with you on this one, ppl have become unaware of their circumstances. Some ppl don't even know when asked if their phone OS is closed source or open. Even if they know, merits of closed and open were not part of their general knowledge. iPhone users are the worst, droid users crave for customization while compromising the security and privacy.

Sony dumped Vaio and it had to make stringy decisions.

Fate of vaio phone biz., Hp elite x3 & acer jade primo will decide the fate of windows 10 mobile. All are mid to high range devices and very necessary for the future of windows 10 mobile.

Japan would have to acknowledge Vaio's latest venture into Windows Mobile while the rest of the world reacts to HP Elite X3 and Acer Jade Primo. Of course the sales of these 3 would mark the Windows Mobile to high standards. I very much want to see ASUS hardware with Windows Mobile happen just like HP and Acer, they had always been the best partner with msft. Their take on Windows Mobile would be very interesting to see.
Windows Central Newsletter
Get the best of Windows Central in in your inbox, every day!
Thank you for signing up to Windows Central. You will receive a verification email shortly.
There was a problem. Please refresh the page and try again.