Microsoft's Windows 10 Mobile 'beta test' is almost over, and ARM-based ultramobile PCs cometh
Windows 10 Mobile has effectively devolved into a mere testing ground for features destined for a future of full Windows on ARM devices, and Windows phone fans, you're the beta testers.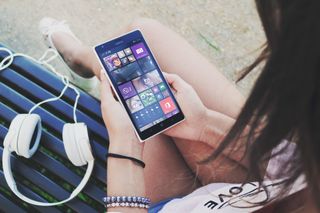 With just over 20 percent of the less than one percent market share Window phone has of the smartphone space, Windows 10 Mobile's uninspiring presence likely represents Microsoft's strategic exit from smartphones in preparation for its introduction of a new mobile device category.
Windows Phone 8.1, for which Microsoft recently ended support, comprises the bulk of Microsoft's meager smartphone share. That leaves Windows 10 Mobile as the only supported representative of Microsoft's Windows-on-mobile vision, presumably until the debut of some form of ultramobile PC with telephony, possibly powered by CShell.
The most ardent Windows 10 Mobile fans left have enrolled in Microsoft's Insider's Program to gain early access to new OS builds. For many who find Microsoft's silence regarding Windows 10 Mobile's future and its broader mobile vision troubling, the Insider Program serves as a legitimate, and relatively consistent means to gain the slightest hints of Microsoft's direction in mobile.
With Microsoft's withdrawal of Lumia smartphones from the market, no marketing of Windows 10 Mobile in support of OEM partners HP and Alcatel, Microsoft's doing the bare minimum to maintain Windows 10 Mobile before possibly pulling the plug.
Microsoft, are you using us?
So why would Microsoft keep Windows 10 Mobile alive by releasing new OS builds? And why have an official contact person and spokeswoman for the platform's progress, in the person of Insider Chief Dona Sarkar?
Well, access to a "person at Microsoft in-the-know" excites users and inspires feelings of involvement in the future success of the platform. Simply put, it keeps users engaged with the platform, and their usage and feedback are beneficial to the development process. This is what Microsoft wants.
It's common practice for companies to engage in internal testing (dogfooding) or limited beta testing with a small group of users to glean information and to improve products before release. Rarely, if ever, does beta testing occur for over a year with millions of testers for a product that technically has a "pseudo market presence."
That's essentially what's happening with Windows phone fans using Windows 10 Mobile who are part of Microsoft's Insider's Program. With no real market presence, Windows 10 Mobile has virtually devolved into a mere beta test for Windows 10 on ARM, cellular and other features for future implementation in Windows 10 on ARM devices, and fans are the beta testers.
Transition from smartphones to cellular PCs to ultramobile PCs
Cellular PCs running full Windows on ARM, which should begin hitting the mass market this fall, may be the first step toward telephony-enabled ultramobile PCs.
Microsoft will use the concept of always-connected cellular PCs, where users will purchase data from the Windows Store, to help create mindshare for the new type of always-connected telephony-enabled ultramobile PCs that may follow.
Windows Chief Terry Myerson stated Microsoft's continued investments in mobile are because of the effects of ARM and cellular connectivity on the future technical landscape:
What Microsoft is currently gleaning about those technologies as it keeps Windows 10 Mobile "breathing," and fans involved with the platform are likely the final stages of research and development as Microsoft prepares a move to Windows 10 for ARM-based, telephony-enabled ultramobile PCs. This PC-oriented strategy is consistent with Corporate VP of the Operating Systems Group Joe Belfiore's recent statement that Windows on ARM is for PCs.
Thank you for your service
Soon Microsoft may no longer need the Windows phone fans that have been dogfooding platform features that are likely bound for a future category of Microsoft-inspired ultra mobile PCs with telephony.
If Windows 10 Mobile has devolved into a testing platform and Windows phone fans are the "beta testers," and we are indeed on the precipice of a shift to Windows on ARM on ultramobile PCs with telephony, that beta test may soon be over.
Now Read
Hey Windows phone fans - Microsoft doesn't need you for Surface phone to succeed
What is Microsoft's intelligent edge and how does it affect mobile?
Microsoft's Surface 'phone' should include AR glasses, a pen and exclusive apps
Get the Windows Central Newsletter
All the latest news, reviews, and guides for Windows and Xbox diehards.
Jason L Ward is a columnist at Windows Central. He provides unique big picture analysis of the complex world of Microsoft. Jason takes the small clues and gives you an insightful big picture perspective through storytelling that you won't find *anywhere* else. Seriously, this dude thinks outside the box. Follow him on Twitter at @JLTechWord. He's doing the "write" thing!