Windows 10 Mobile build 15025 rolling out to Insiders in the Fast ring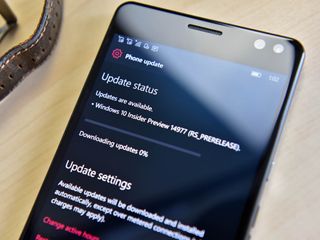 Yesterday, Microsoft released a new Insider Preview build for Windows 10 on PCs, leaving Mobile users out in the cold. Microsoft says the reason they didn't release a build yesterday was due to a blocking bug, which now appears to have been resolved at build 15025 is now rolling out for Windows 10 Mobile Insiders in the Fast ring.
The Creators Update for Windows 10 Mobile is pretty bare, meaning there aren't many new features to be excited about in this release.
What's new?
Microsoft Edge can now read aloud: Microsoft Edge will now read aloud* your e-books just like on PC! Just press the "read aloud" button at the top-right corner after opening one of your e-books and listen to Microsoft Edge read you the book with focus on the line and the word being read along. This feature is also extended to all non-store EPUB files opened using Microsoft Edge.
Microsoft Edge and emoji: Microsoft Edge will now display full-color, updated emoji by default on websites that use emoji.
Introducing Collections in Feedback Hub: A few months ago, we asked you what was one of your biggest pieces of feedback about the Feedback Hub. You said, "too many duplicate pieces of feedback!". We love working with you to create a better experience for everyone using the Feedback Hub, so today we are so happy to announce Collections.
New mono audio option in Ease of Access settings: Visually impaired users use a screen reader application to read content on their phones and information to them, and frequently use headphones or earbuds to hear their device when in meetings or having conversations with others. When doing so, they generally use only one earbud to hear what's being said from their device in one ear so the other ear is free to hear conversations and sounds around them. That can cause them to not hear sounds that may be directed to the other earbud. In order to change the sound to be mono mode and so all audio is directed to both ears, they used to need a physical earphone adapter. You can now switch your audio to mono straight from the new Audio section under Settings > Ease of Access > Other options.
For a list of fixes and known issues, check out the official Windows Blog!
Zac Bowden is a Senior Editor at Windows Central. Bringing you exclusive coverage into the world of Windows 10 on PCs, tablets, phones, and more. Also an avid collector of rare Microsoft prototype devices! Keep in touch on Twitter: @zacbowden.
I wonder who gave me 2 downvotes, for just getting excited.

That's just the Android trolls downvoting

I'll down vote on every thing.

Some people resent the happiness of others. I'm guessing they're part of the Addam's family

Haha....Adams family..lol

@david that was funny as sh*t

I just actually hit the thumbs up and it added it to the thumbs down...so looks like a Windows Central App issue.

Windows central app needs some updates especially for the forums

I cannot find any "thumb" buttons in my WC android app. Oh! Pity me...

I just thumbs down you..looks like its working fine 😛 @ keith_jhonson

finished downloading still no notifacation on sms or email, no notifaction sound whatso ever, even the default sounds won't work, this happened when I updated to 151014 & I thought 1051025 would kix the problem but I thought wrong

No sounds, no notifications, no alarm clock, and no camera....

A beautiful tiny Lumia 430. But with this update everything went back to normal. Also some problems with Edge reading ebooks were solved.
Thank you for the question.

Thanks . Downloading right now

Bug fixing, nothing big improvement as usual.

Looks like they killed off Apps corner a few builds ago? It sucked compared to kids corner but now what are we to do when we had the phone over to the kids? Major letdown...

i am holding hope for a Profiles addition to the W10M at some point. That would solve most of the issue. I agree, Kids Corner was better than Apps corner but Kids Corner still had some issues (not near as many as Apps Corner had). I too would like to see what they are going to add or bring back to replace Apps Corner but not holding my breath that anything will come to replace either of those two items (Kids Corner or Apps Corner).

Yeah. Listening to the customer was the point of this whole insider thing but they don't listen.
I'm expecting live tiles to go next in their relentless pursuit to androidize W10M.

Remember that iOS and Android are much more popular than Windows 10 Mobile - and neither of these have kids / apps corner - so that must be the way to go! /s

Yup, WM killed everything unique, WP8.0 hell that was sexy!!!!

Android has Kids Mode (on Samsungs).

I think that's just normal operation isn't it? ;-)

FFS, error 0x80080008 when I try to Install it -_-

Same here on my 950XL, but doing a reset, holding power and volum up for a while, cleared the issue and it allowed the download to start.

Force restart .that's all

Now no updates are showing up.

Hey guys... I had the same issue... To fix it reboot phone and suddenly go to settings and check for updates...( This fix was posted in feedback hub....)

Switch rings and switching back works too

Yes, I did the same earlier and the update downloaded and installed just fine.

Just updated my Lumia 950 without issues and this thing is blazing fast now! No joke!

Do try it then .. Apart from the edge issues everything else is super smooth.

I sm getting error 0x80070273

I get the same error code as Jozef jurcisin. I tried all of the steps to fix it (Reset, Force Restart, Change to Slow ring then back to Fast ring) but nothing seems to work. I've had this problem with the last few updates and the only thing that helped was to reset my phone back to 8.0 and update again. I guess I'm going to have to do it again :(

That is a lot work! I will wait and see!

I'm getting a different error 80080008

Soft reset fixed it, downloading now.

I faced this error in last previous build too. HardReset fixed. Now same issue again , I have done hardreset , it allowed me to download, but settings-->data usage-> BITS(uses huge amount of data). Store apps are updating since 10hrs. Still this build is downloading even on high speed network. Consumed 2-3 GB. But if I disconnect Wi-Fi, download restarts. Device:- Lumia 950 (10514)

I hope there are at least some bug fixes! Edit: yes, there are, see the Window Blog. RTFA Joe..

Australian keyboard finally now downloads, so that's the last thing that was not working now fixed for me. If you ever get any other issues a phone reset has always fixed things for me.

No major known bugs just in time for the bug bash? So tempted to jump back to the Fast ring :D

Me too I'm thinking about jumping in what are the big new features of this creators update I haven't seen much new for mobile

New sounds. Ehm, Edge 15 brings .. Ebooks? Ehm ...There is a new Apps section in Settings? Ehm ...

Actually, this is fast ring update. This is supposed to happen often but not quite doing so. And feature addition will be like adding a few at a time. If the fast ring is really fast, we will not have this doubt. However, it seems to be not the case yet.

Apps section isn't new, just relocated to make it easier to find. You had to go to storage to see the app list.

Yeah, I did. That was for those who didn't know. ;)

Is night light in mobile?

Seems like candidate for slow ring before features

We do have our expectations high on MS. But I doubt if w10m will have any new feature from here.

Man. I've been waiting for more than two months for the next slow ring. Even production release got more builds ☹

I am waiting too. Sometimes the wait makes it too tempting to jump back to the fast ring.

Fast ring is fast only in the name :-P

Just hoping that url bug in Edge is resolved. Kinda annoying that you can't edit a url once the site loads. Second hoping that VPN is fixed. Since 15014, can't use anyconnect on corp VPN... This update is 5+GB.... Rather big for Edge and other fixes....

It's not really 5.68 GB, it's a bug because of the UUP. Total download size was actually less than 1 GB.

Shouldn't we get incremental updates? Judging by the features and bug fixes, I was hoping this update is less than 100MB...

VPN works fine in previous build. Unless you mean it times out. Edge bug not fixed.

Thanks for the update Re Edge(that's bloody annoying). Re VPN, it just won't connect. I get error code 691 unless that's the code for timing out?

Update...just noticed that im able to edit urls once a site has loaded. So this means for me at least that my Edge issue is fixed.

Not for me since the previous build... I get error when I try to connect to my corp VPN.... Not even able to enter user details. Hope its fixed soon...

Has it fixed the L650 failure to install problem?

Anyone else have issues adding an Exchange email to WM10? I had to completely restore mine as it kept saying it couldnt' add that work or school acount to my phone. Pretty frustrating.

I ran into the same issue on my Lumia Icon and adding this account only worked when WiFi was turned off and I had lot of problems downloading / updating apps in Store. So did WDR and went back to Slow build 14965 which is working fine. Wondering whether to upgrade to this upgrade to this and like you wondering if this issue is fixed.

Hmm, I'll wait to see. I don't want to have to go through another complete restore. I can't not have work email on my phone. Oh well...I'll wait and see what happens. Glad to see it's not just me.

I would think this build would be hitting the slow ring soon, there's a huge list of bug fixes on this one

I agree, most of the long standing bugs have been listed as fixed. I am sooooooooo glad to see that because Windows 10 Mobile on my 950 XL had become rediculously unreliable with the last build.

Have you been able to use this build at all yet? I ended up going back to release Preview on my 950xl a couple months ago because it seemed like i was having to reset my phone every few weeks on fast ring to get it to work again. But I'm really excited to go back as soon as they get into the bug fixing stage again

I've been using for twenty mins, mainly just edge, and it appears to be less prone (it hasn't so far) to freezing. Often I would be typing and would have to wait for text to appear. Plus seems to be coping with busy web pages which would normally freeze up if you have five or six tabs open. Lumia 950xl

Seems like this might be the build to try out the fast ring on my idol 4s.
How's it been running so far? I'm not seeing much to get excited about as far as new features on Mobile smh

How has your idol 4s been treating you? I want one so bad and will probably switch to T-Mobile just for that phone and the WiFi calling feature. Working in a literal basement in IT gives me no reception with AT&T and I want the Idol 4s with Windows 10 anyway. I love the build quality of the 4s, especially compared to my 950 and 950XL.

I love it. I got it at launch and had a couple bad ones but so far so good battery life is great sometimes a little bad but I think that might be because of the OS updates. Quick charge is great I'll never buy another phone without it. Love the build quality as well. Only minor complaint I have is the camera isn't the best in low light but it's good overall and other apps like camera 360 site takes better pics than the Windows camera. It's definitely worth getting and not as high as other flagships in price (elite x3)

Awesome. Thanks for the honest and detailed reply.

What's new: Nothing of worth.

That's basically what I read.. Is anything important new in the creators update at all?

Should be some new features for continuum (pinnable apps to the task bar and movable windows)

We fixed an issue where pressing the Print Screen key on the keyboard in Continuum wouldn't take a screenshot of the second display. We fixed an issue where preview thumbnails weren't appearing as expected in the task switcher when using Continuum. As someone that uses Continuue daily....these two fixes were enough for me to update immediately! I have reported and upvoted that so many times. The formerly broken print screen and task switching made Continuum look like a joke when doing demos and during daily work! I would need to capture the desktop view of an app and could not and this bug has been existing since late last year! Cant wait for the update to install!

Dumb question: which phone is that in the lead image? Looks snazzy.

I hope it has some blutooth improvments

Same. It's been disastrous for a few builds now

From the blog linked in the article: - We fixed an issue where the media buttons on a keyboard connected to the phone over Bluetooth would stop working after Bluetooth had been turned off and back on. - We fixed an issue with certain connected Bluetooth peripherals resulting in Groove Music not resuming playing music after ending a Skype call.

Still sounds like they didn't fix many of the issues - like deteriorated bluetooth sound quality upon initially connecting that goes away after time. Or loss of bluetooth sound after Cortana reads text messages via bluetooth.

I guess not. We'll see. Sometimes even in their long lists of fixes, they still don't mention everything fixed, particularly for issues not experienced by a lot of people. I know I had some issues with the previous build not always "hearing" commands, even though I can see her perfectly transcribing everything I am saying, only to say that something's not working. It looks like they did fix something vaguely related to it, so hopefully my issue got fixed too, since it would probably have been the same piece of code that had another issue fixed. Anyway, things are improving. And this *is* a testing program. If you're expecting all issues to be fixed from one build to the next, then this sort of thing probably isn't for you.

The poor sound quality has plagued me since 15007. It comes and goes, but often the sound cuts out. Please note this in the Feedback hub. This needs to be fixed!

Lumia 950
India
Windows Insider set to Fast Ring
.
Still there is no new update for my device. It's said my device is up to date

Same here with Lumia 650. Tried switching to slow ring, and then to fast ring. But still showing "Your device is up to date"

Finally getting to know someone else with the same problem as me.

Okay... So i had the same issue... I did multiple restarts not knowing what the issue was and did a few hard resets then i stumbled on some posts in feedback hub... Here are a few ways to try fix it...
1.reboot the phone and soon after it boots up try to chcek for updates... If this doesnt work
2 . If (1) does not work reset the phone and try to download. If still it aint downloading do a reboot and try again...( If you dont wanna reset its fine. The next fast ring build will be available without that error..)

Same here mate I've tried a reset,I've tried changing region and still on update on Lumia 650

Set your region and language to US and try again.

Finally. I hope there are some fixes for bluetooth and Cortana. It has been a disaster connecting to in-car bluetooth and use Cortana normally. I had to switch my speech to US for it to somewhat functions

As long as it fixed my problems with texting and calls I can wait for the next update to bring exciting features

As the new major update coming to windows shaping along, I find myself underwhelmed. There are not a lot of new features that I personally use :( But I guess some other people will be happy with it. Here is hoping for the next update to bring major things :) Now, they need to start doing some bug fixing :)

They have to fix all of the problems before adding new features. I am not sure how many new great features we'll see given we are essentially getting a stripped down PC OS.

Just when Windows 10 felt like it was real mobile platform: Adding a new card / paying with an existing card will not work in Microsoft Wallet. :(

Adding a new card / paying with an existing card will not work in Microsoft Wallet.

That happened to me as well on Slow ring a couple of months ago. The entire Wallet app disapeared. On OS: 10.0.14965.1001 on my 950XL now and it had come back and is operational. Checking it right now and apparently I needed to remove it and add it back, working now.

I have the biggest issue with the wifi dropping and cannot reconnect and have for at least 4 builds. As soon as that happens, everything fails including Cortana and other apps which can't make the switch from wi-fi to Cell data, they just break because wi-fi is connected but hung up. My SP3, SP4, Laptops, ipad all stay connected, just not my Lumia 950. I hope one of these builds fixes that which has been reported.

And I was already blaming my 930 😆

Yikes, 5.68 GB! Seems kind of big for a Mobile build. Is everyone else seeing it this large. I seem to remember that they changed the Update method resulting in smaller downloads.

W10M by itself takes around 3.5 GB so yes, that seems quite excesive.

Yeah, I'm wondering if it's just a bug causing it to report the DL size incorrectly. I'm gonna wait for wifi, just in case.

I have rolled back 5-6 builds ago. Still same bugs, crap, freezes what it seens. Fixes here and there nothing new, as usual.

Ditto when I no longer had my PIN screen and a QWERTY screen to log in I ditched and rolled back.

Not the update coming, but the features it contains are important. Is there a handy innovation? No!!! Do not Microsoft directors follow the criticism or opinions written here? If we had appreciated the opinions of the users, the windows mobile we used would be a more useful and more efficient device. The developers also applied this concept to the platform.

Everyone should stick to RS1 production/Release Preview for the foreseeable future. Everyone that can update from 8.1 or hack W10M RS1, should do that.

Installed but not looking any better so far. Store still not finding any updates; calendar still not showing my outlook account diary. Not tested sms problems yet but still a lot to fix :-(

Store and calendar maybe aren't that intertwined with the OS.

I hope Cortana's availability will be extended to languages supported by Edge's reading aloud feature.

After 1/2 hr, and still...0% . Any guess...?

Just installed it without any problems om my lumia 950xl. Download and install was about 30 minutes. No freezes or strange things so far. Calender is showing items and my whatsapp beta got updated from store so i dont think store items are not updating.all live tiles and notifications are working accept for outlook mail.

Cortana seems fixed when using band 2. Keyboard lag not fixed. Edge rotate now working Battery drain still not fix Apps randomly crashing SD card still not decrypting from earlier version. Still sluggish, probably a bad app, shame non way of seeing. SD card to be scanned still not fixed, does it on each reboot Mail not showing all accounts, seems to be random. Reset app crashes app, so full install of App needed. Edge seems to see not allow entries into search bar from load up. Apn now fixed
Data now showing cellular and wifi Sms not threading correctly from previous txt.

Have you tried a hard reset after doing a backup so you can do a restore? I did that a build or two ago when I had very bad battery life. Afer the hard reset and restore, my battery life was night and day better. I thing with all of the udpates, a hard reset every now and then may help.

Thanks for the hint! I thought a hard reset would only be worth it without restoration from backup. But now I know better.

I'm still wondering what happened with the 3D scanning app that accompanies Panit 3D and the 3D library.. :(

Battery drain is an issue at this very momebt. After downloading the new build the battery was 94%. After playing with the phone (lumia 950xl) for 30 minutes it went down to 42%. Anyone else facing this issue?

Yes.. Had this issues for 6 builds or so

Completely froze again. At least no random reboots yet

Seriously I don't know why you would want to be on the fast ring in mobile space right now. You get nothing new, just more unstable builds...... Production ring is the way to go.

Yeah my mistake to go on fastring it looked promising

I thought the scan for sd card got a new meter and you could reset apps now

It depends on what build you're on. I've been in far ring the whole time and these builds are bringing a lot of bug fixes and overall minor enhancements. Might not be as stable as production ring but it's better than the last one

I just wish they would fix the damn NO INTERNET problem. I have reported it a million times, and they say we made changes, but alas, still broke :(

Downloaded and now installing L950XL

Installed ok. All seems well so far.

Microsoft Edge has completely vanished from my phone! It's not in all apps and emails with links won't open and neither will links in Cortana. I now have a phone with no browser!!!!!!!!!!!!

Downloading on my 950 XL and 1520

Can finally download additional languages again, so that's good

Installed without any issues, 650, US. Those worried about file size, after install, System is showing 2.54GB.

Yeah it's increasing, I don't think its removing old files correctly

Update on my lumia650 not showing I'm in the UK. It just says your phone is up to date

Change your region and language to US

Tried it but still no update showing

Exit and enter the insider fast again.

Send Dona Sarkar a tweet :)

I've tweeted her twice ,but no reply

Man, you've really tried everything =D

Where the VR features tho

Are you referring to the 'Capture 3D' - the 3D scanner for phones debuted at the Creator's Update keynote? Still nothing.

Yup. Missing native 3D VR player abilities too.

This build is buggy as hell. A lot of apps crash a first start and after that the start slow as hell. It also seems to load pages half. In for example Edge and wpc

Yay.... Wait. Those features kind of blow lol. Wtf have I been waiting for anyways? Very fluid on my 1520

Hi, I am still waiting on my 640XL DS. No update available in the fast ring for my Lumia. I'm on 15007 now

Does this have night light for mobile?

Still waiting for 15025 . 950xl unlocked . Tried going back to slow and soft reset. Also changed the date and tried update but still cannot see any update
any suggestions ? Thank you

Flawless installation on 950xl

Why is downloading the update STILL the roughest part of being an insider????? Damn! At 0% for an hour! Restared my device 3 times still 0%

When will the phone numbers in Mail and Calendar app actually be recognized so they can be clickable links!!! Needs to get resolved..

they could have at least added night light at a minimum

Could I get my ebooks from an Amazon or apple account to read on my WP?!

Only if they're unprotected EPUB files, and I think PDF also, but I haven't tried it.

Update from my other post. Edge still playing up. With address bar reseting halfway thru typing. Quiet hours now working via actions. Brightness bug now fixed. Find my phone fails if no sim card, signal or Wi-Fi. Notifications not working all the time. Live tiles not updating. Unlike iphones, phone can't be securely locked down. IPhone if tied to an account its unusable.

I'm in the fast ring, and my phone wont go past 14393.693. Any info I haven't heard about this?

Where is the blue light filter?

Installed ok on my 950. Apps all updated now too. Restarting now just in case.

I guess that now, the Windows 10 Mobile's new features are a carryover from Windows 10 Desktop's

Mono button alone is amazing. I don't understand how we've gone this long without it. This is such a blessing of a feature for me.

It changes stereo to mono. Long story short, mono makes the left and right audio the same so that there is no longer a separate left and right output. It is especially useful for the hearing impaired who may only be able to hear well out of one ear.

Installing on my 950XL, gears rolling in India.

installation completed, first boot took a litte bit of 2 minutes time & now migrating data.

No update showing on my lumia650 in the UK .

My 950 XL working flawless without any app crashes or issues, upto now.

Same here on my 950xl. Do u have outlook notifications and outlook live tile working?

Fast Ring? Nope, never again. Running Slow ring on a 550 and Production on a 650.

But to honest im running it on my Lumia 950xl and well its realy working alright. Have not come across any broken things

I'll never even join the Insider Program on my phone again. Having fully functional and smooth access to most parts of my phone are too important to give up for which realistically amounts to almost zero benefits. It's not my job to tell MS how to fix their OS because they won't use it themselves. It's a very slow degredation of performance on the Insider builds. You don't notice it too much but go back to the retail OS release and you won't believe how much better it runs.

I hope upon release of Creator Update, Microsoft refine the Segoe UI fonts to more aligned and render more beautifully in UI. Still certain characters seems out of place for example "f" and "t" (still use old decades fonts). Segoe UI have resemblance of Myriad Font. It's beautiful to my eyes 😊.

Installation worked fine. I have a good feeling that it works oke on my 650. Last build was already better. Only downloads worked every time after a soft reset.

Anything you notice that doesn't work? I'm on the fence on updating from release preview ring. L650.

Random reboots still appearing. Believe it to the cpu resetting to avoid burn out due to process jamming at 100%

Microsoft phone (mobile) DEAD.. TIME TO CHANGE

640xl working wonderfully on this update. No issues yet and apps load much faster.

Lumia 650 here. I got off fast ring with the issues surrounding 14977, and leaving my phone unable to start non-UWP apps. After a factory restore, I've been on release preview for a while and generally it's pretty snappy compared to the old fast ring builds I left behind. I'm tempted to jump back into the fast ring. Does anyone have feedback regarding the general responsiveness on the 650 for this build?

Did the same as you then went to slow ring and been on 14965. Switched to fast ring yesterday when this new build came out but L650 can't find it.

I did the reset on my Lumia 650 now no preview release option just fast and slow showing. But went to fast ring and this new build is not showing

Windows Hello is faster at recognizing me. My 950XL finally runs cooler. The Live tiles appear to be working. Much better than last fast build...

Been trying to download build 15007 for the past 2 weeks. Wonder if this build is the reason why I've been having issues.

I put 15025 on my 950XL last night. no issues. and yes, my fone performs better. although new features are slim to none, it's obvious there were a number of bug fixes and performance tweaks. very pleased so far. It's on one of my PCs as well and I'll add that Edge is behaving much better. (I find Edge so unreliable that I use Opera as my default on Win10.)

How does it perform better? Is the battery life better?

Performs better: Sharing to instagram from fotos is quicker. Sending my location via maps is quicker. Camera launches in 1 or 2 seconds. I use a few apps that are resource intensive.. they no longer lag.. Battery life... well the 950XL has never been as good as my 1520 for battery life. However, I use both sims.. all the time... two modems always working could be a factor.

Wanted to get back on Fast Ring for awhile. Finally took the plunge on my 950. So far it seems to be running well. Still early but no problems yet. I was hoping at some point one could change system font. Just a minor request in the scheme of things.

Does anyone help... In this insider I cant using WhatsApp..... It's only loading for a long time but not opening at all.... Help plz... Lumia 730 is my device... Plz help.... Plz reply anyone....plzzz

Please use the wdrt tool and go back to production

Hmm before that dont you think he should try a hard reset?.. For a 730 recovering with WDRT means going back to 8.1... And thats a pain.. Ik cause i use a 930.

What phone is that in the hero image?

Lumia 950xl I'm pretty sure

So, I switched to the Fast Ring to try this, from the Slow Ring. However, every time I check for updates to get this build it always says I am up to date. Any ideas, not including a hard reset?

Did you soft reset after switching rings?

I've done soft reset, 2 hard resets ,changed region, changed time and date, and still nothing showing for this new build on fast ring on Lumia 650 in the u.k. Don't know what the issue is

Same thing with a l640 im having... L930 got fixed tho.

Had same problem on L650. Used WDRT to get back to 10586 then joined fast ring and got 14393. Checked for update and 15025 is now there. BUT can't get it to download passed 74%. Restarted a number of times but always sticks at 74%. Been 24hrs now.

You bricked it...you're the one that chose to download preview software

Hmm had the same problem on my 930... I did a few hard resets and it did not fix it... But at the end a reboot and checking for updates soon after fixed... If a reboot doesnt fix...(my dads 640 wasnt getting fixed by reboot) do a hardreset+reboot trick.

They seem to have brought back reply to text with this build in PC and Mobile. I noticed that when i reply from the PC, it opens the messaging app on my phone. Nice to see that return, with a more refined on screen notification on PC.

The feature I was most looking forward to in creator's update on mobile was blue light reduction, but looks like it would be desktop only 😪

You sure? We could get more builds before release that may add it to Mobile.

Ican anyone tell me if the speakerphone option from gestures is backand residing in the touch menu or is the gestres app from2015 working finally for qondows 10? Also is paypal or santander or vodaphone or here maps 8n the form of here go back yet. Does netflix have a cast buton yet too? Lastly os there a working wallet where i can actually take my phone into a shop in the uk and pay my bills? I hope so cause i want to return. But theres a minimun im only prepared to put up with. Ill give ot one more year then im leavong windows if they dont fix the basic3. Edge d3sktop nedds to let us pic our default home page for opening new tabs too.

Im notntrying to be funny. I think qindows mobilemis the best platform but the things i want are things we had mostly before and still not got after 2 years. Is it really only me that has a issue with these things?

Speaker phone option has been back for a long time and resides under Phone Settings, Audio Routing Settings.

Wondering why my two phones cannot find any updates. They are both set to the fast ring. Nokia 650: 10.0.14965.1001 - Update from 11/09/2016
Nokia 950: 10.0.14959.1000 - Update from 11/03/2016

My 650 won't find the update either

Be about five people who'll receive it then

I am just one more person who doesn´t manage to install the last 3/4 builds. i´ve tried everything. even reset the phone and change the regional and language setting to USA. I am getting frustrated because the updates worked pretty good. any tip to fix this issue?

My Lumia icon is unable to see this update. Tried hard reset, switching to slow and them back to fast and rebooting/soft reset after switching and still does not see this update!
How do I fix this?

Did the fix the PIN screen ? Or is it still booting up with the QWERTY..? I wont upgrade if thats not fixed. I rolled back a few builds ago due to it and an unstable QWERTY on top of the messaging app. 950XL FWIW

My Lumia Icon gets stuck on between 60% and 80% of mobile Update Build 15025. What I don't understand is that it keeps on downloading GB's of something according to my Wi-Fi, but I have no idea what it isdownloading. Any ideas?

hhhh therefore we have 0% market share!!
Windows Central Newsletter
Get the best of Windows Central in in your inbox, every day!
Thank you for signing up to Windows Central. You will receive a verification email shortly.
There was a problem. Please refresh the page and try again.