Windows 10 Mobile build 15063.2 rolls out to Insiders in the Slow ring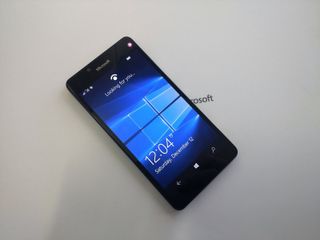 A day after heading out to Insiders in the Fast ring, Windows 10 Mobile build 15063.2 is now rolling out to Slow ring Insiders. As we noted in the Fast ring release, this build is a minor cumulative update that only contains a single fix that allows users to upgrade straight from the Anniversary Update to the Creators Update.
This latest build is only available to Mobile Insiders, and it's not entirely clear when we'll see it make its way to Insiders on the desktop. However, with such a quick move from the Fast to Slow rings on Mobile, we wouldn't expect it to be long before it hits Release Preview. In fact, now that Microsoft has an April 11 release date set in stone, for the Creators Update, we're likely to see any new build releases spread at a relatively quick pace.
Windows Central Newsletter
Get the best of Windows Central in your inbox, every day!
Dan Thorp-Lancaster is the former Editor-in-Chief of Windows Central. He began working with Windows Central, Android Central, and iMore as a news writer in 2014 and is obsessed with tech of all sorts. You can follow Dan on Twitter @DthorpL and Instagram @heyitsdtl.
So, does the Release preview ring get it before it goes out to production or is it the same?

The Mobile production release date is still unknown but sometime after the 11th and the Release ​preview should come out before the Production.

Ah ok. Didn't know it came out to the Fast Ring yesterday.

So the release preview get it next?

Release Preview should still be at build 14393 so either MSFT waits until April 11 for annoucement or they might allow phones to upgrade before that

Odds are probably not this build. Mobile is usually released a couple weeks to a month after the desktop public release, so they have time to work out some more bugs. I'm on Release Preview, and everytime I see a new Slow Ring build I hope RP isn't far behind.

Surprised there is no update for PC since I still have Edge problems on PC. The 10563 and .2 have been solid on my Lumia 735. Best version of Windows 10 yet.

Good hope preview ring soon. Will like to see on my 950 xl. Runs great now but creators update is supposed to be faster. Will be nice to see.

I do miss my 950xl the phone was amazing. Moved to android last year when we lost PayPal on windows mobile. I really hope Microsoft can get back into the phone market but i just don't see it happening anytime soon. I enjoy using my LG G5 but do miss the windows mobile is for me the best os to use on the market it's just missing some key apps.

Maybe nothing new and exciting in mobile build but things are tight and smooth. Minus Cortana still crashing on searches.. I dont know if it was groove or the update but that just opens as fast as u click and I dont remember seeing release notes saying background downloads. So much easier to restore collections without keeping the app open.

Lumia 735 on 14393.953 here, and its smooth as silk ☺ !! FB app remains a pain in the *ss though 😔

It shows the download size is about 5.31 GB.. ☹

Meanwhile, Samsung announces galaxy s8 ... Shame on you microsoft

first great software after great device. we are still at the first phase.

well we werent supposed to be in the first phase. microsoft was supposed to build on what they had (windows phone 8.1) Instead they went ahead and tried to reinvent mobile YET ANOTHER TIME.
​We really peaked at some point you know (right before lumia 950 and 950 XL) but it all went down after that

On the mobile front... It doesn't take much to shame Microsoft these days

im not sure if youre with me or against me with this comment but i have a feeling that youre supporting my statement :p

How is it microsoft's fault if Samesung releases yet another iphone rip off with lagdroid?

What language is that? SaltyFanboi?
🤔

Im not saying its microsofts fault that samsung released a new phone. Im just saying that microsoft has been cooped up for so long focusing mainly on windows 10 (good thing) and designing apps for competing platforms (bad thing) and theyre completely underestimating their value. if microsoft pulls out all their apps from competing platforms, things would be different BUT they would never do such a thing.
​And the result? What was once a cheap company like samsung is stealing all the customers by releasing what i would say a pretty good phone. Im trying so hard to resist the temptation of getting one and this is coming from a hardcore windows phone fan (ever since windows phone 7 was released. So when samsung manages to tempt a hardcore windows fan like me to switch ... you know then that microsoft messed up big big time

Uh... am I the only one that still can't add a new Bluetooth device on the past few builds? I would like to think this critical issue would be resolved before they would send it to the slow ring. Some even think this is the RTM. RTM, really? Known issues: My L830 crashes a lot. Just now the OneDrive app crashed when uploading files to the cloud, and when I was finally able to end task, it some how launched Groove. The mail app sometimes crashes switching between accounts, and will often not even show me the text in an email after I click on it in the inbox (I can see the text in the inbox, but about 30% of the time when I click to read the entire email I see nothing). Wifi still drops to "No internet" until I reboot the phone, but that only works for a few hours before it drops and refuses to connect again. the hand off to LTE when you leave the Wi-Fi range never works. I have to manually turn off Wi-Fi so it will use the LTE data again. The fit an finish on this build is better, but man does it have a long way to go.Win 10 is still a long way from the polish that Win 8.1 has. And for some unknown reason at least once a day my phone will slow right down, and get relly hot until I reboot. Can't find any common factors to figure out why yet. During this time it can take up to 5 minutes just to complete the shutdown.

Not working for me as well 😡.

Do a hard reset. Don't restore. Start from scratch. If you are on 8.1, updgrade to 10, but don't restore from backup.
having to set all settings and tiles by hand is a PITA and I didn't believe in hard reset until i did it myself on day.
My L640XL now chugs along like a champ on slow ring, smooth, no heat, battery lasts approx 2 days with moderate use. I spent half a day resetting my phone, but it was time well spent. It really was.

The Wi-Fi issue you mentioned is there for me too. The battery life during standby is still bad. It drops 20% in 6hrs.
Plus, I wished a better Cortana and Store experience. Recent activity still doesn't get updated after installing an app, and so on. But the CU is snappy, feels quicker, and the UI is very much better. Sometimes I feel that polishing the OS is also good instead of just adding new features, but then again, in snappiness if iOS and wp8.1 are >95%, overall w10m is still

Do a phone reset _without_ restore. That has fixed all those issues I've had on my 950XL and I've heard others say the same thing.

I never had those problems many talk about because i did not have a ms account before buying my l950xl. I think this really is a big factor

Many have had issues because the carrier didn't have the 950s listed in their provisioning database. Here in the USA those issues are largely fixed. Talk to your carrier about it and see if they can fix it.

It's a known bug, only discovered *after* 10563.0 was released. 10563.2 is not supposed to fix it, but Microsoft are aware and are working on it. Source: @NorthFaceHiker on Twitter. I've told them a hard reset, without restore, is a workaround, but of course, it can't be accepted as a solution especially for those who'll upgrade from RS1 to RS2 (production).

Fix the Bluetooth It's not working on my Lumia 550 fastring .

If i installed this update and got out of insider programme, would i still get the creators update or should i stay subscribed?

It is the creators update, so you'd still already have it.

If you install this latest slow ring build (and there are no more releases after this before the end of April when it comes out for mobile), the chances are that this release may end up being the Creators Update. If not, this build will be only 1 or 2 iterations behind, but still, this build is of RTM quality from what I've seen myself and other fast ring users have reported. I put this on my daily driver now without a hiccup.

Guys can u please make me understand about insiders ?

If you join the program, which is easy to do from your computer or phone, you get new build before the general public does. You can try new features but you also get bugs. Insider on the Fast ring get builds first, then Slow and then Release preview. The build then goes out to production, general public release.

It's an exclusive program that once you're in, you will have access to limitless Girls, Alcohol and Cat videos online. Oh yeah, you can also download the latest behind the scenes features and fixes for Windows 10/Mobile.

Not exactly excited about this build since I cannot get its wifi to allow me to enter a password at my work. That is the first order of business before I'm prompted to enter my login credentials to get access to corporate wifi. I can clear whatever it thinks its connecting to but once I select the wifi radio to connect to, it jumps to the log in page, skipping the wifi password entirely. This is just dopey.

I've connected to a "work" secure environment without issue, no new credentials to worry about (MSAD authenticated). Lumia Icon and 802.11n for work 802.11ac for home also worked just fine. Since credentials carried over I didn't have to reauthorize.

Just got an unlocked Lumia 950 XL but I'm having issues with cell data: It doesn't get any. Any solutions/suggestions?

What carrier? You need to have a SIM that was provisioned for an LTE capable Windows phone. You might even have to use an IMEI from one of the carrier's Windows phones. That is what I had to do when I got my 959XL, I used the SIM from my AT&T locked 920.

I'm in another country. From what I'm reading from you, it's going to be difficult to solve this...

Did you use a SIM from a different phone or get a new one? That might be the difference. Maybe get a replacement SIM. You could go into the 950XL forum and see if anything is posted on it or start a new thread with your dilemma.

Thanks. I think I'll try that.

Might be a silly question but did you go into the Quick options menu and mad sure the Cellular data is turned on? When I set up my L950 Cellular was off for some reason.

Did you add the APN for your carrier under settings> sim settings.

It got it automatically. Nothing. I added it manually, also nothing.

It's a simple one I know, but have you tried with a different SIM? Might be able to rule out hardware issues that way.

I finally figured out why the Slow Ring bothers me. Fast Ring: high-risk, but get to try new features sooner. The Release Preview Ring is practically the RTM Release but skipping any OEM or carrier hold. What is Slow Ring? It's only ever a Fast Ring build. If there is a major problem with a Fast Ring Build, they'll skip the Slow. Lower-risk changes, or a more stable subset of changes from Fast are never brought to the Slow Ring. What I'm getting at is that it's really just a delayed build, nothing more than a somewhat effective barrier. I'd like to think that lower-risk/longer-term testing could be a part of Slow Ring. They could generate their own unique builds for their specific needs. This is a perfect example: NVIDIA Quadro's driver release packages. They called them ODE and QNF. First is stable, second is semi-beta for new features. They have a completely different release schedule from each other. A bug from stable build might be fixed in a beta before stable, or a longstanding bug might get fixed in the stable release since they could be already prepping to lock down their codebase for a release.

This build is the RTM since i moved my Surface Pro and Lumia to the Release Preview after this update.

Now you can switch to production build too

Size of this build from 15055 ???

Not so big. It took me 20 minutes to download. But around 450-600 mb

Guys after registering in insider program what should I do next to get the latest update for my W10 phone

There is a time span between now and 24 hours that you get the insiders update. You can try to restart and check for updates. Meybe you get it fasther.

When I build moves from fastest loaring does it change at all, meaning could there be changes and bug fixes between the fast ring of this same build in the slow ring.?

What do you think builds have numbers for?

Thanks for the smart alec comment

If I understood you correctly, there are no changes if the same build is released from one ring to another.

Whats the point of Windows 10 Mobile if Windows 10 for ARM is coming soon ? Just create a mobile launcher / shell that adapts to the phone form factor and kill W10M. Just like Samsung did for DeX but the other way round - they created a desktop launcher for Android, Microsoft needs to make a phone launcher for Windows 10). The current strategy only prolongs the agony and frustration among Windows Phone users. I can't imagine how HP engineers feel after seeing the new Samsung Galaxy S8 with the DeX dock. They put so much effort in the HP Elite x3 and Microsoft did not manage to deliver the right software for it.

The point is that they are "behind" the platform. Clearly there is more support at MS for the mobile arena than the rumor mill gives credit for. HP managed to get a dock and desktop software to run on its platform. Samsung has really done little more than utilize the USB 3 port as a monitor driver. We'll see how they do - it's a good step forward but it has a long way to go. But wait till folks get a chance to try it and see what they use it for.

nokia lumia 1520 , build 10.14393.953 while open camera take picture it display error say cant save the photo the error code display 0xA00F4250(0x80004003) then after few try it reboot itself !! after upgrade to 10.15063 it seem better and no error on camera while take pictures but after upgrade to build 10.15063.2 the camera display the error code again but different code which is 0xA00747E(0xC00D3704) !!? any idea or other people occur this error ? thanks

no no no, on phone storage not save to SD card at all

Any mentioning of Bluetooth fixes for Creators Update? The only sore point with my 950XL... perfect phone for me, otherwise. I have heard some rumors about BT stack being rewritten, but I don't think I've seen anything official from MS yet.

Bluetooth menu system completely changed and hugely faster to off/on the system as well as discovering and pairing devices. Plantronics headset was noise free for a Skype business conference and car paired well. Bluetooth now groups devices by their type so a HR monitor is noted in an "other" group where the headset and car are in the headsets group. I'm quite pleased by the improvement. Off/on or "bouncing" the radio is hugely faster than before which seems to say the underlying engine got some attention. I hope others find the improvements helpful as I sure did.

That sounds good... though I hope they will improve reliability more than just adding new features; but faster response hints at deep changes, not just new features slapped on top. Well, here's to hope. What Insider ring are you on? I'm on Release Preview as of recently, but haven't received any changes yet. I'd consider going to Slow, but not Fast... not Daredevil enough for that :)

What major update does it have?

I just installed creators' update Lumia 640. I just wanted to know that, the general relese build will be available to insiders to end our insider preview build setion or it'll continue to get update for RS3. If I get a general build of RS2 it'll be able to quit after general availability.

It ll continue to RS3 after the public release. U can stop insider build after the general release

Hi, I've a Lumia 640LTE. Im on insider slow ring (checked,in the settings the phone shows slow ring), but the last build, i've got is 15043. when i check the updates, no updates available to me.
How can i get the slow ring builds?

afer updating, Lumia 950 works much better. No more problems with screen that does not come up after talk (i coudn't hang up)
I dont know yet how will battery stand (last version, there was bigger battery usage) but for now evrything is silky smooth. I have to mention, that for a year, i didnt reset my phone, just installed the updates. Mainly, i think users have problems with updates because of some apps. I dont have 100ts of them, just those i use frquently, aprox. 25-30 apps/games from the store.

@ Thamarai manala88. The latest is build 15963.2
.. Please reset or restart your phone one or two times..it'll be ready.

Works just fine on my Lumia Icon. Quite pleased at how quick it is. Bluetooth was significantly enhanced as of the last build, so I'll just be checking that out a bit. Can't think of anything off the top of my head except that Edge loaded pages noticably faster than before. I have 100mbit for a line and 802.11ac for wifi so if an end device gets quicker it can be noticable. Update ran without a hitch.

Just get the new galaxy S8+.. It appears to have a continuum type google desktop.. Ha my last Windows Phone will be my 950.. every investment from my band to Windows phone was a poor. I posted here because I felt like it.. Slow ring fast ring no ring.. Windows phone..

Getting my hopes up again that Release Preview will get an update soon. I'm guessing no update for 2 more weeks.

Like what the hell dude!How is this a small update While it's 5,31GB???

Was loving 15063 until .2. Morning after upgrade to .2 people hub broken, emails on glance don't work. Just tested Bluetooth toggle icon and would not turn back on had to go into settings menu. .2 for some strange reason broke a few things. Anyone else? 950, recent hard reset, no restore fresh install.

Installed just fine on my 950 but honestly it doesn't run any better than any other build earlier this year or last year. I haven't noticed one feature in this creators update crap to get excited about. Fail!

I am disappointed the Outlook notifications are still not working on this build. I also lost bluetooth connectivity to my car. The car recognizes the 950xl but it won't pair. It's a Mercedes COMAND 2.5 audio/video system. It worked very well with each of the earlier builds

contains a single fix that allows users to upgrade straight from the Anniversary Update to the Creators Update

What about those not on the Mobile Insiders?

Does VPN works on this version? I am using Lumia 950XL on 14393.953. VPN stops working 2 builds ago.

Will support volte in India in creator update?

Why I am not getting this update? Windows Insider since Lumia 1520 now on 950XL.

Seems my system usage is through the roof. My data usage was 75% used in 5 days. They didn't reintroduce the messaging sync bug, did they? Or is it because I'm using Skype for SMS/MMS?

Yeah, something went wrong with syncing or something. Every three hours the phone downloaded a ton of data yesterday. 6 AM 267 MB, 9 AM 101 MB, 12 PM 687 MB, 3 PM 683 MB. Checking my data usage, it all falls under system again.... The phone was running hot yesterday and draining its battery but I had no idea why at the time.