Windows 10 Mobile Creators Update to bring significant speed improvements to Windows Hello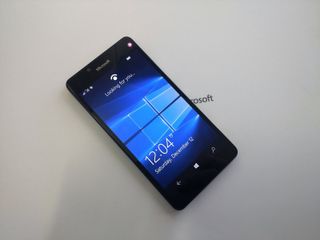 Windows Hello isn't exactly the fastest way of unlocking your Windows 10 Mobile device, and it appears Microsoft is aware of this. In an upcoming build of the Windows 10 Mobile Creators Update, Microsoft has significantly improved the login time when using Windows Hello by cutting one rather useless animation... the cheeky Hello icon wink. It's gone in upcoming builds, and it makes a whole world of difference when compared side-by-side with the Anniversary Update.
In fact, we've done just that. We've compared a 950 XL running the Anniversary Update with a 950 running an upcoming Windows 10 Mobile Insider Preview build, and each and every time the 950 outperforms the 950 XL when logging in with Windows Hello. Crazy how one small animation can really slow down an experience, right?
I know many Insiders will be happy to hear that Microsoft is making this change, as it's been a popular suggestion in the feedback app ever since the Lumia 950 and Lumia 950 XL launched. This should also speed up login times on devices that use a fingerprint reader also, excellent news for Elite x3 and Alcatel Idol 4s users.
Stay tuned at Windows Central for more news regarding the Creators Update for Windows 10 and Windows 10 Mobile!
Windows Central Newsletter
Get the best of Windows Central in in your inbox, every day!
Zac Bowden is a Senior Editor at Windows Central. Bringing you exclusive coverage into the world of Windows on PCs, tablets, phones, and more. Also an avid collector of rare Microsoft prototype devices! Keep in touch on Twitter: @zacbowden.
Ok maybe they would add an option to enable it.

Very good. Just wondering if they can improve Windows hello by logging in through just looking at the phone slant wise so as not to hold the phone vertical everytime to the eye .

Possible in theory, but then you'd have a lot of wasted battery given the infrared sensor would be on all the time. Not to mention it would raise a ton of privacy issues with a lot of people.

Why would making Hello work from angles mean it's turned on all the time?

I notice the my Surface Pro 4 and Alienware laptop is able to see you at different angles.

Different technology being used. RealSense (or whatever) cameras are looking at your face while phone is looking for your eyes.

Unless this was changed recently, I found my surface book not able to recognize me when I'm using it as a clipboard. I have to turn the screen horizontally so the camera is at top. Now, I never trained it that way originally which might be the reason why, but I guesss I thought it was a limitation? Edit: I misinterpreted your comment about angles and equated it to changing the orientation of the tablet itself. So nevermind.

The way the camera works, at least on my SP4, it's angled a tiny bit to deal with it being slanted with the kick stand. This means that the camera isn't looking directly at you if you hold it perpendicular. So it can be troublesome with it in portrait mode. It really helps to go back and train it, but also to look at how the camera sees you in that mode. You have to tilt the device a bit to get the best results.

This is the reason I am not using hello. It's supposed to be convenient holding phone vertically 10 inches in front of your face, but it's not!

Agreed. That's why a fingerprint scanner is the standard.

I've found that having any material on your fingertips (such as water or sweat) will essentially render the fingerprint sensor useless until you clean-wipe your hands. For this reason, it'd be nice to have *both*.

There would need to be a big change in forward camera sensor angles and processing I'd imagine,

I wish we didn't need to set up a PIN for Windows Hello, why can't it just default to using your full MS account password instead? A PIN kind of defeats the security of Windows Hello.

It's funny because after several updates, I was just thinking the other day how fast Hello has gotten on my Lumia 950. Even in the 1st demo with the animation, it's pretty damn fast.

indeed, i myself use Windows Hello on 950XL and i find it quite fast indeed. i also love the animation, i'll surely miss the wink

I stopped using it shortly after getting my 950 XL because it is so slow (even with that animation removed). I'm comparing it to Touch ID, which is blazing fast.

Touch ID isn't faster anymore... not for me at least. The iris scanner has become really fast

Yeah, it's a lot faster and much more reliable than when the feature first launched.

I'll appreciate the speed. But I'll also miss the wink ;)

Here's to wondering why they don't just make it optional...

Might actually try it again on my 950xl. Turned it off months ago because it is actually quicker to enter a pin.

Faster using without pin or biometric (iris/thumbprint)

Nice that it's faster, it's a nice quality of life improvement. Personally, I'm gonna miss that cute wink. I thought it was a nice touch.

I posted a feedback few months ago to unlock the phone and then wink. But it's MS choice to remove the wink completely. In fact the wink was a nice little touch.

One of many problems with windows is that many stuff does not happen in parallel. The wink animation is an example as it would first animate the little smiley before the lock screen animates out; why not both at the same time? Same with the vibration and ringtone; it always vibrates first before it rings. And so forth.

Great news !! And hope it doesn't consume too much of battery too.
.
Has anyone had this issue with the 950XL cam. It makes a rattling noise while focussing and at times manually focussing doesn't do a thing. No change at all. Blurred images. Auto focussing goes focusses back and forth rapidly with noise too. What to do? This happened all of a sudden - just 2-3 days ago. :( please help. Is this a known hardware issue? Because I saw a similar post in the WC forums. 4 month old phone but no international warranty (probably) because it was bought in the US.

Man, I been having that issue for months! Half the photos I take are blurred. This is my second 950xl so I have no clue

i did post in forums about it with video included, check on pc : http://forums.windowscentral.com/microsoft-lumia-950/435389-my-camera-lu...

Did they move the Hello screen out of the way of the lock screen music player?

+1, personally i think they must do that, clearly takes too much time when the music player option is on too

Absolutely - the slight increase in speed shown here will be good, but is nothing compared to the gain if the 'hello' login process would start immediately even when the media controls are active, instead of not even beginning until they timeout as it currently does! (It'd be nice to also avoid the Hello UI and media controls overlapping, but I actually wouldn't mind too much so long as the time delay is removed - the media controls can still continue to be shown once logged in so you don't lose the time available to interact with them before they timeout and disappear.)

Turned it off because it is faster to enter a pin. I will try it again since work has mandated a 8-number pin for unlocking devices. Hello might be quicker.

This was the reason I stopped using it as well.

Zac, I pray that there's more than that in that new build!!!!! Two months of waiting: For an eye wink to be changed 😁

Have not used Hello in close to a year now, just decided to try it again. Experience is 100x better than it used to be. Iris detection is much quicker and more accurate. It seems to be faster and easier than entering my pin.

Which build did you try hello on? I am on Release Preview (950) and frankly Hello is more of an inconvenience than a nicety.

A lot of talk no action. Only 1 build release in 5 weeks.

It's been like that during this time ever since they started the Insider program. People take off for the holidays. Any well respected IT shop would halt releases when there is only a skeleton crew working.

I would have been ok with it if they left us hanging on a stable build. But, every time that happens, it's always with a brutal build.

The wink was nice especially when showing the windows hello off to someone that has never seen it before, I do have windows hello active on my 950XL but do find it way faster to use the Pin, will see if its better after the update. I find it works way better In good lighting and if you angle it correct towards you eyes.

Agreed -- unfortunately, entering a PIN is faster on my 950. I LOVE hello on my SurfaceBook though...

Opposite, iris scanner works much faster in the dark

...find it way faster to use the Pin

For me, it depends on if I have just the right angle and distance from my face when I'm entering the PIN to unlock my 950. Sometimes, the iris scanner is able to unlock my phone after I only enter the first two digits, when I'm not even thinking about using Windows Hello to unlock my phone. I normally enter the PIN out of habit because using the iris scanner makes me feel unnatural. Often when I try using Windows Hello, I have to stare at the phone for about 5 seconds while it keeps telling me to move closer before it finally unlocks.

Where did you get a 15000+ build?

I thought the same thing. I scrolled through all of the news again wondering if i missed something.

same thought here... Is there a special WindowsCentral ring? Where do I join? ;)

Hopefully they fix the freaking bugs. Latest pain in the ass is the outlook calendar live tile doesn't work.

I WAS WONDERING HOW YOU GUYS GOT A 15000+ BUILD ON WINDOWS 10 MOBILE?? THE LATEST FAST RING BUILD IS 14977 AND IF ITS A LEAK OR SOMETHING THEN IS THERE ANY NEW FEATURES? "950 running an upcoming Windows 10 Mobile Insider Preview build" THIS?? AM I MISSING SOMETHING??

Let's hope the new release fixes your broken shift key

Who was that genius who added animation into time critical process? http://kingofwallpapers.com/genius/genius-008.jpg How could this even happen? Any EDGE power consumption news?

Hopefully they fix the tap to pay dialog too. Also add a retry in the case of failure.

this same report on mspu quoted a "Windows Central's resident disgruntled Windows fan" lol. is it Zac or Dan?

Anything BIG for Windows 10 Mobile like the PC.

about time. I always found it much faster to enter my PIN number than to use windows hello.

I think the main problem is the recognition quality. Iris recognition works really bad even with naked eyes. I need to hold the phone in a certain way, and look at the upper part of the phone which is too much of an ideal case and does not happen in everyday usage. Such a simple task (opening the phone) should work "evey time" and in a natural holding position. And this is without glasses, when I wear my glasses, it works like 1 time out of 10 trials which makes this feature a gimmick. I just tried it again and not much changed in the last months. I really want this feature to work but in its current form it is just a gimmick. Cutting off an animation won't solve the problem.

You do know, that you can train Hello with different positions and setups?

Yes, I tried to train it with a lot of different angles but it does not improve the experience very much. For today, I think the finger print readers are the way to go for mobile phones, they are super quick, do work with any position, don't need almost any training. Maybe iris recognition might be viable in a year or two, if the front camera and CPU standards keep improving.

The advantage of iris recognition is that it is more secure than the finger print scanner, iris recognition should not take more than 1.5 sec in any enviroment specially in a very sunny day

fwiw, my personal experience with Hello on my 950XL is really well except for in real bright sunlight (yes, I tried extra training). Also, I know plenty of people where fingerprint doesn't work that good or fast also. I have the idea that biometric security isn't perfect on any device - be it W10M, iOS, Android.

We clock in with finger prints at work, the finger print reader always struggles with my fingers, yet iris detection for me on my 950 is great, so the problems can work both ways. I guess on some people features are less pronounced than others making detection harder

First, they have to release builds to test.

I liked it better the way it is now. It made it more personal and welcoming.

People who gonna miss that wink??

I guess this means we can anticipate a new build very soon.

So we aren't getting any important new features? Only minor stuff like this?

To my knowledge, the other stuff we have been presented with is mostly improvements to continuum (multi windows, snapping etc.) but I think we're going to see overall speed improvements like this as well as an official release of Paint 3D for phones alongside the photo app they showed on stage that captures a 3D image to import into Paint 3D.

Until they look it when WOA take over.

I prefer the wink and my name being shown. That makes it personal and when I demo it to people, they are like "OMG, IT RECOGNIZES WHO YOU ARE AND YOUR NAME JUST WITH YOUR EYES!!! TEH FUTUR LIVETHS!!!!!" This is "Look, I can unlock my phone with my eyes. Seems faster". No personal touch to demonstrate. Oh well, I hope they make the removal of the animation optional, probably won't though.

Pin is more faster? No doubt. More private? Nope. Before I had my 950 I hated to have to type the PIN in the subway with lots of people just looking at it in rush hour... Major security issue, not only for the phone if robbed but also because it's the PIN from one of my debit cards.

Sounds like the biggest security issue is you recycling PINs... :P

Has Microsoft ever commented why they got rid of the super sensitive touch that the Nokia branded Lumia's used to have? One comment that I read often about a benefit that an iris scanner had over fingerprint reader for biometric login was that you could quickly unlock you phone without having to remove your gloves in cold weather. That point is negated when the Lumia 950's touch screen is not sensitive enough to work well with gloves on. This was never an issue while wearing my old leather driving gloves with previous 820, 920, and 830 models. Without the super sensitive touch, of course my 640 and 950 touchscreens did not work with those same gloves, but these phones barely work with my thin running gloves that have a touch-friendly area on the tips of my index fingers and thumbs.

Good question. Maybe something for #AskDanWindows?

Same yeah, seem to have to hold the phone to close to face in an unnatural position for it to work properly

I gave up on Hello on my 950XL being able to recognize I have eyes at all. Same for 2 other 950XLs I tried.

Well, do you have eyes at all? That's the question

Oh no! He's a humanoid from the future.

Quicker to use a pin, turned iris scanner off after a week or so. I hate to say it, but as cool/clever as it is, it's just too slow. If I can tap in four digits quicker than it will recognise my eyes, then it's no good, except when I'm skiing and have gloves on, but then I still can't do much/anything without having to touch it anyway.

Thank god, finally. I used Hello maybe half a dozen times over a year ago when I got my 950XL and never did again because it was slower than entering my PIN. Plus having to hold the phone just right in the right types of lighting is a pain.

I will miss that wink 😢 I do like the speed tho. They should add a super short animation to it after it finds you. Also a start animation on unlock.

What about fingerprint recognition with the Windows Hello system, any faster on the new update? I have not used iris recognition yet.

They should disable all animations. Or at least give a a toggle to disable this animation. The phones would be way more faster without them.

yep, I kinda wonder how much of the slowdown from 8.1 to 10 was in 'refining' the look with smoother/longer animations. Give me an option to turn off or reduce the animations. About five years ago I went to the Ontario Science Center, and they happened to have an original macintosh running a survey you could fill out. It's a thirty year old computer; It's gonna feel slow, right? It was the exact opposite. Clicking an on-screen button immediately went to another screen; no animation, no pause, nothing. It felt FAST. Sure it is a black & white screen, at maybe 320x240ish resolution, but it was also thirty years old! Our computers these days are literally Ten THOUSAND times faster, and they feel slower. But hey, we got nifty animations.

That's not the problem with Hello on Windows 10 Mobile. It's the inability of the scanner/camera to accurately recognize me, despite countless attempts to train it. I've tried every kind of environment. In the end, during regular use, I play this stupid "get closer, get farther away" game in an attempt to have the thing read me. Using the PIN is immediate and consistent. Hello is innaccurate and slow. They should have gone with the fingerprint reader, it's that simple.

But but I like the hello Jason I got..... Lolol

I wish Microsoft fixes the long animations when opening and closing apps

I liked that animation!!! I feel it is more personal.

Hopefully my Lumia 950 stops freezing on Windows Hello authentication....

It's not the animation that makes it take a long time...they need to improve the actual scanning. That part sometimes takes ages (and yes I'm close enough).

Bet it doesn't if you live outside the US

If only my eyes weren't so bad I can't use it, haha. Something I thought was a really cool idea, and still do, but my one and only time trying it was disheartening.

The wink animation at the end of the Windows Hello experience is going to be missed but anything to cut down the amount of time and come closer to the much faster fingerprint sensor I have on a cheap extra Android phone I use (for apps, guys!). ​However​, don't you guys feel like the longest delay is at the very beginning of the Windows Hello experience? As the "Looking for you" animation loads, there's maybe a second delay before the "red" light comes on and my 950XL is really looking for me.

Is this for real? The wink was the cause of all evil in Windows Hello? How about making it faster than 7 seconds? I can get by the 0.3sec of the wink in that.

Did you refined the recognition? It takes me roughly 3sec to get in. 1/4 of it goes to the wink.

The delay experienced as "looking for you" or "move closer" or "we didn't recognise you" is due to the wink? Are these guys serious? The actual scanning is the issue, it needs near perfect lighting conditions, removing glasses, or just being lucky to work.

Works in the dark for me. I'll miss the wink I quite liked it, but it does slow it down.

Is gestures included yet?. Its been 2 years since i hadthe fantastic speakerphone option i had on 8.1 mobile. Also do you know why we cant open new tabs on windows 10 edge with our home page and why it forces us to use bing?

has paypal, here maps or myfitnesspal reapeared back into the app store for windows yet?

Its good that hello is going faster wat about phone phone is all the time slow only... Oppo is faster than this lumia.. Very bad fone and service too cant provide a ****** battery... ****** up microsoft

Hoping it will add native WiFi calling

Do you remeber how fast was hello on treshold ? https://www.youtube.com/watch?v=PR-twiU9lMo

the main problem with windows hello is recognition under bright sun light environment

Quisiera comprarme un dispositivo compatible con esa función..!!!

By d way....will it support other lumia devices???
Windows Central Newsletter
Thank you for signing up to Windows Central. You will receive a verification email shortly.
There was a problem. Please refresh the page and try again.