Windows 10 Mobile Emulator 14383 download link goes live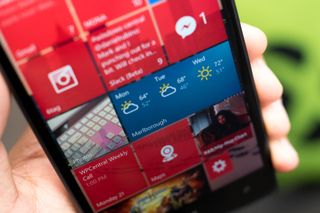 A download link for Microsoft's Windows 10 Mobile Emulator 14383 has gone live, ahead of what presumably will be the release of the full 14383 preview build of the OS for Insiders.
The download link was found by noted Microsoft leaker WalkingCat:
The emulator is made for app developers so they can test their software on a PC before installing it on an actual smartphone. This leak also likely means the next preview build of Windows 10 for Insiders in the Fast Ring is very close and that it will also have the build number of 14383.
They need another build out quickly. 79 was absolutely terrible on every device I installed it on. Hopefully they fixed it. Terrible accounts problems. My Dell Venue Pro 11 got to the point that it started requesting a recovery drive because it became inoperable. Every device had the worst lag of any build also. Sad, because two builds before was the best build ever. Not sure if MS even heard about many of the problems, because every device I installed 79 build on no longer was able to connect to user feedback.

Sadly yeah. Two builds before were better than the current one.

Awesome! Too bad I only have 10 Home. Not Pro.

Haha no. I believe the emulator requires Hyper-V which is a Pro only feature on W10 computers.

You *could* also upgrade if you want / need Pro features

That's a nice jump. I look forward to the stability spike. RS1 is looking pretty hot already but it's still not Threshold.

From 79 to 83 isn't that big of a bump.

It can be for just bug fixes.

I expect the new build for Windows 10 since I encountered BSOD with AMD graphic (atikmpag.sys). Hope I can fix that problem with the next build.

Why did you mention AMD? The article says mobile. Posted via the Windows Central App for Android

Hopefully this build fixes the random reboots my 950xl is having....

Do you have steps to reproduce?

If one could reproduce it, then it wouldn't be "random"

I am on production release and still encounter random reboots. But, now, they happen when i use it. Like multitasking from whatsapp to browser try to write something, and their you go. Blocks then restarts. Meaning windows 10 mobile is still unstable, even on production level, i do not have to many hopes for rs... Once restarted when i used whatsapp during a call....

Strange. Even 14379 is rock stable on my 535. They fixed the Bluetooth problem too, that I had on the previous RS builds (trying to turn off Bluetooth resulted in the freezing of the whole phone). Now it's working, just a bit slow. So that's the only thing they should improve for me.

Step 1--pull down your pants. Step 2--pull up your pants. Step 3--leave her on her doorstep with a note that says "She was like this when I found her"

When will people get that rape is not something to joke about?! Also, when will we finally be able to report comments as offensive on WC? Daniel R, is this something you could please increase priority for?

Jessicator... Agree. Thanks for your comment.

What? He asked for steps to reproduce.

Yes but if the advice was sincere, it would have read Step 1: Color hair blonde Step 2: Go to event and repeat the following 'I am so drunk'.

I can see a report button and have used it for you

I've been having the same problems. I will very often unlock my phone to have the screen flash and go black, which is only fixed with a battery pull. Or sometimes I'll do something on my phone and it restarts. Each time this happens it drains my battery by about 30%. It's annoying and a reset didn't fix it.

Yup still having random reboots on the 950 also, however a lot less since jumping onto Insider Slow Ring.

Got daily reboots myself. Especially when getting a call. First build in a long time that does that.

My phone and my body are ready!

14383,
I (1) Love (4) You (3) Redstone (8) Lot (3)

I (1) Want (4) W10 (3) Redstone (8) Now (3)

You guys got wayyy to much time on your hands.

I (1) Have (4) The (3) Redstone (8) Now (3)

Just push the red button Lady Sarkar

GIFT us this build on EID today

Yeah, this is a cool idea

This emulator is 4.3gb in size

Because it's the whole OS, not just a patch for the previous build as it is on a phone, I think.

And it includes the code for the virtual hardware too.

Do they normally release the emulator version after the release of a fast ring image??

these builds have been pure crapola. random reboots, app crashing, it never gets any darned better.

have some backup juice followed by a hard-reseterade

@Mike Santagata, i am facing random reboots on my 950xl too... Noticed that the battery is swollen due to which it can't hold the charge for longer time... Mobile gets rebooted when there is sudden drop in the charge... Pls check your battery n replace if required..

My guess is it will be released tomorrow evening

Hope they fix the battery draining in Lumia 1520

And on Lumia 930. You also have a very nasty feeling when that metallic bezel starts to get hot..

They've been "investigating" it for the last few builds... I've had to roll back to 10586 because even the slow ring builds were making my phone unusable.

Yeah, so I've seen. Well, for my part, I don't want to rollback to the TH branch because it lacks features and works slow for me. I wonder how much time does this investigation thing take..

I hope that they can really find a proper and solution after they "investigate" the problem and optimize it. The issue can be that fundamental that can be related to some other hidden problems. We don't know where they went wrong there, but this has to be solve before the release date. Hopefully they won't resort on removing compatibility to these devices.

The strange thing is, they claimed to have fixed the issues several builds ago (and battery life was pretty good for a few builds) but they managed to break it again.

I can't take HDR photos by my NOKIA Lumia 1520 with the camera app
So now I'm using Lumia Camera Beta as default camera app

Lumia camera beta is available to download?

Yes it is available Thanks https://www.microsoft.com/en-us/store/p/lumia-camera-beta/9wzdncrfjbm0

My L 1520 is doing well, not as good as 10586 but I still get 24+ hrs with medium to heavy usage.

OMG release the build.
I want wifi back!!

Hopefully this build fixes WiFi issues.

Some of developers submitted there apps without testing the app on mobile emulator. Only on pc. since the machine doesn't support hypeV.

Yes, it can only work with windows 10 pro :-(

So what happened to features like swiping on the tiles to dismiss notification, clicking on the tile to reach the article that it shows directly, exploding tiles, interactive tiles? Also, why do we not have extra large tile in mobile?

The last build with message everywhere was the best. Stable and relatively bug free. I am dreading skype for texting based on the uwp skype leaks seen thus far as well. Hope to be pleasantly surprised when all is said and done.

I hope so too for the 1520 battery drain.

The last Release Preview build is horrible. Everything crashing, phone is hot and battery drains so fast.

TH2 456? Everything fine on my L820.

How is thr battery life on .456??

Windows 10 mobile OS whether it would be insider or non insider the battery life is worst, literally iam keeping charging twice a day, My L730 dual sim take aleast 3hrs for charging, so in a day min. of 6hrs i use it for only charging..... Days are gone when we used to say Windows Phone doesn't require bigger batteries like Android....

How old is your battery? 3 months ago I bought a new one for my 2 years old Lumia 730 and now it last a day with ease.

2 years+ pretty old, but its not just battery. phone is unusually hot with this update

mine is 1.5 yrs+ but I know its not the battery issue. Windows 10 normally consumes more battery, A friend of mine purchased L730 6 months back when he got official win10 update his battery backup reduced from 36 hrs to 20-24 hrs, he only use his mobile for calling and little Internet usage....

No an issue on my Lumia 640, 830, or 1520 at all.

Weird, nothing like that is happening on my Lumia 640, 830, or 1520.

You think Microsoft would test on emulator and then on a actual phone first no wonder there's so many issue's on actual phones. Emulating a phone isn't a actual phone it's only emulating the firmware and operating system no wonder there's so many issues on the Nokia Lumia 635 with the txt input box hidden behind the onscreen keyboard and buttons hidden behind the start menu bar. Probably looks great on the emulator but on the actual hardware its way way off.

you realize you have an entry level 3 year old phone, right? that's kind of like 'Dammit! windows 98 fits in the disk drive, why won't it install on my Commodore 64????' i used to get tech calls back in the late 90s

The point is the Nokia Lumia 635 has one gig of ram and runs the OS fine its them little things called BUGS in the Universal Windows Platform that need sorting so your analogy is totally bull. I never once said I was trying to run it on a None windows based phone.
And by the way the above bugs where fixed in a earlier insider Preview build but then it crept back in and has stayed they just have to work it out.
Think then Type.

pardon me King Trevor. The point was you are complaining about something on an outdated item regardless of what is inside of it.

I wish it would have some new features.

Took so long to release the build tsk

This emulator also needs a 64 bit operating system to run.

My phone freezes suddenly after this update.
I have to restart my phone by removing the battery.

My phone freezes suddenly after this update.
I have to restart my phone by removing the battery.

Plz someone tell me how to roll back to 8.1

This build shows 36 hours left on my L640 100% full battery. The production build shows only 18 hours left on my L950 100% full battery! Strange?

How to install Pokemon Go game in windows phone 8.1

What is the real date for windows Mobile 10 released
Windows Central Newsletter
Thank you for signing up to Windows Central. You will receive a verification email shortly.
There was a problem. Please refresh the page and try again.