Windows 10 Mobile-ready Lumia 435 on sale for just £39 on Microsoft Store UK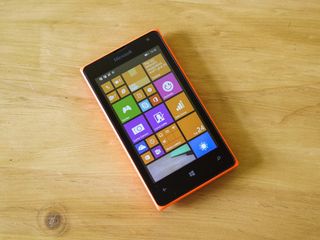 The Lumia 435 — which retails for £59 — is down to just £39 on the UK Microsoft Store. Running Windows Phone 8.1 out of the box, the handset is eligible to receive the update to Windows 10 Mobile once it becomes available.
As for the phone itself, the Lumia 435 comes with a 4-inch WVGA (800 x 480) display, dual-core 1.2GHz Snapdragon 200 SoC, 1GB of RAM, 8GB internal memory, microSD slot, 2MP camera at the back, 0.3MP front shooter, 3G connectivity and a 1,560mAh battery.
Interested? Head to the link below to purchase the Lumia 435.
Buy Lumia 435 at Microsoft Store UK (£39) (opens in new tab)
Windows Central Newsletter
Get the best of Windows Central in in your inbox, every day!
Harish Jonnalagadda is a Senior Editor overseeing Asia for Android Central, Windows Central's sister site. When not reviewing phones, he's testing PC hardware, including video cards, motherboards, gaming accessories, and keyboards.
Good,more choices lol. W10 all the way !!!

Lumia 435 was just R$129 here in Brazil ($58, €32, £22)

Welcome to the UK and our expensive prices... Brazil sounda better!!

The Lumia 435 was being sold for as low as £4.95 with £10 topup not so long ago. I know cos the missus bagged one, the handset itself was unlocked. Don't understand why anyone would pay more the £20 for one since there's always a better alternative that's on offer somewhere! The 640 can be had for £59 atm so if the RRP is £59 on the 435, Microsoft have got it very wrong. FWIW the 435 is a very nice phone, but not £40 nice. Shop around! The 550 will be £59 upon release!

It's not better. Believe me. :)

well you earn 50% more then mainland EU countries so stop complaining and pay :) https://en.wikipedia.org/wiki/List_of_European_countries_by_average_wage

Brazil is not better at all. They have huge tarrifs put in place. Posted via the Windows Central App for Android

I thought it's already running W10M on sale...

Reading from the notification I thought win 10 mobile is out and got excited.....:(

1gb of ram is a lot for a wvga phone.

We all are eagerly awaiting for the dawn!

Great little device. My autistic son has one and I have to say, they are pretty resilient! He's got 10586.11 on it and it's ok

Every WP/M phone that isn't a 950 is old. My 925 is ancient by comparison. But they all run W10M.

Any Lumia 520 user,On W10 mobile?

How does it performs,Heating issues?

Heating issues on a sd200?!
There aren't going to be any lol. Edit: I See, for the 520 ergo off topic. Please keep comments on topic. Otherwise use the forum, that is what it is there for.

I think this was sarcasm.

My questions are for L520 users on W10

Runs smoothly on 520 but at times heats up pretty much when gaming

No problems in day to day tasks or gaming on my Lumia 720 (build 10586). But experiencing problems while multitasking ...

Started from its 1gb lower series, Interesting!

Amazon has a deal on the BLU Win phones for today only too https://www.amazon.co.uk/b/ref=lp_2616422031_gb1h_tit_m-3_0047_bdd97c0a?...

Is this phone an upgrade for a 520 owner?

Do a comparison to the specs. I haven't checked the differences between these two Lumia models, but I suspect it won't be a good choice. I would suggest you to buy a Lumia 535 ( a friend of mine has it, and he is extremely happy) or maybe a Lumia 640.

Those phones are better but more expensive, anything better than this phone for a similar price?

How much are you willing to pay and in which country do you live? In my honest opinion, i would wait a couple months and save money for a better phone. Also whats your needs? A good camera, just a phone to call and recieve messages, internet? Edit: I suggest to take a look on this website and compare the phones http://www.gsmarena.com/compare.php3?idPhone1=6942&idPhone3=5322&sSearch...

If you wanna really upgrade, go for 640. There is nothing that can beat that phone, for the price. The battery kills every phone out there. Is just crazy how long it lasts.

Glad to hear that! Ordered a 640 from Best Buy for $30. Pretty excited, as it's my first Windows phone.

I would say that if you want to keep in the same size range, the 532 is better

When Lumia 640xl getting Windows 10 updates?

My best guess is that Lumia 640xl will be from the first line to receive w10m. The newer the phone is, the faster is going to get the update. (at least that was the pattern for the previous Os updates). Another parameter to think, is the carriers. If it's carrier free, then you will be lucky and as soon as possible the update is released to your country you will get it. Be patient :)

Latest Windows 10 build runs absolutely fabulous on my sons 435. Great little phone for kids imho. (or wives who prefer small phones :)

Lumia 435 is a good phone for the money, company I work for issue all the field service engineers with one.

The Lumia 640 has the same price from Microsoft! (of course that's the AT&T version) And I just bought a Microsoft Lumia 640 for $30 even, brand new with no-contract.

Now if only the unlocked 640XL would go on sale.

IMHO this phone has inferior screen. But is's cheap, so I guess that's ok.

I got my 435 for €50 in Ireland with Tesco Mobile. Great phone for the price.
Windows Central Newsletter
Thank you for signing up to Windows Central. You will receive a verification email shortly.
There was a problem. Please refresh the page and try again.