Windows 10 Mobile support planned for Withings smartwatches and other products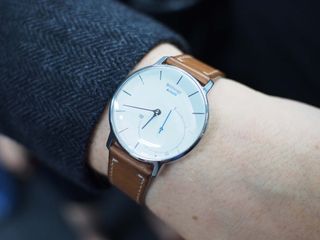 Windows 10 Mobile will officially launch later in 2015, but some businesses are already revealing plans to support Microsoft's next mobile OS. One of them is France-based company Withings, but it may be a while before that support is actually launched.
In an interview with Trusted Reviews, Cedric Hutchings, the CEO and co-founder of Withings, stated that Windows 10 Mobile support for the company's Activité and Activité Pop smartwatches and its lineup of connected devices will be released "eventually". He stated:
Hutchings added that Withings will have to offer solid support for Windows 10 Mobile after an app is released:
It sounds like Withings very much wants to support Windows 10 Mobile, but it also wants to make sure it can offer the same amount of support for the OS that it already has for iOS and Android.
Source: Trusted Reviews
Windows Central Newsletter
Get the best of Windows Central in in your inbox, every day!
such a nice and reasonable guy..

He should explain this to developers of other major apps....

Yeah, at least he state is reason and not plainly refusing. Also it make sense really, anybody can release an app (worst one) for Windows but it doesn't guarantee the full support. Just look at many of the apps we have already, most lack great support and worthy updates.

For example, Instagram..... SMDH

Yeah, we are used to waiting! It's the "getting the actual product/service/software" that feels unfamiliar...

I wish more companies and developers thought more like this Posted via the Windows Central App for Android

Port the iOS app, make minor coding changes, done.

And you're 100% sure that won't affect the physical connection to the watch? Withings know what they're doing, they make some great products. Be patient and let them do it properly!

Yeah.. this is definitely something they will want to do with a native UWP and not a port. :)

I hope there is no other people like you.

Reasonable and appropriate business precautions

Is a corpse wearing the watch in the photo? :D

Ahhhhh,,, the pic was probably taken in the "dead" of winter...

Yes! The Activité and Pop are the absolute best looking basic trackers and I've been wanting a Withings app for such a long time. This is great news!

This looks beautiful. Great there will be a good app so one can check it out.

Developers like me want to provide features like other platforms but due to limited API access we couldn't (till now). Lets see how W10M will play in that area.

It sure would be nice if someone would come out with a windows watch. I don't consider the Band to be a true smartwatch. It's too small and unattractive for my taste. Needs a bigger screen. Throw in SD card storage, ability to run it's own apps separately from a phone and it's own music player and you have yourself a winner. They should offer it in 2 flavors. A regular and an XL size.

Micorosft doesn't consider it a smartwatch either. They label it as a fitness band. I do agree though it'd be nice if they came out with a smartwatch, but for me personally, there needs to be a lot more functionality in smartwatches that I don't think will come for a while. I want it to replace some of the features that phones can do that only take a couple seconds. I want apps on them for the remot starters in cars, or to turn on lights in home automation systems. Stuff that taking your phone out to do it, effectively doubles the time it takes to complete the action. (turning 2 seconds into like 4 seconds) I know it's a miniscule amount of time, and I'm not complaining, I just thinnk there is where the true functionality of the smartwatch will shine.

Yeah, Microsoft should enter the smartwatch game as early as possible before the market saturates. They already make a Band, so they should have already an idea to make a smartwatch at least. Microsoft can release a round smartwatch with metal frames, plastic back (especially for wireless charging), touchscreen + hardware controls, Cortana (a must), changeable straps that are compatible to standard watches, at least can do 2 days battery, NFC, and waterproof.

Yes and if not MS, someone else needs to step up to the plate and release one.

One thing few people know about the Band is that Microsoft is allowing anyone to licence/purchase any of the components in Band 1. I'm sure they'll do the same for Band 2. If your building a smart wearable, they've taken so much of the engineering work off your hands.

I'd feel a lot better IF I HAVE HEARD OF THE COMPANIES. Haha

Most people reading the article probably do know of the company. They are more popular than you think. Some people haven't heard of Windows Phone, but that doesn't mean anything about the quality of the OS.

Well now you've heard of them. Do you feel better?

They have a pretty good Fitness Bands

Great! Our first smartwatch

I want to use my $70 Pebble watch with Windows Phone since I am pretty sure this watch will cost more than that Besides, the battery life on a smart watch should never be shorter than one week. Posted via the Windows Central App for Android

Watches other than the Pebble actually DO something. Pebble has only battery life and its display to its favour. For 2015, the Time isn't enough. They too need to step up their game, and their CEO needs to stop being an Evan Spiegel and release an app for WP.

Respect. And I like the look of their watches but then I'm a sucker for bauhaus designs.

Their watches look exquisite! I like the black with orange accent. Interesting choice of battery though.

I'm actually expecting more

He sounds rather as if he is justifying why they will NOT support Windows 10.

It's amazing that not one smartwatch has full support for windows phone. Please correct me if I'm wrong but I've yet to find one

I so hope they do support windows phone in the near future. Exciting times!

Gorgeous watch, but very expensive!

SO have others....Yet, out only Choice right now is the Band... gota love the BS...

If they support W10 mobile I'll support them

That watch looks great on its own.

Smartwatch support on windows is abysmal, not even support for hugely popular fitbit for notifications

Knowing Withings, which isn't known for stellar customer support, he jsut said that so more people buy the watch and the app will never be developed for the Windows Phone.
Windows Central Newsletter
Thank you for signing up to Windows Central. You will receive a verification email shortly.
There was a problem. Please refresh the page and try again.