Windows 10 is now pre-installed when you buy Surface 3 and Surface Pro 3 tablets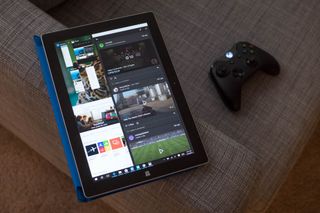 Wiindows 10 is now available pre-installed on both the 10.8-inch Surface 3 and the 12-inch Surface Pro 3 tablets. Microsoft launched Windows 10 last week but until now had sold both Surface models with Windows 8.1 pre-installed.
Microsoft previously told us that it planned to begin selling both tablets with Windows 10 pre-installed "soon" after the launch of the OS. This also happens to be the last day that Microsoft has a price cut on three of its Surface Pro 3 models.
256GB Intel Core i5 - $1,149 (normally $1,299)
256GB Intel Core i7 - $1,399 (normally $1,549)
512GB Intel Core i7 - $1,799 (normally $1,949)
Windows Central Newsletter
Get the best of Windows Central in in your inbox, every day!
Any problems in the Windows 10 tablet mode as many of you were saying about the preview builds?

Tablet mode is wrecked. Browser Edge has no gestures, modern IE no longer available, apps not optimized for touch, Skype Modern not longer available, you are forced to use the desktop one that is not touch friendly at all. There are so many things.. I don't even have the patience to list them.

Install the SKype translater app. it basically is the modern app just with a toggle for translation and a different icon

Tablet mode is working great between the type cover and the SP3. The docking station does not recognize the change between desktop and tablet. I hope that is fixed soon. You just have to manually change.

My SP3 automatically jumps out of tablet mode and in to desktop mode when I put it on the docking station.

Yes, but it doesn't go the other way consistently.

Tablet mode is great on my Surface. It's incredible that Microsoft managed to make the desktop experience and the tablet experience better than 8.1. Miles better.

There is no clear answer. If winRT without desktop is all you are going to use, then win10 is not for you, yet. Otherwise, win10 is all around winner.

I upgraded day 1. I personally think the tablet experience has been mauled and decimated, definitely a huge step backwards from 8.1. If you're upgrading from Windows 7: You have literally nothing to lose, there's only gains upon gains made. Likewise if you were using 8.1 on any non-touch device. But for those of us who had and actually used all the touch gestures on 8.1, there are definitely some compromises which still burn. I for one and still reeling that I can't snap more than two apps side-by-side in tablet mode, amongst other things.

I partially disagree. Windows 10 definitely is useless on touch devices, but I absolutely loved the keyboard/mouse use on Windows 8.1 and most of that is gone with Windows 10, as is the great user experience I enjoyed with Windows 8.1. As far as I'm concerned, Windows 10 is user-spiteful.

@swim, I totally agree. I think tablet mode, in it's current form, is not as good as 8.1 tablet mode

I want if we can get that as the recovery image instead of the Windows 8.1 image.

Was thinking exactly the same. I wonder if MS will issue a new recovery image that we can download to lose Win 8.1 completely and be a native Win 10 machine.

It's called a clean install! As long as you have upgraded previously just grab the ISO and install...simples!

No, we want a recovery image with whatever customization MS made to it, guaranteed to be optimized for the device.

Not Simples, as doing a factory reset will still take you back to 8.1, we need a complete Windows 10 image so we can completely remove 8.1.

Wasn't the Surface Pro 4 predicted?

Not so much yet but I expect it by the time TH2 is released for Windows 10 and be ready for Holidays. The consistant rumor is same form factor so existing type covers and docking stations will work.

Can i purchase this tablets in India??

Yeah but are insanely expensive

No u can't....but you can import through eBay or Amazon, but the price is huge

It should arrive this year to India locally

Anything is available anywhere in the world, for a price.

Only if you buy them in USA.

Tablet mode should have just kept all the gestures. I warned about all this when the crybaby get rid of RT crowd was making noise. RT had a purpose and it filled it. Now they got rid of like they get rid of Zune to appease a loud mouth group that the product wasn't even designed for and it leaves a major gap in the ecosystem. Kudos...you got your start menu back and wrecked the tablets.

This taskbar and the tiny icons on a touch system...ridiculous!

Love or hate the iPad I wish Microsoft would buy a few, hand them to engineering with the instruction to make the tablet experience as good. Really how hard can that be? Edge is better than I.E. Like being able to scroll long lists from favorites bar drop down categories, but still so far behind.

YES. Because when I use a tablet I want to only be able to do one thing at a time and it must fill the whole screen. /sarcasm

My sp3 takes 15 minutes to start up after a shut down with window 10 :)

Do you have the keyboard folded underneath "passive" mode? Disconnect it or fold it forward "active" before rebooting. It's a known, not yet fixed, firmware bug.

Given these were released on At&t last week if I buy one Monday will it have 8.1 or 10?

I was wondering the same thing. Guess it depends on AT&T as far as the existing units they have in stock. New arrivals should come with 10 preinstalled.

I just want them to fix whatever continuum bug I have. There must be a fix if these are coming preinstalled with Windows 10. My Surface 3 will not do continuum with my Type Cover 2. When I go into settings to enable it, it automatically goes to tablet mode with the keyboard attached and no matter what I do with the cover it doesn't switch back and forth automatically.

Good to hear, but the Pro is still a little too rich for my blood

I don't suppose there's a way to buy a new Surface Pro and drop it back 8.1? Windows 10 is bad enough, but it's practically nonfunctional on touch screens.
Windows Central Newsletter
Thank you for signing up to Windows Central. You will receive a verification email shortly.
There was a problem. Please refresh the page and try again.