Windows 10 PC build 16188 and Mobile build 15210 now available for Insiders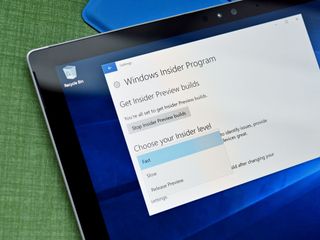 (Image credit: Windows Central)
Another week, another set of awesome Insider Preview builds for Fast ring participants to test and provide feedback about! Today's new builds are 16188 for PC and 15210 for Mobile and are now rolling out in the Fast ring.
What's new for PC?
Awesome new features in Microsoft Edge's PDF Reader: In addition to addressing a lot of Insider feedback on PDF functionality in Microsoft Edge, this build is also packed with a bunch of new features for reading PDFs in Microsoft Edge that we want you to check out. Here is the description of the features to look out for:
PDF Form filling: Every now and then we encounter forms to be filled which are in PDF format. Now you can fill in PDF based forms within Microsoft Edge, save them and print them!
PDF Annotations: The annotations capability in the browser is now extended to PDFs as well. You can use the "Make a Web Note" button on the top right of browser frame to invoke an annotations bar.
Table of Contents for easier navigation: For reading longer documents, you can now use the Table of Contents (ToC) feature for easier navigation. You will see the ToC button on the left of the PDF toolbar if the document has ToC defined by the author. Click on any heading in the side pane to navigate to that part of the document.
Better viewing and navigation: Sometimes PDF documents, such as documents that are copies of documents scanned in, are not in proper orientation and need to be rotated to view them properly. Now you can rotate the PDF documents for better readability. Look for the rotate button in the toolbar. Also, it is important to be able to adjust the reading layout of the files to best suit user's needs based on the screen size, type etc. Using the "Layout" flyout menu on the toolbar, now you can switch from one page to two page layouts and change to page-wise scrolling for better navigation experience for longer documents.
Windows Defender Application Guard: Announced last September in the Microsoft Edge Blog, Windows Defender Application Guard for Microsoft Edge is now available in Windows Insider Previews for Enterprise users in the Fast Ring. - - Microsoft Edge running in Application Guard provides enterprises the maximum level of protection from malware and zero day attacks against Windows.
Ninjacat Icon for Windows Insider Program in Settings: Check out the new Ninjacat icon representing the Windows Insider Program under Settings > Update & security > Windows Insider Program.
Cortana's settings have been integrated into Settings: Cortana is a core component of Windows and users look to the Settings app to find Cortana's settings. We've heard your feedback about discoverability, and with this build, we've made the change to migrate all of Cortana's settings into Settings. You can access them by clicking the settings gear in Cortana, going to Settings > Cortana, or just searching for the setting you're interested in.
A reimagined Magnifier Settings page: In order to improve the experience both for low vision users, as well as casual Magnifier users who use it for presentations or quick zooming, we've updated the Magnifier Settings page. Insiders will notice that the page has not only been redesigned, but also comes with a few new features
Improving your update experience: We've heard your feedback, and with Build 16188 we've replaced the previous modal Windows Update dialog with a new interactive toast notification so you can easily be aware of an available update without it interrupting your work. Try it out next time you get an update, and as always, please share your feedback!
Improvements for Mobile
We fixed an issue with the Glance screen where the time was not updating.
We fixed the token issue so when your device syncs to the service, text messages should show back up.
For a list of known issues, and the full changelog, make sure you check out the Windows Blog!
Zac Bowden is a Senior Editor at Windows Central. Bringing you exclusive coverage into the world of Windows 10 on PCs, tablets, phones, and more. Also an avid collector of rare Microsoft prototype devices! Keep in touch on Twitter: @zacbowden.
So many updates for PC and mobile on that list! Oh, wait, the mobile updates are down there...

It's a good thing Build is next week. Maybe they can end the charade.

Not going to happen in that venue.

That venue is a very appropriate place to discuss the Composable Shell, a potential reason for the branching off of Mobile from rs_prerelease. So yes, there's a chance the charade will end at Build.

Ha. Remote possibility they'll bring it up, but I doubt it. Where past flow charts at Build included an icon of a Windows phone, this time around, it'll probably be conspicously absent.

I won't if I were them. I would feel so embarrassed to even mention it. It is a man made inexcusable failure.

maybe they want to surprise us with a new mobile build at build that's parallel to the pc build which packs a lot of new features :D

Even Cobe can't make us dream that now...

They'll surprise my ass... You're too optimistic

Why don't people who aren't happy with W10M just buy another phone. Sure, be pissed if it hasn't turned out the way you want but unless you're going to go work at MS yourself you can't change anything. I'm sure they get it that there's those of us out there who love W10M, I know that for sure, they aren't stupid. Just use W10M if you're happy with it or switch if you aren't.

Oh, but they are definitely that stupid, and the last couple years since Nadella took over have provided more than ample evidence.

What sold WM10 to me was the integration, not the features. I'd rather have the integration than a load if updates and features in other OS that I'm simply nit going to use.

I use Cortana a LOT, and since Cortana was in W10 PC I rely on her even more for reminders - In the UK there is absolutely nothing as well integrated with MS Services like Groove and features like Cortana - I'm not switching any time soon

Oh how I would love 💘 to finally see/hear Cortana! Instead even a simple voice command feature was taken away from me with the switch from 8 to 10.

I guess it is not that people are not happy with W10M. People are simply worry about W10M future.

They get too worked up about it though. Do they spend all day worrying about if they'll make it to tomorrow without being hit by a bus or something?

What future do they have in mind that they have not been getting for years now?

Don't hold your breath. Nadella hates Windows mobile. That much is more than clear. He'd rather support iPhone and Android

Which is indeed a smart move. What a great future Microsoft would have if all 2% market share of mobile users would use perfect Microsoft services! I am pretty sure that would make Microsoft and Windows Mobile even greater. Maybe they could even reach a 3% share with their mobile services. Way to go!

I really need those pdf features on mobile.

Meanwhile Gas Buddy stopped working on Mobile. As a commuting business man, that screwed me hard

On the new build? I havent downloaded it yet but the app is still working for me on the last one

Yes the last 2 builds including this new one

Commuting businessman uses fast ring builds?

Yes slow ring the first several months then fast ring when it stabilizes.

Aye. Another one here. It's been a long time since i saw a serious stability issue on the fast ring so was fine to switch over. But then I also have an iPhone on hand if it does break. Nice device but IOS is just boring. Nice easy, but boring

Fixing new bugs, not those flagged. Ie fixing bugs introduced

Wasn't it mostly edge updates?

This isn't the build you are looking for... Move along...

That's one long list of improvements for Mobile... MS is really working hard to make the experience better...

Yeah, I feel bad for the PC insiders, they don't get any love.

They get a little love.. But not as much as mobile insiders..

I started to hate my pc lol

Your PC has most likely been hating you for a long time Muhammad Awad.

Oh come on, we know the reality of the state of the mobile version of the OS. As even Daniel has suggested, from here on, it's likely just bug fixes and such. You really won't see any new real features going forward until Microsoft moves on to whatever their next big venture in mobile will be down the road (probably a multi year wait), at which point recent devices will have reached end of life.

I thought /s wouldn't be necessary on most of the comments... I was wrong

I don't get why they will just stop developement. Why not build the phone AND innovate it?

He/they were just playing. Lighten up.

Sure, it's only two fixes, but you know what? Both of those issues affected me. Most times, only one item of a long list of fixes actually applies to me. So this actually makes me happy, because both of these things were driving me crazy... particularly waking up in the middle of the night, looking at the time, and thinking that it's 3 hours earlier than it actually is.

Ms is just trying to keep you on your toes.

Totally agree! Happy to see these fixes

All negativity aside (and I've suggested before: maybe it's our own *expectations* that are too high, hence our disappointment) I'm loving the current mobile experience - it does what I want, it does it well, it does it stable. I'd agree with you - pleased to see the remaining bugs being ironed out. ...but, I still WISH they'd put the focus on mobile that they've eluded to many times.

Stable is not enough when you're talking about high-end Windows 10 M devices performing like low-end android and ios devices

What's the use of that powerful hardware with an OS like this

What's the use of moaning about it. Buy something else and move on, nobody cares what mobile phone anybody else uses. Use what's best for you and get on with it

Hear hear! Speaking of what's best, your Hand Off app is *fantastic*. Not to mention that I still use your Backup My Band app.

Aw come on now you're gunna make me blush 😇 I'm glad you enjoy them, I really wanted to do a UWP for backup my band (And I got about 50-60% there) but I feel it's too late now (even though I still use Band) and I should focus on Hand Off improvements and new app ideas going forwards. Always great to hear from people who enjoy the apps. Follow me on Twitter for more :) @danieltharris

I totally agree with Jessicator about your Hand Off app! 👏😃

Thank you 😀 if you get a chance and haven't already please consider leaving a review as they really help and are the biggest compliment you can give a developer. Really encourages you to know people are enjoying the apps

Dan, you replied to me but not sure if it was aimed at me? (I wasn't moaning?) But your point exactly - use what's best for you (or what you enjoy)

It might be an issue with the app should have gone as a reply to Muhammad Awad :-) Definitely agree with you that part of the problem is peoples expectations. Honestly I'm loving W10M and the performance improvements they made in CU are more important to me than night light. Sure I would like new features and a focus on mobile and continuum but W10M has never been better

Yep, yep, yep! Definitely. My L950 is a joy recently. Looking forward to future possibilities if they deliver on cshell, continuum and arm emulation - collectively, and individually, complete step change gamechangers.

I'm struggling to think of anything that other OS have that I actually need that isn't caused by the app gap. I'd be perfectly happy with bug fixes alone if the app gap could be closed. Maybe Microsoft should simply pay people to write apps, or offer revenue sharing to encourage people to write "quality" apps.

Had the glance issue as well...glad that it's fixed

I haven't had any issues with my Glance screen but it could be that I set it to always on.

You know what.. I didn't annoy myself reading them... After i saw how they're thrown somewhere in the corner at the end of the article..

So why are you annoying us Muhammad? Please buy a Samsung phone.

I already did. Its fantastic. The only thing i miss is live tiles and groove (as the android app is pants)

It's Microsoft vs Sadya Sadella

Mobile programmers must be paid a lot for their hard work here.

Actually what could make the experience even better?

So windows mobile gets bug fixes ...

Hurray.. Can't be happier :|

Ninjacat Icon, what more do you want? /s

Yeah...this is the major focus for mobile in RS3 that MS talked about

Good to get new updates for feature2 path. Mobile OS performance and stability getting better with every update. This is important.

Got the Creator Update as a non-insider for my L950 DS...As usual some features and apps of disabled-insider fast ring build not included in the CU public release build!

I got it on Release Preview. I think they messed up one night. I'm sticking with it for now so I don't lose any info in my backup.

Check the Store app version number for example on the public release build with that of another phone which was unenrolled as an insider fast ring build....They're different!

Because people who post in the comments here are mostly lame and salty. I wish they'd just use something else and get on with their lives. I'm happy with W10M and that's why I'm still using it. If that changes I'll get something else and I will not be posting here, or on Reddit or anywhere else to announce it because nobody should care

This is a forum and people can express what they feel. What is lame is that MS first said RS 2 will have mobile focussed features and then it was RS 3. Now, for all we know, mobile is just in maintenance mode. Pointing this out does not make anyone lame. What makes your comment lame is the very assumption that all the people who point out the lack of development for mobile, are NOT HAPPY with it. Writing this using my 950 just fyi.

True, all the features being planned for RS3 I knew they were for RS2....then MS happened.

Say want you want about the mobile builds, but I've been waiting for that time fix for a long time!

I never had that bug. Seems a hard reset would fix it. Ms has the best hard reset/backup/rebuild process around.

After one year such a bug existing is enough shameful

It's not affecting every device. I have a 950 XL and a 640, and my wife has a 950. We have not seen that bug.

Microsoft that what are you doing 😊 for mobile, build for mobile was lagged behind, ... ARM on mobile, think yourself

Tweeted from Dona's iPhone as always?)

She a true Windows fan huh? :/ iWin :S she should learn to improve WM.

Not her job in the slightest, nor would it be up to her to decide. She manages the insider program not the development department, your mobile frustrations should be taken out on somebody else.

No need to try to deflect, the insider program is not insignificant as you're making it to be. Yes she needs to answer questions. That's why she gets paid more than the people that can't talk

Agree. She's just a puppet in her department.

She uses a 950 XL actually per the Windows Central podcast interview.

Keep hearing about let it go!! Why should we when we are the very same 'targets' that the next new big thing from MS is going to be at. We the consumers have felt hard done by MS and when they release whatever next how do they expect the reaction/acceptance will be? Had MS shown true love to w10m anything they brought out that was an improvement over w10m towards a new mobile device would have been welcomed seeing how they went about trying to make w10m better. Yet they did none of that so let's see how many true 'sheep' this OS actually attract when MS announce their next.......

I'm a goddamn customer and i should get support for my device.. It feels like fraud to cut down support for it only less than a year after releasing it

I'm a goddamn customer and i should get support for my device.. It feels like fraud to cut down support for it only less than a year from releasing it

Bring your case to the court.

Unable to rotate a .pdf in Edge made the experience inadequate. About time they added that feature. Been using Xodo and haven't looked back. I will check it out.

Be good to fix latest update first, I've got bad Bluetooth connectivity and Edge no great on some sites

Thank god they finally fixed the glance screen issue.

What issue? I'm on build 15063 on Release Preview, and Glance Screen no longer works on battery saver. I have my phone on battery saver any time it's not on the charger, so for me they essentially removed Glance Screen from the phone. I also can't access notifications in settings.

So the battery saver is working better now. Good to know shryx86, thanks for the info!

All these updates despite Sadya Sadella's bleak Windows Mobile outlook.

At least now must be something official about mobile devices

Looking at improvements and updates for Mobile in these last few builds, it is clear that Mobile is now pretty much abandoned. Doesn't matter if they still work on it, clearly they put the development into the garage basement or something. Nothing new, fixing issues that nobody cares about.

Nobody cares about? Just people who don't use their windows phone for a daily driver and dreamers don't care about. Last two fixes are quite important for me.

I just hope that they continue with Mobile. The system is looking & feeling great. I want & prefer an alternative to Apple. I had an Ipod once & couldn't get over the lock-in contract I never knew I signed with Apple. Windows is open, Apple is Apple & only Apple. Who wants that level of control imposed upon you you're gadgets/ apps/ music. Come on MS give us mobility, give us a worthy alternative. I'll buy it!

I agree 110%. People aren't appreciating the performance improvements in creators update because they are too busy moaning that night light isn't in there. I've said it before and I'll say it again the perf improvements were more important and this is the best W10M has ever been

This is exactly why I would never buy/own any Apple products.

Nadella already said you or none of us are getting a phone from them. Keep what you have or move on, but he has spoken. Who's to say that he isn't right

Good to see mobile getting some love...

Anybody knows when we could expect updates in Slow Ring? Or should we stay in Fast Ring for longer at this stage?

well this update was seriously needed ! good job

Why is it that difficult for MS to understand that the very same consumers who complain about the lack of in w10m are the very same ones who will be the FIRST to be interested in whatever 'new' MS releases to the masses. If we are not happy now how do U MS think that those on rival platforms will be ever so interested in entertaining whatever you may release saying it's the ultimate mobile device or 'we' who're still here want to buy into what you are selling. What didn't you just make the W10M OS rock to the point that if sales were still as bad at least we'd know for sure the reason. The ONLY reason why W10M sales are decreasing is because of the current mobile OS flaws are the constant reducing of features and this wayward focus on ............................. as we clearly don't know.

I disagree with you. I think that Google and Apple saw the potential of W10M and started a propaganda campaign. People in Europe still use Windows Phones and have more apps. Just yesterday I was showing some iPhone users what my Microsoft Lumia 650 can do and they were impressed. Then I told them how much I paid for my phone and they were shocked.

Release Preview needs an update. The 15063 build should never have been released to RP. It isn't ready for the general public, and that is what RP is meant to be used for. The battery drain is ridiculous, I can't access my notification settings, turning off background apps will freezze settings, and I have to restart the phone ever couple days to get it to run properly. Yes, I did a clean install when I first noticed the issues. That made it only slightly better.

Glad to hear i am not the only one with issues with the Notification page and the Battery background app page. Thanks for the post. Overall though .251 is a very solid build. Those two pages albeit annoying are not used often. But they should really fix.

I wouldn't mind it just being two fixes this time BUT... The fact that there is a possibility that they plan on doing something on mobile later on, may that be with a Surface phone or not, MS or most people for that matter don't seem to grasp the bigger problem. I don't want the new pc additions. I want them to bring even more new features than that and specific to mobile cause every time the hardware moves and something does get released THEN they try to add **** to it after multiple times and attempts to fix the few minor additions... Well that way the Windows phone platform will never be interesting again when compared to other platforms. Before they had glance, best cameras etc etc and cause of the store they failed. It wasn't even their fault to be honest. Now that It will be their fault I wouldn't even support the windows phone and I'm a damn MS enthusiast. Microsoft has gotten so brilliant with Cloud, hardware and their software all around but I'm starting to think that the decisions for the windows mobile are taken by crabpeople -.-

Cool changes for PC! Keep them coming!

I don't even understand the short sightedness of the people in these threads anymore. Microsoft for a couple of years now have made it abundantly clear that they want ONE operating system to rule them all. Quietly killing Xboxes separate system and now mobiles separate system. All while developing Windows on Arm and Continuum. It is well known Microsoft is working on esim and their own paid service for mobile internet connection.
Why would Microsoft work on an adaptive shell if it were not for running Windows on extremely small form factor devices.
The most likely goal is ultra small form factor full pc that looks like a mobile phone and uses their own paid service, probably Skype as the dialer but connected to mobile network. That device would have the ability to drop into a lapdock to transform to a laptop, even with option of imbedded GPU to boost performance. The same could be done with aio PC. This tiny device would now also be able to play the cross platform Xbox games, and be the core device for all computing needs. A true market disruptor all in the SURFACE tradition. Till then the present mobile operating system will be refined and maintained till these new devices are ready to come online. I would not be surprised to see a custom Arm chip or a separate small chip in the Arm devices just to handle the win32 emulation, to take the work off the main processor.

I want you to be right. :o)

Either you're delusional or a prophet.

Nothing delusional or particularly prophetic about that, it's obvious that's what they're end-game is. Unfortunately it's almost certainly going to take longer than most of us are willing to wait before we need a new phone. I'm seriously considering a new Galaxy Note when they launch, with one of the Windows 10 skins.

At age 58 I am neither, but however I have literally seen it all since Pong Tennis, Microsoft have made it abundantly clear where they are headed. Its just the owners of old Nokias refuse to either listen, see or be patient. It amazes me how "simple" some think it is create an entirely new eco system from the billions of variations on PC equipment there is. I am staggered that MS is actually achieving it so quickly. Seriously you still can't even touch the screen on a Mac yet. I just ditched the Nokia1520 I had "dead battery" and bought a 950xl very cheap which will hold me over till the Surface "Pocket". I would never ever buy into Apple as my friends endlessly complain about theirs and using my partners latest Android? forget it, utter one device wonder garbage. I am happy right where I am thanks.

Three word we'll never hear again. "Here's what new" in mobile build 15xxx or whatever. :o(

Why does nobody even listen to what MS team tell you anymore. This for those who talk before checking and I quote MS
"As the Windows Insider team explained a couple weeks ago, Windows 10 Mobile recently got its own "feature2" fork, which is a temporary measure to let the team do some OneCore work on the main OS. As a result, Windows 10 is getting all the love right now but Windows 10 Mobile will rejoin the main Redstone 3 development branch at some point." Unquote.
Sheesh I blame Trump for all this fake news.

Never believe or trust Microsoft.. Whatever comes next DO NOT EVEN TRY IT... Microsoft will work on it one year and then throw it behind their back.. Like they've done with W10M... Like they've done with everything

I really don't know what you are talking about Muhammad? Even though Microsoft has had a bad time with people understanding that Windows 10 Mobile is a better mobile OS than the others they have stuck with it. Microsoft is trying to improve our lives, Apple is trying to improve their bank account. Apple wants to enslave us while Microsoft can set us free.

Maybe this build will fix Barclays Bank app on mobile not recognising versions and complaining about jail broken devices but I doubt it.

Oh did i read Edge will now be separate.. All those who -1 last month when I suggested and broke that news, can suck my balls.

Disappointing update. My self-built desktop hasn't turned into a Surface Studio yet. ☹

I'm so glad i am on the mobile fast ring... That is sarcasm. I love W10 on my 950 but Insider is a joke now on mobile.

Guys, I don't really understand !! Fast ring will not get creators update ?

Fast ring will only get the next mobile development builds. Since Creators Update is now in maintenance mode it's better to switch to Release Preview or opt-out of Insiders​ if you want the Creators Update.

Hey! I would have a question for you - this is my first time with Insider on laptop, before I used it only on mobile. Should I stay now in Fast Ring or could I already switch to Slow Ring?
Stability is crucial for me although that first Fast Ring build works perfectly for me + even fixed previous issues with Store memory :) Build from today is in Fast Ring so should I stay with it or just wait on Slow Ring until something will show up? Also is every update in Fast and Slow Ring such a big update? :O I thought that only for start full build is download and later on we just will recieve incremental updates because it's still the same Redsonte 3 :)

The issues I've reported to Feedback Hub for last weeks 16184 have been fixed and two are now listed as know issues so it won't be long now.

Improvements for mobile is a slap in the face

Geez it's pretty obvious now mobile is indeed in maintenance mode. Thanks for the Bone MS.

Hola... Some insider who has the comma key placed to the left, and the point key to the right? That's weird! :/

Victor you are just holding your phone upside down.

You can change it through the interoptool

I started to believe many members here are just talking for to talk. Same old cliches again and again. Nothing more. People who really own and use devices like 950 XL, Idol or HP Elite X3 are very happy for those bug fixes. They are needed and important. We want a fluid experience for our OS. You all want talk and dream.

Yes fluid, the elite X3 is not too fluid and it makes me sick

After the update my Surface stays blank after the Surface start up sequence. Is there a fix for this?

Reset worked, I had to do it a few times.

This isn't the mobile build you were looking for.

ava khoodiiiiiiieeeeeeeeeeeeeeeeee la en pooooooollllllu

This is f*** bul****! PC change log consists of structural, real fixes that targerts performance and general wokings on things.. MOBILE change log has "WE CHANEGD THE COLOR OF THE f**** FONT!". There are so many problems with the f**** phone still (L950XL), but no! nothing is fixed! Sluggish chocking piece of SH**.
I have written about 25 feedback bugs over past 4 weeks! FU*** OFF MICROSOFT! Nokia Prestige Android phone, here I come!

It's become rather addictive over the last year, having been on the Insiders programme and receiving updates, then updates that fixed updates. I've become quite used to fiddling with my phone rather than using it. And now it's all over (bar these updates that fix updates) and so no more fiddling. Just an operating system that works. Albeit, without night light MiCROSOFT!! Could do a final reset and start afresh with no back-up. Nope, done that. I've also finished sending web addresses to my start screen for all the missing apps. Done them all. So, what to do next...taps fingers.... Er..I know, I'll play Cubway that I paid for two weeks ago. Oh, hang on, it's no longer in the store. And, of course, I did a reset with no back-up. Hey ho.

Where is update for Lumia 535:?this is also a Arm device.

No Cortana for Portugal's Portuguese :( Only in Brazilian Portuguese, and it's not my language!

Wp10 on 640 has never been this good. Responsive and fast. Good job. Best value for the money phone ever. I hate the way some people
just follow the trend on ram pixels and cores rather than real innovation. I mean its all good but for me and today the way I interact with WP10 home screen beats any iPhone 7 or S8. Go figure...

You're the man ! At 40 bucks, Lumia 640 is a steal. I even picked up a Lumia 830 for 100 bucks at a shutdown sale !

Yes bro now its smooth and elegant os. Simply stand out in public.

Why Microsoft didn't introduce any new features on mobile

Like wings ? The new updates are just awesome.

Haven't received on my NL1520 yet ☹ ... Can anyone plz help?
Windows Central Newsletter
Get the best of Windows Central in in your inbox, every day!
Thank you for signing up to Windows Central. You will receive a verification email shortly.
There was a problem. Please refresh the page and try again.