Windows 10 PC preview build 10565 coming today for Fast Ring Windows Insiders [Update: It's out]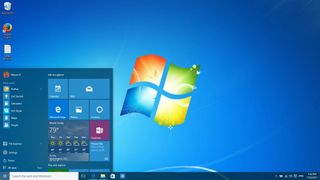 Update: Microsoft has released the build to Windows Insiders in the Fast Ring, according to our tipsters.
Original story: Microsoft has announced it will release a new PC preview version of Windows 10, with the build number 10565, today to members of the Windows Insider Program who have signed up to get new updates in the Fast ring.
This is the first such release in close to a month; Microsoft launched Windows 10 build 10547 to members of the Insider program on September 18. The head of the Insider program, Gabriel Aul, stated:
Source: Microsoft
We can clearly see the shift of focus on the mobile version of the OS as promised after win10 launch

Yeah, that's the first thing that came to my mind....

To be fair, the last fast ring update for PCs was pretty bad. They probably were feverishly trying to get it back to being less wonky before going back to the "been wonky for months anyway" mobile version.

And that's why I can't imagine them being ready to release this in a few weeks as expected. The mobile OS development has been so slow it feels like there are 3 guys working on this. They have dozens of major flaws that I can see, and they fix maybe 3 each release. Do the math and you figure it will be clean by maybe next summer

It's how many features get broken with each new release that disturbs me the most. If my team started breaking that many existing/working features, they would be looking for other jobs long ago.

True. I just can't believe it's the middle of October and they still haven't fixed the "Loading...." issue with the Start Screen, Cortana still can't dictate incoming text messages, the live tiles FOR THEIR OWN Mail app doesn't work, and other equally amazing things. In June this was understandable, but in October, it's scary. They should be only focused on performance tweaks by now. I think this rollout is in big trouble. I think they very well know it but just haven't admitted it publicly yet. They can't still be planning to sell these phones in November. Software should have RTM'd by now and be getting loaded onto devices for shippment. Instead, they still haven't finished WRITING the code to bring the product back to parity with WP8.1 .

what are you smoking over there? this is a fast ring release article for the PC. NOT phone/mobile!

We know that zulu. What are you smoking? Didn't you read the OP and see how this grew out of a comment about how PC builds keep coming faster than mobile, eventhough mobile is behind schedule?

Agreed, the last build was so much worse than the ones before. Sure, it fixed a few things, but other than that the device was literally unusable.

Hear hear. Smh!
Response to adrian1338

They better start getting serious about mobile otherwise releasing the Lumia 950 on November with pre-release version of W10M will be a disaster. Or they could just postpone the release date for Lumia 950. Problem solved!

December release, I think.

Lol yeah drum up more business by signing on more former carriers

They probably forgot they have a mobile ecosystem, it's only 3% afterall.

Hmm Still No Love for Mobile..

I'm a little disappointed. I thought this would be the first reply. I guess everyone had a long weekend.

Hmm Meanwhile Gabe teases a New Mobile build which MAY come tomorrow..
( in a twitter reply )

why don't you love it..? lol ;p

It's almost like there are multiple teams working on two different branches that have different paces or something... /eyeroll

Any news about new mobile build?

If you are on news site and didn't see it, why do you ask?

Because this news site tends to miss alot of Microsoft stuff...

I just asked IF somebody knows. Sometimes people know more insider news then you can read in news article.

Mobile isn't happening then :/

Stop trying to make mobile happen, Gretchen...lol jk ;p

I just spit my coffee. Thanks :[

10/10 for the Mean Girls reference, that was fetch ;)

10546 is the version on the 950 demo models.

th2_release Professional 10565.

I wish slow ring would get some love. Though, if messaging is part of this build I may move back to fast.

Updates out right now guys! Also they said Sat Night that they have one thats looking good in the internal fast ring that may launch if all goes well.

Mobile tomorrow or Wednesday. Gabe has been hinting at it for days.

No, he means that in terms of sweet, sweet lovin' ;]~)

Currently downloading 10565

Even though I joined the Insider program on Fast Ring I cannot download any of the updates. Anyone know why? I'm using a SP3 that was upgraded from 8.1 to 10 back in July. The Get Started button within the update portion to Get Insider builds is grayed out. I have logged into the Insider web site and shows that I am still registered and I in fact have no issues with my L 1520 running Insider edition.

Seriously don't nag about a mobile build. It's hard enough coding a full-blown OS with most of its components in C AND compatible with 2 chipsets.

Mobile gets left behind again

While the desltop may be what's getting the build today...Windows is in and of itself a mobile build. OM.... U_U

I am again not receiving this update. I am still on 10240 no update after that showed up for me.

It's downloading right now! I have a question tho, it's really late and I can't leave the comp on overnight so can I shut down the laptop after it downloads and then continue in the morning? Can't cancel the download and if I do it'll probably just disappear from the updates. Pls help?

Why is edge only updated with new builds? I thought it could be updated like an app. Edge seems to improve slowly...

Internet Explorer's Fellings, and I don't like this.

They mentioned in the Twitter AMA that since builds are pretty frequent already, it is best (for now) that they just include updates with new builds.

I think they wait until it's possible to update w32 applications though the store. Maybe only then it is possible.

Edge is a modern Windows App.

I already asked this on twitter too, but here goes. Can anyone confirm whether SMS continuity (the ability to send text messages from a device other than my phone) exists in this build? Microsoft hasn't said much about this, and really nothing about this. If the Messaging app doesn't allow to send texts, I don't see it having much of a use to us here in the US.

No the Messaging app on desktop is currently Skype only. But it does have some options that make it seem SMS from desktop is coming fairly soon.

Oh well, laptop update will have to wait. Can't be bothered to turn it on. Perhaps I'll get round to it when the next mobile build is released.

What about Mobile? Thought both PC and Mobile builds would come out on the same day

If that were true we would have been on W10M since July!! You have to remember that nearly ALL pc's are W10 now. If you have issues with your 'prime' product, you are going to deal with that first, and poke out any fixes etc to your insiders ( testers ). W10M isn't the make or break OS for MSFT, BUT, with all these new developments in mobile OS, they have to get it right. They have a relatively short period in which to get it right, and I guess they are beavering away to sort the bugs. The last insider wasn't too bad for W10M, just annoying as a daily driver, which the insider program isn't designed for. Patience, and the goodies will come ;)

What about mobile build???

Why Microsoft is interested only in pc version of windows? What happened to the mobile version which i think abandoned by Microsoft.

Is this update like 3 megabytes? It downloaded nearly instantly...

was wondering the same. It just took a couple of seconds to download. But it can't be possible, must be over 3.5gigs like all the builds

Yipee!!! Like others I'm wondering; but where's 10546 for mobile for insiders? I saw and used it on a 950XL at a MS store. How much patients can a person have to wait for MS to get in the mobile phone game full force? After July 2016 if there is now Surface Phone and a major puch in the mobile area, I'm outta here!!!

Anyone getting this error from Windows Update? "th2_release Professional 10565 - Error 0x80d02005"

I'm getting the same error. I'm trying to re-download it. On the second try. I hope it works because the previous build was causing Word to not work!

I was also having an issue with Word, Excel, Powerpoint, and a couple other apps failing to update in 10547, even after attempting to install manually from the Windows Store.

There was a word issue that would cause the program to freeze when you tried to save the document. Then the file was ruined and you couldn't recover what you wrote. So annoying! This new build is suppose to fix it but now we're having this error. It's working for other people so I don't know why it's not for us? I've tried 4 times and even rebooted first. Still not working. Someone said it may be because so many people are downloading it and to give it some time. Dunno! -D

Me too,
try save some space on disk .. I had 9GB free space on disk .. when I saved some place (13GB) installation was OK

I tried freeing up some space on my OS install drive (C:) which had about 12gb free, to having 50gb free and the build installed. Thanks for the tip! Now i'm just curious as to what these little blue arrows are located on the upper right hand corner of some of my icons/ shortcuts.

I'm also seeing those little blue arrows on some of my pinned taskbar app shortcuts. Also seeing them when I do a search for that app from the search bar. Have you worked out what it means and how to turn it off? looks horrible!

Im guessing it's the new 'shortcut' symbol but I have it on some files that are not short cuts. I also thought it may have something to do with saying that those files were not backed up to one drive but the arrows are also on some program icons. I wasn't able to find out anything by searching online either. So it's probably a new style or feature they are testing out this build. I don't mind them too much I just want to know what they mean. If it's something to do with onedrive backup that would actually be a great feature since we would be able to see which files were not backed up.

I want an iso for this build please.. Can any one provide an official source to download it or MS stopped releasing iso's, I want to clean install.

At last! I was getting tempted by that warez release from last week.

Meanwhile, on the mobile side... (crickets)

Look in your rear view mirror, see that tiny Windows mobile logo shrinking out of sight? See no more crickets

As much as I want mobile to completely rock it, how can that be done if there are still core functionality problems with the desktop version? I blame QA.

And it continues to be a piece of garbage. They STILL refuse to fix OneDrive. You can't configure it to be stored on an SD card without creating a Virtual Drive, and Virtual Drives won't auto-mount when you reboot. The result it you have to MANUALLY mount the virtual drive and then go through the entire flipping OneDrive configuration process after every reboot. And search STILL doesn't work as well as it does on Windows 8. I have all my machines configured for permanent Tablet Mode, yet if I'm on the Start menu and begin to type something for search, it's anyone's guess whether or not the stupid operating system will respond. And this build is SLOWER than the previous one! The delay between leaving an app to getting the Start is ridiculous! Microsoft, you suck.

Anyone else have problems with connecting to wifi after the update????

Yes, my ethernet works but can't connect to wifi. Also windows troubleshooting isn't finding any problems.

Yes , i am also facing thee probled after gettinh this build. Connected to ethernet lan but no wifi is visible

I'm more and more confused??? More and more Windows 10 on my PC looks like it belongs on my phone instead. It just seems thier building it as if it is a mobile OS. So why does feel like Windows Phone is just an after thought then? Also I can't help but think that while MS has some good stuff going on they just always seem to fall short. Fix that, this brakes, fix this, that brakes. I'm beginning to wonder if my Windows days are coming to an end. Go back Microsoft. OS for the desktop and an OS for mobile including tablets and phones.

To all those not getting the new FAST RING build 10565. You can try signing out of your Microsoft account and sign back in. And/or convert to a local user account. Reboot. Conver to Microsoft account again and try updating again. Be patient. I had to do that for the first few Insider builds. To those who already have it and are griping about the build. It's a beta build, if that. We'll all testing the builds out and, HOPEFULLY, providing valuable feedback to Microsoft via the Insider Hub and/or Feedback app. They will weed out the features causing issues and push whatever works to the Slow Ring and RTM, and normal users. I was quite frustrated at first, but I had to keep reminding myself that's it's a privilege to be among the first to use the latest TEST builds. Yes, I get frustrated, just like everyone else. But, as an Insider, it's part of the experience. The good, bad, ugly, and sometimes awesome cool new stuff. If it doesn't work the way I want, I'll revert to previous build and wait. Simple. Give feedback. example: Microsoft Edge still buggy for me. I use Chrome. I sign into my Google account, all my bookmarks resync in a few seconds. Nothing to it. Don't have to recreate all my bookmarks. I also use IE and import book marks from Chrome into IE as well as Edge. Data backed up to OneDrive and ext hdd. If PC goes to shits, I have another computer with almost identical setup. CYA peeps. CYA.

AND THEY ARE SILENT ON W10M? IF I DON'T GET AN UPDATE THIS WEEK I AM GOING BACK TO W8.1M. I HAVE A 'LOADING' BUG ON MY 920. WHICH RENDER MY PHONE USELESS TO ABOUT 30 MINUTES AS IT WOULD DISPLAYING "LOADING" AND YOU CAN'T DO ANYTHING BUT TO WAIT UNTIL IT FINISHES

My upgrade's stuck at 44% (installing features and drivers is at 33%) frustrating

It is also happen to me. I am using surface 3... very frustrating. Is there any body how to solve the problem?

I have exactly the same issue. Freezes at 44% in features and drivers at 33%.

I´ve got a Dell Venue 8 Pro. I got the same issue. I removed the SD card, repeated the process ant it worked. Strange, but.... it worked!

I know this is the wrong topic for this article but I have never seen any coverage about the revamped Microsoft Health app. Is it just me or is anyone else unable to read the light light and small small gray text they now use. Anyone know how or where I can get the previous version back?

I'm having a problem with the 547 build to 565 update. I get to 44% done showing 33% installing features and drivers. It seems to be stuck. How long should I wait? It's been about an hour now. Anyone having a similar problem? Well I see others are having the same problem. Thanks Wayne

Anyone knows about a solution for the 44% problem?

Bad idea... Skype for business (Office 16) is down, not connect with server :-(
Windows Central Newsletter
Get the best of Windows Central in in your inbox, every day!
Thank you for signing up to Windows Central. You will receive a verification email shortly.
There was a problem. Please refresh the page and try again.