Windows 10 for phone support for mouse and keyboard demoed in emulator video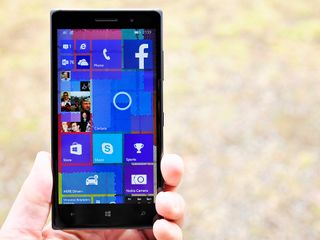 If you want to work on, say, an Office document on Windows 10 for phone but don't want to use the touch interface, there is hope for another way. A newly released video shows how a device with the OS could be used when connecting a mouse and keyboard.
The video, as posted by McAkins Online, shows how this support works with the build 10069 Windows 10 for phone emulator that's found in the latest Visual Studio Tools release. The build was loaded directly in Hyper-V, which doesn't support touchscreen.
The video shows that when a mouse is connected with this emulator build, a mouse pointer icon appears on the screen. It also shows how scroll bars show up inside universal apps when using a mouse, along with tooltips when the cursor hovers over items. Keyboard shortcuts can be used as well, such as using the arrow keys to scroll up and down pages and the ESC key for going back a page.
Since this demo is based on its use by an emulator for an unreleased Window 10 for phone build, we can't say for certain if Microsoft will change anything for the final release.
Already in Windows Phone 8.1 Update 2, users can connect a Bluetooth keyboard to their phone for typing. We demonstrated this ability on the Lumia 640 and for Windows 10 devices, such an option will be standard.
Finally, as Microsoft has announced Continuum for phone, the ability to use a mouse and keyboard will be necessary for such a situation.
Source: McAkins Online
Windows Central Newsletter
Get the best of Windows Central in in your inbox, every day!
Now it makes sense why MS pushing more 5inch devices ..as it will be very handy to use as small computer for docs..etc

Any size of your phone screen when you connect to a bigger display or TV on Miracast then you can definitely use the keyboard and mouse to make it a full PC functionality.

Miracast is too laggy. Continuum is where it's at.

Why video isn't playing via YouTube app.

I think the recent google api change has broken the way this app parses videos. The only "app" that works is the web wrapper MS youtube app or the browser option.

youtube videos are not being played in IE...i'm on windows 10 TP.

I want to see the next vid with the store update

This demo makes my pants feel tight.


Just fantasizing about what'll happen when they throw Windows 10 onto a phone running on an x64 chip. A PC in my pocket is something I'd pay thousands for.

To all of you who keep whining for a new build: There is certainly a reason they don't release one yet. Either they ran into some issues or feel like people will also whine when there's not enough improvement in the new build. Be patient everyone!

That's right sir!! But some people doesn't like to be patients and considerate

I for one don't like to be a patient!

Third paragraph "This vide shows..." I guess there should be "This video shows..."

It is "This video shows..." Now its fixed!

So does this feature also need new hardware?

It would require a keyobard and a mouse if you didn't already have one. :)

Great then, im really excited to try it on my L730.

Continuum feature would require new hardware. Not the keyboard and mouse. As Said in the article, it already works on 640/xl with gdr2.

& a usbotg adapter id assume if you go cheap

Does anyone know if you need new hardware for USBOTG on a L635 or will it work once upgraded to the final W10M? I've got a wireless Keybard and mouse, and would love to plug in the nano receiver into a USB-OTG adapter without having to purchase a new phone for another year or so.

I am on the new build ,its wired ?

They meant a newer one, not the current newest.

Nice very productive.... now we need a big phone screen.

Looking forward to Continuum. I am hopeful we will see a lightweight KVM clamshell to act as a companion interface for a phone.

They could call it a "Foleo".

My old Surface type cover adapter sounds a lot more useful now...

What about usb-mice/keyboards?

Now add Alt + Tab to switch apps and Alt + F4 to close them. And Win + R to quick run apps! Edit: And someone please port Total Commander!

Total Commander already ported (stays currently in beta stage, most probably its private beta, though I am having it since a year or so): https://www.windowsphone.com/en-us/store/app/total-commander/0cba164b-84...

Yeah, now how to I get an invite to beta test Total Commander?

Will i be able to use via "Project My Screen" app?

I would like to know this as well. It would be nice if the "Project My Screen" app passed the keyboard / mouse inputs back to the phone.

& if not how shall i be able to use this feature in W10 for phones?

Continuum for phones is mutually exclusive from Project My Screen. The reason new hardware is required is for a Dual monitor capable GPU in the Qualcomm SoC series. Project my screen uses miracast protocol to mirror your display. Continuum for phones allows your phone to make use of all available pixels of the second display, showing a gimped up interface that looks like the desktop, without an actual desktop. Contrary to what John says here, I believe at Build, Joe Belfiore said the phone would function as a touchpad and can use on screen keyboard to drive input to the secondary display.

What is that black dot the guy is trying to cover it with mouse pointer

I believe that's the 'real' PC cursor but the WP mouse cursor can't keep up with it because it lags on the emulator. That's why you see the black dot first.

Quick question: (understand that new hardware will be needed for continium) will new Windows 10 phone hardware allow me to plug my phone directly it into a PC monitor and use it as if its my PC?
If so, someone need to make a KVM with a port to plug you Phone into it, if not MS need to make this happen.

With a Miracast display and bluetooth KB and mouse it can happen. And you can keep it all wireless. What I hope for is a way to do an automatic paring and Miracast with an NFC tag that I can put in a wireless charger. I want to literally just set down the phone on a wireless charger in front of a wireless KVM and start using the "desktop".

Maybe in 20 years MS will announce the release of such hardware, when the rest of the world already has plenty such converters / KVM gadgets from any other vendor on the earth. Dont have high hopes, MS has bad record realizing true market needs. But hey, tell sell you their crappy cloud junk all over their product line! Thats what their business pushes, not some KVM gadget.

Why would i use a keyboard and a mouse?

You clearly wouldn't others might like it. Going around here I would say: Connect mobile to screen and use it a a pc/laptop.

Also asked Microsoft developers to add support for USB flash drive to Lumia phones

If it supported just one x86 program that I need for school then a new flagship could replace my laptop. *sigh*

Maybe coming someday with Intel processors for win10phones...

If it supports App-V you may be able to host that x86 program in Azure.

Microsoft said developers will be app to package x86 apps in a universal app container. Contact the maker of the x86 app and see if the plan on doing this.

For the record, this HID support is already in WP 8.1 GDR2 since approx. 2 months. Wondering why none of the major tech sites (including this one) didnt write a damn proper review about it? Would it actually require some REAL effort to put together a proper BT keyboard+mouse+WP8.1.2 test/review, when copy-paste-publish some nonsense windows10 crap requires neear-0 effort?

No feedback to this.. totally as I have expected...

Can we use Keyborad/mouse via USB OTg or it just works for bluetooth keyboards?

HyperV should support touch screen. would make all kinds of remote and development testing tasks easier.

The Windows Phone emulator frame actually passes through touch events to the inner Hyper-V container. So at least in this case you can test native touch if your computer has a touch screen.

I have found that the new Bluetooth drivers in GDR2 and Win 10 are way better and now make HERE Drive more useful through my Subaru Foresters Bluetooth. GDR1 would cut off voice prompts so I would only get "... Turn right". Now I can get the full voice prompt of " In 300m turn right". It's also a smoother transition switching between radio and voice prompt. It is also far more functional than my Android work phone on KitKst 4.3 which can only work through Bluetooth direct and not ADP2 so if using Google maps voice prompts cut in over your mobile voice calls. I've now gone to my work to see if I can use my own Nokia 1320 as my work phone as I can now get Dropbox so I have everything I need for work.

Cool. But why does the onboard keyboard keep popping up if Win10 knows there is a keyboard attached?

Probably because it's a beta?

Boy, I don't know. That "beta" feature seems pretty polished to me. Keyboard shortcuts, scroll bars... everthing works.

I have been able to use a bluetooth mouse and keyboard with the latest build of Windows 10 for phone for a while now? Is this about using USB KB/M or what's going on?

This feature is so useful! Now I understand why a Lumia 1520 exist. With this feature I won't need to always bring my laptop and charger with me everywhere

Remote Desktop + Lumia 1520 + Mouse/Keyboard = Winning

so this is about bluethooth KB and mouse...does usb kb or mouse work with the current Wp10 build ??

Anyone has That wallpaper?

There is no "could be", there will be support. It has been noted on WPCentral (yes that old), that Microsoft was adding support for HID via Bluetooth and possibly USB OTG.

Can you lock the Screen using Windows + L ?

I don't understand. Windows Phones cannot do this already? I mean, Android has had this functionality for a long time now... so.. WP just got MKV playback (Windows Mobile devices had it way back in 2008 if not earlier), there's still no File Manager, no SMB support, and now this... wtf? Why are WP devices so behind on features that should be commonplace by now? Hell, even Blackberry 10 devices can do all this!

There is an official file manager, its called "Files", the developer is MS Mobile. Search for it in the store. Its not super-cool, more like a "meh.." but at least its available. Other option is to search for the Total Commander beta (you wont find it in the store, you have to google the direct store URL). On the other topic: dont have high expectation about the MKV supports for WP 8.1.2, as it means literally only the container support and nothing more. Most of the frequently used audio codecs are missing from the OS, so while the MKV container can be recognized, you will still get an error when you start playing back such videos. Clearly can see that its an audio codec issue, as the thumbnail of the video will actually show some in-video frame, so the video player can understand the video stream, just not the audio stream :S Too bad, but thats the reality, I was unable to replay any of the 20 sample MKVs I tested with, as all of them used the same "A52 Audio (aka AC3) (a52) / DTS audio" codec, and that particular one is not licensed by MS, so it simply didnt open any of them. Such MKV videos will not even play the video stream part without audio, the whole video will simply not be played.
Windows Central Newsletter
Thank you for signing up to Windows Central. You will receive a verification email shortly.
There was a problem. Please refresh the page and try again.