Windows 10 build 14915 improves app and update downloads with Delivery Optimization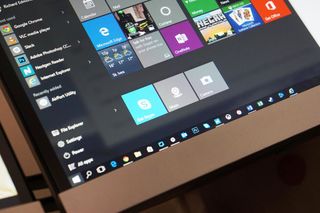 The latest Windows 10 preview build 14915 includes some improvements to the operating system's Delivery Optimization feature. It will now allow users who have that feature enabled to update their preview builds, along with regular OS and app updates, from other PCs on a local network along with other PCs on the internet.
Windows Insider head Dona Sarkar offered more info on this feature in a blog post:
Sarkar adds that since Delivery Optimization was added to Windows 10 as part of the November update, Microsoft has seen a 30% to 50% reduction in Internet bandwidth usage from multiple PCs on the same local network with Insider Preview builds and apps updates.
Windows Central Newsletter
Get the best of Windows Central in your inbox, every day!
Can't wait for the internet to present this as a huge privacy concern, data leak possibility, system integrity loophole, aids & ebola transferor etc.

Would they be wrong? Nadella leaked 'secure' boot backdoor keys after all. Seems that trustworthy computing is not to be trusted anymore.

The media was wrong. The key was NEVER EVER leaked. http://www.winbeta.org/news/microsofts-golden-key-agenda-actuality Steve Gibson: "None of that is true. Complete misreporting. In my notes I said, the report on this has been one-thousand percent, meaning, very, very inflammatory and incorrect."

So it was a design flaw, makes feel so much safer. Good thing is that obsolete Windows phones can get new lease of life with Android.

Ya, it's was a design "flow" keep on fail posting.

Actually it DOES "makes feel so much safer." - Ok sorry but HAD to do that.... ok nothing to see here... move along...

LOL! Android?? You actually chose it???

Conspiracy theorists: #1 OMG TEH WINDOZ 10 AUTOMATICALLY DOWNLOADS POTENTIALLY MALICIOUS UPDATES FROM RANDOM COMPUTERS!!! #2 WINDOWS 10 IS A PRIVACY NIGHTMARE!!! RANDOM PEOPLE CAN ACCESS AND DOWNLOAD YOUR FILES AT ANY TIMEZ!!! I'll probably see sensationalist headlines pop up in Cortana like always....sigh. Oh well, *in Oprah voice* You get download, you get an optimized download, you get a bite sized download, you get...wait...you don't liketh the Windows 10???? *in soup **** voice* No download for you!!!!

Yeah but guarantee all those that complain will ignore the fact their peer-to-peer BitTorrent client does all of the above and ignore the fact MS have found a legitimate use for the technology...

So did blizzard years ago for distribution of world of Warcraft updates.

I am confused. The feature was there, the explanation has not changed. What is new?

This feature is amazing for the big games of the Windows Store.

Hope it's better than the anniversary 1607 update as that has badley broken windows update from wsus servers

This was the first thing I disabled when I installed Windows 10 Posted via the Windows Central App for Android

Well downloaded installed not all my apps have installed.

Interesting. So, this applies for when I download an update to a UWP app on PC so that in my phone I'll get it faster because it distributes it locally?

No. It doesn't help phones, only PCs. If you need to update 4 PCs you could download on one and then distribute it locally to the other 3.

It is like the torrents. While it should speed up downloads there will be concerns about data charges for unwanted uploads from one's machine

Already noted in the FAQ: Will Delivery Optimization download over metered connections? Delivery Optimization won't automatically download or send parts of updates or apps to other PCs on the Internet if it detects that you're using a metered connection. If you use a Wi Fi connection that is metered or capped, make sure you identify it as a metered connection. Here's how: Go to Start , then Settings  > Network & Internet > Wi Fi > Advanced options. Use the toggle under Set as metered connection to set your Wi Fi connection as metered.

The real problem with my 8GB device is, there is no enough space to install the update. It requires around 1.3 GB. I only have few apps in phone storage (including Facebook which is very large and doesn't work well in SD card).

Hopefully battery life will be improved.

915 is currently downloading on both my Phone and PC... May roll back though if this is not showing some signs of improvement. Understand on new delvelopment cycle but lots of things broke usng 905 on my phone could not even load on my PC

Is it also switched on for Mobile? I tried locating it on my phone to deactivate but couldn't find it.

I think this feature is PC-only. They don't mention Mobile at all on the FAQ.

First fix the abomination that is the app store, than worry about optimizing downloads.

Interesting. Reminds me a lot of torrents' and seeing, but them legal.

Update broke the Marvell Avastar WiFi device. No internet or Bluetooth. Nice.

Ask them to follow standards.

Have you found a fix for this yet?

As per todays article on WC: http://www.windowscentral.com/windows-10-build-14915-breaks-wifi-older-s...

Delivery Optimization feature. In France I have always had that option on pc ???

This concept is far better than MS WP MOBILEhttps://m.youtube.com/watch?v=TdRc_eMfWso

Terrible build for my pcs anyway everything containing text the fonts are unreadable just white lines where text is ment to be i wish I could post screenshots lol time to start reinstalling back to 14393.103 not even gonna go to .105 as that introduces the hard drive 30 sec freeze bug.