7 things we want to see in Windows 10 Redstone 3
Windows 10 Redstone 3 is the next major version of Windows 10, and here's what we want to see show up with the update in the fall.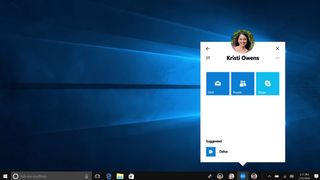 Now that the Windows 10 Creators Update (Redstone 2) is old news, we're beginning to turn our attention to Redstone 3, Microsoft's next-next major update to Windows 10 coming in the fall of this year. We know basically nothing about it at this point, apart from the fact that it'll probably house a number of delayed features that were supposed to show up in the Creators Update, like MyPeople.
So without further ado, this is our wish list for Windows 10 Redstone 3.
MyPeople
This is an obvious one, but only because Microsoft announced it as a feature for the Creators Update, but had to push it back at the last minute. MyPeople was, in my opinion, the most exciting "for everyone" thing that was supposed to arrive with the Creators Update, so I'd definitely like to see it show up in Redstone 3. Perhaps it'll be able to hook into third-party services too?
Project NEON
Another super obvious one, but I'd like to start seeing more Project NEON elements being used system-wide with Redstone 3. We've seen the concept shots, NEON looks good, and I can't wait to start seeing that show up in my taskbar, Start Menu and more. Will that all arrive in Redstone 3? We can only hope, although I think Microsoft may be planning to wait for CShell before any major redesigns to system elements takes place.
CShell (Mobile)
Speaking of CShell, I'm hoping we'll see CShell show up for Mobile with Redstone 3. This will bring a familiar desktop experience to Continuum, as well as improve upon the phone experience itself by introducing more similarities between the Start experience on desktop and the Start experience on phone. It's unclear if CShell will be available to existing handsets or new ones, however. We'll have to wait and see.
Landscape mode (Mobile)
I'd like Microsoft to finally add some kind of landscape mode to the Start Screen, as this is probably one of the most requested features from Insiders. It'll be incredibly beneficial on bigger devices like the HP Elite x3 or Lumia 950 XL, where using your phone in landscape mode makes sense. Perhaps with CShell, this is something they'll consider implementing, finally.
Better feature parity between Mobile and Desktop
The fact that Night Light isn't part of the Windows 10 Mobile Creators Update really grinds my gears, but only because this is supposed to be "One Windows". It's incredibly frustrating when features show up on desktop but not on Mobile, and Night Light was one of those features that just make sense coming to Mobile. I'd like to see more feature parity between Mobile and Desktop with Redstone 3, and they can start by bringing Night Light to Mobile users.
Floating Cortana
This is a feature that was rumored to be in the works for Redstone 2, but didn't make the cut. Microsoft looked at making Cortana more contextual, for example when in an Office document, Cortana could float up on screen and offer you images, excerpts from other documents and more without you needing to open File Explorer and digging for what you need. A smarter Cortana would be an excellent edition for Redstone 3.
Smarter notifications
If you're using the same UWP device on both Mobile and Desktop, you'll get double notifications on your desktop — one from the app on your PC and another synced from that same app on your phone. It's annoying, and while it's something you can tweak via Cortana, I'd like notifications to automatically know if they should sync to avoid this, and display only on the device I'm using at that time.
What's your wish list?
What are you hoping to see show up in Windows 10 Redstone 3? Let us know in the comments!
Get the Windows Central Newsletter
All the latest news, reviews, and guides for Windows and Xbox diehards.