Windows 10 has reportedly exceeded 53 million PC installs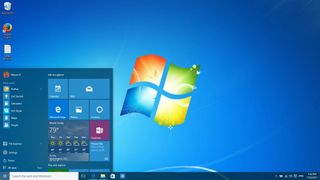 The launch of Windows 10 happened less than three weeks ago. Now a new, but still unconfirmed, report claims that Microsoft's latest operating system has exceeded 53 million PC installs.
The report from Neowin comes just a few days after another, again unconfirmed, report from WinBeta. It claimed that Windows 10 installs had reached the 50 million mark. Neowin's report also references numbers from StatCounter which claim Windows 10 has claimed 4.95% of the total PC operating system market share. However, those numbers are collected via page views on websites, rather than unique visitors, so it's not clear if those numbers are accurate.
Microsoft has yet to offer any new information on Windows 10 install numbers since its launch week, when it claim that 14 million installs of the OS have happened in the first 24 hours.
Source: Neowin
Windows Central Newsletter
Get the best of Windows Central in in your inbox, every day!
I'm one of those 14 million

I'm 5 of those 14 million :)

Same here! Posted via the Windows Central App for Android.

Anyone know the total amount of android devices roaming around?

Not the exact number of Android devices, but last year Google announced that Android activations has surpassed 1 billion. Now it is not necessary that all of them are unique. So exact number is not known.

Windows surpassed 1B activations when android was using diapers.

It even not existed without Windows...

About 1B activations, no concrete numbers on actual devices in current use. A large chunk are AOSP and another large chuck are used as dumb phones.

Yes every android app and android itself are coded using windows OS.

Google hasn't used Windows for half a decade. What makes you think Android has been written on Windows? http://www.businessinsider.com/henry-blodget-google-dumping-microsoft-wi... Posted via the Windows Central App for Android

Not me. Waiting for more bug fixes.

I down loaded my 3rd PC last night

Two desktops, 9470m laptop, Surface Pro 2 and an Elitebook workstation from 4 years ago are all running it without issue.

I didn't know you could download computers :0

I'm 0 of those 14 million. Already had all my PCs in the preview, and they all had the 10240 update before it was released to the public

The 14 million included the 5 million insiders.

Random Manchester united comment in 3..2...1.........

Barcelona in ready, set, go

Good job Microsoft!!! Hope that would happen to windows phone too

Windows phone is last in it's list of priorities

Windows 10 for PC needs to be a success first before Windows Phone get any hope. Hopefully WP will benefit from a huge install base of Windows 10 for PC.

Yeah I can't see it happening by any other way than this: Big uptake of Windows 10 --> big user base & better desktop experience with Windows Store apps encourages good developers to develop for Windows Store --> they figure they might as well take advantage of universal app platform and make for Windows Phone as well --> Greater consumer interest in Windows Phone.

The main cause of failure of WP is lack of huge adoption of Windows 8/8.1... XP and 7 users don't know the superiority of WP mostly..

A few hundred million installs of Windows 8 did not bring in developers because no one uses apps on Windows. It doesn't matter how many Windows 10 users there are unless they actually use the app store. Posted via the Windows Central App for Android

The whole reason Windows 10 is a Free upgrade is to push Microsofts new Universal App platform and in so doing het the apps they need to sell more phones! It is very much on their list!

Not because tracking of users is built into Windows 10 and Microsoft is monetizing this data? It probably a bit of each, but I doubt they expect Windows phone to go anywhere at this point. Posted via the Windows Central App for Android

Haha. There aren't 53 million WPs out there...

Yes there are. Break yourself, fool!

Huh? Microsoft will sell 40M WP this year, that's on top of their already existing user base. WP 7 still has around 7-8% WP market share. There are most likely 65-80M Windows phones out there in use/

it won't,different disturbution system

Wooow!
I love Windows 10
Thanks to HP and Lenovo!

Let's not forget every other manufacturer of a Windows 7/8/8.1 computer. Posted via the Windows Central App on my Beautiful Nexus 5

Congratulations, you win the internet today.

No he doesn't because he supports Man City :)

Earnestly waiting for Windows 10 mobile launch.

Most apps are made for mobile.... Developers are going to want to see mobile market share increase before they get excited.

Chicken and egg scenario. The marketshare will have a greater chance of increasing once developers take advantage of it, thus drawing more consumers to the platform, if many of them don't take advantage of it, it's less likely to increase.

I have a thought... The total hour spent on PC from average peoples are decreasing day by day... In that case developers will not be excited until increase in mobile devices.

But, probably increasing on Tablets, and that's a growth area.

Tablet sales are decreasing I understood...

Android and Apple tablets are decreasing.

Likewise for the Surface range, sales are on the up and the Surface Pro 4 is coming soon.

Yeah, like an investor waits for the shares to go up first and then invests. Just make them universal apps and make use of both pc and WP market shares.

For "apps", it may be true. For games, however, the odds might be better for Windows 10. I believe people in general would prefer playing games on a bigger screen.

They've already started rolling it out to the machines at my Office. I was pretty surprised they chose to do it so early.

It shouldn't be much of a surprise. A lot of IT staff have been testing Windows 10 since January or February. I've already completed a full rollout to my entire organization and the only issue was a printer driver which using one from a similar model fixed. Feedback from staff has been generally either neutral or positive. I've had very few calls with people asking for assistance on the new setup. Even ones slower to learn have been able to understand it well enough to get the job done. I even had some other systems that kept giving a BSOD that have since stopped.

Windows 10 mobile, I'm waiting for you

Me too. Integrated GPS app with big map. By here drive + app has been freezing lately

Me too, installed it on independence day exactly on my laptop's first birthday :) using the media creation tool ;P

I got windows 10 on my bike and it's fantastic on mountains.. Try it guys

I put it on my toaster using IOT core. Why? Because it's hilarious to tell people my toaster runs windows 10.

That's extra fantastic lol

Never had one! Just like a rumor ;)

I have window 10 iot on my coffee. (not coffee maker.) (my actual coffee)

Every bike has the right to run a windows 10
Every rollercoaster has the right to run a windows 10 too
But your every single windows phone, that's another story guys..
Got it now?
Have a good day :D

Serious question: Are you on crack, man?

Cool good for you. Maps app should be good for directions if you ever get lost and Groove to jam while biking.

aww, my bike still uses 8.1, still no mapmyride update though :/ maybe on 10

Now for the all important question: will 50 million installs in under 3 weeks (and whatever else is coming in the future weeks/months) get developers on board with making apps for the OS, or will the Windows app situation continue to languish?

We will wait those bridging Projects to be released or else we will be hopeless to this. Developer needs to develop more and focus on update iether minor or major and they are starting to convert those desktop fullscreen windows 8 apps into resizable universal windows 10 apps.

-_- i'm among those 53 million. good to know that -_-

Yes, but how well do those 53 million people like it?

Every single person that I know who hated Windows 8 that have since updated to Windows 10 are loving it... On both desktop *and* tablet. And these are people who also own iOS and Android devices.

The only people I know that have complained are in 3 groups. 1. People who loved Windows 8 (not 8.1) on tablets, and insist it go back to that for tablets. (can't figure out why, though) 2. People who don't understand why they have to upgrade from XP, and think the tiles in the Start Menu are cluttered looking. (can't figure that one out either) 3. People who wear tinfoil hats and insist that Cortana works for the CIA or possibly some alien, extra-terrestrial agency. I'm sure there are others to complain, I just don't know them personally. ;) Me, I am absolutely loving Windows 10.

lol at point 3 but reading some articles by "journalists" that's what they believe!

And who cares?.... People can customize it if they don't like something. Install and uninstall anything they want to.
It's the same environment that have windows since years ago.... So who cares? Install is a install

And still, I can't download anything from the store nor use the mail app. I hope I am not the only one among those 53 million

Count 8 for me. Why are people waiting for "bug fixes"? There will always be bug fixes no matter what so why wait???

See the post right above yours....

Not everyone jumps right in. Many people wait to hear user impressions from various sources before adopting a new OS to make a judgement if things are stable enough.

Minus at least 3, as I have uninstalled Windows 10 on my Surface Pro, an Acer Switch 10 and a HP Mini 311. Just not loving it. Sorry. Microsoft.

I feel you. 8.1 was lightning fast and very much complete compared to what they gave is here. Still hoping for lots of updates both to apps and the system (sluggish as hell)

@miarkus, that is most likely down to the hardware combination. Then again I've seen a few HP stream 13s and some run pretty well without any hiccups. Whereas some are just sluggish, have random reboots. Mind you they are all in place upgrades. I imagine some of these are loaded to brim with malware and rootkits. As is the case with 99% of all laptops and PC's I've repaired to date.

yeah, like if there was a no videos or everything to check before upgrading... so you upgraded because you were lazy to see if you liked it? wow... so smart of you, next time you could just check the blogs and forums and youtube for a video, instead of being a clown just for your lazyness. PS. you are nothing, so Microsoft probably doesn't care about your 3 devices when more millions will run it, and new computers will ship with Windows 10. PSS. Windows 10 is better than 7 and 8, accept it, just stop being lazy about what it offers and what it does to make it One platform. ​

Did you try a clean install? Did a clean install on 8 devices and they ask run faster then windows 8

There is no way that person will know if Windows 10 is suitable for their machine, software customizations, workflow, or privacy even after reading posts and watching videos. Forget Windows upgrades, you should be concerned about the users who will be using local accounts in Windows 10 or prefer Google over Microsoft for their smartphones as that takes an axe straight to the core of the One Platform vision. And I agree, Microsoft will not care, as clearly demonstrated by their decisions in the past.

Me too. Rolled back to 8.1 which is a lot better than 10. So I'll be sticking with 8.1 until Microsoft correct the stupid mess that is Windows 10

I would add one to the number if my Dell XPS 27 all in one would get tested by Dell.. :( [I am sure there are ways to force it but can't be bothered, especially since there are views that on a touch screen all-in-one W10 offers limited benefits or is perhaps even a net negative.]

Win10 rules on touch screen!!

I have two Win7 computers that I don't plan to upgrade because of software and priority issues. I have a Surface Pro (2012) with 8.1.1. I love that but have activated the Windows 10 app to notify me when I can install. Since there have been only 50 million installs I will be patient for the invite. I have no intention to do a manual install. Anybody got any idea when? Has anybody had the 10 app invite to an install on Surface?

I got the invite on my SP3 on day one. Posted via my HTC One (M7)

Got it day one and would say: it's worth the wait! Once you have downloaded be aware of the numerous user options in both tablet and desktop - Dan did a video on this in an article - and once you find the right combination you will love Windows 10. Have fun.

Thank you. I will wait. From all the reading I have done it sounds wonderful. I love to explore all my options. I have decided that the most tiles I will use will be the live tiles. Right now I use the Facebook live tile large. I really appreciate the live tile for email. I have three live tiles for weather. They are medium because I just want the temperature. Windows Central is my other live tile and it is large.

Lol... "By a number of page views" that is useless metric to use... to determine o/s share. As rightly pointed in the article, unique visitors would be the correct metric to use in this regard (if your determining installs however accuracy depends on other factors). Measuring users would be quite tricky as a person can have more than one PC and the windows 10 core is alot more broader than previous o/s iterations. Plus a PC can have more than one user; not to mention Windows 10 is coming to the x1 as well.

With a large enough sample, page views should give you very similar number as unique visitors.

Except they don't. Google's prefetch engine in chrome inflates page views for that browser. Google also uses Chrome user agents when their spiders "test" websites, which also inflate its numbers. Compare stat counter, which tracks page views, to net market share, which tracks page visitors, to see the difference.

The Win 10 upgrades have been fanstastic so far

I like W10 a lot. I don't know what the gripe is about. My only complaint is that it's not as fast as 8.1

W10 tablet mode is not as good as W8.1's. Vertical scrolling of Start screen is horrible and Edge in tablet mode is nowhere near as good as IE in tablet mode.

Disagree about tablet mode on Windows 10 (I find it way better), agree on Edge though.

I guess it's just a matter of preference or I may be doing it wrong but why have a taskbar in tablet mode when open apps don't show on it anyway? And now I have to take care not to accidentally hit two start buttons. It's a waste of space - although I like that I can now see the date and time but still. Also why have a scrollbar on the start screen when it has absolutely no use? It's used for scrolling with a mouse, right? Split screen is difficult to do now and it's hit and miss - too many times I end up with a full screen app with the other going to the background.

I would like to see the apps list show as the 8.1 apps list and want swipe pages in Edge. Also, I want a precision keypad gesture to bring in Notifications. And.... lastly.... the time showing in Notifications as in the charms bar. But, with Cortana and Notifications/Action centre I prefer 10.

still, if they were numbers of unique installs it is still interesting. It would mean that if this momentum kept going at this rate, it would be roughly 2,65 million downloads per day and that means we would reach 1 billion users in roughly 378 days give or take a few.

Windows 10 net usage share growth is outpacing the first 18 days of Win 7 by >2:1 and absolutely blowing Win 8 out the water... people love FREE!!!


Let's have roll back numbers too.

That's 3 for me, 10 is too buggy, and random reboots are a nightmare.

and then you probably upgraded over a crappy Windows 7/8 installation full of crap, malware, bad registry entries, 10 thousand toolbars, also you probably were lazy to clean install it or something as simple as find proper drivers for your hardware. Windows 10 too buggy? so explain me why it works great on the two computers I have upgraded? this is clean install and the other is a laptop upgrade from Windows 8.1 Stop blaming the OS for your crappy stuff. how many times have you upgradedin your life? is this the first time? do you think going from one big OS to another big OS with any change you might have done to the registry and programs and all that will be sucessful 100% of the time?
Again don't be lazy next time, and clean install... I am sure you probably are here believing you are tech savy but I am sure you don't know much about it, and your answer to any single small thing is "oh I will downgrade" because while you computer is still crap, you probably just want to blame on Windows 10.
Which again, works fine on most people computers.

My 3 PCs work fine little slow but work nonetheless.

Hyperboles aside, no one should be required to do a clean install to have an Upgrade work properly on a normal PC.

I am one those millions....1 question to you guys. I am a windows insider and my OS prior the the upgrade was genuine, authentic paid for Windows OS. Now with the upgrade my PC is saying I need to validate my OS and is directing me to the store, which then is asking for $199.99. I haven't contact Microsoft yet, how do you go around fixing this without getting my credit card for something I already paid and the upgrade was supposed to be free. Tx.

Give it 48hours it will go to activated on its own

If not there are Windows cracking tools. Posted via the Windows Central App for Android

And finally, my laptop is one of them. Took 5 hours because of the damn slow internet!

What they can't predict is how many people use the rollback features to go back to previous OS.

Is this number gonna be the new "Star Citizen"

I didn't say anything bad about it.

I have three device that are 10 ready. Did the first on the weekend, with two more to go. I bet they hit the 100 million mark by the end of September.

GOGOGO.... 2 BIL is the GOAL

I have Computer Store and I'm installing Windows 10 everyday.... near 5 PC each day!

I'm 5 of that 14 million too. 1 Surface Pro 3
1 Custom Built Desktop PC
2 Laptops
and 1 more left to go
Outside of the upgrade process, I LOVE this version of the OS. So far the best ever!

Be nice to see this number hit 100-200 million

Feel sorry for those folks. And they care about google and their privacy issues

Has Microsoft updated more devices than Google has with Android? The average Android device on US carriers only see's one update in the average lifespan of 2.5 years. That update usually is usually just to patch the release OS within the first 3 months of the devices premier on the carrier. After that the deive is left to die a slow unpatched lifespan. Now there are those that do their own rooting and patching but this is minority in the Android user base.

It it has surpassed the population of Canada, lets see if it reaches half the population of the US.

I'm batting two out of six so far. No joy in Mudville. Posted via the Windows Central App for Android
Windows Central Newsletter
Thank you for signing up to Windows Central. You will receive a verification email shortly.
There was a problem. Please refresh the page and try again.