Windows 10 Store Collection: Indie Game Spotlight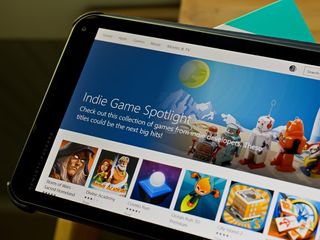 We have touched on several of the Windows Phone Store collections and the same style of collections are available in the Windows 10 Store. These collections focus on a specific genre or style of apps and games, such as shopping apps, racing games and weather apps. These collections can be a helpful starting point when you are searching for a particular style of app or game.
This week's roundup will focus on the Indie Game Spotlight collection. We have a host of quality games from big name developers such as Gameloft, Microsoft and EA Games. We also have a host of quality games from the independent developers ranging from the fun time wasters to games you'll find yourself investing hours upon hours with. Over the years, we have review hundreds, if not thousands, of independent titles and they can be some of the most enjoyable games in the Store.
We will shine the spotlight on four of the games in the Indie Game Spotlight and include, where available, the links to the Windows Phone game version as well. If we have overlooked your favorite indie game, feel free to toss out your recommendation in the comments below.
Cosmo Run
Cosmo Run is an arcade game available in both the Windows 10 and Windows Phone Stores. The game places you in an environment full of creative pathways or trails that you have to guide a ball of energy down.
The game is one of survival and in many respects, an endless runner styled game. The key difference is that most endless runner games give you a chance at success before smashing your hopes and dreams. Cosmo Run starts out the gate with a level of difficulty that will require your full attention.
The game has wonderfully drawn up graphics and offers up some rather unique puzzle pathways to navigate. Gaming controls cannot get any simpler in that you tap the screen to turn your ball of energy. The ball knows which direction to turn, your job is to make sure the timing of the turn keeps the ball on the path. Tap too soon or too late and the game is over.
Along the way, you collect stars that can be used to unlock additional trails. The game isn't very difficult to pick up, but it can be challenging to master. It is easy to look ahead and miss a turn or simply get caught up in the odd patterns these pathways have and miss a turn. Cosmo Run comes across as a frustratingly challenging, fun game to pass the time with.
Divine Academy
Divine Academy is a city builder game of sorts where you play the role of a Greek god who is overseeing the development of a community that is under your influence. The game, available from both the Windows 10 and Windows Phone Stores, offers you the opportunity to build a stunning metropolis by casting spells, empowering your citizens and accumulating wealth along the way.
As with most city builder styled games, Divine Academy starts you off with an extensive tutorial that covers the basics of game play. You have tasks such as harvesting crops, clearing land, building structures and learning magic.
Divine Academy is mission driven with a series of tasks that need to be completed to gain experience, wealth and abilities. These missions involve tasks such as building a number of structures or harvesting a supply of food. Tasks will require an amount of time to complete, adding a time management element to the game. For example, a house isn't constructed in a flash and will take a few minutes for your citizens to finish.
In just tinkering with Divine Academy for a short time, it comes across as a decent Windows game with nice graphics and an interesting storyline. However, it loses points for not taking full advantage of the screen and the tasks are somewhat tedious compared to similar games. I don't think either are deal breakers but may hurt the appeal of Divine Academy a little.
It should also be noted that some of the comments in the Windows Store point out stability issues with Divine Academy. These issues range from sprite errors to connectivity issues to the game crashing upon launch. Because of these issues, Divine Academy is only pulling down a 3 Star rating. However, I did not experience any stability or connectivity issues when I tested out Divine Academy. The undated change log does note that critical bugs were fixed and maybe we'll see the rating increase a bit.
If you give Divine Academy a try, let us know what you think of the game in the comments below.
Shadow Fight 2 for Windows
Shadow Fight 2 is a combat game with RPG qualities and excellent graphics/animations. The game is available from both the Windows Phone and Windows 10 Store and is a well laid out, challenging combat game. The graphic design allows Shadow Fight 2 to stand out from similar games in that your character and the opponents are silhouetted. The movements are very fluid, life-like and stand out nicely from the colorful backdrops the game offers.
Shadow Fight 2 has RPG qualities with equipment and weapons to purchase and new attacks to learn as your character gains experience (and earn gold through game play). You can fight in individual matches where you fight your way through evil minions to face a series of demon bosses or compete in tournaments to earn a little extra coin.
The game screen has simple controls with a joystick to handle your movement and direction of attack and punch/kick buttons to determine the nature of your attack. Fight matches are best two out of three. The game is playable from a laptop or desktop but I did find the on-screen controls work best from a tablet or Windows Phone.
As far as the Windows Phone version is concerned, it should be noted that for devices other than the Lumia 1520, 822, 820, 810, 525 and the HTC 8XT the developer recommends the graphics setting be set to low for the best game play experience. In using the Medium or High graphics setting on the Lumia 830, everything looked nice but there was a significant lag time between initiating an attack and seeing it happen on the screen.
All in all, Shadow Fight 2 is an excellent independent title that is available in both Stores It is an entertaining option to pass the time with, as well as an gaming option to invest longer gaming sessions with.
Shady Pines
Shady Pines is an interesting puzzle game where you are tasked with putting together blueprints for various buildings. The story line has an architect jumping ship on a construction project and your boss taps you with the job of sorting out all the blue prints. The boss doesn't care if the final design makes sense as long as it fits with the walls of the building and makes him money.
There are some limitations on where puzzle pieces can go. For example, pieces with windows must be placed along the outer walls of the building with the windows opening to the exterior. Pieces with doors should have the doors opening to the interior and not to the great outdoors.
Game mechanics are rather simple. Using your mouse or touch screen, tap/click and hold on a puzzle piece and slide it into position. Puzzle pieces cannot be rotated and the building design will include an elevator or stairwell that will restrict the placement of your blueprint sections.
The projects are all multi-story buildings and as you complete one floor, you will advance to the next earning money for each properly placed puzzle piece. You can overlap puzzle pieces but that will result in a financial penalty. The goal with each puzzle is to earn as much money as possible once the building design is complete.
While the concept sounds simple, you might be surprised how challenging it can be to fit all the blueprint puzzle pieces within the confines of the building's footprint. Some designs have elevator shafts or stairwells that will impact how your puzzle pieces are laid out.
In playing Shady Pines for a short time, it comes across as an enjoyable puzzle game with a casual pace. It's not a game that races you through puzzles but instead one that will challenge your skills at special relationships and creativity.
Get the Windows Central Newsletter
All the latest news, reviews, and guides for Windows and Xbox diehards.
George is the Reviews Editor at Windows Central, concentrating on Windows 10 PC and Mobile apps. He's been a supporter of the platform since the days of Windows CE and uses his current Windows 10 Mobile phone daily to keep up with life and enjoy a game during down time.