Windows 10 upgrade will continue to be free beyond July 29 for users of assistive technologies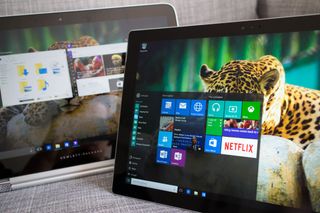 Microsoft has revealed that the upgrade to Windows 10 for Windows 7 and 8.1 PCs will continue to be made available beyond its July 29 deadline for users who need its assistive technologies.
Microsoft reconfirmed the ending of the free Windows 10 upgrade offer deadline earlier this week. However, in a blog post (opens in new tab), Microsoft said there will be an exception to this deadline:
More information on how those customers can continue to use the Windows 10 free upgrade offer will be revealed in the near future.
What's meant by assistive technology users??..

Assistive technology is an umbrella term that includes assistive, adaptive, and rehabilitative devices for people with disabilities and also includes the process used in selecting, locating, and using them.

As an example, my son is non-verbal. He carries around a tablet that generates speech for him. He clicks on icons representing the words he wants to say, the device turns it into a sentence others can understand. This is one example of assistive technology.

Thank you DMelan. Another example is for the blind or vision impaired who need the Narrator services. Spoken audio cues to assist you in completing tasks are invaluable to a number of people in this category as well. I found myself "non-verbal" for a period of a week recently. I was able to use an app on my Lumia 640 running W10M to allow the phone to do the speaking for me. If someone called, instead of answering the call I had an automated text message sent to people stating to please text as I was unable to speak. That was a long week.

I found myself "non-verbal" for a period of a week recently.

What happened, mini stroke?

I think it's a mere title for the extension which should leverage their goal.

Political correctness at its finest. Posted via the Windows Central App for Android

This is not a case of PC. This comment is based on common sence not direct use of adaptive technology. I think the issue is that many users of Adaptive Technology are stuck on earlier versions of Windows because the programs or hardware drivers needed have not been updated to Windows 10. It is not surprising that these small developers of niche products for a small user base are waiting for a stable version of Windows 10, perhaps the anniversary edition. MS is acknowledging that these users need more time to move to Windows 10. It is compassion to give them that time.

Well, I have glasses, or 'assistive technology for vision accessibility' as I shall now refer to them as... :)~

me, too
and I'm overweight and have a bad left knee
actually I do have a partial hearing loss...

Lots of people are going to need assistive technologies soon.

Hopefully the conditions will not have any loopholes that people who wanted free upgrades will exploit

I'm afraid you're too hopeful

I was also thinking whether MS take this into consideration while taking these decisions. And I think there's a chance they might do it in purpose, to leave a not very known way for people to do it. After all, the majority of people aren't looking for loopholes and hacking things to get free windows. In this case, though, it would be pretty bad morally to pretend being disabled. But some people do these things.

morally disabled? - does it count?!

No different then region hopping from ws to ws

What about us who have windows 10 on mobile ? Do we have a chance to get win 10 on laptops after july ? Sent from my Lumia 640 XL

What does one have to do with the other?

Why will mobile users get a free laptop upgrade? If you are mobile user, you get mobile updates free

So they reached 300 million devices, not upgrades, which isn't that great really considering it was free. If people didn't want to upgrade for free they are going to gain much less now that users have to pay for it. I highly doubt Microsoft will get anywhere close to a billion in three years unless they keep it free for that whole period.

Yeah not really a good idea to end it being free I approve this message.

With roughly 56 million pcs being sold every quarter, I don't think they will be far off their goal.

"they reached 300 million devices, not upgrades, which isn't that great" When you have 300 million people using something you made, then, and only then, can you claim that 300 million is not that great.

Out of 700 million Windows 7 users only around 100 million upgraded. Upgrade is free and persistive and almost every win7 PC is compatible with 10 on hardware side That's not great.

Where did you get 100 million upgrades from? Or is this yet another assumption?

You know upgrades on other OSes have always been free (bought with the device) 300 million active users is impressive. Especially considering lots will not upgrade, even for free, because it is a change. Who moved my cheese syndrom. Lots of those.

300 million devices is about the same as the combined total of console sales from Nintendo, Sony and Microsoft in both this generation and the last. That's definitely nothing to scoff at.

How do you know that they were not upgrades? O.o almost everyone got windows 10 from upgrade no one bothered to do a clean install i am prety sure about this! only us insiders bothered with the format thing :3

I bothered myself and did a clean install, and I'm not an insider. Bo-Ho. Posted via the Windows Central App for Android

What is assistive technologies?

It refers to devices and technologies that address the special needs of people with disabilities. See the first comment.

Look up above, you would understand better, and even DMelan contributed to that comment.

I can't imagine them actually following through with the 29th deadline. I'll believe it when I see it, but honestly, it makes very little sense to continue to charge for Windows.

I would say it makes very little sense to charge for windows this much. It made sense back in the days when pcs were $1000+, but now days when people are happy with their $200 I think the price of windows should change + now they are using our data for targeting ads and they have profit from their app store should be room for a price cut.

Tell that to all their OEM partners, who would love people to buy new PCs to get the new OS, like they used to. -- Lumia 640 (Windows 10)

People don't buy new iPhones just because a newer version of iOS is released, especially when 3 past released generations of iPhones can update to the latest version. And major iOS versions are free (well, as included in device purcahse). Even Apple's Macs have had free OS X upgrades since OS X 10.9 Mavericks (again, OS upgrades included in device purchase). People upgrade smartphones because contract ending, phone is broken in some way, or hardware itself is slow speced. People don't get new iPhones just for the new OS. But some people do when it comes to Android as a lot of manufacturers aren't often times supporting the lastest OS version on older smartphone models. PC's have become reasonably fast enough over the years and Windows OS's released after Vista have used less resources in each subsequent version. Actually, people don't buy a new PC just for the new OS even though Windows has been a paid OS before Windows 10. Most people are happy with the version of Windows that came with the PC they bought and won't go out and buy a new OS upgrade. Go figure, there are some people happy with using Windows XP because it's what they know well, hate change and because their PC came with it and don't want to upgrade. Gone are the days (for the most part) when people buy new PC's because they're too slow. People buy new PC's because they break and aren't worth paying to fix. I know this is a generalization of average people in a PC market.

This is a nice move by MS, but I wonder whether people will use this as a loophole for a free upgrade.

Considering those people will have had a full year to upgrade for free with no loophole required, I doubt if that's going to be much of an issue. -- Lumia 640 (Windows 10)

So can I just turn on OSK and magnifier and upgrade?

Remember when Win10 was announced as free, and the fear mongering started where people were claiming that it was all a lie, that in 365 + 1 days Microsoft would turn Windows into ransom ware, you would need to pay a yearly subscription to use the computer, and if you didn't pay your data would be lost? And then people on Microsoft blogs, twitter, interviews, and so on said it wasn't true, so the haters claimed that Microsoft was lying to us and it would still lock you out? Then when they realized that they couldn't keep the attacks going because it wasn't going to be a subscription, then they moved on to some other made up story to try to scare people away just as they have with every single version of Windows in the past? Yeah, good times.

That kind of stuff happens, when your licensing has been an unbelievable mess historically and no clarification is delivered.

well with the features that windows 10 will get now and next year i can imagine why ppl will feel bad they didnt free upgrade xd. (well most ppl are just afraid of change)
and it's good the thing they do with disabled ppl and stuff since windows do have many tools to use it even if you have problems and it's good people who do have problems and need these tools can get an an OS that has the tools for free!

Chrome works fine on Windows 7 (with addons and inbuild addons sync) and Windows Store on desktop is even more dead than Mobile Store. And there is no undisablable updates and no need for Microsoft Account at all (that in fact do not bring any advantages) Windows 7 was polished by professial team of testers inside MS and not with "insiders" help so it is much more stable. (i reinstalled w10 two times already after all store subsystem completely died) I can easely see how people do not feel the need to upgrade.

Microsoft Account brings you seamless cloud interaction over a whole bunch of devices. W10 is designed for a host of interconnected devices, while W7 is just an island in the sun. Also, W7 partially was a stinking pile of crap well into the second year of it's lifecycle. Chrome also works on W10. That said, I think there should be a UWP-based MediaCenter-successor. Maybe they could just support one of the best .NET-based OSS-systems, MediaPortal, to add polish. Aw

I'm sorry but that is a load of nonsense and pure personal preference. "Windows store on desktop is even more dead than Mobile Store"? You literally have no numbers to back that up and it certainly contradicts what MS has said on the subject. As for Windows 7 being polished, it had bugs just like every other previous version of Windows. The nice thing about the Insider program is that things are getting fixed far faster rather than waiting a year for a Service Pack. Your memory is selective.

There is one very important advantage of MS accounts you're missing. Almost all Windows settings sync for you -- you don't have to set them up every time you install Windows. It remembers your preferences. Then there's OneDrive. You can disable specific updates in Windows 10 using a tool offered by Microsoft themselves.
Windows Central Newsletter
Get the best of Windows Central in in your inbox, every day!
Thank you for signing up to Windows Central. You will receive a verification email shortly.
There was a problem. Please refresh the page and try again.