Windows 10 users must update to build 10240 to use the new Windows Store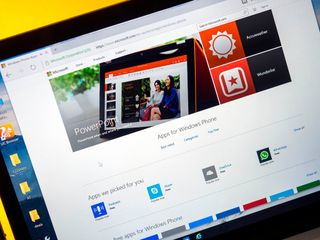 If you are a Windows Insider member, but have not yet updated to the current 10240 build of Windows 10, now would be a good time to do so. Microsoft is now requiring build 10240 to be installed so that Windows 10 users can access the new Windows Store.
Gabriel Aul, the head of the Windows Insider team, posted a message on the Insider Hub app for Windows 10.
Aul added that the Store version number should be 2015.7.22.2 or greater.
Source: Gabriel Aul (Twitter)
Windows Central Newsletter
Get the best of Windows Central in in your inbox, every day!
how am i suppose to update to build 10240 when it doesnt show me that i have new updates on windows updates lol im on 10166 build atm

Install from ISO :P It's only option now.

Wait dont , ISO's clean install wont work. All keys are blocked until official W10 release on wednesday

Im on 10240 build, but i cant use the Store :(
do you know how I can find what version I have?
any link to download the ISO?

Install from ISO, otherwise, check I you are signed in with your insider account.

i still have the insider acc i have logged my pc with my hotmail account

Try joining the slow ring. Reboot, join fast ring. Reboot. Search for updates. (Worked for me once)

ill try this... since i dont have any CDs to burn iso file into

You don't have to burn CD or DVD... Just mount and run or make a bootable USB with 'RUFUS' to perform clean install

You dont have to burn anything. Download the iso, mount it in File Explorer and run setup. It will then perform an upgrade.

Im in the same situation you are. I will try the answer Joost Meij given, I hope I won't need to install from ISO and if so, I hope there is an option to just upgrade and no to reinstall everything

Download the iso, mount it in File Explorer and run setup. It will then perform an upgrade.

Delete your windows update cache. I'd copy paste the cmd commands but I'm on my phone right now.

if u mean the net stop wuauserv, bits etc... ive done that

Maybe it was like this:
1. Join slow ring and reboot
2. Check for updates on slow ring. After no updates available message reboot
3. Join fast ring, reboot just to be sure
4. Check for updates on fast ring and hopefully update successful

Build 10166 has a known bug that prevents new builds from being installed directly from Windows Update. You need to get a Hotfix for that. I had the same problem and it's really easy to fix.

great... and mine won't update, despite that the others i have setup, including 1 just yesterday, are all up to date :(

yah my windows update says all is up to date while im having build 10166

Keep trying? The update didn't show up on my desktop at first while it showed up instantly on my Surface.

Just download an ISO from Mega

doesnt have any CDs to burn into

You can burn the ISO to a bootable flash drive.

You should just be able to mount and run the ISO from within the os.

Oh god i can't believe it !!
I am playing (Years - alesso ) and reading this thread and i am imaging that windows 10 is my son and see it complete and ready for born :D i am so fuckin' happy
Thanks MS

My good man, time to get out in the world, meet a woman, get married, and have a real son...If already married...I have nothing else to say.

You can't technically preview a real son...it just grows rtm in the wife's belly :)

Complete with all the bugs that cannot be patched.

Will a newly upgraded sytem from an iso upgrade to 10240 if I've been signed in on other systems prior to the cutover? Just got a Surface today and don't like running 8.1 now.

I'll second that! Just got a surface pro the other day but seem to always go back to my windows 10 VM on my old laptop...

Yea I tweeted and asked Gabe if it would work or if it was going to be an activation issue since pre relase keys are no longer good...he hasn't responded...not sure if he will but Im going to try when I get home. Weird running 8.1 when I have been running 10 for so long.

I upgraded from 8.1 two days ago with the 10162 ISO and it took a day to get 10240, but it did work.

I had signed up for the Windows Insider program, but only played with Win10 in VMs in early releases, which I no longer have. I noticed the Insider page no longer offers the ability to download an ISO. Is there no other way to upgrade a Windows 8.1 computer to 10 at this point other than waiting for next week?

No official methods that I am aware of.

Pirate bay is your friend. Just google "windows 10 10240 pro.iso"

Running Windows Pro 8.1 and the store app hasn't worked in over a week... :/

Try resetting the store Win + R -> type wsreset -> Hit Enter. Make sure its not running in task manager before doing this

Does anyone know if you'll be able to upgrade to final build on launch day, if you're running an ISO version of the preview?

If you have .240 running you already have the final version. You likely get a bunch of updates between now and launch but the build number will not change likely intil TH2.

Does any of this work with an Office 365 account or will employees still need both?

This is probably the email I got last night that for some reason was all in Japanese.

How does one view the version number of an installed app? Edit: Never mind, found it. Looks like I'm up to date.

Did the new store just go live? I restarted one of my PC's running 10240 to apply the latest security update and when I opened the store to check for any new updates I got the "Pardon the interruption" message and a link to update the store. Once I reopened the store, I got over 20 app updates including the new version of the Microsoft Solitaire Collection that has Xbox achievements etc. I tried to replicate this on my laptop also running 10240 but it doesn't see any updates and I still have the old Solitaire version.

hi. im using lumia 625 with build 10.10149. im always check for update and 10.10166. with fast build. when im starting to download it.. it will stop 31%. then it will prepare to install.. and with crashes.. pls help me with this problem.. i have 3gb space for internal and 16gb space for external

Blocked by windows defender kbxxxx3. What to do?

I got windows 10pro full version today in updates for my lap.. There is nothing in the right side corner of the screen to confirm like it is a build version... Feeling excited

Wish it was that easy to just check for updates and install.. I've had problems installing every single build

I tried 10times to update from clean 10162 to 10240,but every time it is stuck at some %..Then showing lot of errors.If MS wouldn't release 10240 build ISO..Lot of users stuck at 10162..and New store not worked So they out from the insider program so no more core development as windows 8 sucks..windows 10 will also sucks..

Check if you have enough free space on your install drive. Thats the most common reason for setup to fail. Sometimes you might require more than 40GB free space to accommodate the Windows.old folder. You can safely delete it and reclaim space after upgrading by running Disk Cleanup in admin mode.

Is build 10240 last build aka RTM for insiders or microsoft is releasing some another ISO to us?
so that we can decide whether to update to 10240 or should wait for RTM on 29th & Install clean.

10240 is what people will start getting on 29th as far as we understand.

Wish I had ISO of 10240, Updating is Still a painful way. I prefer Clean install, will ISO be available after 29th?

I have 10162 do i need to upgrade 10240 in order to have the last version?

I have to say Windows 10 has been terrible on tablets, I had it on my Dell Venue Pro 8 and had to delete it. It was not good on tablets in terms of looks and functionality. How is anyone suppose to use a tiny scroll menu on the start, putting it in tablet mode only takes away the start menu bar at the bottom of the screen. Did anyone of these so called software engineers noticed that on a tablet under 9" it's useless, not everyone has a Surface. So I am passing on Windows 10 update on small tablets and ride with Windows 8.1, I don't care if I can't upgrade after a year.

my lenovo b570e is totally up to date ,,,running latest build but store app crashes everytime i try to install any app,,,any ideas?

I keep getting error message 8007000e, when trying to update, download and install, 10166, on windows phone 10 insider preview, build version 10.0.10149.0. Can someone please help me? Please and thank you
Windows Central Newsletter
Thank you for signing up to Windows Central. You will receive a verification email shortly.
There was a problem. Please refresh the page and try again.