The Windows 10 Xbox beta app adds Clubs and Looking For Group features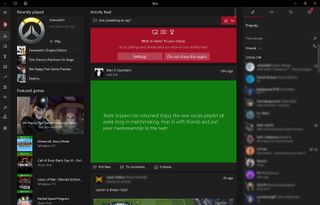 Microsoft has updated the Xbox beta app for Windows 10, adding the new Clubs and Looking For Group features that are currently being tested by Xbox Preview members on the Xbox One console.
The new update was announced by Microsoft's Larry "Major Nelson" Hryb on his Twitter feed, who also revealed that the Club and LFG features are available on the Xbox Android beta app as well:
Xbox Live Clubs & LFG features are now available to everyone via the Beta of the Xbox app on Windows 10 and AndroidXbox Live Clubs & LFG features are now available to everyone via the Beta of the Xbox app on Windows 10 and Android— \\ Larry Hryb \\ (@majornelson) September 17, 2016September 17, 2016
In a follow-up post, Hyrb said there is no word on when the Xbox iOS app will include those features.
Awesome! Was playing around with it this evening and it seems to work pretty well, barring a few usability issues.
One note: you may want to change the misspelling "no work" to "no word". "No work" gives the impression they're not even working on the iOS feature.

It's going to be useful for making a Destiny raid party.

FYI: "no work" should be "no word" ;)

Who comes up with these dumb ideas! This will fail like all the others. If everyone wanted the bloated crap ot would be on the other consoles. This is just another nail in the coffin!

I was going to ask if the other consoles have features like these. I guess not. I'm a casual halo 5 gamer, so looking for similar people will be good this way. I think it's great.

I believe ALL big social gaming networks has a LFG function... The networks that don't have it should work on getting it as soon as possible.

It's someone who doesn't know what they are talking about. Nothing to see here.

Great to have this on the phone app. It probably just me but I can't find the LFG section. Can anyone tell me where to find it?

Maybe you have to be an Xbox 'insider' too?

I am in the preview and I have the LFG on my xbox. Just cannot find it in the app. Clubs is right there in the main menu but no option for LFG.

Got it.LFG is either in party tab (which isn't on phone app on desktop). If you go to a game hub LFG is in one of the tabs there.

I like that they got this up quickly. Checkout my club VIDEOCLIP EMPORIUM.

i got a free code for banjo kazooi nuts and bolt from a club member who gave it away in club post lol thanks for adding clubs and group to beta ap
Windows Central Newsletter
Get the best of Windows Central in in your inbox, every day!
Thank you for signing up to Windows Central. You will receive a verification email shortly.
There was a problem. Please refresh the page and try again.