Windows 11: Four new keyboard shortcuts you must learn
If you are already using Windows 11, these are the new shortcuts you need to learn.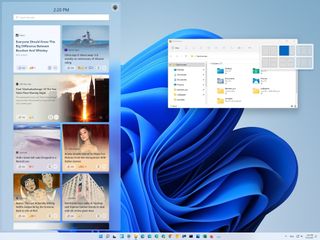 (Image credit: Windows Central)
On Windows 11, you can always use the mouse to navigate and handle applications and features, but keyboard shortcuts help you to perform actions faster using a single press of multiple keys, saving you clicks and time.
Although you can use all the Windows 10 shortcuts on Windows 11, the new version of the OS introduces several new keyboards shortcuts to give you quick access to new features, including Quick Settings, Notification Center, Widgets, and Snap layouts.
In this Windows 11 guide, we will look at several new keyboard shortcuts to help you improve productivity.
Windows 11 new keyboard shortcuts
Here are the new keyboard shortcuts for Windows 11:
Windows key + A keyboard shortcut opens the Quick Settings flyout.
The Quick Settings is part of the new Action Center experience that now breaks the interface into two flyouts (Quick Settings and Notification Center). The menu includes the most common settings, such as volume, brightness, wireless, Bluetooth, Focus Assist, etc.
If you play audio or video with Microsoft Edge, the Quick Settings will also show new media controls above the flyout.
Windows key + N keyboard shortcut opens the Notification Center flyout.
The Notification Center is also part of the new Action Center experience, and it includes all your notifications and a full-month calendar view.
Windows key + W keyboard shortcut opens the Widgets interface.
On Windows 11, Widgets is a new feature similar to "news and interests" for Windows 10. It features a bunch of cards with different types of information, such as weather, news, sports, stocks, traffic, and you can even display Microsoft To-Do lists and more.
In addition to the keyboard shortcut, you can also click the icon that Microsoft is placing by default in the taskbar.
Windows key + Z keyboard shortcut opens the Snap layouts menu.
Snap layouts is a new feature part of the Snap assist experience that introduces a menu when hovering over the maximize button with different grids to snap windows with different layouts. Once you select a position for the app, Snap assist will guide you to continue positioning windows in the remaining zones. Depending on the display size, you may see four or six different grids in the menu.
More Windows resources
For more helpful articles, coverage, and answers to common questions about Windows 10 and Windows 11, visit the following resources:
Windows 10 help, tips, and tricks
Mauro Huculak is technical writer for WindowsCentral.com. His primary focus is to write comprehensive how-tos to help users get the most out of Windows 10 and its many related technologies. He has an IT background with professional certifications from Microsoft, Cisco, and CompTIA, and he's a recognized member of the Microsoft MVP community.
Yeah, keyboard shortcuts are the best.

agreed XD
Makes you feel like a wizard

Feels like? I am one. Whoosh.

Windows+Z for Snap? That's fine, but I wonder if there was much effort to give it a letter available that would match with Snap or some other term so that it would be at least a little bit intuitive. My favorite keyboard letter of all (anyone else remember this one): in the Ultima games, where every letter on the keyboard performed a different function, the letter Z was used for, obviously, "Ztats", even written that way on the reference card that came with the game (as in Stats, but S was already used for something else, Steal I think, because I'm pretty sure C was for Cast spell). So, maybe now we should start spelling Snap "Znap." As stupid as that sounds, I bet anyone who reads this remembers that -- I still remember Ztats from the 1980s. :-)

Windows+S was already taken by open search.

Win + Z doesn't work for me.

Very helpful but the sadly the shortcuts cannot improve the poor result from Microsoft. In particular for Calendar extracting Outlook data. Only one week is shown. There is no way that one can get to another date. No way to add an appointment. All a downgrade from the right click on the clock in Windows 10. Which was not only far easier to get to but a far richer experience.
Windows Central Newsletter
Thank you for signing up to Windows Central. You will receive a verification email shortly.
There was a problem. Please refresh the page and try again.