Windows 11 event: Here are all the new features that were announced by Microsoft
Tabs, Widgets, and app folders on the desktop?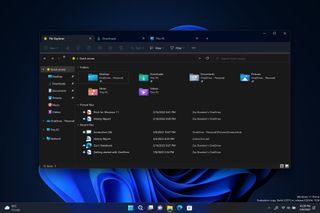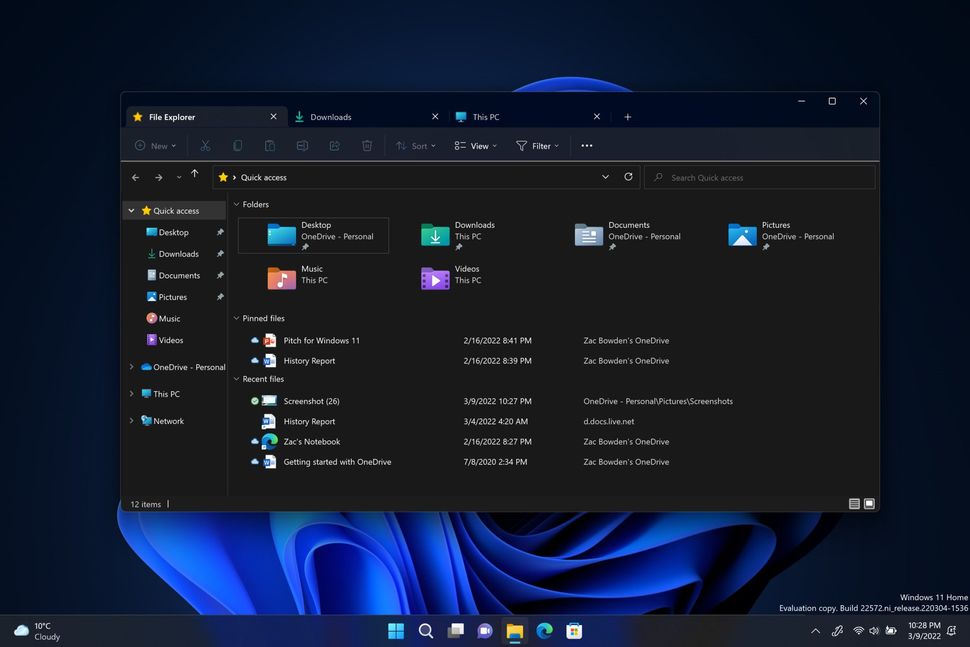 (Image credit: Windows Central)
Microsoft's hybrid work event yesterday spent lots of time talking about Windows 11 features we already know about thanks to the Windows Insider Program, but that doesn't mean the event was devoid of any new feature announcements. If you paid close attention, there were a handful of new features unveiled that we haven't seen before, and some features that we have seen but haven't officially gone into testing yet.
Either way, we thought it'd be a good idea to round up all the new features we noticed get shown or talked about during the event and its three breakout sessions. Microsoft isn't saying if these features will be ready in time for the next major feature update, known as version 22H2, or if they'll be coming earlier or later than that. It's also unclear when these features will show up for Insiders to start testing.
Tabs in File Explorer
This is arguably the biggest new feature announced by Microsoft yesterday. It's finally bringing a tabbed interface to the File Explorer app, allowing users to have multiple folders and directories open under one app window, just like a web browser. It's about time as well, being one of the top requested features from Windows Insiders since the Windows Insider Program began back in 2014.
Other platforms have had tabs in their respective file explorers for many years, so Microsoft is definitely playing catch up in this area. That said, it's better late than never. Tabs in File Explorer have already appeared in a couple of Windows Insider builds (albeit unofficially) in a rather unfinished state. Hopefully over the coming months we see this feature build out to become a fully fledged tabbed experience.
Microsoft also demoed an updated "home" experience with a slightly tweaked UI. We already have the updated home layout in the Insider Program, but the tweaked UI design isn't in public builds yet. It's subtle, but the version of File Explorer shown at the event looks to be more consistent with the rest of the Windows 11 design language, so hopefully we're going hear more about this UI update for File Explorer soon.
Context IQ Features
Microsoft also unveiled that it's planning to introduce more smart, contextual features and behaviors to Windows 11 over the coming months. The example it used at the event is with the share dialog in the File Explorer, which will attempt to list contacts that it thinks you want to share specific files with in an effort to reduce clicks and time spent actually trying to sharing said file.
The company did say that it intends to introduce these contextual enhancements in other areas of the OS as well, and we already know that a feature called "Suggested Actions" is in development that will provide quick actions for common tasks such as creating an event in the Calendar app, or adding a contact to your contacts list when highlighting specific types of text and data.
Improved Widgets Panel
It was super brief, but Microsoft once again demoed a full screen version of the Widgets Panel, a feature that was announced back in June 2021, but still hasn't shipped even in preview. Additionally, Microsoft also demoed the ability to be signed into the Widgets Panel with both a personal and work account, something that isn't currently possible on Windows 11.
We know that Microsoft is planning to open up the Widget Panel to developers at some point, though this was not announced at the event yesterday. Perhaps we'll see Microsoft talk more about the extensibility of the Widgets Panel at Build 2022, which has just been announced to be taking place on May 24-26. For now, we're still waiting for a full screen Widgets Panel to arrive.
Video call enhancements
Microsoft spent a chunk of time talking about hybrid work, and how it's building Windows 11 to help enhance hybrid work meetings via enhancements to voice calling scenarios thanks to new and improved camera and mic effects powered by dedicated neural processing units found in compatible Windows PCs.
Camera and mic effects announced include background blur, auto-framing, noise suppression, voice clarity, and eye contact. Some of these features are already available in your favorite video calling apps, but Microsoft is building these effects into Windows 11 natively, meaning these will work across any app that utilizes your camera, as long as you have a neural processing unit inside your PC.
So far, Microsoft is touting the Lenovo ThinkPad X13s as one of the first devices with a neural processing unit built-in, meaning it supports all of these new camera effects coming soon. These should work in Teams, Slack, or any other app that uses your camera.
Organizational messages
A big new feature announced for companies deploying Windows PCs to its employees comes in the form of "Organizational Messages" which will allow IT admins to deploy alerts directly to employees via Windows. These alerts can appear in the form of popups above the Taskbar, via notification in the Action Center, or directly on the lock screen. IT admins will be able to send these alerts to employees via Endpoint Manager, assuming your organization is using an Azure Active Directory set up.
Cloud PC integration
Finally, Microsoft talked about a handful of new features for commercial customers that it plans to deliver "in the future." All of these features are designed to better integrate the local Windows 11 desktop experience with the Cloud PC experience offered by Windows 365. As of right now, Windows 365 is a service that you can only really access via a web browser, but Microsoft wants to turn Windows 365 into a feature of Windows 11.
Here are the cloud integration features announced:
Windows 365 Boot: Allows you to log directly into your Cloud PC and designate it as the primary Windows experience on the device.
Windows 365 Offline: Allows you to work in Windows 365 even when disconnected, and when internet is restored, your Cloud PC will automatically resync with the service without data loss, so the user experience and workflow is persistent.
Windows 365 Switch: Gives you the ability to move between your Cloud PC and local desktop just like you would between windows in the Task Switcher, using the same familiar keyboard commands, mouse or a swipe gesture.
Windows 365 App: Provides another way to get straight to my Cloud PC from the Task Bar or Start menu. All with desktop path to my Cloud PC, providing a personal, customized welcome experience to tailor my settings, profile, and work style.
Microsoft highlighted these experiences as "the future" of the Windows desktop experience for commercial customers, which implies these features aren't around the corner. Microsoft is committed to delivering them, but it may be some time before they start showing up in the product.
App folders on desktop?
Finally, I wanted to point out something that Microsoft didn't specifically announce, but was spotted in the background of another demo. In one of the breakout sessions, a brief Taskbar demo appears to reveal what looks like an app folder on the desktop. In the top left-hand corner, you can see a square thumbnail with four social media icons in it, titled "social media."
To me, this looks like an app folder, which Windows 11 doesn't currently support on the desktop. You can create app folders in the Start menu, but not the desktop. Hopefully, this wasn't just a concept blunder and we actually see this show up as an official feature soon.
Windows Central Newsletter
Get the best of Windows Central in in your inbox, every day!
Zac Bowden is a Senior Editor at Windows Central. Bringing you exclusive coverage into the world of Windows on PCs, tablets, phones, and more. Also an avid collector of rare Microsoft prototype devices! Keep in touch on Twitter: @zacbowden.
Not a single feature I was ever interested in. I despise Win11 so much. Utterly and completely.

It's literally the best version of Windows ever lol

Agreed. It's way better than Windows 10, which looks SO dated. I'm still using Windows 10 on my work PC, tried to install Windows 11 myself but it's blocked by GP :(. Feels like I'm using a PC from nearly a decade ago. No wait, I am.

Please for the love of god, allow us to turn off the ever toxic/depressing NEWS in widgets. This obsession with NEWS is super-annoying.

Simple thing is to get rid of the widgets, i thought the whole idea of the widgets is for people to be able to choose what is in them.
The thing they stuck on Windows 10 I got rid off, not that they work with the Taskbar at the top of the screen.
I also thought the widgets in Windows 11 only worked when signed in to an MS account.

You would say that, you get sponsors on this website, so you are not going to say it is the worse OS that Ms ever produced, not that I am saying it is. There are some nice things about Windows 11, the look of it for a start, I like the centre start menu and the look of it and the OS seems to run smoother than Windows 10, when it doesn't crash. But that is the thing, too many bugs and the fact that Ms is now going to force people to set up with a MS account.

Bugs? LOL give me a break.

windows 11 have a load of bugs and some of them stops it working correctly.

Well, to be fair that's a pretty low bar to reach 😜

Despise. You actually despise an operating system. The height of first world problems.

Understand, Painfully_Candid's whole schtick here is to hate on basically everything. That's their personality, being personally offended at every bit of news around here. Just imagine being around them IRL.

It's really that bad? Come on.

I mean no OS is perfect and it is perfectly fine there are things you don't find useful. Though what exactly you interested in it that makes you despise the OS so much? I remember the days of Vista claiming people saying they despise the OS despite not actually been able to use it for their day-to-day work. Not to mention able to run it on the optimal hardware even its steep. Yet Vista has so many major improvements that until to this days, baffles me why it was considered "worse".

I dislike Apple products but I don't spend my time on Apple forums posting about how much I hate them.

You don't have mental health issues though 😂

That sounds very much like an ideological position rather than a practical one.

The Cloud PC feature is interesting. Is this just a glorified wrapper for RDP or actually a different type of remote desktop? Seems strange that the Office 365 option for cloud PC is aimed at commercial customer, not educational markets or indeed home users. If they're willing to pay for the service why restrict it.
Also, I don't want to be the guy that says it but this has to be part of an anti-trust now for anyone wanting to provision the same type of service for Windows users... unless Microsoft allows reworking of a Cloud Boot to Citrix, RDP etc?

Will those features available in next release 22H2?

Well, in the presentation they kept stressing that these features are for business users. But I think they'll be introduced into the consumer releases at some point.

"To me, this looks like an app folder, which Windows 11 doesn't currently support on the desktop." Not strictly correct but it's not official. You can drag any app from the start menu to the desktop and then move it to a folder.

Not with Windows 11, drag-and-drop outside of Start Menu isn't possible, not even to the Taskbar. It used to be a case before Windows 8 though.

1. Why don't any of the widgets link to the Windows apps like Weather and Mail? 2. Why can't Microsoft design Notifications so: A: They disappear when you action the item from the app?
B: They disappear when you action them from another device? I'm always having to use the Clear All, makes Notifications look basic.

"Why don't any of the widgets link to the Windows apps like Weather and Mail?" Yeah. I just don't get it. It's such a strange design decision to have them open websites. Especially when all the widgets are first-party, and there's an inbox app for almost every widget.

Here's what you're missing: It's not a design decision, it's a profit decision. The website serves you ads, which puts money in M$'s pockets.

MS makes more money from ad sales than product integration in the world's #1 desktop operating system? Uh, no.

Which makes MS more money: (1) The weather app opens with no ads; or (2) The MSN weather website opens that has ads?

2A: That's up to the app, there are certainly apps that support this.

"We know that Microsoft is planning to open up the Widget Panel to developers at some point, though this was not announced at the event yesterday." So this is unofficially official? That's good news. Widgets is one of the things holding me back from W11.

Why? In Win 10 you don't have widgets at all, unless you consider the Start menu 'Live" tiles, widgets. Not moving because the new OS has something you didn't have before, doesn't make sense. Enough other reasons , though.

I think it was always been hinted it will have 3rd-party support eventually, the issue is the wait till that happens. Currently Windows 11 Widgets is limited due to no 3rd-party support, making it not really useful that much unlike Live Tile it replaced which always been have 3rd-party support. Not to mention it is completely web based that if you don't have internet when you boot up, you get nothing at all. No way they work offline.

AAAAAHHHHHH, everything is for Azure AD, Microsoft 365.... C'mon!
I would love have a Remote Desktop session with any PC integrated in the Task Switcher. It could be a API available for any remote desktop software.

Did they fixed the animation when switching virtual desktops (by touchpad gesture or keyboard shortcut)

Oh,so the all new features are basically "Tabs in File Explorer" !

I still don't understand the hype around tabs in File Explorer. I can't say that I've ever felt like having a tab would be any benefit over just opening a new window, and I've never felt hindered by the process. I mean, I'm not against giving people the option if they want it, but every time I see it mentioned, people seem to react like this vitally critical feature has been missing for decades.

I agree with you. Only reason I want multiple windows of file explorer is to copy stuff or move stuff. Seems that would be easier with independent windows.

It's a God send for people like me who multitask heavy workloads. Been able to have multiple tabs opened simultaneously for multiples files is crazy useful - not going back and forth fishing for different files one at a time. You won't appreciate how useful it is until you need it or use it.

Some nice changes, though I can't see myself getting excited about Widgets if I can't pin them to the desktop and/or Start. The way my brain works I will never remember to open the panel. I'd also like to see Start be able to be scaled up for large format screens. It is sadly small on my Ultrawide.

"I will never remember to open the panel" That's why they put the icon where they did. Many of us open it multiple times a day, because that's where Start belongs.

I'm okay for idea of pin the widgets.

Two significant changes would need to be made to the widgets panel before I'd even consider using it. First and foremost, let me remove news/top stories. I don't want it in my panel and forcing it down with more widgets isn't good enough. Let me remove it completely. Secondly, native widgets should link to native apps. Clicking weather should complete the mind-blowing task of opening the weather app, not a website. Until these two things are changed, the widgets panel doesn't exist in my eyes.

Contextual Iq are IA work.
Interested in direct integration of IA or choice of user to add/reject. App folders haven't sucess in tiles W10 (need give new icons by categories), it's filework for users technicians (not users commercial), and there are difficulties with form of file when concerning services/disparates.

Still nothing there to make me say, I must update to Windows 11 today, but then there have been nothing really exciting in windows for years for me, but then I suppose that is because I just use Windows as an operatring system and don't use the bloat.
even if I up[date this machine I will be staying with windows 10, sorry Ms, but forcing people to have a MS account is what will stop me updating to Windows 11.

Tabs in File Explorer is a very welcome addition imo and helps reduce desktop clutter with multiple windows open. Useful on MacOS and great to see that feature jump across.

Neural processing unit to make my eyes look to the camera? Right, so it's something my i7 processor can't figure out? I'll throw it to the garbage then.
Windows Central Newsletter
Thank you for signing up to Windows Central. You will receive a verification email shortly.
There was a problem. Please refresh the page and try again.