Windows App Studio tools adds in-app searching features and more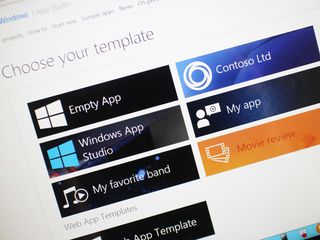 Microsoft has added some more features to its Windows App Studio tools. They allow nearly anyone to make Windows 10 and Windows 10 Mobile apps without any coding needed.
Here's what users can expect from the update:
Search within app –With this release, we're delivering a long-requested feature: enabling search within an app generated in Windows App Studio. This lets users search through an app to find specific content, which is particularly helpful when there is a lot of data.
Grouped layout – Windows App Studio now supports grouping data based on a data point. This feature lets users represent their in groups based on certain criteria. This could be used when displaying a list of products grouped by brand or other data point. It can also be used to group things based on date or time. For example when used for the events template, this lets the user create an agenda or schedule. This feature introduces a lot more flexibility into how you can display your data.
Date & Date/Time data type – We introduced two new data types for our collections: Date and Date/Time (Date + Time w/ minutes precision). This allows you to append date and time info to any collection entry, which in turn enables a lot more experiences such as organizing information by time. To support this feature, there is a new date/time picker, new calendar formatting options, and new calendar actions so the end user can add events to their personal calendars. In addition to the collections data source, Date and DateTime data types can be used among all the data sources of Windows App Studio that have date times fields (RSS, WordPress, Facebook, Twitter, etc.), allowing you to take advantage of the DateTime formats and use these data sources with the new Grouped Layout.
Collection favorites –Now your end users can have the option to save any data from your collections as their favorites into a favorites section. If you enable this for their users, as they browse your collections they can mark certain entries as their favorites to save for easy browsing later.
Service improvements – In this release cycle, we also improved the back end of the App Studio service to make your experience smoother. This included updating the app generation model to use VS2015 Update 1 (which means developers can target more devices) and improved and updated how-to documentation.
Microsoft also announced it plans to launch a contest to find the best apps made with Windows App Studio, with the winners getting featured on the Windows App Studio homepage. Details about the contest will be revealed in the next two weeks.
Source: Microsoft
Get the Windows Central Newsletter
All the latest news, reviews, and guides for Windows and Xbox diehards.