The Windows Central app picks up deep-linking for comments, bug fixes and more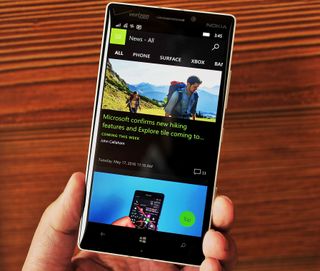 Today we're rolling out build 36 of the Windows Central app for Windows 10 and Mobile and it should be live in the Store.
This update brings a new feature that many have wanted for a while: deep-linking for comments. Now when a notification comes in with a reply to your comment, clicking the notification will take you directly to that comment so that you can read the full context and add a reply. You can, of course, also reply directly to the comment within the notification itself (actionable notification).
Also, we have a few fixes for reported crashes in specific scenarios and devices, along with some smaller changes to the Live Tile design and behavior.
Windows Central Build 36 (1.1.36)
Deep link for comments – This was a very highly requested feature that took a lot of extra work (it's not flipping a switch), so thank you for your patience! Like all new features, we may see some issues as we push it to a broad audience and we'll address those as are discovered.
Live tile improvements – Added some bug fixes around the Live Tile badge number and article previews.
New Live Tile layout – Smaller logo for the site and added a logo to the branding on the Live Tile images. Also removed article preview for small Tile, now it is only iconic (logo).
Fix for several crashes – We're still working hard to get these kinks ironed out and hopefully we'll see less random app crashes. Please continue to file reports when they happen so we can continue to improve things.
Fix for initial login/comment box – There was a bug on a clean install where there was no comment box displayed after initial login. Instead, the user had to exit the app and restart to view the comment box. That is now fixed.
The update should be live shortly and be rolling out to the Store (if you don't see it yet, give it time).
As usual, continue to leave feedback, report bugs and vote for new features with our Windows Central UserVoice page.
Download Windows Central for Windows 10 and Mobile (opens in new tab)
Daniel Rubino is the Editor-in-chief of Windows Central, head reviewer, podcast co-host, and analyst. He has been here covering Microsoft since 2007 when this site was called WMExperts (and later Windows Phone Central). His interests include Windows, Microsoft Surface, laptops, next-gen computing, and for some reason, watches. Before all this tech stuff, he worked on a Ph.D. in linguistics and ran the projectors at movie theaters, which has done absolutely nothing for his career.
Awesome! Great job WC app team!

Yay! It no longer crashes when scrolling through comments! Also smoother comment scrolling.

It just crashed on my phone. Damn

If we keep experiencing crashes from apps and the OS alike, then I really believe windows 10 Mobile is dead. Think of it, most update on apps as well as the OS itself, never get to fix to fix the issues that the update was intended for.

Please... Shut up. Go to Android or iOs if that bugs you so much and never return.

I'm not a hater.. I m facing crashing apps everyday. Lumia 730

For some reason, sometimes it crashes as soon as it opens on build 14379.

Thanks. We're watching/testing against RS1 builds now so we'll be making notes on performance/issues going forward.

Daniel, I'm not too sure but it's crashing on my Surface Pro 6. Why? I came back from the year 2018 and brought with me the Halo Phone and Surface Pro 6

Nope doesn't see faster at all seems slower after each update and more crashes. The old app is much faster smoother with no crashes.

Must be a beta Rohan, cos it works well on my Surface Phone, in fact they've tweaked the iris scanner such that just a glance at the article heading on the main screen opens the article.... And then closes it when I look away. Great going Microsoft :D

I be travelled to 2020 and no iphones found!!

Actually it still crashes at startup only when it fetches new articles if the no. of articles are more than a couple. 640XL on 10586.456.

Installed still can't find any crash or bug

Seems to be older devices with 512MB of RAM, lower CPU that have performance issues in Win10M in general.

My Lumia 630 runs Win10 preview for insider ring and it works as well as Win8.1. Despites some rough edges of the OS, it is find with the same delay.

Right on, it seems faster.

Faster on W10M? or is it faster because you just got the Lumia 950XL?

Opens faster, without a crash on first time opening... Thanks WC team

Very welcome, the least we can do is thank you guys for doing a great job with this app

Btw, that deep linking works fine :)

Crashed once just after updating. Lumia 735 build 10586.420, display 175%

I in windows 10 but not build it is official and no crashes.but in last update it crashes a lot

Hey Dan, what happened to the comments signature?

When will it be removed from the android wc app? :D

It's planned, but different dev team and they don't update nearly as much.

He wasn't the only one...

Thank you for removing the signatures. It was tiring reading the same trolls signatures over and over. Now, at least, they'll have to copy it into the body of the comment, each time, to get the full blown troll experience and feel good about themselves.
Best Wishes

works good on pc but on mobile it seems not as stable

By nature, mobile is always more of a challenge due to slower processors, limited memory constraints and 3G/4G connections. We're definitely trying to reach an optimum experience.

The app running on the Lumia 950 and Lumina 950XL work perfectly.

Not on my Lumia 950 DS on production build...

Awesome. Can someone reply to this comment, so I could test this? :D

Your command was my wish!

Yup, it works :D Thanks buddy ;)

Here you go! Reply to mine so that I know too :D

Thx :D Here comes the reply :D

Awesome it works! And they fixed the notifications too! Thanks Daniels! :D

Here you go. Do to me as I do to you mate. Thanks

Hey, I can finally do posts and replies from my 950xl again. Thanks

Updated..working smoothly..

Awesome updates. Would love to see the gigantic fonts in landscape mode fixed. Makes it unusable in landscape.

I like and use windows phone 8.1 app not windows 10 app but appreciate your work

Same here, well both. The 8.1 app is unbreakable on older phones and everything is simply quicker to read. I'll pour one for the old app if and when I fully stop using it.

I am using both. The w10m version is catching up fast!

The text on W10M's live tile is HUGE, whether the tile size is wide or medium. Also tends to be big on PC's medium tile as well. Other than that, awesome app.

Make sure you've correctly adjusted the display scaling on your phone.

Great! I hope the live tile count badge works now.
PS:- scrolling through comments still crashes the app and the count badge is still not working :(

Huge text on live tile. Mobile.

Still has a couple of issues on Lumia 635 like the bottom buttons hiding behind the start menu bar but I think that's maybe something to do more with the OS and not the app itself due to maybe 90% of apps having the same issues on the Nokia Lumia 635 tho I could be wrong. Anyway well done on the update guys seems a lot smoother while fast scrolling

In the store still show as build 34 but is build 36

Try to download it. That's what matters, not the listing.

Sigh these app updates always happen right after I lose my phone. Damn I need a job. Posted via the Windows Central App for Android

Oh yeah then how did you post this comment? Eh maybe from that Android phone of yours that you never lost.

Yea, my mom keeps a spare galaxy S4 in her drawer, so I have to be using it now. My lumia 928 fell out of my pocket, while I was entering a taxi. Sigh Posted via the Windows Central App for Android

Looking forward to this fixing the live tile badges. Still keep the old WC app pinned so I can see when there are new articles. This also doesn't seem to work on the store app like it did on WP8, but that's another story.

Great work. Now aren't you all support buying the WC Teespring Ninja cat emoji t-shirt ?

Windows Central is the first app I ever bought since I got my WP in '12, a 920. I love this app!

Someone please reply so I can see if the deep links work

Now that was fast! Works great.

Eh I really expected to be able to write forum comments thru app >.

Crashed as soon as I opened the newly installed build but other than that the app feels so much better. Thank you for your hard work. This app was one of the first apps I downloaded when I got a my Lumia 1520 about a month before WP8.1 came out with Cortana and I've been using it nearly daily since. The custom notification sound could use some more subtlety (it scares the crap out of my friends every time) but other than that it's solid.

https://windowscentral.uservoice.com/forums/348765-general/suggestions/1...

Small tile icon looks incomplete while disabling live tile .Bring back the previous build icon.

Right now i have both old wc app& w10 one on my mobile but i get notifications from the old one only!? Also new one crashes alot on slow networks plz optimize it.

No update available in Aus :(

Coming soon to a W10 device near you

Can we see a return of the download app button?

Better update, no crash yet. Lets see if the comment notification bug has been fixed .

Crush on launch. Build 14379.

There are no crashes on Build 10586.420

The logo on the new live tile is too small! Didn't like it -- at all.

Thanks I hated that comment box bug love this app

Thanks I hated that comment box bug love this app

Works well in L950 on production. The first time swiping thu comments is rough. The subsequent swiping is smooth...getting there. Thanks

"Please file reports". Would be glad to do so, but where ?! Windows Feedback, Feedback Hub (Insider Hub), Store, Forums, User Voice page (but without crash logs) ? Im confused !! And this is the case with many of our apps.

UserVoice, it's linked in the article.

But you won't get crash logs right?
How does that help the developer?? I guess will have to keep trying until it gets reproduced. ☺

Many thanks WC... Awesome.

I still can't respond to a comment on my forum post. Is this a bug, has anyone else has this issue?

App is amazing! Keep up the great work!

Direct linking to the app store without opening edge and deep linking to the forums section still have to be done

Always welcome new updates...
I would prefer smaller font for live tile. The new large font doesn't match with live tiles of other apps on the start screen.

I'd prefer it if the live tile just worked. I can't get a new article count.

Unable to write a long comment :P

Thank You.
First I liked the 'download app' icon in the article.
Second, as I typed writing this comment ,the text box was hidden behind the keyboard, so I had to scroll up to make it visible :)

Ok If there is 'ok' smiley in the comment, it doesn't allow me to post the comment :) says "something went wrong"

Believe it or not, crashes more than the last build.

Just updated , can somebody please reply to my comment to see how this works ☺

So .. Are we now able to mark-up our favorite articles so we can refer to them later? This has been available on other OS for ages.

Offline list and image viewer/downloader on the way!!! -they said-

I said it for real they mentioned it in an article.

As mentioned below, those are on our to-do list. We can only do so many things at once.

So is this the beta app then and the old app must be the stable release

Just crashed scrolling comments. L640 with latest RS build.

I'm not able to post a comment through my Lumia 1520.

Great, thanks for the update. But I'm still experiencing crash when scrolling through very long comments. I'm in Lumia 535 W10M build 14379.

And the title font size on live tile is huge.

Me too.....wasn't like this right after the update!

For about a month the app would crash upon launch - unusable. Earlier this week the update fixed the problem. Now with this new update it crashes again....

Exactly same story.... The last hot fix update made it work again for me after almost a month and now again after today's update...it crashes,freezes....and one thing,that pull to refresh statement which appears whenever i open the app and hide the navigation bar..i still don't know,how they cant fix it....running my lumia 640 on official windows 10 mobile build 10586.420

Yeah, it's very strange..hope they can fix it soon. Obviously using the app is much better than going to the website every time.

Can you blokes add notification badges on the live tile for articles, replies or both together?

Good work!!! I now can also add a new comment instead of only reply to existing comments. No crashes so far!!! L950XL latest rs build. Keep it up guys!!!

Still no badge count for unread articles for me.

Keep up with the update, there's still no swipe mode btw Article and comments. Pls fix that

Swipe on the blank space between headline and written article...it will work...its an os limitation,you cant swipe on articles

It isn't a limitation of the OS. The issue is that the article is displayed in a webview (web browser) and hence can't swipe.

You can swipe on article also, just swipe from the right edge this was added in earlier version where they manage to break the limitation. ( you hear me say 'edge' right edge, just like we bring hamburger menu from left edge.)

Yep and this works perfectly... Also swiping from center in comments to the left brings you back to the article. Love that feature...

You can swipe on article also, just swipe from the right edge this was added in earlier version where they manage to break the limitation. ( you hear me say 'edge' right edge, just like we bring hamburger menu from left edge.)

When you swipe from edge,its another way of saying that you cant swipe on the articles...

This is now one of the most impressive apps on W10 (lets forget about the old app ☺). Leading from the front.

Still crashing while swiping through comments.
Keyboard hides message box when adding comment.

No crashes here but indeed the hidden inputbox when commenting is still an issue.

I think its related to memory overload or something so only devices with low RAM experience this? I have 1 GB L925. You?

Lumia 950XL with all other apps closed...

I'm sorry, but how to use deeplinking on mobile?

Read the article,it is clear what deep linking is!!

Ok, got this! I've thought that I would be able to share a link to specific comment with my friends.
Also my live tile text became too large :( I'm seeing just one first word of the article

Try restarting your device,that may solve the live tile issue. The share link to a comment you should suggest it on the uservoice page

Forums are still unusable. No way to reach the last post in a thread in a forum.

Nice update. Also the app seems faster.