The Windows Central App picks up new animations, navigation menus, and more!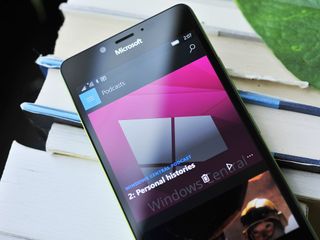 Today we are pushing out version 1.3.2.0 of the app for Windows Central on Windows 10 and Mobile. It's been a few weeks since our last update, and we've been fine tweaking some of the menus, and smaller refinements.
Here is what to look forward to in the latest update, which should now be live in the Store.
Windows Central App v1.3.2
Features
Added support for Microsoft Store Services.
New page transition animations.
Send Feedback now launches the Feedback Hub instead of UserVoice.
Fixes
Fixed an issue that could cause the app to crash when navigating to a new page.
Comment votes now correctly update the comment score.
Videos are now sorted in the correct order.
Miscellaneous
Updated navigation menu design to match current Windows 10 apps design.
Updated the Feedback and Tip Us icons.
Comment voting is now faster.
Integrated Google Analytics.
The most visible change will be with the updated Windows 10 style menu design. Our app now more closely aligns with Microsoft's core apps and tones down some of the accent color.
For those curious about the Google Analytics we are using this tool to understand better what parts of the app users are regularly utilizing. Nothing personal is being collected it is just telemetry about which sections of the app people use the most versus the least. The idea here is so we can better direct our resources to improve and expand the parts people use often instead of going by intuition. The tools Microsoft offers developers, unfortunately, do not provide as much detail.
As always, if you are enjoying the app and in particular the fixes and improvements we ask you to leave a review and rating in the Store. Doing so helps raise our app's visibility, which in turns helps our site and community here grow!
Thanks, from the whole Windows Central team!
Download Windows Central from the Store (opens in new tab)
Windows Central Newsletter
Get the best of Windows Central in your inbox, every day!
Daniel Rubino is the Editor-in-chief of Windows Central, head reviewer, podcast co-host, and analyst. He has been covering Microsoft since 2007 when this site was called WMExperts (and later Windows Phone Central). His interests include Windows, laptops, next-gen computing, and for some reason, watches. Before all this tech stuff, he worked on a Ph.D. in linguistics, watched people sleep (for medical purposes!), and ran the projectors at movie theaters because it was fun.
Have you fixed the bug that crashes the app on mobile when opening it? It happens every few days, so I have to delete the app and reinstall it to get it to open again.

Install it on device...not sd card

I should have figured it was that simple. Haha. Thanks! I'll try it out!

Zeker een Nederlander? I'll try it out

I haven't inserted sd card

Any idea why the app doesn't work on SD cards?

Trying it out now.... Hope this will impress me and have me uninstall the WP8 app

Why should I install a non important app on my already low internal memory?

Well, if it's a "non important app", then why are you even complaining about it?

Every few days? It happens to me every time. I almost always have to use browser or android app to read articles. Or I just use mspoweruser app. And no, it is not fixed yet. I updated the app and it didn't open at all. Had to uninstall and reinstall it.

I think I'm on a SD card and it works. I would however like it to stop popping up menus when I am scrolling in the comments like im holding my finger still on a message. It's really, really annoying when trying to read one of the many long comments that get posted here.

Holy crap.... I'm an IDIOT!!! I have been using the WP 8 version this whole time. I was wondering why I haven't been getting updates. Legacy versions of apps shouldn't appear in the store when you have an above version of the OS. That would keep stupid people like me from downloading the wrong thing! Just logged into the new app, no crashes yet and I'm on a SD card.

It happens lmao... Worse when u get 50+ lol

Great update as usual! Does anybody else have issues playing videos in the app? When I try it always seems to crash the app on all my devices, so I have to open it in the browser to view. Happens on my 950, Desktop and Surface

I don't play videos in the app on mobile because they don't have full screen ability.

only on my 950xl ok on pc

Wonder if it will ever get toast and live tile fixed? This app is horrible!

The app is definitely not horrible, such an over statement! The tile is always behind but the action centre always has the latest articles for me to see

Glad for you, but this app has run like hot garbage on all my devices! Everything facet of it is junk compared to the old app!

And how exactly does that compare to cold garbage?

Works for me to Dan.. I do wish forum topics would wrap on mobile instead of .... Off the screen.. Other than that everything is good on icon running rs1 so far

Windows Central nor Microsoft are responsible for fixing your inadequate toaster.

I'd hardly call the 950xl an inadequate toaster....

notifications just went off after restarting PC, every single time. Fix that.

Yes. Notifications went off every time mobile restarted. Had to open the app once to make it work again.

Yes notifications have been very sporadic of late....

Can anyone tell me is the app update also available for windows phone 8.1 platform???

Please provide same app on WP8.1 too...possible ?

There's no sense in that really, it's work for works sake. WP 8.1 users are advised to use the website hehe

P.S The 8,1 app still works

App development for 8.1 has ceased. The app works and will be maintained, but no new features.

Bad to hear it...L1020 isn't getting WC updates then poor guy

The 8.1 app is pretty awesome, especially on the forum front. Only thing missing were avatars and ratings, which tend to take up space and decrease speed reading efficiency.

Thanks for the update! I'm relatively new to the W10 app, as I've been using the WP8 version and was just comfortable with it. On this new version on mobile, I can't seem to ever get my Live Tile counter to read anything unless I'm getting the toast notifications. That doesn't bother me too much, except for the fact that going into the app to clear the counter does not clear my action center of the notifications, as well. Is there a settings combination that will achieve what I'm looking for (tile counter, no toast)? If not, can we perhaps see the notifications cleared once opening the app? Thanks!

Clicking feedback opens the default FB-hub start page, not WC related. Is this intended?

Seems to be a bug with MS Feedback Hub. I can tell you're doing this on mobile and not PC, right? Works on PC.

So how does the feedback hub work for non-MS apps? Is there some special interface for the developers or is your access the same as a normal user? Just have to set the subcategory to WC?

I believe it's tied to the app's store ID.

How dare you not end this app like Microsoft ends their health app for WP!

Can someone please tell me why I cannot get the article tile count to work with this app on my 950XL?

Live Tile > Enable Show article preview on Tile > Off Works for me.

I know. For some reason it just won't work for me.

Check background app setting and enable Windows central

Its on. Still no tile count.

I've done hat and had multiple hard resets for other reasons. Never fixes it.

Sadly on 1520 the live tile still does not update in background. It only shows the articles up to the last time you opened the app.

Well as long as it works for you Daniel....
This issue has never been addressed and does not work for an awful lot of people. For me at least this is the only thing keeping me on the 8.1 app

Have to agree with mclarenchris. The live tile has never worked for me and I've tried everything. New features are a kick in the teeth when bugs like that are left to rot.

Works fine on my 950xl on RS2

One bug still remains. You cannot launch the camera with a shutter button when you're in WC app.

Wow..... Just tried this.
kid ain't lyin"

Ok, now that's something that should be prioritized on the next bugfix. Put this high on the backlog.

Yeah...I noticed that. Its odd that the OS allows an app to stop the camera. Should be no way for that to happen. To many things apps are allowed to do that they shouldn't. Such as Gameloft hijacking your alarm clock. Never should be able to do that.

Notifications working consistently on Mobile yet? They stop working for me at least once a day. Not an issue on PC. Lumia 950 on Release Preview.

Lol I get just the opposite. I get notifications when I don't want them, like when I'm sleeping. Seems to ONLY work if you set up quiet hours, not just shut them off.

Can you make this "Go Up" button optional please. Always hitting it (or its area) when swiping; really annoying.

It should actually appear while scrolling up only. But nevermind.

Great update as per usual many thanks

Hello, I just want to raise this problem: You know when I search the top bar for a Forum topic, it doesn't open the post

The WC doesn't work well with action center. If an article's read the action center isn't refreshed

App notifications haven't worked since last updates, hoping this fixes it. It would turn itself off prior.

I still cant open WC links through WC app. :/

Thanks. It's perfect for me. Thanks MS Dev section.

Hey Dan, shouldn't you be withdrawing the app?? A few regulars on this thread are bemoaning the decline and withdrawal of apps, jumping to Android, and yet posting this app is the best ever? Actually, it is ;-)

Damn, still no Dutch version.

Nicely done. In my opinion this app displays WC content gorgeously on the 950XL. I use dark theme and find the whole experience "classy". Only thing I can't figure is why you announce any changes when you push an update to the store. Instead of grattitude, it invites the typical sour grapes comments.

Yeah, agree on the announcement part. May forgo these posts in the future on the site.

I'm glad you make the announcements really... Had you not done it, I would not have realized I was on the outdated app with limited functionality. The store only gave me an option for the WP8 version apparently. I understand if you do stop announcements, because sometimes you can't change stupid. If you do however, please keep the update splash screen.

What's support for Microsoft store services?

Love the revised look. It is amazing how much smoother this app runs on newer hardware. Win 10 mob definitely not the same experience on all devices. Great job with the update.

This app is looking better and better. Thanks, WC.
However, am I the only one who finds impossible to get to the comments section in an article one-handed (either by clicking the comments link - too high to reach - or the swipe from right gesture - can't reach that far with the thumb of my left hand, that is usually holding my phone). Appreciate that my 950xl might be bigger than average, but given the current other W10M phone options are the only slightly smaller 950, and the even bigger Elite X3, I would think I'm not the only one having this issue? It's my only pet peeve on an otherwise much liked app - and it seems so easy to fix!

I agree. Going from the previous version its annoying not to be able to swipe to the side and see comments.

Remember that you can swipe anywhere in the lower bar, that's how I do it comfortably with my left hand, same device

Oh, I didn't know that! Thanks!

I didn't either.. Thanks!

Ques: Do you guys plan on rewriting the android app? Thanks.

Is the "Apps for Websites" working now?

Runs very smooth but forum quotation still not working properly...

Nice .well done. Effort does pay off

Nice! Though I was expecting that this update would bring Chaseable Live Tiles.

Only on MSPU app so far. Those guys are fast with updates

Yeah. It was promised in the last update to the WC apps. It works perfectly too.

I don't like the new design at all, the app looked so much better than the MS core apps. Why would you want your app to look like those apps?

Please add swipe right to go to comments just like we swipe left to go to the article. Thanks

You can swipe left to go to comments too - it just doesn't work very well. See my other comments.

Any reason swipe to comments from story, is not supported?

It is. But you need to swipe it from the bezel, I.e. from the furthermost right of the screen. It's a poor choice from a UX point - see my comment above yours on this very same issue. Strangely it works fine going from comments back to the article - I.e., you don't need to swipe from the bezel. I don't know why they don't put the link to comments on the app navigation bar at the bottom, which it's where it should logically be. Still, the rest of the app looks and works great so this is mainly nitpicking.

Nice update, app loads faster and looks sleeker too. My only gripe and this one is a long standing one but not sure if it's the OS(insider fast user) or the app itself but for whatever reason, this app doesn't run in the background or resume. Hopefully this will be fixed in a future update. Nice work WC team.

Ahh, I was going to ask you about switching from uservoice to Feedback Hub and here it is. That is awesome.

In my consideration this is the best app in Windows phone platform....UI is great....load faster,,.very stable.,..live tiles is also great....Overall it's awesome ...

I liked transparent Navigation bar....

Please, change opened Hamburger menu size. Currently is so big on Mobile.

Good to see the black hamburger menu button and new icons.
The live tile isn't working properly in my 640 since AU. It remains transparent when not plugged in.
And, how can WC team know about feedbacks via Feedback Hub as there is no non-MS apps in the subcategory of Apps and Games?

I can see third party apps in my list in the feedback hub. Mobile version at least. I have actually given feedback to one and it said that they would 'forward the info to the app's developer', and he did receive it and fix the issue. This maybe something the dev has to write in?

The way I understand it works, is that they see the feedback in the dev center for that app. So basically right where you need it the most as a dev :)

Is revamping the forums navigation something on the radar for a future update? It is currently a very rough experience. Folder navigation structure is poor, can't see full thread titles, can't easily see sticky threads...

Great app, one of the most used on my L950.
After latest update the live tile doesn't work anymore, reinstalling the app didn't help so far.
Keep up your good work on Windows platform!
Update: Live tile works now :)

Wow I just saw that you have to swipe from the absolute edge. Not good. Thanks

Limitation of the WebView tools in the SDK.

Try sweeping across on the bottom navigation bar.

You mean swiping. I almost jumped off to get the broom. Lol.

Nice! Now if only my devices would open the links in the app instead of Edge.

Ability to save pictures please

Pls bring back Transparent navigation bar in the next update. Present one annoy's me. white space appears at the bottom when u try to hide navg. bar

I have to say, it's looking really clean and modern!

Please implement the Read-Unread feature. Just colour the link/Title like any browser does for visted links.

Please use the FB.hub for this and others can upvote the feature if they agree :)

Hey I can't access the store since it got an update yesterday. I get error code 0x80072EE7. Any suggestions?

I know it is a silly question, but did you restart? That usually fixes store errors for me, especially with mobile. A soft reset doesn't hurt either.

I actually did multiple soft resets to no avail. U think the next software update will fix it?

No telling with store errors. Probably will randomly fix it itself. Perhaps there is a way to clear the store cache like on PC, not that that ever worked for me. Did you try removing if the download queue, restarting, and the trying it again? Or try moving where you are installing the app? The last things I can think of.

I just wrote a 5-star review of the app in the Danish Store, I hope it helps you and others as you're hoping for :)

I don't get the update in my wp8.1

There's a bug to upvote thyself. Watch this post...

Why did you get rid of the scrollbar on the homepage with this update? Not everyone has or likes a touchscreen, y'know.