Windows Central App v1.2 brings launch fixes and Jump List for PC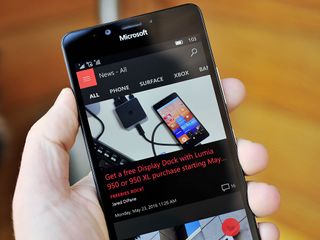 A new update for the app for Windows Central should be hitting the Store today. Version 1.2 brings with it (fingers crossed) many fixes to app stability. We're also tweaking a few of the default settings and fixed an issue with the Light Theme and the fonts for author and timestamps.
Unfortunately, last week's update while fixing crashes for many resulted in a few users having a dreadful experience. Some of the app instability is relieved by uninstalling and reinstalling, but even that did not help others. We worked hard to address crashing on startup and in comments, so hopefully this will be the end of those problems. Here is what's new##Windows Central v1.2.0.0
Jump lists - For PC users you can now right-click on the Live Tile and jump quickly to News, Forums, Videos, and the Podcast whether the app is open or closed
Login enhancements - You will have to log in to your account again due to a change in the flow. When you log in now for the first time there will be a small animation to let you know it's working during the connection period
Light Theme Fix - On the article feed when using the Light Theme, you can now read the Badge, Author, and Timestamp (added dark font)
Default to Live Tile enabled - We are turning on by default the Live Tile. All options are still present, and the user can change this behavior under the app settings
Default to push notifications - We are turning on by default article notifications. All options are still present, and the user can change this behavior under the app settings including setting Quiet Hours
Default to system font for articles - By default, the app will now use the preferred system font for all articles. Users can change this under app settings still.
Default Font Size for platform - For Mobile, the article font should auto-set to size 10; On PC the article font should auto-set to size 14. Users can still personalize these under settings.
Performance improvements - Does it seem faster? We bet it will as we worked to improve article and news feed loading time
Bug fixes - Lots of fixes and improvements for app stability when launching and scrolling during comments. Please continue to provide feedback should you suffer any crashes.
We don't expect any wild behavior with this update, but if you are unlucky, please try uninstalling and reinstalling the app. You should not have to do this, but just mentioning it now that the update is going out to the masses.
Note: You may notice your account is logged off after the update, so you may need to log in again this one time.
For all of those who had bad luck with last week's update, thanks for your patience and our apologies. We're feeling more confident with this release and took our time to make sure things work better hence why the bump form v1.1 to 1.2 this time around.
Please continue to leave feedback on our Windows Central UserVoice Page!
Likewise, if you find this build to be stable, and it fixes your issues we always encourage you to leave a review in the Store (or revise a previous review if you had problems that were fixed). Store ratings and reviews greatly help our app's visibility in the Store so if you want to thank us, that is the best way!
Download Windows Central for Windows 10 and Mobile (opens in new tab)
Windows Central Newsletter
Get the best of Windows Central in in your inbox, every day!
Daniel Rubino is the Editor-in-chief of Windows Central, head reviewer, podcast co-host, and analyst. He has been covering Microsoft since 2007 when this site was called WMExperts (and later Windows Phone Central). His interests include Windows, laptops, next-gen computing, and for some reason, watches. Before all this tech stuff, he worked on a Ph.D. in linguistics, watched people sleep (for medical purposes!), and ran the projectors at movie theaters because it was fun.
We recently removed the "beta" tag from the store description. Hopefully the current state of the app justifies that change :)

Oh I see what you did there - from v1.1.38 to v1.2.0 :)

I saw that and changed my comment. Thanks! The new update gave me a bug in the comments section. I had to uninstall and reinstall. The buttons underneath each comment disappeared. The re-install fixed it. The app works great so far!

I noticed the buttons were missing as well but believe this is due to the app not keeping you signed in on first use after install. Once signed in all good.

Do you guys realize that we still cannot reply to anything in the Recent or Participated sections of the forum? I've pretty much stopped answering questions and participating in the forums because of this. How long has this app been available? Also, performance in this app is still slow compared to the previous app, particularly in the forums, which is the only reason to visit this site because the quality of your "articles" keeps getting worse.

It actually now crashes more. Earlier it used to crash and then open on the second attempt. Now its the 6th-7th attempt that the app finally opens on. Lumia 640 here.

I've only encountered crashing the first time I try to launch after updating. Always loads after that. 950XL fast

Same here, but what makes it worst is that I can't sign in on mobile. I'm currently using the old app.

Mine crashes when I scroll too quickly. Lumia 950. (and it crashed while reading your comment about crashes!)

Bug report: Live tile title goes missing if the live tile counter is empty. Would also like to have the ability to swipe to the comments section from the article. And a home button in the app bar while reading.

this isnt related to windows central app... but does anyone else have problem with windows store? sometime when i open windows store it crashes, stucks for awhile then it turns it and then i try again the same happens again... doesnt work when rebooting the phone... after awhile like few hours it works normally

Guys, if you experience any issues, please let us know! Fingers crossed you guys enjoy this build

Also, refreshing comments is more stable!

App performance does seem better. Nice update, thanks!

Swiping to see comments is still hard. It seems to work sometimes if I swipe right and the hard left, but never for me if I just swipe left. Swiping out of comments works every time though.

I've noticed that it seems like you need to be ALL the way on the right edge when you start to swipe. Like if you're touching the words in the article at all, you're not over far enough.

I wasn't aware of that feature at all.. I've just used the "bottom bar" which works as it should for the whole of the article IMO. But that's actually pretty nifty as it is.

I actually prefer it this way. I'm always accidentally swiping across screens on Android when I'm simply trying to scroll up and down. Very annoying.

I would like Edge mobile to implement this! Lots of accidental back presses.

Yeah I use the bottom bar to swipe to comments most of the time as well. It works great.

I also swipe at the command bar too and it just works fine. Unfortunately it said that is the UWA limitation of some sort where webview doesn't support having a gestures to be implemented, something like that. So this must rather redirect to MS to improve UWP as a whole instead. I'm not sure how many odd limitations that UWP have right now that needs to be addressed.

You are right, swiping does not work properly to go to comments

Swiping works fine. The method was explain in a prior update. You need to swipe right from the edge. E.g. Start your swipe just before the glass.

It does work correctly, as a previous comment says you have to be on the furthest right of the article to swipe.

I noticed that if you swipe right to left from the edge and the article has not loaded yet, then it will count as a swipe to the next article instead of comments.

Swiping the bottom bar that has the share, download and read in browser buttons works well.

THIS! For now this works, swipe is indeed being implemented its just that likely there is a limitation on API from the UWP as whole or something related shortcomings. This better forward to MS instead since 3rd-party developers may have no workaround at the moment.

Seems stable so far, zero crashes. Keyboard only hides reply box initialy after tapping the "+" (small issue) but if you swipe down you can see the reply box just fine and continue typing. Dont know if you fixed this (I encountered it in previous update) If I was redirected to someones reply on comment and wanted to browse other comments it would force me down to that comment everytime. Anyway good job :)

Just updated to the latest 10586 build, and the app hangs with the menus showing and no content. I'll try uninstalling and reinstalling to see if that fixes it, but you may still have issues to work out.

Still can't open :'( L640 release preview

Broken on my 550 as well. It will launch, but not load any articles. Same as previous builds that did not load articles or just 2 or 3 old articles.

Great release, seems stablier! In all seriousness I really appreciate the login animation and the comments definitely more stable with better performance, the app is flying now!

Performance has become really improved....but please please please fix that "pull to refresh" statement which always appears after hiding the navigation bar... Please

Hello, what is the status of the unread article count. There are so many folks out there including me that don't get this feature working.

App still crashes on start :/

Hi Aleksandra, I would like to help you get this issue fixed. If you would, please send me an email at support AT gatewayapps DOT com so I can troubleshoot. Thanks!

Hi, app works fine on Windows 10 Mobile, but on PC its open, crash, open, crash.. The app opens, but busy symbol is displayed on left side of screen where my profile avatar normally located... it never quite makes it when the app bombs out. Happens 100% of the time so cant use the app on the tablet at the moment, havent checked my desktop pc. Using latest Fast Ring build on Phone, Tablet, PC. Edit: ​Uninstall and reinstall of app seems to fix it.

Hoping to see the fix for app freezing when left running longer.

Nope, I still see this. I voted to this issue in uservoice already (originally reported by someone else).

Just updated this app, so far so good, but then again, I did just update the app. Seems to respond a little quicker and no lag.

Keep up the good work, nice update

Hi Daniel(s), Will the disabled camera button bug (while the app is in foreground) ever get fixed? It was an issue I made aware many moons ago. Probably not high priority but thanks for all the updates either way!

It's definitely something I will look into. We've been tracking down performance issues and crashing bugs, but I feel like we are in a good enough place that we can spend some time on smaller bugs.

Store gave me an error for 5 consecutive times while trying to update the app. I'm freaking out.

That won't be us for sure - we aren't responsible for that

I know. That's why I'm freaking out.

That's on Microsoft, not us. Try again later.

Windows Store issue unfortunately. Nothing new here, there is still alot things to fix on Windows Store, both the Redstone 1 (which is within RC stage) and even sometimes the current TH public release builds. Windows Store reliability is still hit or miss.

Nice job. App seems faster, but 2 min ago it just crashed for me. :)

The error is 0X8024401F Will try again later. Edit: Got it

Started with error on downloading, but tried another two or three times and it Works like a charm

The icon is smaller now, and doesn't look right when using a bigger tile. Please fix this.

Unless something weird is going on in your case (phone? pc?) it will stay as is. It is proportional and inline with other MS apps.

Icon changed in previous update and its much better now. The previous one matched the 8.1 design.

I really hope the app comes to Xbox it would be pretty awesome to have the podcast in the background while I'm gaming.

After update, first launch itself crashed, hope no more crashes while scrolling comments

That's what mine did, but it is still crashing...just not the first.

Hi! Try with reinstallation! The app is great!

Thanks, much easier to read the title pages now!

Previous version I would have problems where , when on my Surface, if I tap on a notification in the action Centre and the app loads, it only shows old articles. It did not even take me to the article in the notification. Refreshing the feed (manually) would bring up SOME new articles but when compared to the website it was evident that some articles on the website , were missing from the app. Only closing and re-opening the app and manually refreshing again would being up all the articles. Hopefully this updates fixes it. Keep up the good work.

This version still has this issue. Some times to resolve it I have to switch between tabs/columns after a manual refresh then go back to the ALL section to see the new articles.

Seems faster and more stable except two crashes while scrolling through the comments and accessing Podcasts. Text rendering in articles needs to be improved. Some parts of the text stick to the edge. And the images in the articles seem compressed or stretched depending on their dimensions. And how about placing the Add comment box at the top? :) Thanks. I'll post this on UserVoice too.

Wow. Now its just a crash fest. Sorry, I know someone has spent a lot of time with this app, but it seems to be getting worse.

Hi missionsparta, Any chance you would contact me at support AT gatewayapps DOT com to help diagnose this issue? Would really like to fix these issues for you.

When you hover over the taskbar you see media controls for the Windows Central app.

I just experience two crashes, by the way this version is much better than the older ones. I like the jumplists.

Also, compated to MSPoweruser's windows 10 UWP app (released the other day), article loading on Windows Central app seems slow. The articles in their app load much much quicker. Same device, same internet connection. Tried it on phone and surface and MSPoweruser wins every time. ​Hope it can be improved on Windows Central app.

Hello, you are right. The MSPU app is for some reason much better than this app. The app is just released and may lack some features but the developer is commited to add even podcast support.

I just realized there is no way to see the full thread title in the forum. If it is moderately long, you can only read the first words.

Also, forum replies now seem to work! But... Everytime I click on the "threads I participated in" button, the app crashes AND logs me out.

Swipe in from edge to access the menu on mobile and jump lists via Live Tile on PC. Windows Central App has functionality that Microsoft's own apps don't.

I read that the app would behave better if I moved it to the device instead of the SD Card. This seems to have worked, but I wonder if it is still necessary with the new build. My Lumia 640 differs have much storage in the device.

Would like to see the Daniels comment on this.

Just upgraded to the latest version and noticed that the app is still crashing at the beginning. This is happening from last 3-4 builds. Pls fix it

Hi Balaji, I would like to help you fix this issue. Would you mind getting in touch at support AT gatewayapps DOT com? Thanks!

Yep, good update. No crashes yet. Works okay on my Lumia 930.

So far so good, keep up the good work guys!

Update: Still experiencing crashes when launching from tile.

Hi Donaldson. Would you mind getting in touch at support AT gatewayapps DOT com? I would really like to troubleshoot this issue with you. Thanks!

If only all developers updated their apps as frequently as you guys do *_*

I have to say, loading comments is way more stable right now.

Iconic tile STILL not working for me. Lumia 950. Does the iconic tile work for anyone else? It's all i really care about working at this point lol

I can't get any sort of live tile working.

Never got it to work since day one. The old app works flawlessly.

The live tile does not update in background. Neither the old nor the new app.

It just did a crash on comments 5 mins ago, and a freeze a minute ago on my Lumia 735 10586.494. with App reinstalled.

The app is much better! Comments can be made. Will try to reply in the forum

I suggest deleting and reinstalling the app. Still crashed after update now it works fine. Had some strange crashes on my phone because of this app still running in the background I guess. Screen wouldn't turn on anymore and yesterday there was a black screen with some kind of strange yellow noise getting brighter when I tried to wake my phone! Than the phone crashed and rebooted. Thought there was something wrong with win 10 but now I know the culprit!

"Chaseable live tiles" seems interesting

Tile badge or tile count not working on 950XL. Keyboard blocks comment. Need to scroll up.

This version seem to work great for me. Thanks a lot.

Still crashing for me, even after uninstall and reinstall, but when working everything appears to scroll smoother, or slower...nicer. This is on an old 920 so may be other factors with W10.

Bravo, good update! Hurry up with that donation button, Dan!

Scrolled back and forth through the comments here as fast as I could. The app held up admirably! Great work!

Looks like it's working pretty good now and loads faster on my L550.

Crashes while scrolling through comments, keyboard blocks text box for adding comment, tapping new comment notification takes you to article comment section but doesn't show the comment.. loads content faster though

Since the recent fast ring update windows central app hasn't been working. It would crash and I would have to hold the power button to reboot my phone. I uninstalled it and now I cant reinstall so currently using the windows 8 app :(

Live tile still only shows no new articles but only those up to the point I last time opened the app. Also no unread article count. But apart from that a smooth experience. I'm positive you gonna fix all that needs a fix. Thumbs up for a great app!!!

Same issues here, sadly. Apart from that this is a great app!

It is working fine after uninstalling and reinstalling , feels smooth now

Are u guys joking with the updates? This app is out for a long time now and we have received a tonne of updates since then, but still the app is not stable enough. Earlier it use to crash less but now it crashes 1 out of 2 times. I tried uninstalling and reinstalling the app but the problem still persists. Have a look at mspoweruser's recently released windows 10 app. For the intial release, the app is pretty great in terms of performance and smoothness. Though its not rich in features like the windows central app but its buttery smooth. Windows central is my primary source for all microsoft related news so i expect this app to be the best one. Please make this app at least stable.


It IS stable....after this update. On all four of my devices running various builds.

Thats good for you. It worked better for me before this update. But after this update it crashes a lot. I am on lumia 640 xl build 10586.494

Very true. The MSPU app is much smoother and even is beautiful to look at. The UI is perfect and I wish WC could make something like this.

Hi Andy. I really want to get these crashing issues fixed. Would you mind sending me an email at support AT gatewayapps DOT com? Thanks.

Sure. I will send an email.

Only first launch failed after the update. Very smooth scrolling comments, scrolled comments up and down several times, no crashes yet...... So far it is very good update...

Not a single crash after this update! Working great! Thank you! After the last fast ring update I couldn't even open the app.

Thanks for the latest update, it seems considerably faster. However, comments still crash nearly every time, L950xl ss and L730, both on production release. If you use the arrow to get to the last comment and then scroll up a bit to catch a few missed ones, it stutters a lot and crashes every time on my phones..even after reinstalling the app.. Haven't tried pc yet...

Same crashes here.at startup and when scrolling comments. Last update uninstalled and reinstalled to help clear data. This update required relogin so I guess cleared some itself. But no change on 950xl prod Windows

Hi realwarder. I'd like to try to debug this issue, as it's not one I can reproduce. Would you mind reaching out to me via email? support @ gatewayapps dot com

Well done guys app runs great after update tried to get it to crash and it just won't Lumia 635 build 14388.

my app crashed for a day or so couldn't use it this was Tuesday as I was watching the conference then used the site instead its fine for time being

Well, it's improved. It doesn't crash every time I open it now. Took only four tries this morning on 14385.

Doesn't open on my PC!
Stucked on start page and immediately close.

The app on my PC works well. My 950 is having the problems. This app worked flawlessly on my 1520, but it crashing like crazy on my 950.

FYI. The mobile app isn't working. Crashes on launch. I'm seeing the nav bar though then it crashes.

Glad I wasn't the only one who had issue with it on pc/tablet. Funny enough , didn't experience same issue on Lumia phone though.

Still not be able to reply on forums

This W10 app constantly crashes upon start. I am using the old app now on my 735 because I can't get the w10 app to launch.
Windows Central Newsletter
Thank you for signing up to Windows Central. You will receive a verification email shortly.
There was a problem. Please refresh the page and try again.