Windows Central Podcast 152: What's next for Windows 10X?
By Zac Bowden last updated
This week on the Windows Central Podcast: 19H2 RTM, the future of Windows 10X, and more.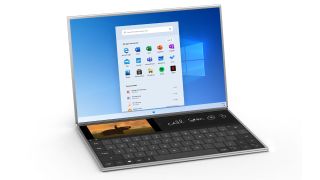 (Image credit: Microsoft)
We're back with another exciting episode of the Windows Central Podcast, and in the wake of Microsoft's Surface event, there's still a lot of news to discuss. Windows 10 19H2 has officially become Windows 10 November 2019 Update. Dona Sarkar is moving on from the Insider program for a position within Developer Relations.
Zac Bowden and Daniel Rubino also talk about where Microsoft is likely to head with Windows 10X, and address the rationale behind the OS choices for Surface Neo and Duo. Finally, Daniel makes the case for a Surface Watch, and why the company shouldn't just buy Fitbit.
This episode of the Windows Central Podcast was recorded on October 11 2019.
Links:
Subscribe to the podcast
Hosts
Make this show great by participating!
Send in your comments, questions, and feedback to:
Zac Bowden is a Senior Editor at Windows Central. Bringing you exclusive coverage into the world of Windows 10 on PCs, tablets, phones, and more. Also an avid collector of rare Microsoft prototype devices! Keep in touch on Twitter: @zacbowden.
I assume Microsoft's plan is to only put 10X on expensive gimmicks like the Surface Neo. In this case, it won't last long. It will have a Windows 10S lifespan. If Microsoft wants 10X to compete with iPad and Chromebook, they need to get great devices on the market now and at a great price. iPad starts at $329 and finding a Chromebook under $200 is easy. They need devices at these prices ASAP if they want any chance of 10X gaining a user base and bringing developers on-board. Folding devices MAY be great, but they aren't going to drive growth.

Listened to the podcast. A slow burn is an interesting strategy. Risky to rely on Microsoft to not lose interest after a couple years.

You know bleached, you make a good point. They should get Windows 10X on conventional PC form factors sooner than later. The Surface Neo will probably be slow to catch on.

I want the Surface Duo to run Windows 10X so I can dock it to a larger screen, keyboard, and mouse. With this "PC" like larger form factor set up, I want to be running Windows; not a phone OS. Zac, you seem to forget Windows devices are not bound to the screen they come with. Windows is the best operating system for extending and duplicating monitors either wirelessly (e.g. Miracast) or through a wired docking station. The Surface Go does this pretty well and it is awesome. I think I speak for the other Windows Phone fans when they say they want Surface Duo to run Windows 10X, they want a future with a pocket PC. They don't want a phone, but a pocket PC. Putting Android on Surface Duo spoils that dream. I will not be buying the Surface Duo. There really is no point. It will just be a niche Android phone. I might consider the Surface Duo if Microsoft can some how get five year update support for the device. Android is a mess due to OEMs not supporting their devices past two years. The vast majority of Android devices are running an outdated version of Android. This is unacceptable. Microsoft can bring something new to the table if they support the Surface Duo for five years. I am excited about the Surface Neo. That thing is really beautiful. It will still be very mobile; but not pocketable. The various "postures" supported by the Surface Neo is really awesome. I think the Surface Neo could be considered a large coat pocket PC. That is pretty close. So Zac and Dan, I'm interested in what Windows 10X can do in regards to docking and Miracast. Please research these things. Thank you. Great show.

Why has it suddenly become so urgent for Microsoft to release a phone? After having killed whatever little there was, of a Windows eco-system and now depending on Google's eco-system of software and services. What is the end game here? If Windows 10X for phones form factor is not yet ready, just wait for 2 more years till they have something. With this new Android hardware, their only competitors are going to be Huawei and Samsung. I would buy a Huawei Mate X over the stupid dual screen any day, though in reality I would not buy the first gen version of that either, rather, for now, I am swapping my Elite X3 with the awesome Xperia 1. Hopefully, the US Gov will lift sanctions on Huawei soon and hopefully Microsoft can get Huawei to do a Windows 10X version of Mate X and hopefully kill the android dual screen project, which is going to hurt everyone and benefit no one.

You two are either really thick or purposefully kowtowing to MS and ignoring the arguments of those you ridicule...
The Duo isn't a phone. Panos said so; 'it phones'. So do many smartwatches. Yet you keep arguing like it is one.
Tech-sites are acting like it's a phone, you say? That's because they put frigging Android on it! Which is what we're complaining about! And do you know who reads these tech sites, by the way? A tiny, tiny minority, just like for your site. The vast majority of Windows users never ever read ANY tech site. And guess how many mainstream media outlets has mentioned the new Microsoft Android flagship? None.
The Duo ought to be a PC. A PC that you could always bring along (unlike the Neo, which brings nothing to the table, and is basically pointless in my opinion). Would you run 32 programs on it on the built-in displays! Of course not! You'd hook it up to your external display. Just like we do with every sub-17" laptop. Most Win32 programs are **** on the Surface Go as well, yet I don't see you clamoring for Android here? Neo can't run Android properly because of size? The two displays of the Neo are MARGINALLY larger than that of your standard XL smartphone...!
A pocket PC won't be interesting to ordinary people? Really? They wouldn't want a PC that they could bring anywhere without carrying it in a bag? Gee, I wonder why anyone ever made the first laptop... 🙄
I can guarantee you that when people are asked to choose their next ANDROID PHONE, they'll choose the thin, light, glare-less, bezel-less device with the multiple high quality cameras from one of the companies they know make great PHONES over the odd foldable device from Microsoft, that ticks none of the above-mentioned boxes, and folds for no apparent reason...
Windows Central Newsletter
Get the best of Windows Central in in your inbox, every day!
Thank you for signing up to Windows Central. You will receive a verification email shortly.
There was a problem. Please refresh the page and try again.