Windows Central Podcast 184: Dell XPS, Mixer, Microsoft Store, and WWDC
On this episode of the Windows Central Podcast: Insider Program changes, version changes, and XPS 15 issues.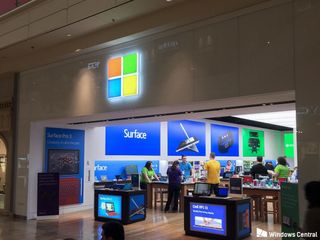 (Image credit: Microsoft)
We're back with another exciting episode of the Windows Central Podcast, and this week, Zac and Daniel are joined in the first segment of this week's episode by Adam Levenson of Waves Audio to discuss the speaker technology found in Dell's new XPS 15 and XPS 17 laptops.
From there, the guys mourn the closing of Mixer and all of Microsoft's retail stores. They also touch on the decline of Windows 10 stability and Apple's move to ARM-based processors.
This episode of the Windows Central Podcast was recorded on June 26th 2020.
Links:
Subscribe to the podcast
Hosts
Make this show great by participating!
Send in your comments, questions, and feedback to:
Windows Central Newsletter
Get the best of Windows Central in your inbox, every day!
Zac Bowden is a Senior Editor at Windows Central. Bringing you exclusive coverage into the world of Windows on PCs, tablets, phones, and more. Also an avid collector of rare Microsoft prototype devices! Keep in touch on Twitter: @zacbowden.
Yeah that was a bad week for Microsoft. Got me thinking. If Apple really does come out with a Mac on ARM, giving us access to thousands of quality iPad apps plus MacOS apps, plus full integration with our iOS 14 iPhones running those beautiful live-tile-esque Widgets, plus full integration with my Apple watch? It's nearly a full realization of everything I wanted Win10 "universal" apps to be. So at least at home, I'd be super tempted to abandon ship, the Windows ship that is. Work is a different story. Switching platforms requires a lot of negotiation and heavy lift. It would be a tough sell, though a legitimate case could be made for deploying MacBooks to our execs, traveling workers, and cube dwellers and iPads to our field and front line workers. And giving IT the ability to target native apps to both devices using a single Swift code base. But yeah, wow. I hope Microsoft has an answer for all this with Windows 10x. Because Apple gave them a bit of a spanking last week. And they didn't do themselves any favors by shuttering their stores and Mixer either.

The risk is that Windows is perceived as a sinking ship in the consumer market and this could create big problems also for PC producers.

"The risk is that Windows is perceived as a sinking ship in the consumer market and this could create big problems also for PC producers." Good point. We've already seen a lot of traditionally Microsoft OEMs making Chromebooks. The Samsung Galaxy Chromebook with S Pen is pretty awesome in fact. Very Ultrabook-esque. Not for me, since I desire a full OS. I'd jump to Mac first. But yeah, if I'm Lenovo or HP or Dell I'm not liking what I'm seeing. I'd be getting nervous enough to start thinking about Windows exit strategies, at least for my consumer and education divisions. This in turn may drive the price up for enterprise Windows based PCs in the future.

It thinks it could become a real threat to MSFT and I can not imagine how MSFT could defend itself. Also Surface line pales in front of a upcoming Mac Book on Arm.

Perceived? Windows PCs are already DONE as a consumer product. Windows PC sales have been in decline for almost 10 years now. Apple sells more iOS devices each year than all PC sales combined. And in case you haven't noticed, Apple is in second place. Throw in Android sales, and Windows PCs now account for less than 20 percent of all consumer computers sold. 10 years ago, that number was around 95%. That is a HUGE decline. Which helps to explain why MS is about to release an Android tablet.

You are right. My argument was just relevant to desktop/laptop OS, a segment, the last one in consumer's market, where MSFT is still leader but where they are losing traction in favor of Apple and Google.

Exactly my same view. I think that MSFT can do nothing since they do not have an ecosystem, but just a desktop OS. The consumer war is lost in favor of Apple and Google.

Yeah, what I really appreciate about Apple's strategy is that they seem to have centered it around their ecosystem and the army of developers that support that ecosystem. It's little wonder that they announced iOS 14 and Big Sur at WWDC.

Any updates on 10X (terrible name)? What's the status there? How is it going to fit in the whole Microsoft vs Apple picture? Is it in a limbo or going to be canceled too?