Windows Central Podcast 191: Surface Duo is here!
On this episode of the Windows Central Podcast: The Surface Duo is official, here's everything you need to know!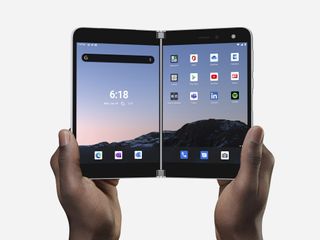 (Image credit: Microsoft)
We're back with another exciting episode of the Windows Central Podcast, and this week, Surface Duo has been fully unveiled and is now available for pre-order! Daniel and Zac are joined by another Dan — Android Central's Executive Editor Daniel Bader. They cover all the bases of the new device, including pricing and why Microsoft chose Android for the operating system instead of a Windows variant. As we've said many times already, Surface Duo is a product for Microsoft fans and hardcore users of the ecosystem. Don't overthink it, just tune in!
This episode of the Windows Central Podcast was recorded on August 14th 2020.
Links:
Subscribe to the podcast
Hosts
Make this show great by participating!
Send in your comments, questions, and feedback to:
Get the Windows Central Newsletter
All the latest news, reviews, and guides for Windows and Xbox diehards.
Zac Bowden is a Senior Editor at Windows Central. Bringing you exclusive coverage into the world of Windows on PCs, tablets, phones, and more. Also an avid collector of rare Microsoft prototype devices! Keep in touch on Twitter: @zacbowden.
I am always puzzled by these posts of the podcast coming out 5 days later than the podcast itself and 2 days earlier than the following one. I'm sure there is a reason but Monday would be way better for these posts. By Wednesday it seems something better not happen at all, but rather promote the next one.

Agreed. I get the podcast over the weekend or early Monday and this post seems silly by the time it comes out so much later.

While the timing is weird I assume these posts are for people just joining the site and/or not heard the podcast. I for one listen the moment I get that sweet notification.

That makes sense. I'm subscribed to the podcast and also listen right when it comes out

Bingo. It's for people who aren't subscribed to the podcast.

I totally get that Zac, and probably it takes effort to write these, but that does not explain the delay. I mean, if you are not subscribed, you could promote your next podcast rather. My only problem with these is that you are a pretty up-to-date site and when these podcast titles come up they are very much out of context. I still believe it would be a lot better to say; "We'll be discussing X, Y and Z and what comes until Friday in our next podcast" in the title that would wrap up things that happened more recently rather than to have things from more than a week ago. And then say, oh, and BTW don't forget to listen to our podcast from last week in case you missed. But of course the best would be to have the reminder for last week's podcast up by Monday and have a promo separately. If it's too much trouble, forget about it, but it's always striking the eye that suddenly some old news appear as fresh. To me it appears bad practice, but you know better your analytics.

Okay. We'll take your feedback on-board and work on getting these posts up sooner. We record on Friday, and the show goes live on podcast services on Monday. We'll try to get this post up on the same day.

I get that, but why the long delay? Is site engagement higher and more likely to see the post on this day/time?

I can use this in my personal daily life as well as work. I always find myself trying to prop my candy bar phone on something to watch videos; with this, I can put in in tent mode or live with the seem in the middle. The galaxy fold's screen in garbage and scratches easily and a finger print magnet. along with other things.
https://www.youtube.com/watch?v=9w7Ba1fulFM

"I always find myself trying to prop my candy bar phone on something to watch videos" A $10 case fixes that issue. I have always had a case/landscape stand on my phones. Watching videos is easy. But hey, go ahead and spend $1,500 to fix it. 🙄

Man, after hearing this podcast, I'm no longer on the fence I will pre-order the device tonight when I get off. I was simply trying to wait a month after to see if any promotions follow pre-order period making in slightly cheaper. Unlike all of the current whiners, I realize the tech that was put into it and can do without NFC (Have on my smartwatch), wireless charging, and top notch camera (I take some pics with my phone, but not manyas I have my DSLR for that......Thanks Dan and staff for making me get in debt : )

Panos' pitch almost made a believer out of me. I was ready to plunk down $1400 Covid or no Covid. But the hypnotics wore off. I'm anxious to see how Zac's using the phone as his primary phone experiment works out before I even consider laying out that much cash on a phone with so many question marks. There's some really cool stuff there for sure, but I had to ask myself, how much do I really need to open One Note and Edge at the same time? Is it worth $1100 more than I paid for my last Android phone?

I think people are making a big deal for the sake of it. Here's why: ask most people what phone they are currently carrying and what model. It's probably older with older specs yet they are complaining about the device's 855 processor and storage. For example, I'm currently using a GS8 so I'm okay upgrading to this device without complaint.

Now that mixer is dead, how are folks submitting questions for the Q&A at the end?