Windows Central Podcast 27: Windows 10 Home Hub Revealed
This week on the Windows Central Podcast: This week on the Windows Central Podcast: We talk Home Hub, HP Elite x3 Lap Dock, new Insider Preview builds and Pebble going away?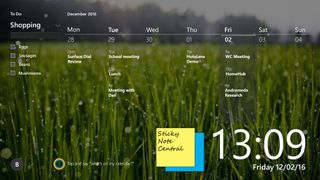 It's been a busy week at Windows Central, if only because we had a scoop on what exactly Home Hub is in Windows 10, along with when we can expect to see it and why the company is looking at building. Also on the podcast, we talk the Elite x3 and why this device probably isn't for you, new Insider Preview builds and how they're not exciting anymore, and we talk the recent Fitbit/Pebble acquisition.
Help us make this show the best Microsoft podcast in the world. Tell your friends, share it on social media using the hashtag #wcpodcast, and give us a five-star rating wherever you download your podcasts! Thank you so much for listening!
We've got two options for you, either the video podcast or the audio podcast, both featuring the same content.
Show Notes
Subscribe to the podcast
Hosts
Make this show great by participating!
Send in your comments, questions, and feedback to:
Windows Central Newsletter
Get the best of Windows Central in in your inbox, every day!
Zac Bowden is a Senior Editor at Windows Central. Bringing you exclusive coverage into the world of Windows on PCs, tablets, phones, and more. Also an avid collector of rare Microsoft prototype devices! Keep in touch on Twitter: @zacbowden.
I see it going the same way webtv went.

Imagine having your home running off this and Windows 10 force install an update that screws up the whole thing. I just spend all day yesterday rebuilding my windows tablet yesterday for an update my device should not even be installing or at least without my permission. Of course, not sure I would give any single company access to my home like these devices are built. All the light bulb kind of stuff is cool and has been around in other ways for well over a decade, but no way the controller is something other than something I created myself. Here is an interesting concept, how about fix and finish the products you have already released. If their plans is to continue to release half-baked apps in the attempt to get consumers to come back, I think that continues to fail. Quality > Quantity

Anything can happen with them and it always does. When it works it's great but when it doesn't... You just wasted a day of your life... as you say. The other day I cancelled groove pass and it erased all the music tags. So now I have an unknown album by an unknown artist of 12000 songs. The latest groove update removed the option to download album art and replaced it with edit your own image.

Man, sorry to hear that. :( Yeah, groove has never really worked for me completely... its a big beta product where the beta never ends. One suggestion, get yourself a NAS even if you store your stuff in the cloud, thereby you always have a clean version of your files whether mp3s, videos, documents, etc.

Love the idea of Home Hub. Using bits on the kitchen pc with cortana. I really would like a Family account on the kitchen pc though. I wonder how that will work with adding stuff to the grocery list.

Just for the record, as an audio podcast listener I'd love to hear the post-cast Questions and Answers as well. =)

Isn't it a glimpse of what will Project Neon will look like?

This looks lovely! Actually works well with the current design.

I haven't been able to listen to the pod cast, but that screenshot reminds me of what a consumer grade version of what Microsoft and a lot of other buisness places have outside their meeting rooms - a small computer that gives the schedule of the meeting, schedule a room through a touch UI, etc. I would love to have a home version of that, a touchscreen computer that mounts on the wall, kind of like a whiteboard where the family can communicate where they are going, the schedule of the kids and where they need to be and when, show the current weather, etc. Add microphones for Cortana and it would be a nice computer for managing the home.

I thought that is what people had mobile devices for?

Mobile devices don't work in this situation. Most families have a whiteboard magnetized to their refrigerator where they write about the kid's soccer practice, dentist appointments, etc. Replace the whiteboard with a touchscreen that stays in the home. A kid may know about their soccer practice, but mom may not (unless it syncs in some way). But it is also available to the whole family, not just on my phone where no one else can see it. Todo lists, important info such as weather, plug it into the home automation system (a touchscreen rather than a thermostat) etc. Phones are for the person, we need something for the home and family where I don't need to turn on the computer or TV, but is on the wall giving me all the information for the household that I need.

Huh? This is what sharing calendars is all about and onenote/onedrive sharing is all about, or insert your competitor option like google calendar and google drive. So, you don't need a TV or a computer, but that is exactly what this is... its software that runs on Windows 10 or as a part of Windows 10 i.e. a PC. Most people don't need this as mobile killed the whole concept, as your information is wherever you are.... although I would assume you wouldn't want to remove the device from the home that is running the home. A better concept would be opensource on raspberry pi, which you can then interact from all kinds of devices.... which is more or less the google or amazon way of thinkiing I believe minus they not opensource and don't run on raspberry pi. If we are talking home automation... I get that... the rest seems kind of silly, in general. Its okay... but I thought it was mobile all the time or something. You can already setup a PC/tablet/etc to display everyone's calendar though, most people moved onto mobile.

So you have a 5 year old kid that has an iPhone/Android/WP and when they their soccer coach schedules a soccer practice or match, they enter that into the calendar for their phone and then share that calendar with mom and dad so that they know to pick them up after practice? What you are talking about is perfectly fine for the enterprise - knowing when your coworkers are free for meetings, knowing what the people who report to you are doing, keeping track of work done. This is called ***HOME*** Hub. Where you have kids that are too young to have phones, too irresponsible to make sure their calendars are up to date, who do not want to share what they are doing every minute of the day with mommy and daddy. I am saying put a shared, small computer in the house attached to the wall in the kitchen or common area. One that manages all the things shared by the family, soccer practice, family dinners and outings, etc. One where you do not need to give your 5 year old a phone/laptop/desktop/etc to manage the household events. One that can manage the info of the house, but also the house through home automation. You may want to download an opensource project, setup a raspberry pi, give out devices to your 5 year old, have your 5 year old be responsible enough to manage a calendar and share it out with people (but not too many people, don't want them sharing it with that guy who drives a van and hands out candy), but most families are not like yours.

You are very confused. Sharing calendars are simple, as far as 5 year olds they probably won't be using a phone or pcvfor typing their schedule anyway. I am laughing at you because what you suggest is exactly the same thing they are offering, whether someone has the mental capacity to actually don it is irrelevant.. The mobile device killed all of this years ago, which is why google amazon don't even have screens. fyi a raspberry pi can come preloaded but I think I am talking to someone that doesn't understand. Either way, seems silly to be talking about this....mobile won and this is basically a way of sharing calendars....so....can do all of this today and display it on a pc, tv, phone today..... we actually do more than this today. Heck my phone tells me every time someone has an appointment and it cost sub $30. haha

I read the comment that you wrote way up at the beginning, and now I see that you are here only to troll, promote your favorite from another company.

In fact, he's not trolling at all; he's simply stating the facts. You're the one arguing for keeping horse carriages because a five year old will find it too hard to put fuel in the gas tank of a car...
My six year old can handle a tablet, no problem. The issue is he really can't write properly yet, so no leaving messages on a family screen. Even if he could, it would be easier to enter the message on the tablet lying on our living room table than trying to reach a display attached to the wall about 30 cm above his head, assuming the parents aren't midgets...

If your 6 year old cannot write yet, then how are they going to create a calendar entry that will share to others that they have soccer practice? You two are ratholing on this one calendar item, and the two of you are focused on trying to disprove one part of how this can be used to try to "prove" that there are no uses for this. Here is something new, an information center for the household that has a lot of possibilities, but you want to stick with the phone. There is nothing that says this information cannot be synced to a phone's calendar and other devices, but also having it attached to a wall, a refrigerator, etc. gives it a lot more opportunity. I have my old Surface Pro 3 on the kitchen counter. This morning as I was putting on my shoes and coat I looked at the screen, saw my stocks, the weather, a list of appointments for the day, and then on the way out I spoke to Cortana to turn off the Hue lights. Or I could flip through a number of screens on my phone, and then go through the last things on the way out the door. I was able to multitask and get more information. But you can fumble around with your phone if you want, I was able to see what my day was like without tapping through a bunch of apps.

A 5 or 6 year old is not going to add anything to a schedule whether its a phone running win10 or a PC running win10. This really isn't that hard, not sure what your problem is. Basically, this software product appears to have a interface for calendar and input to a calendar centralized i.e. calendar sharing (which you can already do and have been able to do for a very very long time).... and to be able to display said calendar on the lockscreen. Everything but displaying it to the lock screen can be done today, and if you are running some other OS no reason to even have a locked screen and you can get rid of the lock screen and just have the shared calendar up. I don't see anything really wrong with what they are doing here but I doubt many will use it as everyone has mobile devices. As far as the home automation. Not sure I get why a person would use a non-opensource controller (in general) but if one was going down that path not sure why one would have windows 10 device controlling the house as relable is not one of its strong suits . Google, Amazon, or even 3rd party suppliers.... have the right idea... small, low power consumption devices, and cheap. I have raspberry pis that I use for all home needs including databases, media, inventory, etc. Your example with the Surface is fine but most people use their phone, and MS's concept is there really is no difference between your Surface and your Windows Phone.... Windows Phone you can use cortana as well. What you are talking about there is no issue with it... the problem being it can already be done with other devices today..... go throw a cheap Android tablet in the kitchen. What you are doing is confusing the controller with the display devices... in your situation... if someone leaves with the surface they just took the home automation controller with them. Microsoft is out of touch as far as consumer devices and technology, besides that most of their consumers software products are just a continous beta product you just hope will work the day you want to use it. Here is a world of caution if you buy exclusive hardware for home automation with Windows 10....being abandoned.

"If your 6 year old cannot write yet, then how are they going to create a calendar entry that will share to others that they have soccer practice?" Are you serious? You just proved my point, and disproved your own at the same time... No, my 6 year old isn't going to create calendar entries. Or read a list of his chores. Or get any other information from a family hub screen. Which is why a home hub like this makes little sense. Kids that are big enough to get any use out of it can just as easily use a smartphone or a tablet. Much easier, in all likelyhood, to be honest... Look, every single use-case you mentioned in your initial reply was easily possible with the Rooms in the People hub on Windows Phone 8/8.1, and it worked really well (if everyone was on Windows Phone) until MS axed Rooms. That decision was a massive downer, and was the first in a line of circumstances that ultimately lead my wife to switch to Android... That switch didn't make the hub-situation any better, but at least she got access to a few "vital" apps she'd been missing.

I don't think Home Hub will really take off. With kids needing a laptop for school and everyone carrying a cell phone, I don't think there's going to be much use for a big shared screen. No need for notes on a board with a family Skype chat and reminders for chores. And you both need to actually use a Google Home and Amazon Echo. Both assistants are ahead of Cortana in terms of what it can do, and they aren't used for just Google searches or buying things on Amazon. You can control your entire home with these devices if you have equipment with the right standards.

Unless I am reading this wrong, I envision this main screen in the kitchen essentially collecting the entire family's individual calendars from their devices in one place. This way at one glance everyone can see what is going on. Also a place to make notes and add to a shopping list and such. If executed the correct way, this could be pretty helpful for active families and keeping everything straight. Sort of what Living room was going to be before it was killed.

Again, there are already smartphone apps that do just that, and don't require a dedicated machine.

Exactly. This is being done right here and now, and in a much more practical way. In fact, the W8.1 hubs worked really well until MS axed them!
As for home automation, this is being done as well, and in a much more elegant manner than with just a shared pc, which is frankly quite redundant and just chews through more energy pointlessly...

Then don't buy a dedicated machine for this. I am sure you can run this same "Home Hub" on any of the devices or even the xBox/Scorpio. While a dedicated PC is an option, I don't see where it would be required.

The problem is that a tabletop/laptop is ultimately ill equipped to act as a home hub center...

can I get a home hub today :D :D:D going to listen to this soon!

The original family-centric, telecommunications (telephony back then), TV and automation hub was originally designed using the Media Center UI using remote controls, tablets and PCs. This has been in the making, on and off, for over 10 years...
The solution from back then was even more complete than the current Home Hub we're seeing as it integrated telephony (VoIP gateway built into the central PC) and television (with software Media Center Extender running on the wireless tablets).
​
https://www.youtube.com/watch?v=pAKScJZSAMM
​Read about the "Windows Home Concept", made in partnership with HP and presented at WinHEC 2005 for all the details, including a complete description at http://download.microsoft.com/download/5/b/5/5b5bec17-ea71-4653-9539-204.... ​I'm happy to see the thing gets hyped again, but remember how enthousiastic we were back in 2005 and it never got released back then. They even had a proposal for a standardized HTTP access protocol to automation devices (SOAP-based if I remember correctly), with hubs bridging lightweight devices like light-bulbs and switches to the LAN when they were too limited to run an HTTP server. That could have unified the whole home automation... something we're only hoping the future will bring to currently disparate ZigBee OEM-specific protocols, Z-Wave, etc... ​To think all this could have been available 10 years ago... but as usual they were too early and didn't keep pushing until customers could understand the benefits.

@Rubino: People are obviously exited about the Echo etc. The 'me-too' comments are merely pointing out that MS doing a home hub in that same vain would be a me-too device simply because they're (again) late to the party; they're not arguing that the form factor or functionality of these devices is off...
Now, the market is still fresh, so if MS could make something that would trump these in terms of functionality and overall integration, that would be awesome. Problem is they're notorious for NOT getting it done properly and within a reasonable time frame, and Cortana representing their main non-screen interaction (no, we DON'T need another touch screen interface in our houses!) is not even available in any shape or form to a HUGE chunk of their users. Who would hardware manufactures and developers target? The US and UK population, or the entire world? The answer should be obvious, which is why MS should focus on getting Cortana out there instead of having a half baked voice assistant spearhead their entire portfolio...!
Edit: On a positive note... Since this looks like pretty basic stuff (much of it already existed in 8/8.1) and doesn't require new hardware, at least we're more likely than usual to actually see this come to fruition!

If this is a "me too" device, do you say the same about google's competitor to the Echo? It is rumored that Apple is doing the same, creating a Siri device. How about how the Apple Watch was a "me too" device to other watched and wearable tech on the market. You say "we DON'T" need another device with a touch screen, speak for yourself. Just because you don't want one doesn't mean that those of us do not. Not all of us want to be stuck in a rut of only using phones. As I described elsewhere, I have Hue lights, we could be using the same old filament bulbs from the turn of the century, plain white, not internet enabled, not voice enabled. Do you think that we should have stayed behind because one person decided that old style bulbs were good enough? You are championing the phone, should we have stayed behind and only used phones that you needed to turn a crank, get an operator and then tell them who we wanted to talk to for them to patch us through? Rumor is that Amazon is creating an Echo with a touch screen to do what this is rumored to do, you better call up Amazon now to tell them that you know better than them and they need to stop work now.

An MS hub device would be a me-too device simply because it WASN'T in the first wave. Now, if they'd just make the ULTIMATE device in the category, and get it out in the hands of consumers before the competition has cornered teh market through eco-system size, I'd be perfectly happy with that, but MS's trackrecord is pretty abominable in this regard... Hey, noone is stopping you from getting another touch screen device. I just can't see the need in this case. Good luck walking through that darkened room to reach your device to turn on those Hue lights!

Nohone People use phones, I actually don't use my phone much but the masses do. From what I can gather from this Hub Home apppears to be simply a service that runs on on Windows 10, I would imagine it won't really matter what Window device you are on. At the same time, the whole calendar thing I see nothing wrong with it... its just that you can do it today already with existing apps. If they want to have a screen in your kitchen with everyone's calendar... you can do that with a display and even cast to it. As far as the automation stuff, if one has a central type controller, not sure why one would use your surface to be honest... I mean, how is the home going to run when you bring that to a business meeting? If you are using a centralized controller type solution I would think you wouldn't want a intergrated display (but that is personal preference), low cost, low energy usage, and easy to use.... which is why I would think a more optimal solution to be something like the raspberry pi or similar. I can have a new raspberry pi up in running in like 2 minutes... take the SD out of one and plug it into another...all for few bucks.

so what happens when all your appliances etc are linked and the pc/hub get a virus or hacked ?

years ago Microsoft showed off a refrigerator with a computer in the door running Windows CE, allowing people to keep track of their diet, make grocery lists, etc. People claimed it was the worst idea ever, that it would be hacked, that nobody wanted a computer in their kitchen, etc. A year ago refrigerators running android started showing up doing the same things those WinCE demos did, and it was the most wonderful thing ever. Today we have Internet controlled lights, door locks, thermostats, window blinds, garage door openers, security systems, and so on, and so on and so on. A Microsoft competitor made home automation part of their OS built in. And it was wonderful, glorious, a great demo of what technology can do for us. Rumors start about Microsoft building a device, and the people are out again spinning up the FUD machine, questioning it. It is the same pattern over and over again, cast doubt on the Microsoft product trying to scare people away until the competition reveals their device, which will solve all of mankind's problems.

But Microsoft ISN'T making a device; they're making a software service, that'll be based in a unit that is typically NOT easily accesible throughout the house, turned on all the time or used by most or all househoild members...

Home Hub isn't trying to replace mobile phones, it is trying to work with them. You have to have a family and kids to really understand the needs of this. Using paper or a magnetic board on a fridge in 2017 is way too ​old school​. It's time to move on. Even if you have a smartphone it is always faster to just go to the kitchen keyboard/mouse/touch than to do it from your device. If your kid doesn't know how to edit his schedule, it just need to ask his father or mother to do that for him.
This isn't going to be on 24/7 if you have bluetooth motion sensors. This can also work with home automations. It's way better to have everything centralized than have multiple devices to do multiple things.
Let's see what OEMs have to say about this and how far this can go. I can see fridges reporting groccery stocks, internal temps, and so on. I can see ovens reporting temps, maybe accepting orders from an app, and so on. You can also have a really cheap security system. The possibilities are endless. But first you have to believe and then you have to try. I don't know if the time is now, but I'm pretty sure that time is getting closer.

Appart from all that, families do need family accounts for almost everything you do on your smartphone. That thing is way too personal and no man is an island. If you want to invite a family, say, to your son's party, it doesn't make any sense to text everyone or to just text someone and they'll have to text everyone else in that family. The same goes to a photo from that party you've just posted on facebook, you should just share it with that family and not keep checking if you're friends with everyone else. (@Daniel Rubino) Maybe you just want an RSS feed with XBOX news from Windows Central, while also keeping up with windows mobile on your personal account.

"If you want to invite a family, say, to your son's party, it doesn't make any sense to text everyone " It make sperfect sense. The likelyhood that you want to invite the exact same crowd to every event is minimal, and even if it was actually the rule rather than the exception, your Lumia has been able to send group messages for years now...

It does not make sense to text the father, the mother, the son, the daughter, the cat and the dog. You just text the Doe family account and everyone gets notified in real time.

"Even if you have a smartphone it is always faster to just go to the kitchen keyboard/mouse/touch than to do it from your device" Really? I'd think it was much faster to fish out your smartphone and write a note, a to-do list, a shopping list or a calendar entry on the spot than taking a half-hour trainride home to write it on the virtual whiteboard. Now THAT is old school...

Cortana runs on windows phone as well, which is going to be the primary way of inputting this stuff anyway.... in theory. It's like "video killed the radio star" all over again.... so I am totally with you Manus. His 5 year old can type on a PC but can't speak into a mic. lol

I mean, if you are walking around in your house, of course.

How is limiting a home hub to your homes four walls optimal? A big step backwards even compared with WP8 on my old 1520.

If you're not you could always use your phone.
Windows Central Newsletter
Thank you for signing up to Windows Central. You will receive a verification email shortly.
There was a problem. Please refresh the page and try again.