Microsoft's Home Hub concept looks to bring an all-new Windows experience to your home [exclusive]
Microsoft's connected home ambitions with Home Hub lay far beyond just competing with Amazon and Google.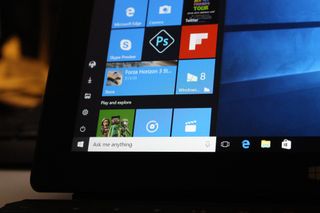 Rumors regarding a new Windows 10 feature called "Home Hub" have been making the rounds on the internet recently. At first, it was thought that Home Hub would be some sort of Amazon Echo competitor, and although that's not entirely true, it isn't entirely false either.
So just what is it, then? Our sources have confirmed that Home Hub is a Windows 10 feature designed to make your PC the center of your home, by making shared PCs more communal and bringing the connected home to Windows.
We've been speaking with various sources to piece together everything planned for Home Hub — it's a really big project for Microsoft. So much so that not everything detailed here will likely make the initial release, and may even get cut before it ever reaches Insiders. With that in mind, settle in for a detailed look at what Microsoft has envisioned for Home Hub.
What is Home Hub?
Home Hub is a software feature that has been in the works since before the Windows 10 Anniversary Update (Redstone 1) was released. In fact, the Anniversary Update includes some features that are directly linked with Home Hub, such as Cortana being accessible from the lockscreen. More of Home Hub is expected to show up in the Creators Update (Redstone 2), with the bulk of Home Hub scheduled for Redstone 3 (late-2017) and Redstone 4 (in 2018).
Home Hub isn't a dedicated device that's designed to take on the likes of the Amazon Echo and Google Home, as in the end, Home Hub is just the software. But that software can do everything the Amazon Echo and Google Home devices can, but with one added benefit: a screen. Home Hub is designed to run on Windows 10 PCs, mainly All-In-Ones and 2-in-1's with touch screens, but can work on any Windows 10 machine. Pen and ink support are also part of the plan.
Adding a screen to these smart devices makes these things so much more approachable and useful, especially to families. Microsoft's end goal with Home Hub is to make shared PCs much more communal and helpful for multiple people that have to use them. By introducing new sharing features, new user interfaces, always-listening Cortana and apps that take advantage of new APIs, Home Hub becomes a compelling competitor to other smart assistants on the market.
Home Hub Family Desktop
With Windows as it currently stands, a shared family PC is confined to individual accounts that individual users must switch between to gain access and use their shared PC. There's also a guest account that's simply a standard user without a password that anyone can use. This method of sharing a PC is considered clunky internally at Microsoft, and with Home Hub the company aims to improve this experience significantly.
With Home Hub, a PC can be unlocked without a password, yet still provide access to the same family data, including apps, documents, bookmarks and more that has been shared with a family. So for example, the "Bowden" family might have a shared PC that four people use. Each user will have their own account of course, but there will also be a "family account" that is always logged in. That account can see everything the 'family' is supposed to see, such as specific apps, calendar appointments, to-do's, and more.
In the case of calendar appointments, a member of the "Bowden" family can open up the Calendar app and see all the appointments that have been shared with the family. The magic here is whichever user is using the PC can authenticate themselves with Windows Hello, and see their own private calendar events in addition to what's shared with the family. Then, once that particular user is done, they can sign off, hiding all their private calendar appointments, yet keeping the family shared appointments there and readily available for another family member to view.
With the Family Desktop, Family Enabled Apps will take advantage of the shared account and do similar things to that of the Calendar app as shown in the above example.
This functionality will extend to apps on phones too, including Android, iOS, and Windows 10 Mobile. If you've got kids, these Family Enabled apps will know whether it's appropriate to be showing kids particular content, which is perfect for families who can't always police their children at their PCs or phones.
Home Hub Welcome Screen
In addition to the standard desktop UI with Family Desktop, Microsoft is also looking at bringing a new shared workspace to Windows 10 with Home Hub called "Welcome Screen." Microsoft's goal with the Welcome Screen is for it to act kind of like a virtual fridge door, with your calendar, sticky notes, to-do lists, and more all visible for the entire family to see.
The Welcome Screen uses the same "family account" and can launch family-enabled apps with the shared family desktop.
This shared workspace will run above the desktop experience — beneath your Home Hub "PC" is still a full PC, with access to the taskbar, start menu, action center and more if the user needs it. By default, however, a Home Hub PC is designed to be communal and informative, to sit on a kitchen counter or living room shelf for everyone to see, giving the new Welcome Screen an informational purpose.
Cortana will always be listening when on the Welcome Screen, allowing users to activate her from across the room if they need. This technology has clearly grown out of Kinect for the Xbox One. The assistant can do everything Cortana can usually do, such as reminders, appointments, weather, news, jokes, play music, open apps, and a whole lot more.
The service will also be able to control smart-home devices, which is something we'll dive into more in a bit. All of this makes Cortana on Home Hub a much more viable competitor to what Google Home and the Amazon Echo offer.
Above is our concept recreation that showcases what Microsoft is envisioning for the Home Hub Welcome Screen, based on internal Microsoft concept designs. We've seen several internal ideas for the Welcome Screen, each looking slightly different, as Microsoft is still fine-tuning and weighing options for this UI.
A few of our sources have claimed that the Home Hub Welcome Screen will be one of the first user-interfaces to feature design elements from Project NEON, a new design language for Windows 10 that we exclusively unveiled last week. If true, this may be our first, early look at the future design of Windows 10, which is pretty exciting, to say the least. Other internal concepts that we cannot share use much more blur and lots of clean animations. Project NEON is looking to be a very clean, optimized and sexy design language that we can't wait to see when finished.
Home Hub Cortana
In the concept seen above, you may have noticed the Cortana icon on the Welcome Screen is surrounded by an orange color rather than the standard blue. That's intentional, as that's how Microsoft plans to differentiate Cortana between an individual user's notebook and the family notebook. Yes, Microsoft is looking at making Cortana more family orientated by making her understand the family identity.
What does that mean exactly? Well, our sources suggest Cortana will be able to view family content in shared scenarios as well as be able to create and view personal and family content when authenticated as an individual user rather than the shared family account. This integration will naturally work with things like calendar events, home automation devices, missed calls and notifications, and more. What's more, we're told that this feature is referred to as "FamTana" internally.
The ability for Cortana to serve more than one user stands in stark contrast to perhaps the biggest limitation to Google Home.
FamTana won't share your personal info unless you're authenticated at the family PC at that current time. Only then will she show you your private notifications, reminders, calendar events and whatever else. We've also heard FamTana will at some point be able to stream music from 3rd party services, which is exciting.
Finally, we're told Microsoft is working on making it possible for Cortana to wake up PCs with voice commands, which will be excellent for Home Hub PCs that might be configured to go to sleep after a certain amount of inactivity.
Home Hub Connected Home
In what might be the most exciting part of this whole project, Microsoft is working on bringing the connected "smart home" to Windows 10 with Home Hub. The goal is to make Windows 10 the central hub for all your smart home devices, including lights, doors, locks and more. With Cortana integration allowing you to use your voice to toggle and control the smart devices in your home, the picture for Home Hub becomes complete: it brings Windows 10 to the center of your entire home.
Microsoft is building a dedicated "Connected Home" app that will make adding smart devices to your home easy; with an overview of all the smart devices in your home and options to turn them on and off, configure them, and more. You'll also be able to group devices to individual rooms; for example, you could have Hue lights 1, 2 and 3 grouped under the Bedroom tag and tell the Home Hub to "turn off the bedroom lights". This app will work much like most other smart home apps, except this one will have deep integration with Windows 10.
The Connected Home app will work with smart-connected devices that support OCF (Open Connectivity Foundation) and OpenT2T (Open Translators to Things), so out of the gate, it will support most smart devices available on the market. Devices like Hue Light Bulbs, which are popular among smart-home users, will work right out of the box on Windows 10 with Home Hub. Exciting indeed.
In fact, Windows 10 will be smart enough to automatically detect when a new smart-device has been connected to your network and will prompt you with a pop-up asking whether you want to add this device to your connected home automatically.
That's just one example of how Home Hub connects your home to Windows 10 with deep integration. With an always-listening Cortana on the Welcome Screen, your house immediately becomes much more controllable with voice commands. You can ask Cortana to control lights, locks, and more, just like the Amazon Echo and Google Home devices, except this functionality is built right into your Windows 10 device.
Home Hub hardware — the device play
Home Hub isn't a specific hardware device it's software for your PC. But that doesn't mean manufacturers can't build hardware dedicated to Home Hub however. We're told Microsoft is encouraging 3rd-party OEMs to make All-in-Ones designed specifically for Home Hub, with Lenovo and HP already in talks with Microsoft about bringing touch-enabled AiOs with Home Hub to the market in late 2017. This hardware will be designed to fit in the living room or kitchen, with the goal of these devices to look "at home" with the rest of the home environment.
Think of large touch screen devices that eschew keyboards (although you can, of course, connect one). If that all sounds like Microsoft's Surface Hub, but for the home instead of the conference room, you would be correct.
As far as we know, Microsoft isn't building its own device dedicated to Home Hub, but then again it doesn't need to. The Surface Studio is already an all-in-one and will work great with Home Hub once it's available. Home Hub will work on any PC that can run Windows 10 in theory but will shine with devices that have touchscreens, Windows Hello, far-field Cortana support, inking and more.
Newer Home Hub-enabled devices can support things such as motion sensors and light sensors, meaning when there's activity or movement in the room the PC knows to stay on. Once everybody has left the room and the PC no longer detects activity, it will go into sleep mode. Cortana commands or moving around in front of the device will be able to wake it again, which is pretty neat.
Home Hub Timeline
Home Hub is a massive project for Microsoft, with a lot of it planned across for Redstone 2, 3 and 4. It's unclear when we should expect to see the whole set of Home Hub features show up for consumers. Some sources have suggested the first batch of major Home Hub bits will arrive with Redstone 3, with smaller features such as Family Desktop showing up sooner with the Creators Update.
Although Microsoft has internal projections for this stuff, that doesn't make it immune from delays or even cancellations. That's a frequent occurrence at any tech company of Microsoft's size — internal projects don't always work out, and sometimes they rise and fall entirely without public knowledge of the plans.
Most of the sources we've spoken to have all said a lot of the Home Hub stuff had been delayed for more important changes and improvements that need to be made to Windows 10, which is understandable. No single source has explicitly said that the big Home Hub stuff has been canceled, but we have heard that it might be a while before any of the interesting stuff begins to show up in public.
Regardless, after wondering what Home Hub is exactly, we've finally been able to share with you what Microsoft has planned for it. Microsoft is taking on Amazon Echo, Google Home, and even Apple HomeKit and Siri to some extend with Home Hub, and they're doing it in a big way.
Get the Windows Central Newsletter
All the latest news, reviews, and guides for Windows and Xbox diehards.