Windows Central Podcast 3: Insiders
The Windows Central Podcast is your weekly dose of everything Microsoft, from Windows 10 to Surface, Xbox, HoloLens and everything in between!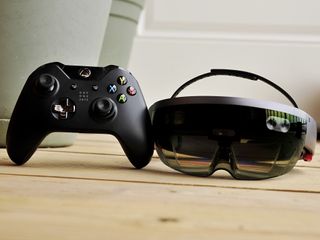 This week's episode is divided in two: For the first half, the Daniels Bader and Rubino chat about HoloLens and Microsoft's strategy for Windows Holographic. The second half, Daniel Bader is joined by Jez Corden, who is in Los Angeles covering E3, and talk about all the big Xbox-related announcements.
00:00 - 38:00: Daniel and Daniel chat about HoloLens and Windows Holographics
38:00 - 1:19:36: Daniel Bader chats with Jez Corden about Xbox One S, Xbox Play Anywhere, Xbox Design Lab, and game announcements like ReCore, Halo Wars 2, and Sea of Thieves, among others.
Help us make this show the best Microsoft podcast in the world. Tell your friends, share it on social media using the hashtag #wcpodcast, and give us a five-star rating wherever you download your podcasts! Thank you so much for listening!
Show Notes
Check out the amazing custom controllers from the Xbox Design Lab
Here are all the Xbox Play Anywhere games with Xbox One and Windows 10 cross-buy support
Sea of Thieves finally gets a release timeframe for Xbox One and Windows 10
Subscribe to the podcast
Hosts
Make this show great by participating!
Send in your comments, questions, and feedback to:
Windows Central Newsletter
Get the best of Windows Central in your inbox, every day!
This week's episode is divided in two: For the first half...

Better, more granular Index (with jump links) would be excellent, plenty of time to refine & improve though. Keep it up! (too busy lately not subscribing to this thread)

Why no Michael Fisher? :(

It's explained on the podcast, he's busy this week setting up his studio.

Oh okay, 4 more days to go until the grand reveal!

And what about Zac Bowden?

We're definitely bringing him on! He doesn't even know it yet.

Any plans for video podcast?

Nope, this is staying strictly audio-only.

It would be nice to have background play when we are multi tasking..

so why's it called "Insiders"?

Because I'm lucky enough to chat with a couple of insiders :)

I always like to hear Dan ☺
Would be great if I could turn the phone screen off while listening to the podcast ✌

Another great podcast, guys. It's quickly become one of my favorite series. Have you guys considered adding a video option?

Thanks Greg! Video is a lot of work for not a lot of return, unfortunately. We usually record through Skype for optimal sound quality (unless we're in person), and that doesn't let us do video easily.

well, bluetooth, wifi, and xbox are all RF. Xbox's wireless controller system is proprietary. IR needs line of sight.