Windows Central readers split about Windows 11 Chat app
Most of our polled readers will try the new Chat app on Windows 11, but a sizable group doesn't plan to use it at all.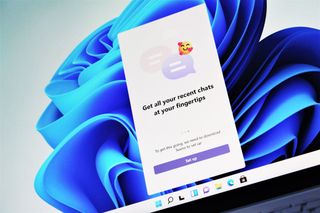 (Image credit: Windows Central)
Windows 11, build 22000.100 brought support for the new Chat experience powered by Microsoft Teams. While the feature is limited in its current form, we took its initial rollout as a chance to see if people are interested in using it. Over the weekend, we ran a poll on if people will use the Windows 11 Teams Chat app.
Based on the initial surge of votes, the majority of people are willing to try the Chat app, but a surprisingly large group of people don't plan to use it at all. At the time of publication, just under 33% of polled people will try out the Chat app on Windows 11. Over 29% of participants said that they won't use the app at all.
A contingent of loyal Teams users (16.7%) said that the Chat app will be their main app for communication. Just under 14% of voters said that they'll use it occasionally. Only 7.17% of voters said that they would rarely use it.
Comments responding to our poll piece raised some interesting points about the Chat app. "Ladydias" said, "We already use Teams with my friends and family and it works well enough, but the system of having to differentiate between a Team and a Chat is confusing for new users."
Reader "aXross" compared the Chat app with another Windows experience in the Taskbar:
With Windows 11 months away from release, we can't fully judge the Chat app. Based on initial impressions, it seems that most people will at least give it a try.
We'll keep the poll open to see if it trends in another direction as more people see it. Perhaps the weekday warriors feel differently about the Chat app compared to the weekend voters.
Windows Central Newsletter
Get the best of Windows Central in in your inbox, every day!
News Writer and apps editor
Sean Endicott brings nearly a decade of experience covering Microsoft and Windows news to Windows Central. He joined our team in 2017 as an app reviewer and now heads up our day-to-day news coverage. If you have a news tip or an app to review, hit him up at sean.endicott@futurenet.com (opens in new tab).
If the sms Chats could link and be sent using link to windows it would be great, also if teams mobile could be default sms app.

Agree. If this is supposed to be your chat central they might as well consolidate everything in this one place...to a degree. As tempting as it might be to also add support for other chat apps MS must resist lest they end up alienating chat app developers like they did before.

It is missing office teams integration, so it is almost useless to me

Chats isn't supposr to focus on that. We still have Teams. 🙂

LOL.. Do you use office on WhatsApp, iMessage, Messenger or Telegram? This is just a chat app.

If it requires a Microsoft Account for all participants, it will be DOA. It needs to be a frictionless experience for all to succeed.

Even with a Microsoft Account, you need to provide a phone number too! 🤦‍♂️

And that is what kills it dead for me, this is one of the reason I will not use Whatsapp.
Teams would be on my computer, not a phone, so no need for a phone number and what happens if said person don't have a mobile phone? Yeah, I know the chance of that is very slim, but it can still happen. also, i know a couple of people who seems to change mobile phone numbers as much as they change their underwear.

Almost every chat app now requires a telephone number. This is not a new requirement.

Yeah, pretty much every services requires it, some actually purely mandatory.

And that is why I will not use most of them. I use SMS for people that know my number, Facebook Messenger for people from work who I don't want to know my phone number, even my work don't know my mobile number, they have my home phone, but not mobile. Discord for group chat or just a chat and video, that don't need a number. I don't understand why Teams, whatsapp or others need a phone number.

Wouldn't that be less friction to require an account login? I find it hard to imagine someone going out of their way to create an account in teams after the fact, it should be linked to something already existing like an account login.

A Microsoft account is no different than a Facebook or Instagram account as it doesn't require an @outlook.com. It can be @gmail or @yahoo.
I believe that will help with less barriers but yes, there is a minor barrier there.

The odd thing is that few people realize that. This is an area where Microsoft could do with some marketing. I.e. showing a person sign into Windows with a Gmail or yahoo etc. and then access data on all their devices.

I have more than enough accounts for things, I really have no need for an MS account, I am trying to get rid of some as it is.

I'm thinking, what if MSA can be created by using "Sign up as Facebook" or something (of course Google won't be I cluded). This maybe can reduce the friction for new users making MSA.

Given that Windows 11 requires everyone to have a Microsoft account (using any email address), I don't think this should be a barrier. It's not different from having a Google account or Apple ID, so I don't see why people are complaining about that.

I am not sure how this is new. Has everyone forgotten the instant messenger phase that happened a few years back? AOL, Yahoo, trillian, MSN... this is more of the same. Maybe tighter integration but its far from a new idea.

A few years back? Try 20 years back ha. The integration is what's new and that's not new Windows 10 had Skype integration. It bombed because no one uses Skype.

Wow, that long ago? That is scary.
Trillian was able to access them all, which is what I liked about it, as i had people on different services, AOL version was called AIM, I still have an AOL Account, not that I use it much these days, maybe time for it to die. Trillian is still around by all accounts.

This will likely be the first thing I disable or remove. I have to deal with Teams enough at work, the last thing I want is for it to be on my desktop at home.

And therein lies the problem. It could be amazing but people won't want to use Teams at Work and at Home.

The thing is, it's not for your work account. It's for personal communication. I think that slight differences should be enough to differentiate between Work on Teams and Personal on Chats which is runned by Teams.

We don't use Teams at work, managers do and there was some talk about us using it for what ever reason, that was before the pandemic, but nothing have come of it, I would not use it anyway.
they have Yammer, that they keep trying to get people to use, again I will not use it, as I said to them before if you want me to use yammer then fine, but I will use it on their computer in their time.

It was already a great idea when it was powered by Skype, but even fewer people use Teams Personal than use Skype. Teams is "the business chat app" and Microsoft is going to have a hard time convincing people they
should ditch iMessage, WhatsApp, Facebook Messenger, Google Messages etc... to use Teams "after work" too. Me? I'll just be turning it off because I've already tried Teams Personal, I was literally the only one in my contacts list using it.

"Comments responding to our poll piece raised some interesting points about the Chat app. "Ladydias" said, "We already use Teams with my friends and family and it works well enough, but the system of having to differentiate between a Team and a Chat is confusing for new users."" I don't know how Ladydias manages this. There are no Teams in the Personal version. It's just Chats.

We are all basically set up as an org via my husband's Microsoft 365 account to avoid requiring our friends and family to create separate MS accounts. If he is doing it this way, there is no reason why someone else on MS365 would not do something similar. Whether someone is using Teams personal or business, it should be as easy as possible for new users. I can only give my personal experience on the growing pains I observed from my family when they switched over.

Ah I understand better now too. Thanks. 🙂

It seems. You can text people from Chats but only with group chats. Unless you remove the friend and then you can text individuals on Chats.
I woukd use Chats way more if texting people by connecting your number is the usual thing. Because this can be Microsoft's secure version of WhatsApp. Something equivalent to iMessage.
I question WhatsApp because of who Facebook is but, it's better than nothing.

I dont get why a consumer should use an app called teams. Makes no sense, they could just use Skype, its already there and just needs to get a little more performance and GUI overhaule... or better integration.

I agree. I like the app itself, but the name doesn't work for Teams. They really should have come up with a different brand name that works for both businesses and consumers (Skype still could have worked, but the brand has been tainted, so they really should have come up with a new abstract name (like how they did with Viva, Neo, Excel, Visio for example) instead of following their new plain English names that can limit what the app can do. It does seem in this 'Chats' app that they're not making the Teams name prominent, so maybe they're realizing that too lol.

It's a waste of time. Funnily enough, it crashes every time I touch it on my PC... Instantly removed.

if it can send and receive from WhatsApp, will use it.
Windows Central Newsletter
Thank you for signing up to Windows Central. You will receive a verification email shortly.
There was a problem. Please refresh the page and try again.