Windows Central welcomes these verified Microsoft employees to our Support Forums!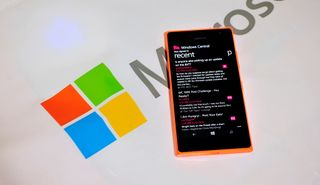 Help make Windows 10 even better by working with these Microsoft engineers and developers!
Besides announcing our forthcoming 12 Days of Hidden Gems sweepstakes next week, Windows Central is also proud to announce our Microsoft verified-employees program for our help forums!
Now, when you use our forums, there will be a small crew of Microsoft engineers to help answer your questions, especially about Windows 10. So how will you know they are legitimate? You can see a Microsoft badge with a verified check mark as seen below, to let you know you are dealing with an authentic Microsoft employee.
We should be clear that the staff who are assisting in our forums are engineers working on Windows 10 (and their apps), and not customer support specialists. As such, for existing in-market product support issues you can head to https://answers.microsoft.com/en-us (opens in new tab) and use those forums for your particular case.
What is Microsoft's Role in the Windows Central Forums?
Instead of lending direct assistance and problem-solving, these Microsoft engineers and developers are here to help answer your questions and get feedback to help make Windows 10 even better.
However, we ask you to not barrage the representatives from Microsoft about unannounced products or roadmaps as they cannot answer those inquiries. Instead, focus on Windows 10, what you would like to see, what needs fixing and what ideas you have for Microsoft to make their products something that you want.
So, who is here? Glad you asked.
List of Microsoft verified employees (Forum handle/Real Name)
Giffdev- Devin Sinha (Giffdev on twitter/reddit/xbox live, etc)
GabeAul - Gabriel Aul (GabeAul on twitter)
saulricardo - Saul Ricardo Gomez
johnwinkmsft - John Wink
Ellen Kilbourne - Ellen Kilbourne (ellenment on Twitter)
RazaNaqvi – Raza Naqvi
Jennifer Gentleman – JenMSFT
Kriti Pandit – KritiMSFT
Some of those names, like Gabriel Aul, should be familiar, as they have been at the forefront of the Windows Insider program for Windows 10. Others may be less known but all of their roles are super important, and they want to know what's on your mind.
Without further ado, welcome Microsoft official to our forums and let's make the most of this partnership!
Daniel Rubino is the Editor-in-chief of Windows Central, head reviewer, podcast co-host, and analyst. He has been here covering Microsoft since 2007 when this site was called WMExperts (and later Windows Phone Central). His interests include Windows, Microsoft Surface, laptops, next-gen computing, and for some reason, watches. Before all this tech stuff, he worked on a Ph.D. in linguistics and ran the projectors at movie theaters, which has done absolutely nothing for his career.
MS, please fix the About on the Settings of WP. Even when my phone has the rotation lock on, it still rotates when I open it while lying on my bed sideways. Please update it, it's driving mu nuts. Thanks!

Not just the About but other screens and apps as well don't seem to be affected by the auto rotation lock.

Would love home screen to rotate so I don't have to flip phone one way than another. Also search results for Cortana. I prefer landscape mode on the 1520 when on the browser, etc. For that matter, how about WC app gaining landscape mode?

Not that they should ignore it, but... why are you going into About while laying in bed?

Wow... Off topic already!

Ikr! Same for calculator. Also there's typos. Like on Phone Update and Games it says "Loading ..." or "Checking for updates ..." and like that makes me freak out and I get panic attacks and stress from my OCD. There should be no space between the last letter of the word/phrase and the 3 dots.

I think it's already fixed. Using latest WP8.1 GDR1 build.

Welcome! 1020 true success is coming when???????

They are here to answer questions and get feedback on Windows 10, not talk about hardware roadmaps.

Well in that case, does windows 10 resolve the failure to dim softkeys that we have now?

When Nokia returns in 2016

Once i gave a feedback at UserVoice forum and i am not sure if any official employee went through it but yes, alteast i got more than 350 votes so far. Since many Microsoft Engineers are here, just thought to give a link and bring it to their notice https://windows.uservoice.com/forums/265757-windows-feature-suggestions/...

Yes, we definitely go through UserVoice on a regular basis! Thanks for mentioning that. 350 upvotes is pretty good, so while I bet it has already been noticed I'll forward the link to the networking team just to be sure.

Thanks a lot for that :) This is a very good step by Microsoft. We all appreciate it.

When do we discuss Verizon, upgrade from WP 8 to 10, and market share? Just kidding, happy to see them here!

AAHHAHA! Joli – Everything is AWESOME!!!

Or this? https://music.xbox.com/track/jo-li/the-legoAE-movie-original-motion-picture-soundtrack/everything-is-awesome/12e41608-0100-11db-89ca-0019b92a3933?action=play

I can actually picture that sentence as a WP slogan. They should market WP with that slogan, but then it also makes me think of iPhones and how the iSheep believe everything Apple-related is awesome xD WP users could even become the new hipsters LOL

MS in general is awesome :)

Takes one to know one, Sam

Massive welcome. I sincerely hope that everyone refrains from bombarding them with questions that they obviously cannot answer.

Indeed! Not gonna happen :D Btw: Are you mainly interested in feedback for Windows 10 on desktop or mobile? Or is it irrelevant? :) Cool thing that Microsoft (and their employees) is (are) doing this! Really appreciated! :)

Can we ask about windows phone 10?????

There won't be Windows Phone 10...

This you see is what I love about Microsoft.

Holy crap, that's amazing! Welcome Microsoft employees!

Would you rather MVPs or actual Microsoft Engineers?

Amazing.. Microsoft isn't cool? Here is proof that it is becoming the coolest.

Anyone that says MSFT isn't cool is immediately suspect of being very uncool.

It's not cool to spend two hours looking for workarounds and doing rollbacks every week because the latest update made stuff stop working.

So they won't tell us ANYTHING about unreleased products? How about Windows 10 on phones? :)

Tell them what you wanna see in W10 like me I want to receive calls n text on my laptop/tablet when my phone is connected through Bluetooth.

Now that is actually a cool idea I think. Would be cool to pair my devices by using the NFC tag in my Loading station.

I too miss that feature from webOS...
I also am interested if closing an application will be consolidated between desktop and phone. Pulling down on my PC to close and flicking up on my phone is just stupid. How about the whole "one" concept in daily use being implemented

What do you mean by pulling up? You need to pull down to close. Maybe you are pushing the Windows home button when pulling up and that's why it's "closing" hold down the back key and you will get a list of open apps pull down to close

Happy to be here with all of you! You may have already found me posting in the Windows Central tech preview forums, and if you want to get in touch directly, feel free to tweet at me as well!

We all are more than happy to welcome you guys in our little Ms community.... :)

Hey there. I have been rather bitter about Windows 8 on the desktop, because I feel like very obvious principles of UI design have been ignored. I have a detailed list of what I think is wrong with Windows 8 (8.1) and even Windows 10 (I know it's a preview but I sure hope you guys make A LOT of changes to the UI). So where can I discuss this list with you guys? I must add that I've been thinking about ways of getting in touch with you for a long time now, with no success. Even tried to talk to some Microsoft people who came to present Microsoft's roadmap to CitiBank, Canada, with no success (they weren't connected to you guys). I also have extensive experience in UI design and...I guess what I am trying to say is that this is VERY serious to me...I really need to have a chat with you guys. Please advise. Thanks. P.S. Twitter won't work, this is so important (to me) that I'll need 10, 15 minutes of your time if it's possible.

Hey Agent, love your passion! One thing to please please please keep in mind with the tech preview so far, is UI design is FAR from final. Much will change between the current state of the preview and when we finally ship, so I hope you won't be too bitter :)

Giffdev, PM AgentTheGreat. He may have valid points. Since the preview is far from done as you say, what can it hurt?

Thanks for the response and appreciation of my passion :) I understand the UI is far from finished. I am going to give you the list anyway just to be sure I've done my part. I believe the problem with Windows 8 was inconsistency in design (as many others have noted). Let's start from the bottom left of the desktop and move right: -The Start button is flat and it changes color from taskbar's color to black when hovered. -The program buttons still maintain Aero effects (light) when hovered or clicked. -The Start menu already has a search box (which has to be enhanced by Cortana) but now there is another search button that WILL lead to confusion. -Clicking icons on the notification area usually brings up a small window (more notification items, Action Center, Power, Volume, Date and Time) and yet, clicking Network brings up a totally irrelevant slab of solid color with "checkboxes" that have the Modern look (talking about the Airplane Mode slider) and have nothing to do with the look and feel of the desktop, also - and this is VERY important - LESS FUNTIONALITY! Right clicking networks doesn't give us any options like it did with Windows 7 (Disconnect, Status, Properties). Where did the "Manage Wireless Networks" go? Now there is no access to security properties of networks I have already connected to. And seriously, why was the "Create AdHoc Network" removed? -Language bar: has the "Modern" style on the desktop. Again, you can see the unpleasant duality and schism that makes you feel like people just stuck stuff together with no thought -The taskbar is half transparent, window title bars and borders are solid color. -If you choose a dark color for the taskbar and window borders, you can't read the title text (remember how on Windows 7 it looked like the title is "etched" on the "glass" so the title was always legible no matter what color you chose? THAT felt like somebody had thought things through; that's what's missing in newer Windows versions: attention to details) These are the few things I had to mention. I am sure you notice that none of these issues existed in Windows 7's UI and how consistent Windows 7 is in this regard, as if it had a single designer thinking out the whole UI. I am not going to go into details on Windows RT's fate due ONLY TO BAD PR AND NAME SELECTION that led to people talking about the useless Chromebooks when RT can beat the crap out of them in the first 3 seconds of the match (you can see I'm letting out a lot of bottled up desparation!)... I'll just control myself and wait for your response!

I read your post. Hopefully someone who can do something about will ..do something about it. However, UI design is an art form not just a science. That being said, artists can be finicky about being told something else may be better.

I agree to all these UI points. They are valid.

I can't...can't let it go. Here is what should be done about RT: RT is a direct competitor to Chrome, but a hugely superior product. First change the name to Windows Light or Lite (although this is before your move to 1 Windows, things might need tuning here) to let people know what this is supposed to do; that it won't run classic programs beyond the desktop to avoid confusion/ Then, don't allow CPU architecture dictate the end product. Create an x86 Windows Lite and make it free for ALL screen sizes. Charge for laptop and desktop verisons of all sizes. Here is what happens: you'll have a much more functional version of Windows for tablets and cheap "laptops" (if you can call Chromebooks laptops) that do A WHOLE LOT more compared to the competition and make Chromebooks irrelevant (the only thing these reviewers say abou them is how "hassle free" they are; of course! they do nothing! You gotta own a Surface RT or 2 to know what "fast and hassle free" means, and you can FRIGGIN DO POWERPOINT PRESENTATIONS AND PRINT DOCUMENTS WITH THEM!) Phew. I'm gonna leave it at that for now. Thank goodness you guys came here. Finally someone to talk to!

Windows RT is being replaced by Windows 10 for Arm devices (current RT and WP) if I am not mistaken. So don't worry about that :)

I love my lumia 1520. I love the look of a 2520. Are you saying I wouldn't go wrong getting one? I wouldn't expect, nor even try, to parallel desktop experience on it, just use it for tablety stuff.

Then you'd own the most capable tablet experience you can get today. You won't believe how capable RT is especially in the office. I have a Surface 2 (that replaced my Surface RT) and actually I'd recommend it over 2520 just because of the kickstand. Once you own a tablet with a built-in kickstand you can't go back to an iPad, for example. It's the same with "double tap to wake" because once you get used to the convenience of this small thing, it just feels ridiculous to pay for a phone that doesn't have it!

Thank you for being here and thanks for the time you're putting in this, in advance. Hopefully this will be very useful for everyone.

Welcome from Dominican republic :D. What can you guys tell us about the minor changes or details for W10 for mobile devices.

This is just.. wow! Our voices will def be heard now.

Welcome to you all. Thanks for being here!

This is going to be great!
I wonder if they've been there reading all along....hmmmm

I've always said Microsoft reads comments here ;)

Yup. But now its officially official. :)

Is that the reason you guys have become the official cheerleaders to Microsoft.

Just official cheerleaders of your mom (rimshot)

I know I have been a longtime reader ;)

This is part of my daily morning routine

They have to be prepared to get the question "when in India?". :)

You baddest guy. Well, I hope they are prepared to help transfer my seized inheritance from the central bank of Goodluck Jonasatan. Baba Ilaje lo ng ki gbogbo yin o.

Please stop. Your making us look bad.

Welcome to windows central MScrew

MScrew...take another look at that word.

M-Screw? Haha..
Windows Central => WC

Very very awesome indeed.. Welcome.

WCentral is moving up in the world I see.

+830. Nice going Windows Central and welcome MSFT Team.

Welcome MS employees.. I pray we don't burn you out. :-) have fun on our forums.

Bienvenidos "we ask you to not barrage the representatives from Microsoft" hehe heee

Very cool! That's GREAT customer response by MS, great work

Welcome aboard... Good luck :-) you're gonna need it...

Welcome, welcome everyone! This is very exciting news, and we're happy to have you in our Windows Central family (just know we have some nuts, like any family, lol).

Awesome!!!! Glad to see them listening to our feedback. Especially Gabe and Ellen. Very passionate people. :)

All of the names in this list are quite passionate, and we're here to get your feedback :) Ellen and I have been working together for quite some time, and her ability to reach out to you all regarding music and videos has been great and now we're happy to be able to reach out to you across all facets of Windows 10 :)

If there is one thing I want is Making and receiving calls and text on my W10 tablet or laptop when my W10 phone is connected to either one through Bluetooth LE. Please make it happen thanks, You are most welcome.

Welcome, guys. Glad to have you with us.

This is the right way to send the "we care" message. I hope that it'll get even better when stuff start to materialize. Welcome and keep morale high.

Kill it with fire! hmm Last windows 10 insider program survey... had a list of sites, and they didn't have Windows Central. it was about where you would find information about windows? or whatever. so I though maybe Windows Central wasn't in Microsoft radar... I was curious becuase alot of crappy sites were there, like zdnet and techradar and just other stupid sites with many idiots as writers or stupid commenters. but we know we like Daniel Rubino too much to leave this site. anyway I wrote Windows Central in "others". Cool story no? ^_________^ but yeah it's cool forums can be helpful now if guys from Microsoft are there.

I also wrote Windows Central in "Others" :)

Everyone did. Probably even Microsoft.

Good feedback. I will ask that it be added in the future. I think I may have a little influence...

https://windows.uservoice.com/forums/265757-windows-feature-suggestions/...

Welcome! Thanks for all the continuous hard work! Really appreciated! Looking forward to the WP Windows 10 preview GabeAul!

Very cool indeed, welcome guys n gals

Awesome! Screw T*m W*rr*n and the Verge. People should quit that ifanboi site and gather around here if they haven't already.

People still use the verge? Most people I know are back on Engadget lol

While I don't really like how they give scores to most Microsoft products, it's always good to know the other point of view.

That's really great! Wow!

Wooowww really awesome can give a real feedback! :)

Thanks for the warm welcome! :) Glad to be here.

Welcome and thanks for participating!

Welcome! We love and appreciate the work you guys do. #Lumia!

Someone ask them about here drive freezing issues!!!!!!!!!!!!!!!!!!!!!!!
Point them to that thread on the forum!

HERE products aren't developed by Microsoft...

Excellent. MS reps, any chance we'll see improvements on Xbox music to bring it up-to-par with some of the best features Zune? At least to me music on my phone was very important. Currently the problem I'm having is the app shutting down when using the volume rocker to skip songs while on Bluetooth and using here drive. Thanks in advance for providing any feedback on this and my bad if I'm bringing this in the wrong forum. Cheers and welcome.

Ellen works on the music app! Thanks for letting us know about your crashes and we'll follow up if we need more info

Oh yeah, I think I recall Ellen in the comments for the music app. She was very helpful and always eager to help. She has her work cut out for her, but she was very encouraging.

Ya...same problem here too...frequent crashes in the music app...can you please pass the message on to Ellen??

I'm all over it. In the last update for the Music app on the phone, we included fixes for thirteen "unexpected app exits". On to the next!

Hopefully Monday. Enjoy the weekend. We've been expressing our discontent about our Zune-less lives for so long and in so many colorful ways w/MS apparently not listening that 2 more days doesn't matter much any more. I for one I'm glad and hopeful that soon our experience with XBoxM will be equal if not better than Zune w/win10 now that we know we matter as customers and we're being listened to. Thanks for all the work you've done as well for all the work you'll face head on in the near future. There are very smart people in this community that can better express/articulate the various bugs and features that we feel could be sharpened better than I ever could. Thanks again and welcome to our community. Gracias!

One thing you can do to help us get there is to be more specific when requesting features. Saying parity with Zune sends a clear message but it isn't terribly actionable. W