Windows Central's Best of Computex 2018 awards
Computex always brings out the best in PC hardware, and this year was no exception!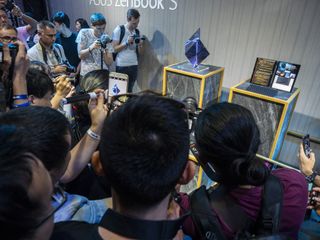 It might not be the biggest of tech shows, but Computex has a place in our hearts as the center of the PC nerds universe. It's here that we learn about the newest gaming PCs, high-powered processors, and blisteringly fast GPUs. And sometimes we get a peak into the future.
So, without any further ado, here are our top picks for Computex 2018.
Good looks and good power
ASUS ZenBook S: Best of Computex 2018, Best Design
It's thin, it's light, and it refuses to skimp on specs. The new ASUS ZenBook S brings it all, from power to looks to portability. With a Core i7 processor and Intel HD Graphics 620 it's no slouch in the performance department, but ASUS still managed to make it thinner and lighter than basically all of the competition. They even managed to build in a bit of design innovation with the new ErgoLift hinge, which tilts the base up by a few degrees for a more comfortable typing experience and better ventilation.
Hands-on: ASUS's new ZenBook S is thin and light without skimping on specs
The future is nearly here
ASUS Project Precog: Best of Computex 2018, Most Innovative
Normally I don't pay too much heed to future PC concepts, but there are two things about the ASUS Project Precog that really caught my attention. The first is, well, just look at it. It's phenomenal, even right now it's just a pair of displays running video loops. But there's also the timeline — ASUS is aiming to launch the Precog in 2019, which isn't that far away. Magic Westworld folding tablet, here I come.
The ASUS Project Precog concept is exactly the insane laptop future we need
Cores for days
AMD Threadripper 2: Best of Computex 2018
Shots fired! The CPU Cores War is on. First Intel announced a 28-core CPU for later in 2018, and then AMD came back the next day to announced the 32-core Threadripper 2. Built from a quartet of eight-core dies, this monster processor will offer 64 threads of simultaneous processing power. It'll be constructed using AMD's 12nm manufacturing process and run at a scorching TDP of 250W (get that liquid cooling ready).
AMD unveils Threadripper 2: 32 cores, 64 threads, 250W TDP
Don't pretend you aren't impressed
ASUS ROG Strix SCAR II: Best of Computex 2018
The follow-up to the first generation of the SCAR and Hero, the ASUS ROG Strix SCAR II and Hero II are laptops built for mobile gamers. The 15-inch displays offer a crisp 144hz refresh rate with 3ms response times, the Core i7 CPUs are paired with a beastly GTX 1070 GPU, and that's all kept cool with the most advanced portable heating system that ASUS has ever built. And, of course, the keyboards are designed for gamers first, with customizable RGB lighting and highlighted keys specifically for MOBA and FPS gamers.
Hands-on: The ASUS ROG Strix Hero II and SCAR II gaming laptops bring intense style and specs
5GHz is here
Intel Core i7-8086HK: Best of Computex 2018
40 years ago, Intel's 8086 processor blew minds by breaking through 5MHz. Today, the new Core i7-8086K has hit the 5GHz mark. That raw power on this hexa-core processor comes courtesy of boost clock speeds, with a base clock of a still blistering 4.0GHz. And Intel's leaving this CPU unlocked, so if your cooling system is up to snuff you'll be able to overclock it even further.
The 5GHz desktop CPU is official: This is the Intel Core i7-8086K
She's a raaaaaaaainbow
ASUS VivoBook S: Best of Computex 2018
While we tend to focus on the high end of the PC range, it's worth taking a look at the more affordable options out there. Like this, the new ASUS VivoBook S. While the specs won't blow you away, ASUS decided that just because these aren't the most expensive laptops doesn't they can't be nice laptops. The VivoBook S incorporates ASUS's new lift hinge design, providing a more ergonomic typing experience and better ventilation. But the real stand-out is the colors, with five distinct and bold combinations, like bright red and yellow and teal.
Hands-on: ASUS VivoBook S: I hope you like colors
Faster. Thinner. Cooler. Better.
Qualcomm Snapdragon 850: Best of Computex 2018
Qualcomm is coming for the bread-and-butter of Intel: PCs. The new Snapdragon 850 is the first CPU Qualcomm's released that is designed expressly for use in Windows 10 PCs, and it's bringing a thoroughly capable chip to the party. It runs cooler and demands less electricity than a similarly powerful Intel CPU, which means devices can be thinner and lighter without sacrificing performance. The Snapdragon 850 also offers blazing fast LTE speeds and is always connected — think more like a phone than a laptop. The first devices with this new ARM chip are expect by the end of 2018.
Hands-on: Qualcomm's built-for-Windows Snapdragon 850 ARM processor
Your router isn't fast enough
ASUS Rapture GT-AX11000: Best of Computex 2018
You know what you need? A wireless router that supports the new 802.11ax standard for insanely fast 10Gbps speeds and that looks like a robot spider. That's the ASUS Rapture GT-AX11000, the first 802.11ax router, setting the stage for a future of Wi-Fi connections that are twice as fast as anything offered today.
ASUS' latest Wi-Fi 802.11ax router can hit speeds of up to 10Gbps
Growing up
MSI Prestige PS42: Best of Computex 2018
If you think MSI, you probably think "gaming PC". MSI doesn't want to change that perception, but they do want to change your idea of what an MSI laptop needs to look like. They're doing that with the PS42, the first laptop in their "Prestige" line, and it ditches the red-and-black plastic and RGB lighting for a design that can best be described as "reserved". It's thin, it's light, and it's an understated silver aluminum that wouldn't look out of place in the boardroom. MSI's customers are growing up, and so is MSI.
Hands-on: The PS42 is the kind of thin, light, and reserved PC you'd never expect from MSI
Power to spare and a screen for a touchpad
ASUS ZenBook Pro: Best of Computex 2018
There are two things to say about the new ASUS ZenBook Pro. The first is that it has a questionable gimmick: the touchpad has been replaced by a 5.5-inch touchscreen that can run its own little apps or act as a second display. The second is that beyond that odd design choice the ZenBook Pro is an utter beast of a laptop, featuring all of the power and looks that high-demand computing users want. You're looking at a Core i9 processor, GTX 1050 Ti GPU, and a 4K display with some of the most accurate colors around.
Windows Central Newsletter
Get the best of Windows Central in in your inbox, every day!
Derek Kessler is Special Projects Manager for Mobile Nations. He's been writing about tech since 2009, has far more phones than is considered humane, still carries a torch for Palm, and got a Tesla because it was the biggest gadget he could find. You can follow him on Twitter at @derekakessler.
So Computex this year was in fact Asusutex!

It always is. It's ASUS' home show, they always leave their best stuff for Computex.
Windows Central Newsletter
Thank you for signing up to Windows Central. You will receive a verification email shortly.
There was a problem. Please refresh the page and try again.