Windows Central's favorite E3 2021, Summer Game Fest announcements
From Elden Ring to Evil Dead, there was something here for everybody.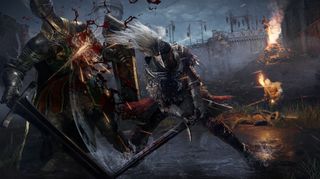 (Image credit: Bandai Namco)
E3 2021 and its partner Summer Game Fest are finally over and, as expected, we got a ton of game reveals and announcements. There are so many, in fact, that it's tough to remember all of our favorite moments. A lot of us here at Windows Central had multiple favorite announcements across multiple genres and platforms, and not just limited to the superb Xbox and Bethesda showcase. Whether we were most excited about a huge release like Elden Ring, which will likely become one of the best Xbox games, or a smaller announcement like Sam Barlow's next game, there was something at E3 and Summer Game Fest for everybody.
Elden Ring
We finally got our first real look at Elden Ring during Summer Game Fest, and it looks to be everything a fan of FromSoftware's games could want. With its beautiful open world, brand new mounted combat mechanics, and the fluid, skill-based melee fighting that the developers at FromSoftware are known for, Elden Ring looks nothing short of incredible. The game also got a definitive release date of Jan. 21, 2022, which is a much closer release than everyone was expecting. -Brendan Lowry
Evil Dead: The Game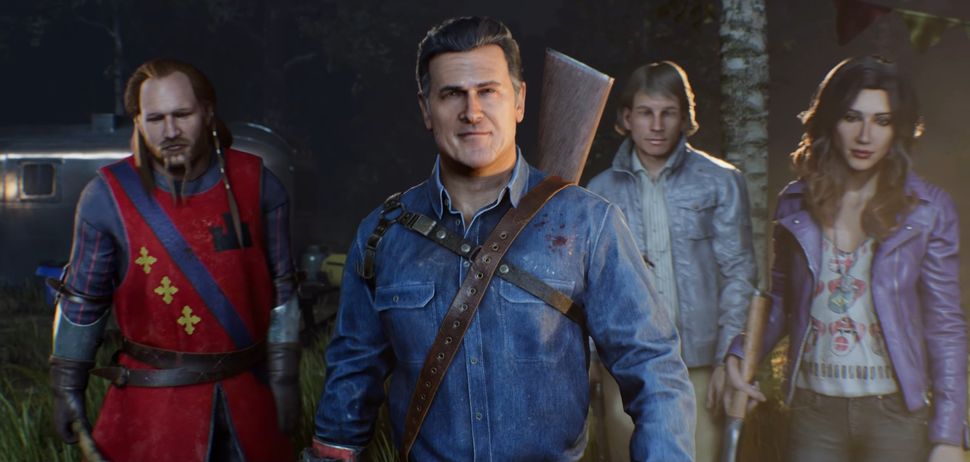 Now, I totally understand that I'm in the minority when I say that the gameplay reveal for Evil Dead: The Game was easily one of my favorite moments of E3 2021, but I genuinely mean it. As an enormous fan of the Evil Dead franchise and somebody who loves multiplayer-centric horror games, what we've seen of Evil Dead: The Game so far is checking all the right boxes for me. Sure, it's easy to write off a licensed game based on a niche film series from the 80s, but even ignoring my extreme Evil Dead bias, I couldn't help but feel impressed and delighted by what the folks at Boss Team Games delivered with this gameplay trailer. The stunning character models and haunting environments portrayed in this slice of the game have me hungry for more. And if all this still doesn't sell you on the experience, here's more of my thoughts on why Evil Dead: The Game stands toe-to-toe with many of the biggest games at Summer Game Fest and E3 2021. -Miles Dompier
Forza Horizon 5
Forza Horizon has always been a unique series; it has a way of attracting people who have no particular love for cars and making them fall in love with the beautiful world, open exploration, and sheer creative freedom. With Forza Horizon 5, Playground Games has managed to set the bar even higher with the biggest and most diverse map ever, set in Mexico. Improvements have been made to every aspect of the game, including breathtaking visuals, dynamic weather and seasons, all-new ways to connect and play, genuine improvements to creativity with the comprehensive EventLab level editor, new options for car and character customization, and significant strides to accessibility and inclusivity. I can't wait to dive into Forza Horizon 5's vibrant world for hours on end, even though I can't claim to have much interest in cars. -Zachary Boddy
Redfall
Arkane's rumored Project Omen closed out the Xbox showcase with a bang. Officially titled Redfall, it transports players to the seemingly quaint titular town that's been overrun by a legion of bloodthirsty vampires. Arkane's dabbling into new territory with Redfall being an open-world co-op shooter, and I can't wait to see the studio use its previous expertise in the immersive sim genre to create a spectacular experience. Round that all out with a diverse cast of heroes, Redfall's certainly a game to keep an eye on. -Jennifer Locke
Replaced
From the moment Replaced dropped, the art style grabbed me. It looks like Symphony of the Night and Blade Runner had a baby, in an exciting blend of retro and futuristic platforming. The haunting landscapes alongside dilapidated cities pair beautifully with the cinematic pixel art to tell a story of corruption and greed. The action, setting, and unique look are enough to make me want to uncover Phoenix-City's dark past. And it's on Game Pass! -Sara Gitkos
Starfield
For me, the highlight of E3 ironically came after the show. As a mega fan of The Elder Scrolls and Fallout, despite knowing almost nothing about the game, Starfield's teaser trailer gave me goose bumps. It wasn't until after the Xbox Bethesda showcase that I started to get really hyped, however, as exec producer Todd Howard offered a range of small details about what the game actually is.
Describing it as "Skyrim in space" was enough to pique my interest. But further details about how it's more "hardcore" than some of its more recent RPGs, details about its NASA-punk realistic sci-fi approach, and the big questions the story will attempt to answer have really solidified Starfield, for me, as the one to watch for Xbox and PC in the future. As far as I'm concerned, Todd Howard and his team have never made a bad game, and I can't wait to see what's next for this legendary group of creators. -Jez Corden
The teaser trailer for Bethesda Game Studios' upcoming RPG Starfield opened the Xbox showcase on a strong note. While quite a bit is shrouded in mystery, the teaser revealed the aesthetic the team is working on, a grounded approach to science-fiction that wouldn't be out of place in Prometheus or even Firefly. Weapons show that combat is in and it looks like we'll even get our own companion mechs? Best of all, the ship looks real, lived-in and worn. My head is full of wonder for just what's in store and I can't wait to learn more. -Samuel Tolbert
Immortality
Sam Barlow seems to release games just for me. They're mysterious, unique, and sometimes just a little bit spooky. The indie developer, who's probably most famous to most people for working on the criminally underrated Silent Hill: Shattered Memories, is one of the few developers making FMV games these days, starting with the critical darling Her Story and followed up with the daring and expansive Telling Lies. Tucked in at the very end of the Future Games Show was the annoucnement for his upcoming game Immortality, which is set to tell the story of a Hollywood actress who disappeared. Even more intriguing is how somehow the team got Allan Scott (The Queen's Gambit), Amelia Gray (Mr. Robot), and Barry Gifford (Lost Highway) to contribute to the screenplay! -Carli Velocci
Slime Rancher 2
I happily have given hours of my life to the jiggly, joyous greatness that was Slime Rancher. But it's not the kind of game you look at and think, "Yeah, that's definitely getting a sequel." It's not a AAA title, for starters, it's offbeat, has a strange central mechanic, and is kid-friendly. So the trailer for Slime Rancher 2 caught me completely off-guard and made me happier than any other single moment of the entire E3 event. I can't wait to see the new slimes, the new lands, and the new resources. Slime Rancher is such a happy game that it's helped me through some less-than-wonderful times in my life, and I look forward to rejoining the world of my bouncy jelly pets again. -Rachel Kaser
The Legend of Zelda: Breath of the Wild sequel
I'm pretty sure I deafened the entire gaming team when the new Breath of the Wild 2 trailer was revealed. I couldn't stop screaming. While we didn't get more plot info, we learned a few new things about the Breath of the Wild sequel. Seeing Link use new tools and explore new locations has me very excited. I can't wait to learn what the limitations are for going through walls or why Link's clothes and hair looks so different in certain sections. I need more Zelda! -Rebecca Spear
This almost isn't fair — it's the sequel to my favorite game of all time, after all — but BotW 2 looks like it's turning out to be everything I ever wanted from a sequel. Not only does the overworld look to be getting an overhaul, but now there's another world over the overworld? Link has long hair and a robot arm? There even appear to be some significant upgrades to Link's Sheikah powers, including the ability to pass through objects. I surmise this is similar to the band Link wears in A Link Between Worlds for the 3DS — where he turns into a 2D drawing on a wall — albeit with an even grander scope. 2022 can't come soon enough! -Nicholas Sutrich
Initially, some of the best games I've seen from this years E3 were tinier, indie titles. That was until Nintendo showed off even more of Breath of the Wild 2. The original Breath of the Wild was a stellar launch title for the Nintendo Switch, but it's pretty clear that the sequel has the chance to be even better. Not only has Nintendo gotten the chance to learn how to develop better for the system, but the overall look and tone of the sequel is right up my alley. Nintendo seems to be leaning hard into a darker, almost horror-like tone for the sequel, complete with unsettling music littered throughout both trailers and a much gruffer Link who seems to have gone through some stuff. Add in an overhauled map and some upgrades to Link's Sheikah powers, and Breath of the Wild 2 looks to have everything I want from a sequel. -Anthony Nash
Metroid Dread
Metroid Dread even existing feels like seeing a ghost. First mentioned all the way back in 2005, Metroid Dread returns to the series 2D side scrolling roots, while including a myriad of updates to the overall gameplay and design thanks to Spanish developer MercurySteam, the same team who worked on the criminally underrated Metroid: Samus Returns remake. It's almost scary how long I've had to wait, but I only have to wait a little longer before sinking into a new Metroid game this October. -Zackery Cuevas
I've been a Metroid fan ever since I pulled off my first combo with Samus back in Super Smash Bros. for the Wii U. I know it's a weird place to start, but sadly that's how many Metroid fans are born these days. Since stumbling my way through Zebes for the first time in Super Metroid before playing through the entire 2D Metroid library in a matter of months, I've wondered what was next for my favorite video game character of all-time. YouTube videos and ResetEra threads about a mysterious canceled game, titled Metroid Dread taunted me, so the reveal of Metroid 5, which we learned was called Metroid Dread, was mere icing on a delicious looking cake of perfect fanservice. Metroid Dread looks like everything I'd hoped a follow-up to Fusion would be. In blending Fusion's suspenseful, chilling take on the formula with the freedom of Super Metroid and some atmospheric music and new powers, Metroid Dread rose the ranks to become my most anticipated game of the year. -Charlie Wacholz
Mario Party Superstars
As a long time Nintendo fan and a member of a big family, Mario Party has always been one of my favorite multiplayer games. Seeing the Mario Party boards and mini-games I grew up with done in new graphics during the Nintendo E3 announcements made my jaw drop. I cannot wait to play Mario Party Superstars as I had stopped playing during Mario Party 9 and 10 when the car mechanic was introduced. Seeing this return to the classic board game style bringing together some of my favorite games and boards will definitely get me back into the series. -Alex Huebner
Now it's your turn
Which game was your favorite announcement of E3 2021? What did you think of E3 as a whole? Sound off in the comments below.
Windows Central Newsletter
Get the best of Windows Central in your inbox, every day!
Carli is the Gaming Editor and Copy Chief across Windows Central, Android Central, and iMore. Her last name also will remind you of a dinosaur. Follow her on Twitter or email her at carli.velocci@futurenet.com.
Slime Rancher 2 was an awesome announcement and I am beyond happy that Rune factory 4 is coming to Xbox. The update for Grounded looks great and Party Animals was adorable.

My favorite announcement was Metroid Dread — probably the only game I'll buy this year. However, there are a lot of good stuff in Game Pass. Of those, I look forward to play Forza Horizon 5 in a few months.