Windows Insiders: Do not install any new builds being offered on PC or Mobile right now! [Updated]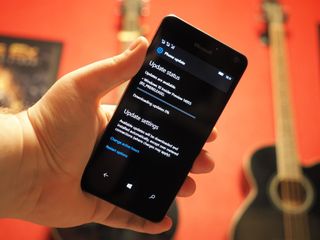 Updated June 2, 2017: Windows Insider Program head, Dona Sarkar, has acknowledged the unintentional rollout of internal builds to both PC and Mobile. Since yesterday's fiasco both builds are no longer being offered, with no new builds planned for the rest of this week. While PC users have the option to roll back to a previous build, those who installed the rogue build on Mobile can restore their device via WDRT (opens in new tab).
Microsoft is having some major issues with its Windows Insider Program right now, on all rings affecting many different device types. If you're a Windows 10 Mobile user, do not install build 16212 being offered to you, as this will cause your phone to enter a boot loop, requiring you to reset your phone with the Windows Device Recovery Tool.
Some PCs are also receiving bad builds, on all the Insider Rings. If you're seeing build 16212 from the rs_edge_case branch, do not install this build either. Microsoft appears to be suffering from an internal issue that is causing several development builds of Windows 10 to rollout publicly to Insiders.
#WindowsInsiders: pls do not install any builds being offered til you hear from us with a blog post. If you have installed, reset with WDRT.#WindowsInsiders: pls do not install any builds being offered til you hear from us with a blog post. If you have installed, reset with WDRT.— Dona Sarkar (@donasarkar) 1 June 20171 June 2017
We suggest you leave the Insider Program for the time being, until Microsoft fixes the issue and stops these rogue builds from rolling out to the public.
Windows Central Newsletter
Get the best of Windows Central in your inbox, every day!
Zac Bowden is a Senior Editor at Windows Central. Bringing you exclusive coverage into the world of Windows on PCs, tablets, phones, and more. Also an avid collector of rare Microsoft prototype devices! Keep in touch on Twitter: @zacbowden.
Waduh. Stopped right now. I think i'll join Insider again once when FDS has been implemented in many ways

They mention the issue with Mobile but not the PC version. What's wrong if you install 16212 on the PC?

I didn't install any builds and paused the updates but my phone decides to install the new builds anyways! Now it's stuck on boot loop and I cannot use it :(

Mine just did the same :-( WDRT

It is not a development build and has fatal bugs that could cause you to have to reload Windows. Fortunately reports are that installation fails on a PC. It has only been seen offered on 32-bit Windows.

Too late. Already WDRT:ing...

Thanks for the PSA, You can pause updates for a week. Hopefully theynsort it out by then.

It's also being pushed to the PRODUCTION people. My solution is to set your main connection as METERED.

Eeww ok. Hope its fixed fast Btw, i changed my time/date a couple of years ahead to make sure and get me off the insider program till its fixed.

All you have to do is pause getting builds for a time of your choice.

I know and done that, in case they don't fix it in that time, the years ahead will keep my phone from installing the update, as u need new updates installed to do another "pause" again.

See, everyone? They are still working on new builds for mobile!

That's until they find what to do with everyone working in their "mobile" division

Ha! A build that razes your phone... And the last couple of builds were so stable...

It is widely known that they are working on a big thing for mobile both software and hardware. The question is: Would the current hardware get the new software. That is currently unknown.

from past experiences (aka. WM6.5 and WP7) likely not.

There's lots of things they've officially announced. The enterprise functions for HP late summer, timeline, cortana skills etc. It's a fact they are working on win10 mobile features. Anyone who says otherwise is a sky is falling type, in denial of clear statements from MS.

There is a new branch of W10M in development. It will be another reboot for "Windows on phones" and existing phones will (probably) be left out. All we will get (for existing phones) is the feature2 update, which is something like Windows Phone 7.8

Actually in the code found in windows regarding composable shell, the new os, for the new form factor device, codenamed andromeda, is listed along side windows 10 mobile. All indications are these platforms will run parallel, at least for now. Andromeda is not a slab phone OS, its designed for a new and novel form factor, what appears to be a detachable clamshell with dual screens. The speculation about feature2, and that andromeda is replacing win10 mobile, is based on absolutely no evidence (ie its just speculation). Whats more it makes no sense - MS has stated win10 mobile will receive producivity features late summer, and timeline, cortana skills etc along with FCU - that is WAAAY too many features to be adding to a supposedly discontinued platform.
I wish the speculation on win10 mobile, and the supposed "surface phone" (which will literally never be named that, or look like people imagine it) were logically consistent and based in facts, but it really isn't. As with laptops, hybrids have not replaced them overnight, and nor will a new form factor of phones. Slabs will be around for awhile, and WoA running on a mobile will take a lot of work, and need more apps before its worthwhile. There is really no logical reason to phase out win10m yet. The UWP platform nees more work for WoA on a phone, the UI needs a lot of work for cshell on such a platform, and the new form factor will have its appeal, but also be a tough pitch to people already using the slab form. If win10m were discountinued this year, they would literally be dumping service customers, including their treasured enterprise. The new things need both work, and to be phased in, before the old things can be phased out.

Also usually split development branches are used for delaying features, either for testing, or to allow work on something else before those features are rolled out. People immediately jumped to the conclusion that it was a dead end, despite this convention, and despite MSFT, saying it was to allow for work on one core (which makes a great deal of sense, given windows s, windows on arm, and andromeda all being added to the family as well as composable shell, and the new console).
For some reason the simplest explaination wasn't good enough.

I'm afraid not. The build which is offered to W10M is actually a build for IOT. That's why the build bricks the phone

Didn't know which to choose, pause updates or slow ring.....went for slow ring option... Will opt back into Fast ring once issue resolved.

You should pause the updates. This is affecting all Rings. Even Release Preview.

Dammit, I did pause first, then thought the 7 day period might not be enough. Thanks for the update.

Right when I get suspicious of no new builds, this happens

This is the first time I've seen a major issue touch Release Preview. In fact, this is the first time something like this has ever happened. Someone messed up haha. I paused updates on both my Pro 4 and my 950 XL and I'll make sure my Fast Ring 950 has got the same idea. My Fast Ring Stream 8 isn't even turned on at the moment so it should be fine.

Yeah i hit the pause on Windows Insider. First time seeing something like this happened.

Continuous deployment gone amok.

It's not just on the insiders! I got it on production ring on my 950. But when it try to initialize updates, it shows some error.

so did it download itself? Then when trying to install, couldn't ? I have unlocked 960xl not on insider either...and I have a notification saying it will download next I plug kk the charger...i can't see why way to push the install back as the time day is greyed out

Ouch... Not good if people don't see this or the blog. Can't Ms push a txt out to everyone via skype etc or even an email to all users.

Oops just tipped about this update. ABORT! ABORT! ABORT! lol

Is there anyway to delete the update from my phone so it doesn't automatically install? I've already downloaded it but saw this advice just in time before I installed it and paused the Insider Updates

That's really gonna screw up all my calendars etc too though?

It remains in queue until installed unfortunately...or flash back...

FINGERS CROSSED I appear to have dodged the bullet. Woke up this morning and restarted my phone to make a head start with WDRT if it was going to install either way. It restarted fine, I then double checked for updates but there were none, I went and checked Insiders to make sure it was still paused but it wasn't anymore and says I was back on Fast Ring so I checked for updates once more but again it said I was up to date so all going well the update has been pulled by Microsoft and is no longer quing on my phone

This is Nadella sabotaging his company. lol!

I'll upvote you, brothren.

There are three Microsoft app updates right now that keep failing with error 0x80246019 (Mail and Calendar, Photos, Store). Is this related? Skype was also affected but was pulled at least temporarily. People went through and third-party apps work, too. This is on public branch.

People crashes on startup

All those updates have gone through for me. No windows update though. Thank god for that. There has been a change in notification, like delete gets a recycle bin style icon in notification for deleting.

When you want people to abandon your platform but don't want to tell them that, just upload some rogue builds and sit back.

They tried subtlety. It didn't work.

Hmmmm... does that mean Mobile is getting 16212 as well as PC? Meaning *after* it's fixed. Or was this just a "boo-boo".

Nope. The build in question for W10M is actually a build for W10 IOT

Yes, I did notice that later in the day. Ah well. I can dream.

beHello I am not using insider in my mobile and i am having issues with the windows mobile store - outlook is not updating, the store is not updating, skype was pulled out, and to top it off it appeared to receive the build 16xxx you are mentioning.but then it had errors on the download. I am a windows fan so dont let me down :) Cheers

It's Alive!!! The whole system is Alive!!!

Now they tell me. My x3 is stuck. Good thing I have 950xl as backup.

I updated my 950xl with an update two updates ago that has made it to where it has to be constantly plugged in or it shuts off. Even after several factory reset and a new battery.

That's not a build, that it's either a bad battery or hardware defect

Windows Mobile kill switch initiated.

So glad my phone had less than 40% battery so couldn't install the downloaded update. Now I have 7 days til the Insider Preview un-pauses and I start panicking that it will automatically restart and install the update.

No worries for my phone because I have to uninstall about four or five apps before I can update successfully.

Too late. Bricked two phones.

So, if this build is in Fast Ring so it is available, so if RS3 will also be in fast ring it would be RS3 is going for Lumia as well! mobile!!! <3 <3

It appears in all rings and bricks devices.

hey everyone. id suggest also trying to avoid wifi for the time being because updates automatically download when connected to wifi.

Didn't think of that. Avoid checking for updates and avoid WiFi so it doesn't auto check for updates

jesus satya i was just kidding about remotely bricking all remaining windows phones

This is why we need a "cancel updates" button, along with an option to not automatically download and install updates.

I have a Lumia 950xl and I'm not an insider. I'm getting a update as well, but its failing with: Some update files aren't signed correctly.
Error code: (0x800b0109)

ditto did the date trick - added 15 years to my date, turned off auto update date.time, then restarted phone, checked phone update - saw it was in error now... then went back on the date, back to 2017, but put it fowrward one month now only - so July... Not sure why its taking so long to pull the update from the servers...? Also - looks like this build was for IOT devices... not mobile, so dont get your hopes up about RS3 branches yet...

The updated may get distributed pear to pear too. Wasnt there an option?

There are also problems with updating a few other apps as well. both Photos and Mail are unable to complete their updates and the Feedback Hub crashes as well when trying to report the problem.

Do not update People app on lumia. It crashes every time!

At least we now know that there is build 16212 for mobile. So Windows Mobile is still being developed, but for some reason we get updates from another branch.
Perhaps those builds are for the mystery device that is reportedly under development, kept away from the public eye.

It is probably true. This built was pushed by mistake to the fast ring for all windows phones instead of only one device (probably mysterious surface phone).

Or maybe the build was scheduled and contained a new wallpaper...

I have it on good authority that the device group are cooking big things in the mobile space.

No, we do not. The build which is offered is an IOT build, not one for W10M. That's why it bricks phones

If I'm not part of the insider program on mobile or pc, can i ignore this?

Man ,I am also seeing this build even though I am not on any of the insider rings .

I wouldn't say they are broken builds, the PC one seems to be fine with no critical errors, but the mobile build they leaked is a build that is not meant for current mobile devices as it is an actually RS3 build that by the name seems to imply it is actually for IOT devices. 16212.1001rs_iot.170531-1800(UUP-CTv2)

I really don't think its even an actual mobile build and that's probably why it bricks the phones, build string16212.1001rs_iot.170531-1800(UUP-CTv2)

My 950xl bricked because it auto install this preview build in fast ring. How do I fix this?

apparently your one choice is to use WDRT

It installed ok for me. Rebooted and now my 950XL is running Android.

Oh good, glad to be of service. Apparently others aren't quite as enthused...

THAT would be bad and bricking the phone...

Im not in any insider branch but I got information that there is an update but it says it cannot e updated lol

They truly are rebooting their mobile efforts

A lack-luster attempt to brick your phones to get you to buy either a Samsung or iPhone. You go, Nutella.

Thanks for the heads up. I paused for now on my 950XL, but I think now is a good time as any to drop out of Mobile Insider. They're working on the new OS that won't even run on my 950XL so why bother going through insider headaches?

*munch*munch* That's me, eating my popcorn, safely on Production, and watching the show...

Caught this before my laptop downloaded updates and also on my phone thanks zac

It was too late for me. My computer screen went black during the update process for a few hours. None of the recovery options has worked. System reset is also failing.

Guess my 3 WPs will stay in their present state, in our camera bag turned off. So, the gurus of software they say, could've​ fooled me!

Hi, From Portugal Too late for me too... need reset WDRT =( i start d reboot 4hours ago.. still reinstaling things when i had de info with new update i see the name of release and i think tha was so strang.. it s finished by something like cctv2 but i trusted.. and when my phone reestart.. it freezes in windwos logo... so now i am doing d factory restart

Unlinked my Microsoft account within the Insider Program settings. Phone won't update at all till i relink my account 😀

You didn't need to do that, you can just pause your participation in WI.

so what is the last update for w10m for lumia 950 thats ok to install?

Don't worry they'll fix it in the next build.

Thanks for the heads up! Even though it looks sketchy i definitely would have either intentionally or unintentionally installed it..! It was there waiting for Wi-Fi/ me to choose to download over cellular. Would have hated to have to do WDRT.
What do we think this is..?

already i install it , my phone 950xl , in enters in boot loop , how can i fix this issues? help me please

windows device recovery tool :C

i reinstall w10mobile from WDRT in my lumia 950 and i dont have a live tiles... when press windwos button on screen it stay in program list menu.. never came to the classic live tiles... someone know why?

That build is too old, you need to update to at least 14393, do a system-about-reset and then restore the backup.

My phone wont stay on long enopugh to use the windows deivce recovery tool. DOnt know what to do.

you mean your phone when connect via usb pc constantly restart? its that your probl? and the computer do not recognize?

Try using the recovery tool with the phone battery completely removed - if you have a removable battery, that is. It's worked for my Lumia 830 which just kept rebooting.

My 950xl is not on Insider, I don't have to worry then?

there are several instances, including mine, of 950XL that are not on the insider program, but do have the update showing as being downloaded. I have now put my date forward - i suggest you do that - atleast 8 days ahead....before the phone detects the udpate... if you do get the update - try to stop it downloading... it seems that if you remove the connection, you might be able to wait it out...til they fix it

Oh ok, I thought it only affected those on the insider program. My phone did detect the update but then I paused Insider and it went away. It will only download over WiFi, but I'm never on WiFi unless I need to download an update or I'm playing Asphalt 8.

Since the phone just reboots again and again, the WDRT can see it. Basically bricked.

press power and volum it worked on my 950 good luck

had to reboot the phone while plugged in and then vol up. it failed the software restore the first time but worked the second.

Are we the only people here who have the same problem with WDRT? I envy others becacuse they did it successfully! :-D I did everything that they did, and all I get is a sound for on and off from computer!

Have to say, we've had a pretty decent run on Fast ring for desktop, mobile and office. For those that ignored the disclaimers or take a chance with daily drivers, this is why we test this stuff on spare equipment. I managed to dodge the bullet this time around as my test devices were off.

At least we know now there are 16xxx builds for Mobile.

i had the same problem so when you open th WDRT and tap cant find my phone.. press power but and volum up but same time when connect via usb. after it detetc your model of phone you can start download the file. sorry by lang errors

oh, me, over here, here, me, hand in the air, me, me... I have an idea! Turn off the updates using the Master Kill Switch.

Well, too late for me. As my system is on auto mode I just woke from hearing a constant vibration. Checking here and reading this now I just know I have to WDRT later on. #Lumia930 #Netherlands

Guess that's one way to get rid of the rest of those pesky lingering Windows mobile users

Dona just put out an update... https://blogs.windows.com/windowsexperience/2017/06/01/note-unintentiona...

My phone (production build) is a mess now. **** Dona, she should be sacked. She's supposed to be in charge. What the hell is she doing there? Juggling her boobies?

Read her girly tweets on Twitter and you understand. And no, she is not 15 even if it seems so.

Got the bomb just as I got home. Difficult to warn people when the update downloads itself. Mass email to insiders would've helped a bit.

I almost forgot to stop my wife's 950 from updating! She would've killed me. I checked it and it said we will download 16212 next time you plug in. Close call.

wow some people even got xbox build on there phone

🤣 mostly phones users are receiving some kind of IoT build. 🤣 Now their phone is trying to be Raspberry pi haha

or iOS. Anything to get them off Mobile lol

Super strict automatic update settings aren't that great now, huh Microsoft? Give us some control back.

Known risky Insider builds that you have to volunteer for, can't give you much more control than that.

You said it yourself in a separate comment that you're experiencing inconsistent performance and you're not even an Insider. Same here, the last Production update has my phone crashing/restarting daily. If we were just given the option to manually initiate an update a week or two after it is released then that would give us plenty time to see how others (those willing to take the risk) report on any unintended update issues.

Problem is that last night biulds were there for all. Both insiders and normal people.

No biggie. It would just give me the push needed to finally give up. My 950 has randomly deleted all my accounts 3 times in the last the months, and I'm not even on insider builds. That means emails gone, contacts gone, etc. The straw that broke the camels back. I really interested in this new "Essential" phone being released soon by the co-inventor of Android.

We insider live dangerously, and loving it.... LOL 😁

What kind of people is MS having there as engineers?? I get it being released by mistake on the insider rings, where users know what they are getting into, but for production?? where the average Joe doesn't know about wdrt and stuff? good job Nutella...well this is an original way to force remaining fans out of the windows phone yard :)))

So that's why I just woke up late for work 😡

Just spent last 90 mins with the WDRT getting my 950 XL up and running again. It was stuck in a boot loop. In fact, I saw it was last night, but imagined a nice of charging would help - it didn't. Just came across this article and I wish I had seen it sooner. The device is pretty messed up and the restore from backup only partly worked. What a mess.

Memorable FIRST ANNIVERSARY 'DAY' for Dona as Head of Windows 'INSIDER' Programme 🙄

Follow her on twitter and you understand the mess W10M is.

Why being so negative ? 😐

OH FFS! Didn't see this last night and woke up to a bricked phone :(

Too late, phone updated while I was sleeping, too bad. I guess it's device recovery time

Too frigging late, I woke up this morning to wondering why my wifes 950 was stuck on the Microsoft logo.
Realised it was constantly rebooting, stupid thing is she left the insider program once once the creators update came out so how the hell did she get this problem.
I on the other hand have a 950XL on the fast ring which is working perfectly fine.
She has been moaning about app and OS stability on this phone for a while now, I think they may have just lost another user to iOS today!!

I have the same experience with my 950xl. It seems something's going on...

This is not affecting just insider program it is affecting all the phones irrespective of insider program.

Woke to a bricked overheated phone this morning. Thanks MS.

They don't even do a single test of the junk they deliver. And then they can't even stop the rollout. Wonder why W10M is dead?

Very poor effort, must try harder 1/10

Oh great. Even with the device recovery tool my Lumia 830 is bricked. It just keeps restarting to the Nokia logo. WDRT cannot maintain a connection with the phone to install the recovery files and the hard reset does not bring the exclamation mark either. Put in a freshly charged battery from another device, still keeps rebooting. ****. Any advice?

Hold the volume up button and connect the usb. Then try with the WDRT. May be it work. Who knows?

Removed battery, tried again with no battery. Seems to be installing now, fingers crossed.

Am I the only one who got the 16212 update for mobile who doesn't have a problem? This morning, I manually searched for new updates for my Lumia 1520, found the 16212 one, and downloaded it. There was a problem downloading and it stopped, and I had to download it again, and then it installed normally. So far I don't have any problem with my phone. It's working as usual. I haven't restarted it yet though, and don't plan to...

It looks like your are one lucky dog here.😂 🤣 who has got the real bone not the plastic showcase one.

I can't restore using WDRT! :(
It says Device Not Found :(

Hit that button. It will restore than.

My 830 was able to restore with WDRT with the battery removed. Someone earlier on suggested plugging in the USB with the volume up button pressed.

Volume up solution seems to be working, phone had a lighting bolt and a gear. but now in the WDRT it just hangs on "Reading Device Information"

And now Recovery Tool recognizes my phone and it downloads some 2.80 MB of something, and that's it! After that, emergency flashing fails and I get the "Software package installation result Operation ended with failure". End of my notes from My Notes program... Why?! Why?! Why didn't I back up my notes?!?!?!

Mine too. I'm on Production Ring, Lumia 535, and it worked just fine till now. I don't know what to do. The phone just restarts itself all the time. Turns on, then colorful logo and word Microsoft apears. Then again. It doesn't even get to blue MS logo. When I connect it to my computer, it connects and disconnets all the time, while turning on and off. Recovery tool doesn't recognize it. I can't do the soft reset. It's officialy dead! I made a mistake. When there was a warning about the build being corrupted, I moved it for another week. When I wanted to move it again, I saw that it's already ready for download and that it will do it at the nighttime. I couldn't move it again, just didn't let me to change the date anymore. I hoped that MS will send some solution to users during this week, that's why I wasn't worried and forgot about it over the week.

Bad move. Fortunately my device was saved as far as I can say. although yesterday i was having issues with several apps both on PC and mobile and none of them is an Insider. my previous mobile was but not the new one

Woke up to a contineously rebooting phone this morning. Spent the last 90 minutes recovering, currently running the update to 14393. I opted out of the insider program a while ago, setting it to the "follow branch to production" mode, specifically to prevent something like this happening. Why not give us some more control over the installation of updates? It would have prevented this catastrophe. And I just really hate it that we are _forced_ to have updates automatically installed, even on production releases. For some people, phones are vital devices that need to be running 24/7 so that we can be reached in the event of an emergency. I do get it that Microsoft is attempting to limit the amount of releases out there in the wild, and that they do take some responsibility to get people to update. But forcing an update without active approval should be a last resort, only to be used for critical security updates and only after the device owner has been repeatedly warned and given the opportunity to install the update at a time of his or her choosing. I'm getting to a point where I'm just all through with Microsoft. Not only will this take the rest of the morning, I've also lost n important app that is no longer available in the store: my mobile banking app.

This warning came too late

16212 on Mobile, so same branch and build number as the PC version ? Interesting !

Also in the "warned too late" club - or maybe the "just pausing updates isn't enough to stop this" club. Having to hard reset my Idol 4s and use the tool. Sadly I've lost my recent text messages because my wife's phone and mine share an account and I didn't do a backup of them. Never figured out how we could share the apps and still use separate accounts or I'd switch her off onto her own account so text message backups would work again. :-/

And why don't Microsoft just turn off the Insider update server until things are fixed. I think if a problem like this came from the company I work for the first thing we'd do is to turn off the update process so no more people would get it and then try to fix it, but turn it off first!

So the 2015 reboot fiascos came back to hunt MS again....!

The tip to change to a future year & reboot - a simple great smart solution (much than other option recommended by the phone)1

Just woke up, phone automatically updated in my sleep and I just now had to restart it. A little annoyed but I'm glad they have a tool available for everyone to use to repair their devices

Kind of ironic that I got an email today from Microsoft that said its a great time to be an insider. Lol timing is everything.

Has anyone else gotten the brick red screen with the square/circle arrows after trying WRDT? Cannot recover my 950. WRDT fails shortly after attempting to install some random looking IoT build?.. Tried this http://www.lumiamine.com/2015/12/Fix-lumia-windows-phone-stuck-red-scree... but "thor2" is not a recognizable command. Halllllp

Yes I got that. What I did was the following:
- when you get to that red screen with squarish arrows, press and hold both the power and vol up
- phone restarts and shows lightning symbol
- plug in phone to computer and run WDRT
- click on phone not recognized and find the device you have
- it will start the recovery process with red screen but fail
- phone restarts and at this point, go back to WDRT and plug in the phone
- WDRT should recognize the device but your phone may be dark, nothing showing, or stuck at Microsoft logo
- let WDRT do the work as it takes 30 mins to do the emergency package. after all this, you should be set to go update it to the latest W10M build but don't signup for Windows Insider.

I get no lightning bolt symbol Shows MSFT logo for half a second then the red screen every time.

that update was installed by auto update on my lumia 640 a day ago. so i had a bootloop. using the WDRT will send your lumia 640 into a locked state once you enter the reset protection screen you will be promted to enter the reset protection unlock code so you will need to remove the ohone from your MS account to get the 23 difit unlock code, then you will be prompted to either sign into yoyur MS account which fails when you try to dign in bo you will eneter the unlock code that was emailed to your outlook email account, once the code is entered you wil see the next button go grey and thats it you are now the proud owner of a Lumia brick, frozen screen for one day so far how i se it is MS owes me a new phone, think i will ever see it? Right.

i cant understand how a Billoin dollar company like M$ allows a bonehead move like this to happen, too many people not watching the small details i imagine. It seems like it is one thng gone bad after another with the software dev group at M$. even on the Public releases they cant seem to get it together. Come on people! You have some very bright people working in software development for a beginner type mistake like this to happen on such a large scale. Sheesh!

My L650 tried to install it even though Paused in theory.
Anyone else getting a failure with WDRT when downloading the FFU? (tried with the Firewall off and with it set to accept WDRT)
Have a Brick at the moment.