Windows Phone Accessory Review: LG HBS-700 BT Headset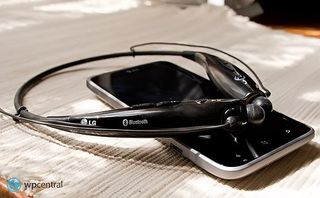 The LG HBS-700 Bluetooth Headset is an impressive, yet odd looking, headset option for your Windows Phone. While the design catches your attention, the headset's performance makes a very good first impression that lasts.
The HBS-700 is comfortable to wear, has really nice sound quality, is water resistant, and has multipoint capability. While we had reservations on the LG HBS-700, it turns out to be an exceptional wireless headset for your Windows Phone and any other Bluetooth device you may have.
The HBS-700 is basically a horse collar that has controls on either end of the collar and earbuds that are held magnetically in place at the collar's tips.
On the left end of the headset you'll find the power switch, phone button, micro-USB charging port and volume rocker switch. To the right you will find the play/pause button and forward /reverse rocker switch.
The HBS-700 will enter pairing mode when you first turn the headset on. After that you'll need to press and hold the phone button while turning on the headset to get it to pair to additional devices. The ring around the phone button will flash blue. Which makes things a little challenging in that your finger will cover the lighted ring when you're pressing down. Just tilt your fingertip a little.
For audio playback, the HBS-700 controls volume, playlist forward/backwards, audio fast forward/reverse and pause/play controls. For call control, the HBS-700 controls answer/end calls, last number redial, voice dial (device dependent), call reject and call waiting (again, device dependent). The headset will vibrate on incoming calls as well as sound an audible ringtone.
When you're not listening to tunes or on a call, the earbuds lock into place nicely, magnetically, on the ends of the headset. The overall design of the HBS-700 is nice and convenient.
I was first concerned that the headset itself could feel weighty around the neck and grow uncomfortable quickly. I was pleasantly surprised how comfortable the HBS-700 was. I could easily wear it to listen to music or videos for hours without feeling any discomfort. The earbuds are also rather comfortable as well. However, after about an hour you'll need to give your ears a break.
But what's a well designed, wireless headset if the sound quality sucks wind? No need to fret, the HBS-700's sound quality is rather nice. Volume levels were respectable, stereo quality was very stereophonic and overall everything from calls to Metallica came through the earbuds nicely.
The HBS-700's microphone picked up my voice just as nice using a normal tone and volume. Battery life wasn't too shabby either. LG rates the HBS-700 as having 360 hours of standby time and 10 hours of talk/music playing time. I won't argue with those ratings being able to listen to music, videos and calls for about ten hours before having to charge the LG headset. While battery life was nice, the LG HBS-700 is charged through a micro-USB port. That means your Windows Phone car and wall charger will work on the headset.
Whether using the LG HBS-700 to listen to music from my laptop or as a hands-free headset while driving it performed really well. The headset is water resistant so if I ever decide to wipe the cob webs off the treadmill in the basement, the LG can handle workouts as well.
If you're looking for a wireless headset, the LG HBS-700 is well worth considering. The headset is packaged with an AC Adapter and multi-sized ear bud gels to help get just the right fit. The headset is currently running $59.95 and you can find the LG HBS-700 here at the Windows Phone Central Accessory Store. (opens in new tab)
Windows Central Newsletter
Get the best of Windows Central in in your inbox, every day!
George is the Reviews Editor at Windows Central, concentrating on Windows 10 PC and Mobile apps. He's been a supporter of the platform since the days of Windows CE and uses his current Windows 10 Mobile phone daily to keep up with life and enjoy a game during down time.
As nice as these look and probably sound, I'd rather be able to wear my buds for a few hours as I do some air travel. But that's just me. :-/

My boss at work has these, and he luvs them. Nice review,...

What about wind noise, for example when cycling? I commute to work by bike, twice 35 minutes per day, and like to perform some calls. I noticed I can only use a cabled headset, where I can 'shield' the mic from the wind by cupping it in a free hand. With wireless headsets, the mic is usually fixed and you're unable to keep in out of the wind... Rendering them mostly useless when traveling in open air over ~10kph.

You won't find a respectable solution to that unless you use a motorcycle microphone.

I use the motorola S9-HD bluetooth headset to some success while riding. I can hear my music all the way up to 120kmh before the wind gets too loud (no windshield, with my windshield I hear it even better).

I'd like to see you guys do a review of the Motorola S10-HD. I hear the sound isn't as good as the S9s. The only reason I wouldn't get one of these is because the wires still hang down to the neck. It is technically illegal for me to use headphones while riding my motorcycle and the S9-HD is virtually impossible to see when I have my helmet on.

I've got the S9 headset and absolutely love it, one of the best things I've ever bought. I've tried the S10 but the fit is a lot tighter than the S9, it got very uncomfortable very quickly. Like putting your head in a vice, it was that bad!

The mic is no good in wind, or so people I've called on windy days tell me.

I'm very interested in this headset. I've been trying to find a nice BT headset for the computer, and it looks nice enough to bring outside with me tethered to my Samsung Focus. I hope the sound is very clear, as I need to do a lot of video calls on my laptop, but I just can't stand the wires from my current headset.

I use it for call all the time, the only complaints I've had from people are when it was too windy or the A/C in the car was blowing on the mic. The sound through the earbuds is good enough to listen to music on, although not as good as expensive wired earbuds.

Funny story about this headset. I got these the fires week they were released. I showed then to my coworkers. Almost everyone in the company has them now. To the point where customers think they are stand issue for my company. Needless to say at this point but I highly recommend these. I am using mine right now.

I have these, they are old. Got them for $40. I always lose connection when im outside walking with these LGs when it's paired to my HD7. Booooo...

i have to say the HD7 has crap Bluetooth performance, speaking from experience. The lumia 900 i replaced the hd7 with is awesome with bluetooth using the same headset.

I agree. I can't wait to upgrade.

Yup. I lose BT connection with my HD7 in my pocket, but I can leave my phone in the car and still have signal when I pump my gas and even when I go in to pay. So inconsistent.

Best headset I have ever owned.

I have this headset and it use it all the time for listening to podcasts on my HD7. I find music doesn't work as well as some of the higher frequencies get clipped when I had the volume at a reasonable level. I could get the clipping to lessen if I played with the volumes of the device and headset, but it never fully went away. This happened when paired with my HD7, my work laptop, and on an Galaxy S, so it was pretty disappointing for music.

This headset is awesome. I listen to audiobooks a lot, and I love how with this I can just hit a button to start and stop my book. It's like the audio version of those hiking canteens with the water straw sticking out by your face. No more spending the first minute after getting up from my desk untangling cords. No more BT earpiece falling out of my ear all the time. It's so comfortable I usually have to reach up to my neck to check if I am wearing it. The only downside is the LED indicator, which blinks every 5 seconds to tell you you are connected, even though you can't see it, but everyone else can. Remember to turn off the headset when you are in a theatre, or you will annoy everyone with the blinking light.

I work in a factory and just about everyone has these, including me! LG Tone+ came out recently, and they boast better sound quality and bass, review those now!

These headsets are so awesome. When I saw the article I went to grab mind and couldn't find them. I thought I had left them at home. I went to the bathroom and looked in the mirror and I had them on... they are very comfortable... perfect during a workout and walking the dog. My one complaint is that I didn't buy 5 pair... my wife and kids keep trying to steal them.

You can purchase them cheaper in other places... though WPCentral is cheaper than the $72 at Best Buy. They have an updated version of this coming out a new communication standard or something. Will probably get those and hand these down.

I've had a pair for several mo the and adore them as daily drivers. Very comfortable, decent sound, and great battery life. Just wish I could find smaller ear cushions (got small ear canals). I'll have to check if there are any aftermarket ones available. Regardless, they are my favorite Bluetooth headphones by a lot.

You forgot to mention with the activate button you can initalize the Speak commands. So, you could tap the button and tell it to text people, make calls, etc.
Also, LG just released the HBS-730 headset which is supposed to have better sound quality.
Windows Central Newsletter
Thank you for signing up to Windows Central. You will receive a verification email shortly.
There was a problem. Please refresh the page and try again.